You deserve better than "hit or miss"
Research shows that on average it takes around 18 attempts to connect with a buyer and reps spend up to 40% of their time looking for somebody to call.
But what if there was a way to eliminate unproductive dials and endless hours searching for mobile numbers and contacts that answer your calls?
Well, now there is.
Introducing Diamond Verified Phone Data®
Diamond Data® is the most premium data asset on the market that comes with a level of accuracy you can't find elsewhere.
To become a Diamond, a contact needs to go through additional layers of phone verification, where our team calls the contact and confirms the accuracy of the mobile number.
What does this mean for you?
As a sales rep, I don't have to worry about the quality of data affecting my ability to hit quota. This saves a huge amount of time and enables me to book 80% of my meetings through Cognism.
80%
of demos booked with Cognism leads
£0.8 million
Cognism-influenced revenue
Save 16 hours per week, per rep. And that's just a start.
By using Diamond Data® revenue teams are able to*:



Reach 5x more people
Increase connect rate by 7x
Get better results by consuming 80% less data
Go through a cold call list in 25% less time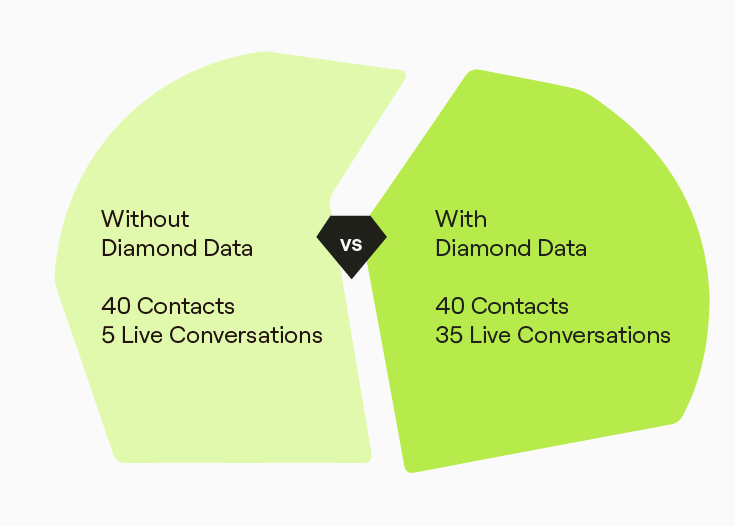 Make every call count & reach more of your most valuable contacts
Are there high-value contacts you haven't been able to reach?

Avoid hitting dead ends with target accounts and make a bigger impact by getting your message in front of the right people.

Our exclusive Diamonds-on-Demand® feature enables you to request us to find and/or phone-verify a contact on demand.

That way, you can spend time building meaningful connections and less time trying (and often - failing) to get through to your most valuable prospects.
Connect, convert & close faster with phone-verified contact data