Your sales intelligence budget
How do Cognism pricing plans work?
Cognism's pricing is based on the idea of unrestricted prospecting. All packages include:
Unrestricted views, individual and page-level exporting
Contact, firmographic, technographic data, and sales trigger events
CRM/sales engagement tool integrations
Additionally, users can add intent data and mobile phone verification on-demand to their package.
Cognism also offers packages for list-building workflows, used by marketing and operations teams.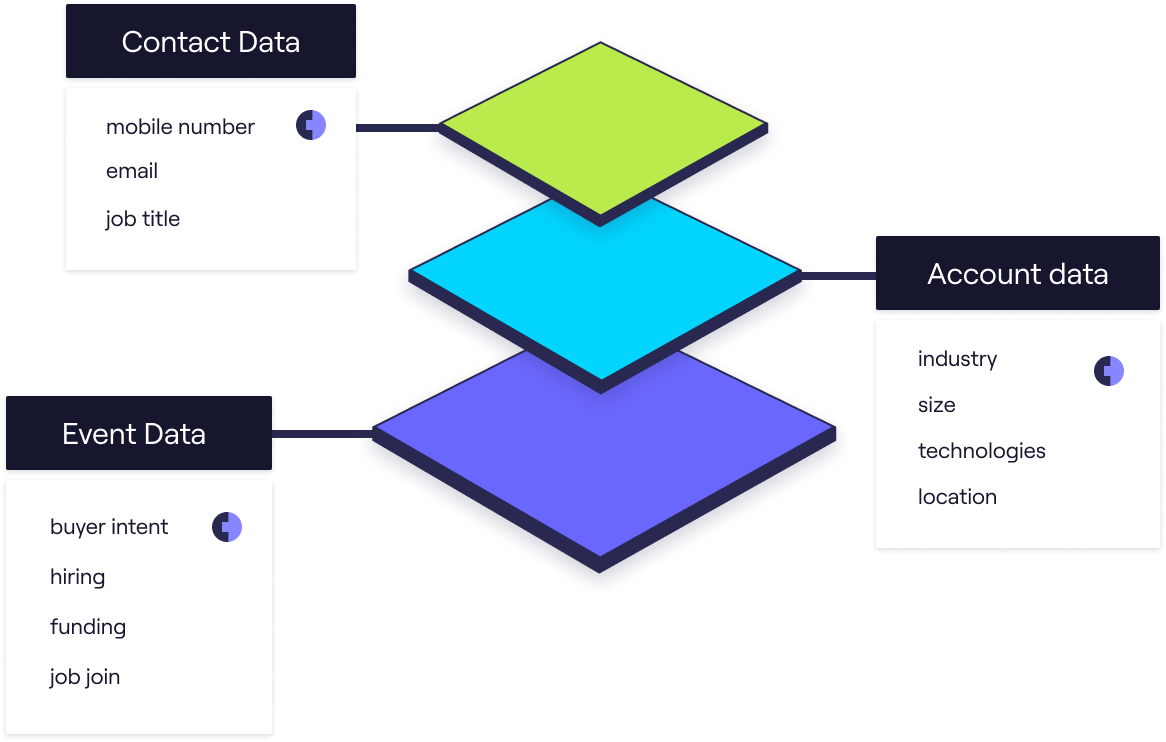 Diamond Data® are phone-verified mobile numbers. Diamond Data® is manually validated by our data research team through several proprietary methods that ensure a mobile phone is 98% accurate.

Having access to phone-verified numbers helps you increase your speed to connect and engage more of the right decision-makers in less time, eliminating inefficiencies due to misdialed or incorrect numbers.
Cognism sources data from proprietary sources, such as Cognism Signatures, and fill in gaps from third-party data providers, publicly available sources, manual research, and strategic partnerships.
We use machine learning to process millions of data points daily to build and maintain our Person and Company profiles and ensure the quality and currency of our records.
In addition to this we have a data research team that manually verifies our customers' most desired contacts. Diamond Verified Phone Data® comes with the highest accuracy on the market: 98%.
Cognism can provide you with data for companies and decision-makers in:
Founded and headquartered in the UK, Cognism has GDPR compliance baked into our data acquisition and maintenance processes.
Cognism integrates with the most widely used CRMs including Salesforce, Hubspot, Pipedrive, and Microsoft Dynamics.
What happens after you click "Book a Demo"?
#1 We'll get in touch
Our team will be in touch to learn more about what you're looking to achieve and determine the ways in which we can help.
#2 We'll tailor the demo
The whole purpose of the demo is to show you how you can use Cognism to achieve your specific objectives.
#3 We'll answer your questions
Use the 1:1 time with our experts to get answers to all your questions - including how our packages work.
I can confidently say that the number of Cognism contacts that successfully qualified to a revenue generating opportunity and moved through the buying journey was higher than any other provider we tested. This ultimately convinced the wider business and senior stakeholders to switch to Cognism.
81K
worth of opportunities generated in 2 weeks
The sales managers used to make 100-150 calls per day. Now they can achieve their targets by making 30 calls per day because they are calling prospects who actually pick up the phone. That's more results, less calls.
70%
achieved target with 70% fewer calls
Cognism's Diamond Data® is also a game-changer. SDRs are ringing real mobile numbers which means they're getting in front of the right people and aren't wasting any time calling dead numbers.
99.6%
decrease in list building time (from 7 days to 15 minutes)
The latest and great from Cognism
Let's meet & beat your revenue targets.
Start driving efficiencies in your technology and make your tech stack work harder for you with integrations built for revenue teams.
Skyrocket your sales
Cognism gives you access to a global database and a wealth of data points with numbers that result in a live conversation.
Get through to sales faster
Easy to use and fast to adopt, GDPR & CCPA compliant. Notified database. DNC lists. Straightforward opt-out process.