How to pivot from lead gen to demand gen: a CMO's guide
Cognism CMO Alice de Courcy joined the team when there were only three marketers and our main focus was events.
She was brought in to build a predictable demand generation growth strategy and deliver 55% of new business revenue through marketing every month.
We're now at that stage.
In fact, we've surpassed it.
This happened in the first six months of Alice joining.
Want to know how she transformed our strategy?
We spoke to Alice to discover those answers and discuss how her approach has evolved since joining Cognism.
The new era of marketing | Steps to direct demand | Cognism insights | Measuring the impact | A newsletter to suit your interests

See Alice's full speech from the Expo - press ▶️ to watch!

The new era of marketing
B2B marketing has definitely changed over the years.
The traditional funnel model no longer works. It's broken.

Meaning, marketers no longer move buyers in market.
They move themselves in market.
And, the sooner we understand that and pivot the way that we approach our marketing, the better.
Because by the time your buyer comes directly to you, they've already...
Asked questions in communities.
Discussed your service with their peers.
Evaluated various tools and solutions, including your competitors.
So how do you market in this new era?

For Cognism, we've said goodbye to B2B lead generation and welcomed demand marketing. Alice says:
"Focus has shifted from easily measured and tracked channels to channels that buyers actually make decisions in, such as the dark funnel and dark social, and that's where our energy is going now."
To truly understand why demand marketing is the way of the future, we need to look back at the old state of marketing:
"The old idea of marketing was that we'd have always-on content ads running across LinkedIn and Facebook to our ICP. This would generate direct downloads of our content."

"In turn, that content would be followed up with an outreach cadence where our sales team would try to book a meeting with them, and then eventually a deal." - Alice

The conversion rate on this tactic was about 0.2%.
The new state of marketing, the direct intent demand state, is all about shifting your mindset.
You don't want to push people into your funnel prematurely after they've downloaded your content.
Instead, focus on direct demand and declared intent. Alice says:
"We've moved to ungate our best content. We still serve this up via paid social to our target audience, but we're rebuilding our approach to retargeting funnels specifically for those users who've engaged with specific content."

"We'll send them bottom of the funnel content that's very product-focused like video snippets, testimonials and use cases that's again, all ungated and friction-free."
The result?
"We've been generating direct demand, true intent demo requests. People coming to us and saying they want to buy our product." - Alice
And these are converting from leads to closed-won at a 4% rate.
A huge improvement from the old state of 0.2%, right?!
A big part of this shift is focusing more on the dark side of marketing:
Dark social and the dark funnel.
If you aren't sure what they are, here's a quick definition:
"Dark social is a business term coined by writer Alexis Madrigal; when he wrote this article for The Atlantic, dark social encapsulates "invisible" shares via private channels like messaging apps, email and text, i.e.: any private channel your audience is sharing your content on that can't be tracked."

"The dark funnel is a term that means the places that buyers are engaging and making decisions that no attribution software or tracking can account for."
Let's take a look at how the dark funnel is different to traditional lead gen: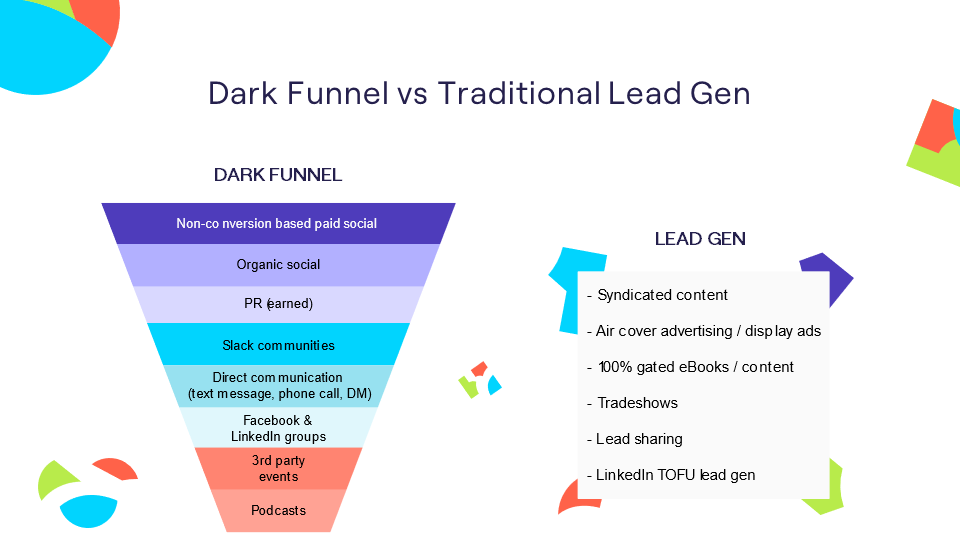 While we are pro-dark funnel, we still run ads on LinkedIn and Facebook, but this is more awareness-based to build our brand and share ungated content.
One thing to think about when making the switch from B2B lead generation to direct intent demand is:
What are you willing to pay to get your content consumed by your perfect buyers?
Here are some of our stats: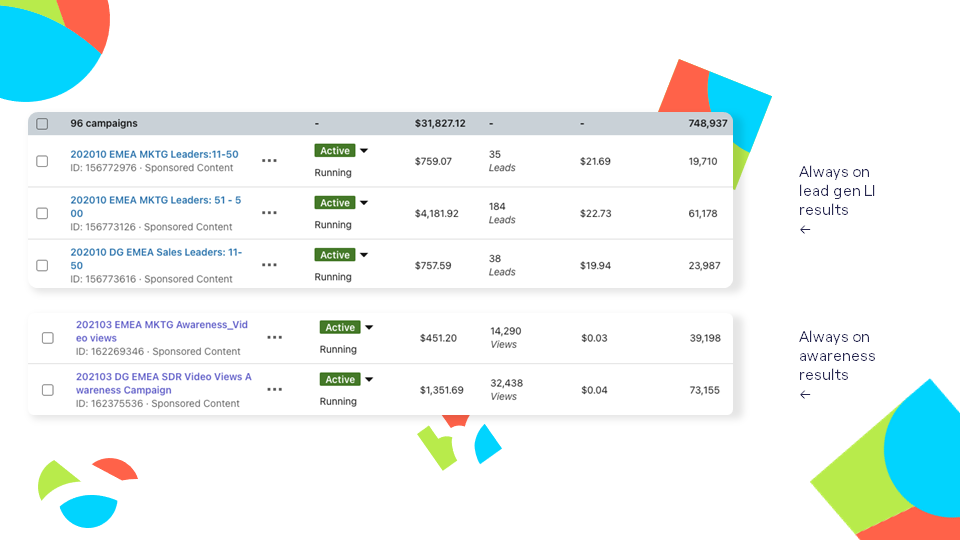 We had great CPLs when we were running the always-on lead generation model at about $21, but now we're getting enterprise leads for about $9.
Alice says:
"But there's a difference when you look at the always-on awareness results. This is fully ungated, down to the bottom. We get the amount of views and eyeballs from our target audience for the cost of $0.03,$0.04. It's massive. So the amount that we can get in front of our TAM has hugely increased by shifting from lead generation to this direct intent demand."
The main takeaway from the changing marketing landscape is that in the past, you were forcing leads into a premature buying cycle to get fast results, and the conversions weren't worth it.
There's a stat that at any one time, 1% of your target audience is actually in market to buy, and 99% of them are not.
So pushing them through this premature funnel doesn't actually lead to the results that you would want.
But with demand marketing, you're giving your customers the most valuable content, constantly!
Yes, you pay to get it in front of them, but in the long term, it pays off with compounding results because you capture the 1% and attract the 99%.
Steps to direct demand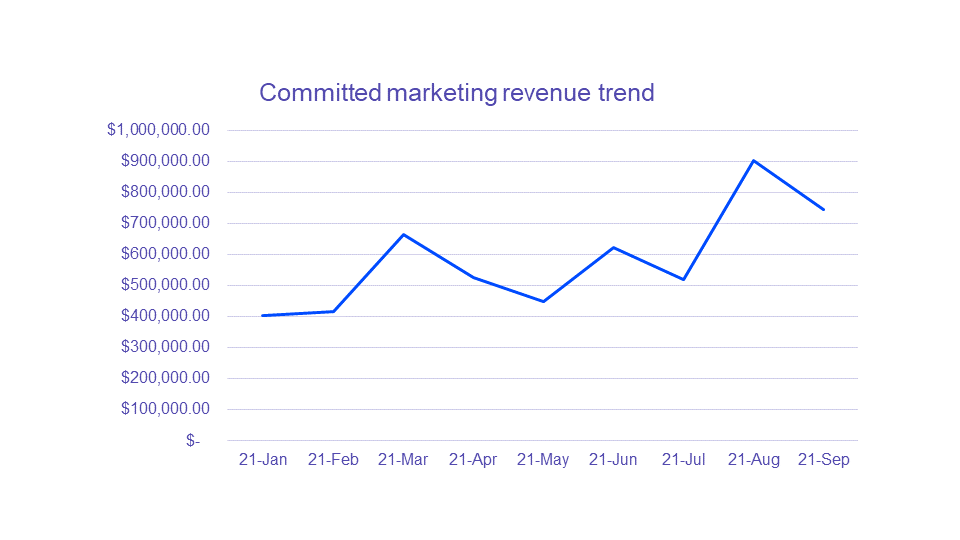 If you take a look at this chart on our success using demand marketing, the numbers really speak for themselves:
We started implementing this approach in May, and as you can see, that's when our revenue started to skyrocket.
Alice says:
"If you're looking to adopt this approach in your own marketing team, it's important to first decide on a revenue number, and then don't be afraid to take that number on."
This approach won't work if you're still measured on MQLs.
We've moved away from MQLs in all forms because this would just be reverting back to the old way of marketing, and that's not the way forward.
Next, take a look at your funnels: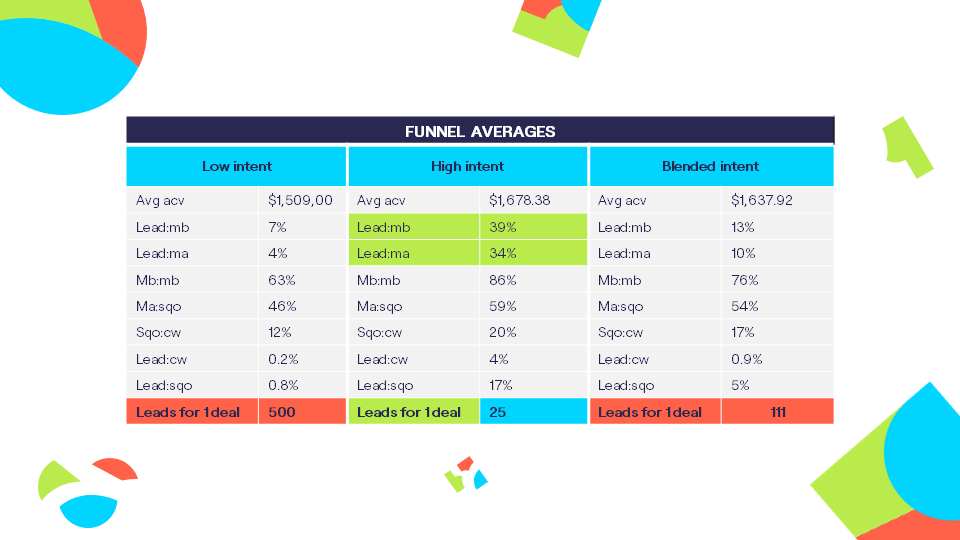 If you're measuring the impact of your marketing in a blended funnel of tactics, you're still going to see stats like the Blended Intent column above.
Alice says:
"They don't look terrible, but they don't look great. It's kind of all mixed into one. When you split between that low intent piece and those lead generation MQLs who haven't come directly to you to declare intent and interest to buy versus those that have, the difference in the conversion rates is massive."
Looking at the stats above, you're likely wondering how you can go after the high intent funnel.
You need to approach it in a way that's predictable and can scale.
The main challenge with this approach is generating enough direct demand to maintain the velocity and revenue you need as a business to grow.
Here are a couple of tactics to try out:
Step 1: Focus on conversion metrics
You want to convert that 1% we mentioned earlier, so conversion metrics should be your primary focus.
Alice adds:
"One key part of our tactic at Cognism has been to create a specialised role for a Marketing Development Representative who sits in the sales side of our organisation. They deal with all of the direct intent demand that we generate as a marketing team."
This role has been developed as a promotion within the B2B sales organisation.
Why?
Because we didn't want to hire junior sales reps to follow up with direct demand prospects.
Alice explains why:
"A lot of the time, people have their junior reps following up on direct demand because they say that's the easiest thing for them to do."

"However, we believe these reps need to have the most experience because they're having conversations with people ready to buy today. These buyers want to have conversations around complex topics regarding your products, and they really appreciate speaking to experienced reps."
Another aspect here is that we keep very tight SLAs on our MDRs. They need to follow up with direct inbound leads within five minutes.
That means a phone call if there's a number and an email if there's not.
This is another reason why we keep this role specialised and separate.
Here's some feedback Alice got on LinkedIn as a result of this excellent customer care: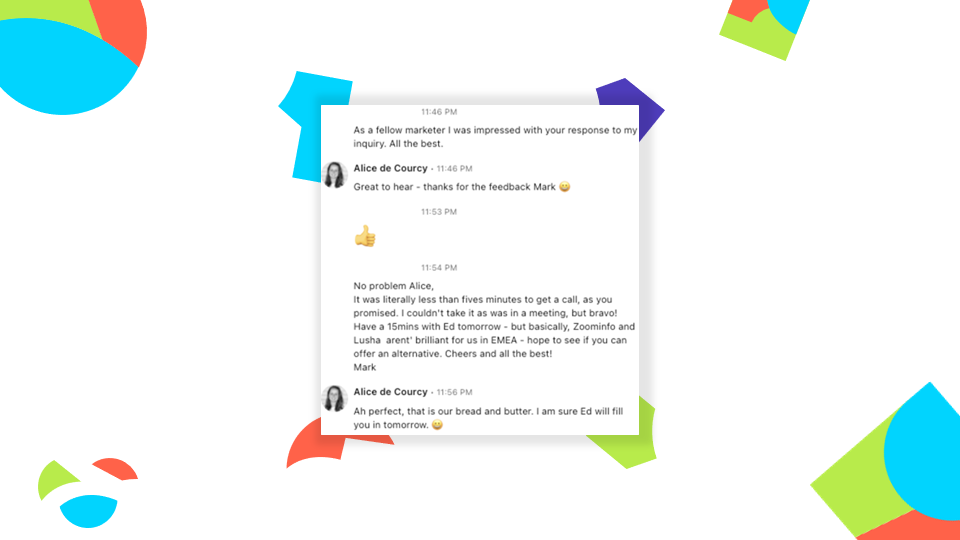 It's a wow factor!

And, having an experienced rep being on the other end of the phone leads to much better results.
So, take a good look at how you're capturing that 1% that comes directly to you.
Step 2: Identify high-intent channels
In order to optimise for the 1%, you need to identify your high-intent channels and lead sources.
For Cognism, this looks like traditional paid and organic performance marketing.
We make sure we're ranking in all the high-volume, high-intent keywords both from an organic and paid perspective.
Alice says:
"We're doing conversion rate optimisation, A/B testing on all those landing pages and the effective lead-gen handover, which goes back to the MDR role. All of these pieces of the puzzle are focusing on capturing the demand that's already out there."
Step 3: Turn your content team into a media agency
Next, you need to generate the demand of the 99%.
"We've waved goodbye to planning our content calendar a quarter in advance and taken more of an editorial mindset to what we produce for the channels our buyers are in."

"This means producing subject matter expertise content at scale and optimising for in-channel consumption rather than attribution." - Alice
So now, our content plan looks more like this: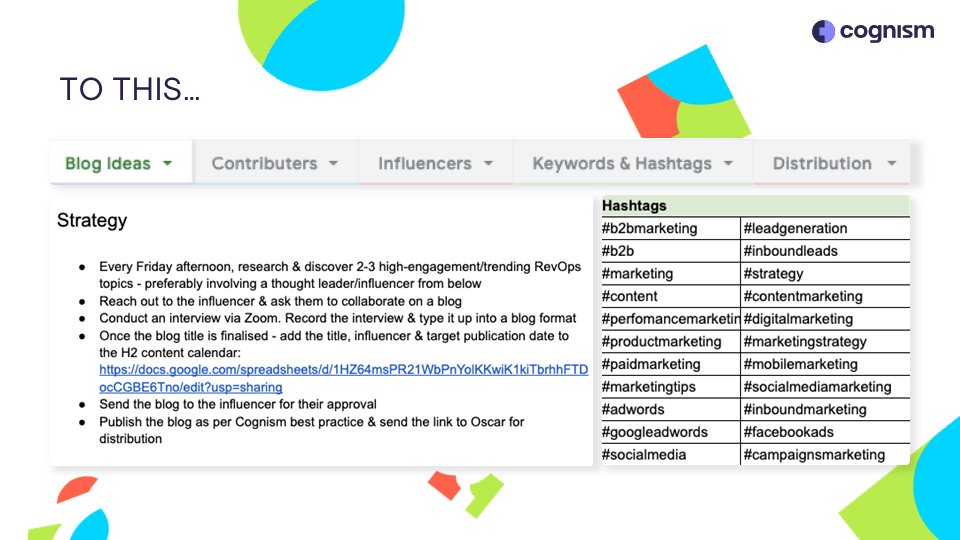 Our content writers now have the freedom to go out and find the story, like journalists.
The purpose behind this is to help them uncover the topics that are of most interest to our buyers today.
Why this approach?
Our buyers want to consume content without being redirected somewhere else.
Whether that's within LinkedIn or Facebook depends on where your buyer spends most of their time.

And yes, this will be a dark social tactic that's harder to track, but in the end, it's better for you as a business.
This will be the bit that really elevates your growth.
Step 4: Dedicate resources into content distribution
The final step for implementing a successful direct demand strategy is to invest in content distribution.
You need to have someone in charge of this full-time, or your new inbound approach won't work.
The idea behind distribution is to produce content your buyers love.
Then, by distributing it effectively, they'll start to share it with their peers.
And that's the most valued and trusted source of information for your buyers right now.
But, as with all marketing techniques, you need to work out a strategy and framework before you get started.
Alice advises:
"The minute you decide to go ahead with content distribution, start labelling different types of content that you're producing to fill that framework and figure out what you want to do with that content."

"You need to be very agile in your approach. You don't know what's going to take off and be worthy of a very high-level distribution."
Keep in mind that a lot of your distribution will happen in dark social with buyers sharing your content via things like:
Private messenger apps.

Comments on social media.

Community groups and subreddits.
To name just a few!
Your content distributor is going to have to be on those platforms, responding and monitoring conversations to see what's getting traction and what isn't.
They'll then feed this information and any trending topics back to your content team so you can provide your audience with the valuable content they want to see.
Finally, something Cognism is busy working on is authoritative content at scale.

Some of the best organisations out there have invested in internal subject matter experts like Dave Gerhardt, Tom Boston and Devin Reed.

This ensures that you're always giving your buyers what they want - high-quality content of value.
Cognism insights
Cognism has leveraged demand generation in a very tactical way.
Starting with the way we produce and manage our content.
Many organisations have great content, but they aren't sure what format it needs to be delivered in to see results.
Alice says:
"We've been doing a lot of experimenting and testing around this. Firstly to understand the kind of topics that people write about and then also the format."

"For example, one thing that does work is if you run a webinar around a topic that you know has a lot of interest, create snippets of the recording and launch it ungated through paid on LinkedIn and Facebook."
Since doing this, we've seen increased engagement that works out to be more effective than LinkedIn sponsored content posts.
Why?
"No one is consuming that content because they have to fill in a form, and it probably just sits in their inbox, and they forget to read it. So, the value in having this ungated free-to-view content is massive." - Alice
Webinars are a great example of changing your mindset to being more in line with demand gen rather than lead gen.
For instance, we used to measure our webinar success by net new leads generated. Now we focus on:
The quality of the content.
Audience engagement during the live event.
The distribution of the content after the webinar concludes.
All we've changed is we've built robust webinar distribution plans, created 'on demand pages' to host ungated snippets and increased the frequency of webinars.
Here's a checklist to help get you started once your webinar has gone live: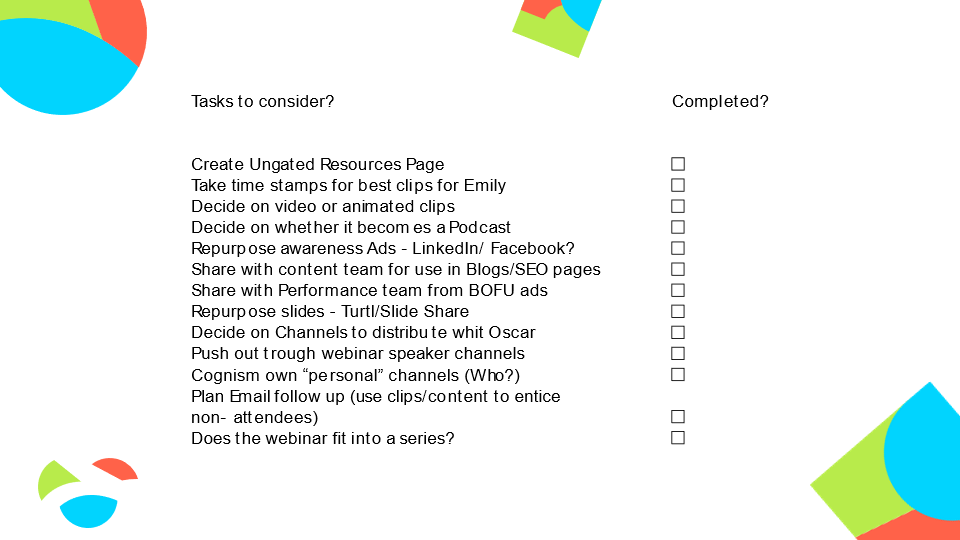 And, apart from webinar snippets, we run a second funnel for the same audience that focuses more on Cognism, what we do and the results you can get with our products - all ungated too.
Types of content that work really well for this second funnel are:
Case studies.
Video snippets of our demos.
Free tools.
Measuring the impact
We gradually went about our implementation and experimentation when implementing this new tactic.
By measuring the impact, we started to see revenue results.
And then we really dove in!
"We've actually had the most amazing uplift in revenue literally in line from when we moved into the model, and that's because the leads that we're now bringing into the business are all direct declared intent." - Alice
Direct declared intent leads are valuable because they want to have conversations with us and, sales cycles are often much shorter.
What should you look at when measuring your success here?
Easy - revenue.
Then measure the indirect correlations. Alice adds:
"Look at spend, spend on channel and the increase in that direct demand. We've also done a few things to give ourselves more insight, like add a form on our thank you demo page where we asked people how they heard about us."
Take a look at the image below 👇
It's fascinating to see the human-verified attribution on the right and what we would have captured as the source through our marketing automation on the left.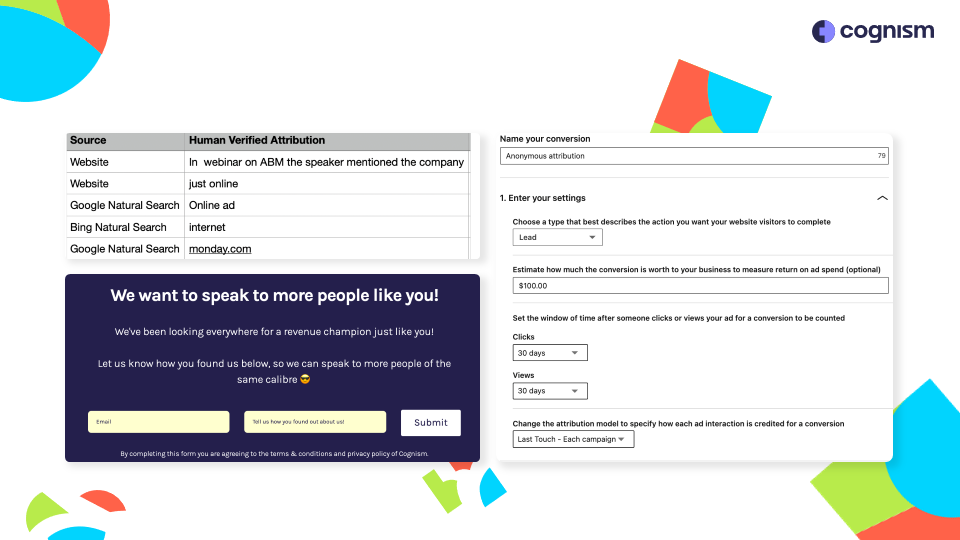 The prospect says they heard about us through a webinar where someone mentioned our company, but our attribution software says they found us through the website.
"You can see within a 30-day window if someone does come to your website and requests a demonstration after having viewed some of these ungated ads that we're running, which does give you a correlation understanding of the money you're spending and the impact it's having."
Closing thoughts
If you want to implement a direct demand marketing model of your own, here's what you need to do:
Make 80% of your paid social ungated with the target audience a mix of TOFU and BOFU.
Double down your focus on organic social.
Take an editorial approach to content.
Build authoritative content at scale and speed.
Have someone focused full-time on content distribution.
Employ dedicated and experienced MDRs.
Most importantly, sign up for a revenue target and move away from MQLs. This will open up all the possibilities.
Sign up for Cognism's newsletters
If you want to scale, you need to keep learning.
And how better than with our specially curated digests?
Click the banner 👇 to get the most up-to-date sales, marketing and content news straight to your inbox.