7 LinkedIn Marketing Tips to Grow Your Business in 2023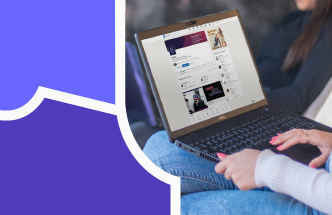 This is a guest article by Kevin Urrutia, Founder of Voy Media, a Marketing Agency in New York that specializes in scaling brands.
Are you looking for the best tips and tricks that will help optimise your B2B business and B2B lead generation efforts?
If you've answered yes, then this post is all about unfolding the best LinkedIn marketing tactics that will help your business grow this year.
Is LinkedIn really effective?
LinkedIn is the world's most popular business social network.
Every day, over 600 million professionals use it to make personal connections, discuss their industries, share knowledge and develop their careers.
It's also the platform of choice for B2B prospecting. On LinkedIn, businesses have direct access to their customers, competitors, investors, potential hires and prospects.
Both marketing and sales can use it to attract and convert new business. Studies have shown that 80% of B2B leads come from LinkedIn, and 94% of B2B marketers use LinkedIn to distribute content.
It's clear then that you need a LinkedIn marketing plan. LinkedIn can be a very effective channel for B2B companies if you use it right.
7 powerful LinkedIn tips that will grow your business in 2023
1 - Identify your goals
Just like with any marketing initiative, it's crucial to identify your goals. The usual B2B marketing goals for LinkedIn may include:
Increasing your brand profile and authority.
Generating, nurturing and capturing leads.
Driving relevant traffic to your website.
Promoting event appearances.
Once you know what your goals are, it's easier to formulate a marketing plan that works.
2 - Complete your company profile
On LinkedIn, your company profile will always be the heart and soul of your online brand.
As people search for your business online and get to know more about your products and services, it's imperative to have a rock-solid profile.
You only get one chance to make a first impression; your company profile is where most people in your target market will go when they first click on your page.
Here are some tips for filling out an excellent company profile:
Make sure you complete 100% of your profile. Don't leave any gaps!
It almost goes without saying, but - no typos or grammar mistakes!
Look at the profiles of your competitors. What can you do to make your business stand out next to them?
Have you recently received any industry awards or distinctions? List them!
Similarly, do you have any well-known clients? Mention them in your profile, if they've given you permission to do so.
Always include a link to your company website. If people like what they read in your profile, they will want to find out more!
Finally, make sure you make use of the banner space provided. Use this wisely; perhaps you have certain campaign messaging you want to push here. Think of the banner as your online storefront and make it work for you.
Completing your LinkedIn profile is vital, because it allows you to be found in searches, and gives you a fantastic opportunity to wow potential clients. It gives you the credibility you need to convince new prospects to reach out to you on LinkedIn and start a conversation.
3 - Optimize your page for search
A great company profile will only get you so far. What's the good in having one if people find it hard to find?
This is where SEO (search engine optimisation) comes in use. Insert keywords into your company profile. The keywords you choose must be relevant and descriptive of your business and what you provide.
Unsure about which keywords to use? Start by asking yourself which words or phrases a prospect would type into Google when looking for your product or service.
Interested in more tips for optimising your LinkedIn profile? Watch this video 👇
4 - Start sharing content
Once you have your profile set up, it's time to start creating content.
Content marketing is crucial to any social media platform, and LinkedIn is no exception. In fact, content marketing on LinkedIn can be more successful form of outbound marketing than on any other channel.
With LinkedIn, you have a captive audience of professionals who are hungry for knowledge and information - 91% of executives rate LinkedIn as their first choice for professionally relevant content.
Take advantage of this by sharing blogs, webinars and videos based around topics that are relevant to your target market.
Focus on quality - if you can, reach out to thought leaders in your industry who are active on LinkedIn and ask them to contribute. Share your content often and you will soon build up an audience that comes back to your page every week.
Don't think that content marketing requires a huge budget! There are many free tools you can use to create videos and graphics. Here are some notable providers:
Some best practices for sharing content:
High-value posts are best executed on Tuesday-Thursday (new/hero posts or high-engagement events).
Low-value posts: Monday or Friday (re-shares, repurposing, old content).
Headlines for posts should be 40-69 characters (including spaces). You have 220 characters before the copy breaks and is hidden.
Best performing headline types include: questions, lists and how-to guides.
Hashtags should be used carefully and on a new line when possible.
The link you post will normally be a piece/page itself, to pull the image and increase the click area. Always use a tracking link where possible.
LinkedIn's algorithm rewards posts without corporate links, so occasionally - particularly from personal accounts - write engaging post copy and put the link in the comments.
5 - Grow your network
Content marketing is one way to gain new followers. There are other things you can do as well.
Try a combination of these 5 methods:
Make sure all your employees follow your company page and like your posts (create a Slack channel for sharing social media posts). They're your biggest brand advocates, and the most likely to share your content.
Invite your customers and partners to follow your page. Promote your LinkedIn presence on your blogs, email newsletters and press releases.
Share other people's content - if you see a blog post or article that you like, share it! Especially if it's relevant or by an influencer in your industry.
Tag connections in your content promotions, if you think they'll find it useful.
Ask your successful customers to write recommendations and testimonials for your company page. It's good social proof. Write recommendations for others, as well!
6 - Don't be afraid to experiment
When you've mastered the basics of LinkedIn marketing, it's time to diversify.
Experiment with posting at different times of the day or week. If you find that a particular type of post gets more engagement than others - do more of it!
Again, look at your competitor's pages. How effectively are they using LinkedIn? Is there anything they're doing that you do? Or conversely, is there anything they're not doing that you can do?
Seek out the gaps that exist in your sector and see if you can fill them.
7 - Always measure your results
To get better at data driven marketing on LinkedIn, you need to analyse your efforts regularly. Most social media schedulers include a reporting function as standard.
If you don't have access to one, don't worry! LinkedIn's own analytics pages can give you an enormous amount of insight.
LinkedIn Analytics is split into 3 sections:
Visitor analytics
Everything you need to know about the people who click on your page, including:
The total number of page views and unique visitors over time.
The ratio of visitors from desktop and mobile.
Demographic information such as job function, location, industry and company size.
Update analytics
Engagement metrics for all your LinkedIn posts, including:
The total number of likes, comments, clicks and shares you've had over a specified time period.
The ratio of engagement between organic and sponsored content (if you're running any LinkedIn ads).
Real-time data on a post-by-post basis, including impressions, views, clicks and LinkedIn's own aggregated engagement rate.
Follower analytics
All the information you need on your audience, including:
The total number of followers you've got and how many new followers you gained in the last 30 days.
Demographic data on all of your followers, showing you where they live and work.
A competitor tracker, comparing your followers and updates to those of other similar companies.
Final thoughts
Without a doubt, one of the best B2B marketing channels that will help you with the development of your business is LinkedIn.
When it comes to professional online networking, it's at the forefront of most people's minds. Your business needs to be on there and you need to be making the most of the opportunities it offers.
Hopefully, these LinkedIn marketing strategies will help you devise a social media marketing plan for your business. Follow our guidance and keep track of your progress.
Lastly, why not follow Cognism on our LinkedIn page, if you haven't already? We're always keen to connect and learn from others in our space.
View our company profile below!