Content Strategy: The Easy Mode Framework
Good content is the backbone of most marketing activities and is especially important in a demand generation model. But content for content's sake doesn't have the same impact.
And what is 'good content', anyway?
Todd Clouser and Obaid Durrani believe they've found the answer to our content strategy prayers in the form of their 'Easy Mode Framework'.
The framework defines types of good content, gives content a purpose and provides an action plan for producing content that makes a difference to business objectives.
Interested to hear more about how these two masterminds are helping Cognism to reinvent content? Just keep reading!
Why did we want to reinvent our content?
2022 for Cognism was all about our switch from lead gen to demand gen. But the most important aspect of this change for us was our renewed focus on our content and building our 'media machine'.
Fran Langham, Global Head of Demand Generation at Cognism, says:
"We wanted to produce value-led content using subject matter experts - and we got into a groove of doing this regularly."
"However, we didn't want our content process to become a subconscious churn."
"Instead, we want to make sure we are purposeful in creating content that works for each channel. Really thinking about how we would deliver our content."
For context, our old content process looked a little like this:
Responsibilities:
Identify a theme for the quarter.
Produce one blog post per week.
Think about how we can include videos or podcast links in a blog post.
What they reported on:
# of views.
Time on page.
SEO-focused metrics.
Writers were primarily focused on blog content. Producing articles once or twice a week using subject matter experts and reacting to the team's immediate needs. Siloed from the activity carried out in the demand gen team.
We realised we needed to find an approach that would allow us to:
Solve our content scalability problems.
Break free of restrictive content formats.
Develop a strategic narrative and points of view to direct our content.
And that's where Easy Mode came in.
What makes good content?
When Todd and Obaid conceptualised the Easy Mode framework, they thought long and hard about what makes good content.
Obaid said:
"I analysed hundreds and hundreds of high-performing content assets. Things like Dollar Shave Club's viral video from back in the day, to Super Bowl ads, to Ryan Reynolds Aviation Gin commercials to good blog posts."
"I wanted to know the common variables in these quality content pieces."
After conducting thorough research, Obaid boiled his findings down to three main variables of idea-driven content:
Insightful.
Interesting.
Entertaining.
Obaid took this a step further:
"Someone can post something on LinkedIn and that's good content. But someone could also produce an amazing Super Bowl ad. And that's also good. So how do you break down the different types of 'good'?"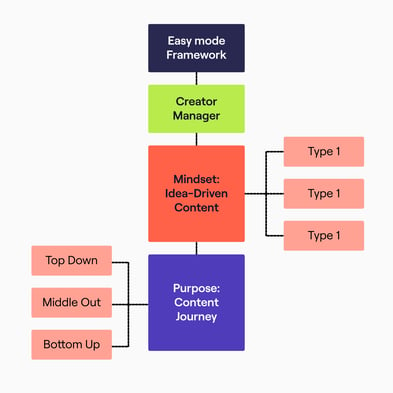 Obaid realised that, at the very least, for your content to be good, it has to be based on insightful substance.
He said:
"In a B2B marketing context, it's something that teaches you about something. You're now considering a new approach or thinking, 'yeah, that's a great point…'."
Content type 1 - Insightful substance
For example, an educational talking head video or value-led text only post on LinkedIn. This is the kind of content you're doing daily or every other day.
Content type 2 - Insightful substance delivered through an interesting format
The next layer is to deliver this insightful substance in an interesting format. Which you might publish weekly or bi-weekly.
For example, at Cognism, we have 'confessions of an SDR' where SDRs share their mistakes and embarrassing moments from their sales experiences.
Content type 3 - Insightful substance, delivered through an interesting format and built on an entertaining concept.
What's the final addition, the pièce de résistance to make this content into Type 3?
You have to build this content on an entertaining concept. One great example is Gong's Super Bowl ads.
Or we quite like this example we made (if we say so ourselves!)
You can have each of your three types of content working alongside one another simultaneously. And not every piece of content needs to be entertaining to be good content.
Todd said:
"There's nothing wrong with posting a text LinkedIn post or a blog article as long as it's truly built on insightful substance. That's why type 1 is the foundation of your content strategy."
Obaid said:
"Once you understand this concept, you'll start to see how other people are applying this."
"To create good content, you have to understand this ideology. This is the mindset of a great content marketer."
Content with a purpose
At the same time that Obaid was delving into this research, Todd was developing theories of his own.
He said:
"In order for you to know if your content offers insightful substance, you need to know what you're trying to achieve."
Now, if we're honest with ourselves, 99% of us would probably answer that our content's purpose is either to a) raise brand awareness, or b) increase inbound requests on a website.
But in Todd's view, these aren't really purposes. They're side effects of having good content.
Todd realised that in B2B content could have three important purposes:
1. Top-down
Targeting strategic decision makers in a target market with a strategic narrative to drive change in a company from the top down.
Examples of top-down audience:
CMO
VP of Marketing
SVP of Marketing
EVP of Marketing
2. Middle-out
Content targeting those who would tactically implement your product. Share content that helps them come around to your way of thinking - or showing them how to get the best out of your product.
Examples of middle-out audience:
Marketing Director

Head of Marketing

Marketing Manager

Marketing Lead

Head of Demand Generation

Director of Demand Generation
3. Bottom-up
Finally, the content aimed at the end users who can drive admiration and evangelism from the ground up. Using the same strategic narrative described in top-down, but with storytelling and entertainment value.
The end users have the highest headcount of the three groups and can champion the change long before a deal takes place.
Example of bottom-up audience:
Marketing Executive

Marketing Assistant

Marketing Coordinator

Demand Generation Manager

Demand Generation Exec
The idea being in any campaign, you can go in with a three-pronged approach.
Todd said:
"This is a progressive approach. It will take a couple of months to do each, and you should progress through each stage. However, at no point should you stop doing the previous."
Meaning that by the end of the process, these three content plays are in action at once.
Strategy
So what's the PoA?
Well, before any ideating, Todd and Obaid suggest you get well acquainted with these five things:
Five prerequisites for ideating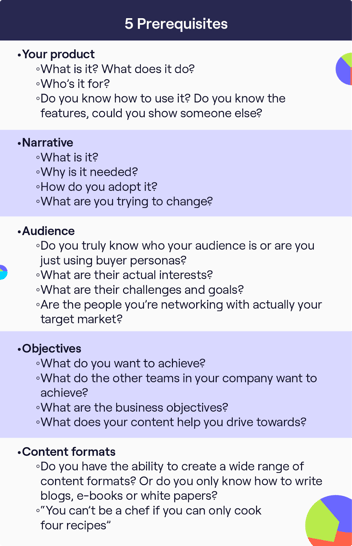 Obaid said:
"Whenever anyone gets stuck in this process, it's usually because they're lacking understanding in one of these five elements."
"If you don't have these things nailed, then your content won't be relevant. Even if it takes off and people engage with it, it could be kinda pointless."
Okay, get an intimate knowledge of these five prerequisites, got it - what's next?
Obaid told us:
"If you get the five prerequisites down, you won't get stuck with ideation. But this next part will make sure that you don't."
"The realm of relevancy."
Developing your realm of relevancy

This process helps you map out your strategic narrative to inform your content topics.
Obaid said:
"The go-to way that most people come up with content topics is keyword research and that's it."
"But when you go through the process of the realm of relevancy, you come up with a tonne of boxes, each of which are topics. All stemming from your strategic narrative. So any topic you choose will be relevant to your strategy, goals and product."
So what do you do?
1. Start with your strategic narrative. The unique company story that will guide your business activity.
Examples:
Obaid's strategic narrative is 'Marketing is about creating unique experiences'.
And Cognism's is 'B2B buying behaviour has changed'.
2. Arrows from your strategic narrative lead to your unique point of view. You can have as many as you want. Each point of view should explain a little more of the strategic narrative.
One of Obaid's unique points of view is 'you should build marketing on creative concepts'.
If you serve multiple personas in your org, then you can split your POVs into persona-specific content.
For example, at Cognism, we have three core personas; therefore, we have three sets of POVs breaking off from our one strategic narrative.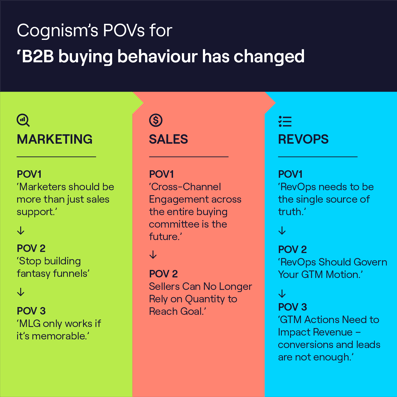 3. Next are your sparks. Aptly named as they're designed to 'spark conversation'. These sparks should explain your point of view.
Example: A couple of Obaid's sparks are 'substance and delivery' and 'effort and payoff'.
Using Cognism's marketing persona as another example:
POV 1 - Marketers need to be more than just sales support

Spark 1 - Marketers need to find the right places to create demand
Spark 2 - Marketers need the skill to market to out-of-market buyers
Spark 3 - Marketers can't rely on outdated tactics

POV 2 - Stop building fantasy funnels (be very specific about what this means in practice)

Spark 1 - Marketing reliant on assumed intent doesn't work
Spark 2 - Declared intent trumps assumed intent
Spark 3 - Buyer journeys are not linear

POV 3 - MLG only works if it's memorable

Spark 1 - Buyers need to think of you when they move in-market
Spark 2 - Admiration over awareness
Spark 3 - Find the right balance in your content and distribution
4. Then you have subject matter. Because you can explain your sparks in multiple ways.
Examples: Such as 'what is it', 'how does it work?' 'Who's already doing it?'
Using our marketing persona POV1, Spark 1 as another example:
POV 1 - Marketers need to be more than just sales support

B2B are doing research in XYZ
How do you find the right places
Looking at reporting to figure out the right places they hang out
How to do customer research to discover these places
Keeping an eye on emerging channels
Listing out the difference between capturing vs creating demand
How to determine which channels to prioritise
5. Each of these subject matters results in signals from your audience. Feedback, questions, and concerns which can lead to other content ideas.
Ideation
So what happens when it comes to putting all this into practice? You want to create some content; how do you go about it?
Todd and Obaid have constructed a 4-step thought process for ideation.
Choose your marketing objective or business goal.
Determine which content formats would help move you closer to that goal.
Construct a full picture of the message you want to deliver and the action you want the viewer to take.
Think of the absolute best way to execute this.
How do you make it about your audience and not about your service?
Construct it in a way that's insightful and enjoyable.
Make it a memorable experience.
How do you know if the Easy Mode framework is working?
As with any content strategy, what you measure will depend on your aims.
However, here are a few metrics to track to get a good sense if your audience is resonating with your narrative content.
Reactions and shares from your

ICP

.

Questions or comments from your ICP.

DMs, conversations and building relationships with ICP.

Collaborations or invites onto podcasts.

Tags in other conversations regarding the topic you're building content around.

Increase in follows from your ICP.
Use the feedback from your audience to direct your next moves.
When you put these sections together, you get the full picture of the Easy Mode Framework: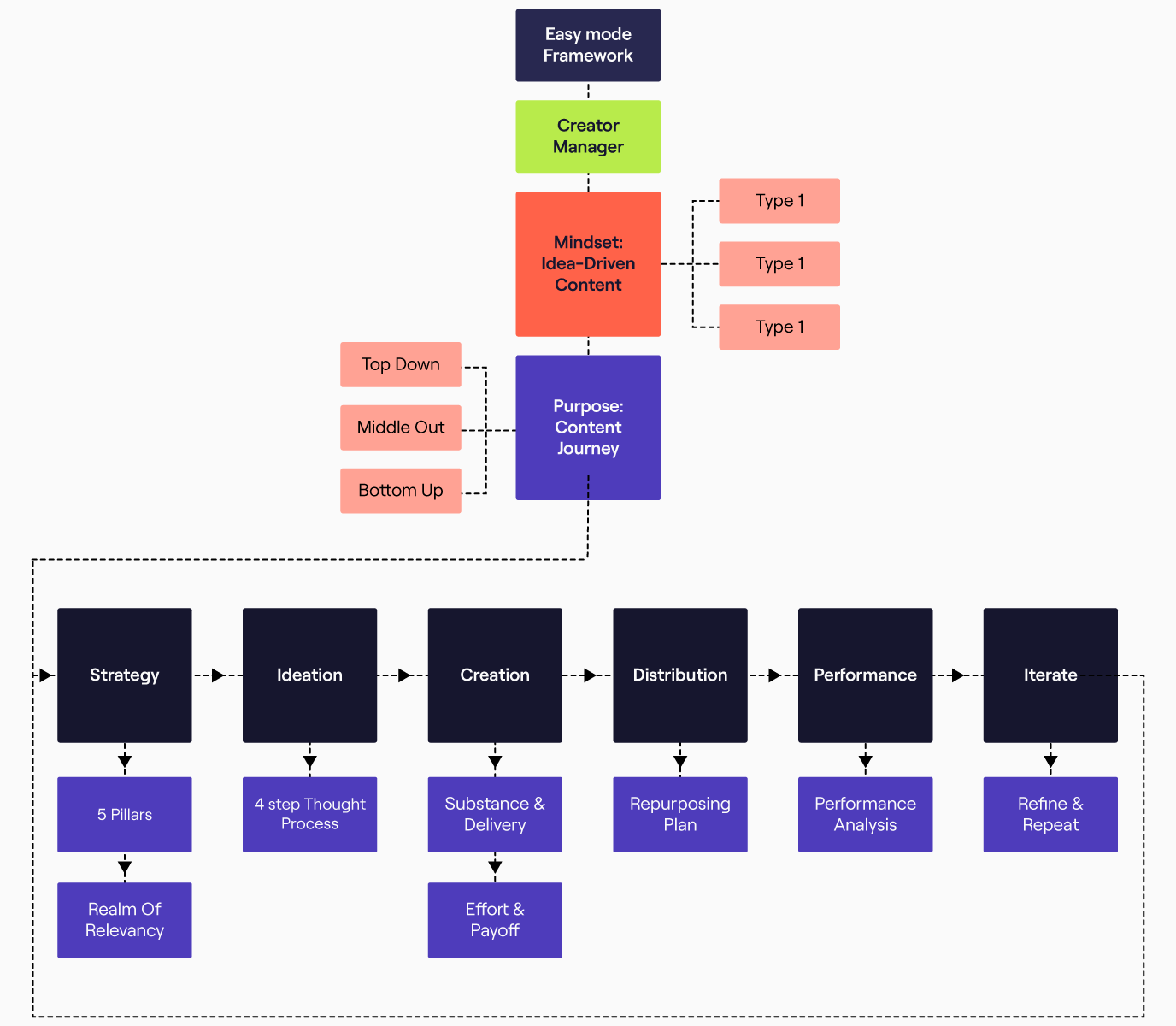 Easy Mode framework: The last word
Whether you decide to approach your content in this way or not, we thought we'd leave you with some positive outcomes we've experienced by producing our content with Easy Mode.
It ​helped us to solve our content scalability problems.
It allowed us to break free of restrictive content formats/
It helped us to develop a strategic narrative and points of view to direct our content.
It meant we spent less time brainstorming content ideas as we have so many 'subject matters' to cover through the realm of relevancy.