Webinar Recap: How Social Selling Can Fuel Your Pipeline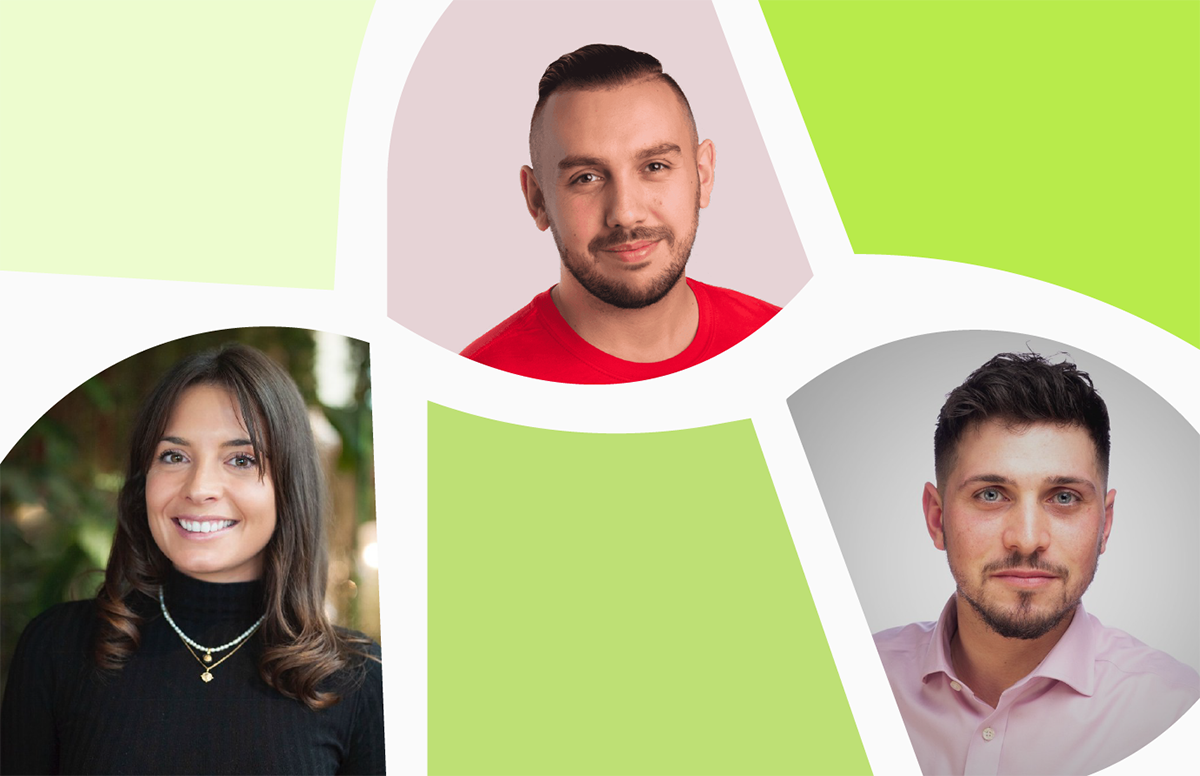 80% of leads were sourced from LinkedIn in 2019, making now the best time to get on top of social selling with a powerful sales strategy that will elevate prospects and fuel your pipeline!
In our recent webinar - LinkedIn Prospecting: How social selling can fuel your pipeline - we assembled a line-up of industry experts who shared the steps they take to prospect effectively on LinkedIn. The main topic under discussion? How you can transform the social network into a B2B lead generation powerhouse!
The participants were:
In this article, we're going to look at the five topics covered in the webinar and take you through the key points our panellists raised.
Key takeaways
1 - Optimising your LinkedIn profile
Daniel Disney, the wizard who helped many of Cognism's SaaS sales representatives optimise their LinkedIn profiles, put it the best when he said:
"You want to look good when meeting a business connection and it's the same when connecting online."
Your LinkedIn profile is your personal ad space when it comes to meeting potential prospects and business connections online. It's important to create a good impression and the best way to do that is with a great profile that's optimised for social selling success.
The three focus areas as laid out by Daniel are:
A professional photo
A great background
A straightforward summary
Daniel and Tara both agreed that when optimising your LinkedIn profile, the very first thing you need to look at is your photo. It needs to be professional, not you and your friend having a great time at the bar! Rather have a friend, or a professional if you can, take your headshot against a plain wall.
If you're like Tara and you want to seem more approachable when selling online, you can choose to use a photo of yourself that looks less formal, as long as you don't make it too personal.


When writing your bio, be sure to speak to your target market and avoid going on and on about how great you are - you'll scare your customer away! What your prospects really want to know is what you do, how you can help them and how to get in touch with you.
Tara's top tip for your professional summary was:
"Make sure your bio is personalised for the customer you want and what you do is clear. The clearer your bio the more likely you'll gain good prospects. If you're too vague, you'll get vague inquiries."
2 - Building a strong network
"When it comes to LinkedIn your network is basically your net worth." - William Gay
The aim of the game is lead prospecting and the best way to do that on LinkedIn is through connections. But how can you grow your network?
Daniel had a great answer to this question - the formula for success is to create content that connects people. He said:
"You'll need to find that sweet spot between personal and professional when sharing your content. People buy from people, they want to know you, so share personal stories every now and again but make sure they have meaning."

"For instance, if you do share a pic at the bar, the context behind it could be that you're celebrating a big achievement at work."
The next step to connecting with prospects is to add people daily. Most salespeople have over 1000 connections on average. By proactively adding people on a daily basis you're extending your reach and creating brand awareness with your potential prospects.
The main rule to follow here is not to connect with over 30 people a day because LinkedIn will ban you, temporarily or permanently, depending on how often you do it!
Tara added:
"You need a genuine reason for connecting with people rather than just scrolling through LinkedIn pressing, add, add, add because then you'll have a whole bunch of people on your profile who don't care what you're doing."
Keep in mind that sending a connection request is only the first step of your social selling strategy. It's not always necessary to send a connection message, as it only increases your chance of connection by 5%. People are more likely to accept your connection if it makes sense to connect and if your profile looks good.
3 - Creating a content strategy
Creating a strong content strategy is key when it comes to social selling on LinkedIn. With the implementation of lockdown across many countries worldwide, the nature of that content is changing. Tara said:
"Everything has become very personal now that we're all working from home. It's great because you can share a bit more about yourself without being too personal and being accused of treating LinkedIn like Instagram."
While sharing a more personal side to your business is a great way to show your prospects that you're human too and not just after the sale, it can be difficult to find a good balance and not overshare. Daniel recommends only sharing personal posts on LinkedIn once or twice a week because every great content strategy includes variety.
To get the best engagement be sure to post at least once a day and include more professional content so your connections know exactly what it is you do and what you're selling. Tara added:
"It's pointless to post pointless posts. My best advice is that you need to think of your objective and how you want your customers to feel when they see a post from you because you want to make them feel good, not annoy them."
A great example of a post that had a lot of engagement is this one published by William: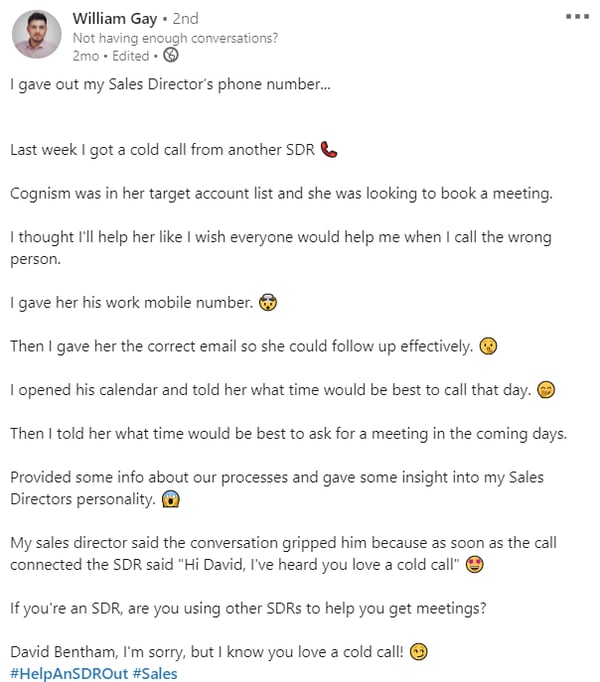 Cognism had a competition to see who could get the most engagement from a post on LinkedIn. Of course, this post won. Why? Because it told a story that was relevant and hooked people with humour. Plus, it showed personality without being overbearing.
Daniel remarked that what really works with this kind of post is that it doesn't come across as someone selling something and people connect well with that kind of content.
4 - Establishing credibility
At the end of the day, outbound sales for your business is going to go a lot smoother if your prospects trust you. To achieve this level of trust, Daniel recommended:
"Create a stand out profile and back it up with a great content strategy by sharing content of value. People will respect and recommend you, even if they've never bought from you just because of what you've shared."
What if you run out of content to post? William admitted that he has this problem on occasion. He finds that engaging with other posts is just as great as sharing your own, because you build a relationship with others while building your brand. People will learn to respect your opinion and will come to you when they need advice on a certain topic or area of expertise.
At the same time blindly resharing is a no-go! Include your own thoughts when reposting and don't copy and paste someone else's work. Daniel added this piece of advice:
"Copying and pasting what worked for someone else won't necessarily work for your brand. It's a shortcut, rather put in the effort to create your own brand and your prospects will like you more for it. If you want to reshare, only do it 30% of the time."
5 - Starting conversations
There are many ways to start conversations with prospects on LinkedIn. Voice notes and videos are particularly successful for kickstarting B2B sales on social media, but as much as there are tactics to help you excel, there are just as many to avoid.
Our panellists dove into this, sharing their top tips on LinkedIn etiquette. Daniel stated:
"I'm all for starting conversations, but before you do, do your research and prequalify yourself by checking your bio - are you being clear about who you are and what you do?"
This is a tip that shouldn't go ignored. Even if you've already made the connection, your prospect is more likely to want to converse with you if you stand out as someone they want to talk to. If you dive in talking about how great you are, your prospect won't be impressed.
Tailor your message for each prospect. Find a post they shared and discuss it. Be sure to make the message short and sweet and throw in an emoji to come across as friendly. 🙂
When asked to share their top tips for standing out when using InMail, Tara Jackson shared a truly innovative idea:
"You need to remember that your prospects are people too. I thought of how I might communicate with a friend and the answer is - voice notes! It's different because it's personalised and short, so your prospect doesn't get the idea you're sending it to everyone. I'd say really focus on your first 10 seconds because that's what's going to hook them."
Daniel Disney and William Gay both shared Tara's sentiment. Creating an impactful first message is all about doing something different. Even a video message could work if done in a good way, but as with all strategies, the trick is to do your research.
Another great tip for starting the conversation was shared by William, who said:
"Don't make your salutations too formal or personal. Just use their first name because I can tell you now, the only time I've been called Mr is in phishing emails, and you don't want your prospect to think you're trying to scam them!"
Social selling - final thoughts
The bottom line for LinkedIn prospecting is - don't overthink it! If something annoys you in a mail, avoid doing it in your own messages.
We hope you enjoyed this recap of our social selling webinar. If you'd like to soak up all our speakers' insights, you can listen to the recording and view the accompanying slides by clicking the button below.
Give Cognism a try
Cognism can help you prospect even better - all within a single platform. Book a demo today to give the world's best all-in-one globally compliant prospecting solution a try for yourself!