14 Ways to Increase Your Sales Conversion Rate
When it comes to increasing sales conversion rate, it's essential to keep in mind the B2B sales and marketing funnels.
Conversion only occurs at the bottom of the funnel. People at this stage are those who:
Are aware of their business problem.
Have done their research on the variety of solutions available.
Are ready to make their purchase.
Prospects higher up in the funnel aren't ready to convert yet. And because of this, your tactics to drive conversions will inevitably change across your funnel stages.
Let's not forget that your marketing and sales strategies can be further divided into inbound and outbound methods.
How then can you increase your sales conversion rate?
Scroll 👇 for 14 top tips!
1. Invest time and effort into a blog
Having a blog on your site is one of the most important aspects of a good inbound strategy. To improve sales conversions, your articles should talk about your product or service and industry trends, as well as provide helpful guides for your readers.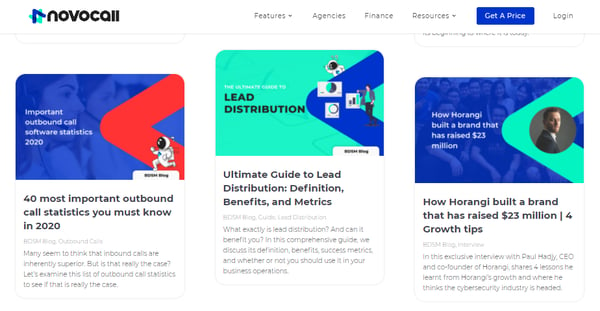 Having good content on your blog helps you achieve several things.
Firstly, it helps you establish your brand as a thought leader in your field. This builds the level of trust your readers and potential leads have in you. It also creates the impression that your brand is one that is genuine in offering help to your readers and prospects.
Content marketing can help make your business one of those "top-of-mind companies" that prospects will think of when looking for a solution to their problems.
2. Create content for the right audience
As we established at the beginning, strategies for increasing customer conversion will vary based on the funnel stage your audience is in.
Those at the top of the funnel (TOFU) - or the awareness stage - are looking for more general information and might not have identified their business problems yet. For them, blog articles like industry trends, statistics, and general guides are most helpful.
Meanwhile, those at the middle of the funnel (MOFU) - or consideration stage - are already aware of their business problem and are looking for solutions. For them, articles that compare software (such as this example on B2B lead generation tools) are the most useful.
Note that those at the TOFU and MOFU stages aren't looking to purchase just yet. Your goal when planning out content for them isn't just to improve conversion in sales, but to educate.
3. Optimise your content for search engines
So you've got a nicely designed blog page. You've got great content that can help answer the questions your intended audience might have.
But what good are these when no one can find your blog?
That's why your content needs to be optimised for search engines. When coming up with your content strategy, you must also think about your audience's search intent.
Ask yourself this:
What kind of content or words are my audience searching for?
You will need to engage in some keyword research before even starting to write.
Backlinko has a comprehensive guide on how to rank higher on Google.
Top sales conversion tip 💡
You should start optimising content that targets BOFU prospects. Since these people are most likely to convert, optimising these articles will help to increase conversion rates.
4. Create gated content
We highly recommend that you create gated content.
As its name suggests, people who want to read the content have to pass through a 'gate'. In this case, a lead form.
Here's an example: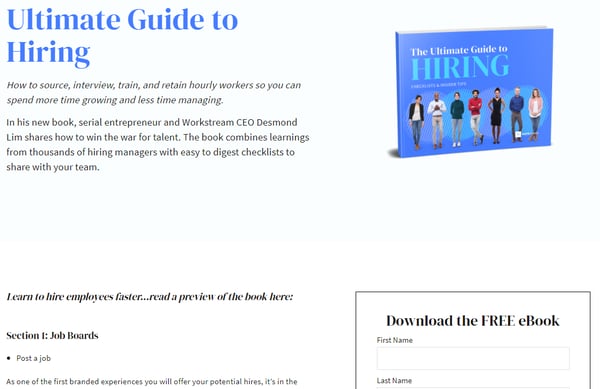 You can even create unique landing pages for your gated content and embed a lead form onto it. Top landing page tools can help you to do this.
That way, you create an incentive for those who want to read your content to provide you with their contact details.
5. Add pop-up forms onto your website
And why stop at just a landing page? Create pop-up forms and have them show up on certain pages.
See the example below: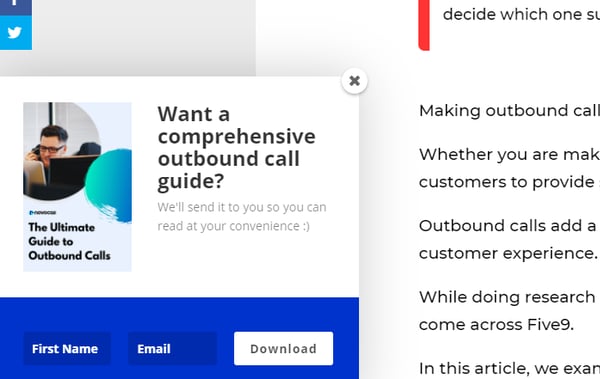 Use pop-ups to inform your site visitors of the exciting new content that you've published.
Top tip 💡
The more conspicuous your pop-up forms, the more likely people are made aware of the great content you have, and the more likely they'll download it.
This, in turn, increases sales conversion.
6. Make it easy for your readers to subscribe
Apart from a pop-up, you should also create a subscription box for your site visitors to subscribe to your newsletter.
This is another great way to convert your prospects into leads!

Top tip 💡
Make sure your subscription box is big and clear! This makes it easier for site visitors to notice it.
7. Use convincing copy on your opt-in forms
And while we're on the topic of subscription boxes...
The copy you use on the boxes also plays a role in convincing site visitors to give you their contact information.
Focus your copy on the value you can deliver to them.
For example, if you are a sales automation software company, your copy should focus on how you can help them improve their sales through automation.
You could say:
"Receive FREE weekly expert advice on how to improve your sales."
8. Distribute your content
While you should invest heavily in a good content and SEO strategy, you shouldn't only rely on that to get people to read your content.
Rely on other channels, such as your social media platforms, to advertise your content to your followers.
Also, get your colleagues to leverage their networks and share your content on their profiles!
This makes sense, especially on B2B-centric platforms like LinkedIn, where people often have more connections than companies. The greater your outreach, the greater the likelihood of someone reading your content.
And if you distribute more content designed to convert people, the more likely you are to drive conversion rates.
9. Run digital ads
Enter Google Ads. It's an advertising system in which advertisers bid on certain keywords to get their clickable ads to appear in Google's search results.
While it's still an ad, it relies on your knowledge of your audience's search intent to increase conversions.
10. Conduct pre-call research
For SDRs, conducting research should be a pre-call ritual.
Without sales call prep, you'll come across as a salesperson who's unprepared and possibly even uninterested in the person on the other end of the phone. Imagine being a marketing professional speaking to someone who tries to sell you a product meant for finance professionals.
Talk about a lack of effort!
Your prospects will likely appreciate the extra effort made to personalise the cold call and may open up more.
Apart from researching your prospects' backgrounds, you should also research the types of questions you should ask.
And this brings us to our next point...
11. Use a cold calling script
You can increase outbound sales conversion rates if you carefully think about your questions in advance, and organised in a logical sequence from the most general to the most specific.
Write up a quick cold calling script that you can reference while you're on the phone. The idea isn't to read from this verbatim but to use it to guide you in communicating your message clearly and confidently.
Top tip 💡
The goal of a cold call isn't to pitch to someone on the spot. You're just trying to get them to commit to a meeting at a later date.
12

.

Know when to call
No SDR wants to waste their time cold calling the same prospect over and over. Yet if you're cold calling them at the wrong times, that's just what will happen.
Peak Sales Recruiting says one of the worst times to cold call is on a Friday afternoon. This makes sense, as, by this point, most people are tuned out. They're waiting out the final few hours of work so they can start their weekends.
Another poor time for cold calling potential customers is on Monday morning. Many people open their laptops first-thing and are focused on going through their inboxes. Companies often hold important meetings on Monday mornings, as well.
Then when should you call?
Top B2B conversion rate tip 💡
Try Wednesday - cold calls are 70% more successful on Wednesdays!
You have two windows: morning or later in the day.
If you're an early bird, then try cold calling anytime between 11 AM and 12 PM.
If you prefer the afternoon, then make sure to give your prospect a call from 4 PM to 5 PM.
13. Don't give up prematurely
Calling strangers and facing high rejection rates can be exhausting for sales reps.
It's no wonder 44% of salespeople give up after one follow-up call not being successful.
That's a lot of people giving up early! As cold callers, we're not advising you to harass a prospect, but give it more than a single follow-up.
Top tip 💡
Try four or five times!
By being more persistent, you'll significantly increase your sales conversion rate. Persistence helps increase conversion rates by up to 70% - see this infographic from Novocall: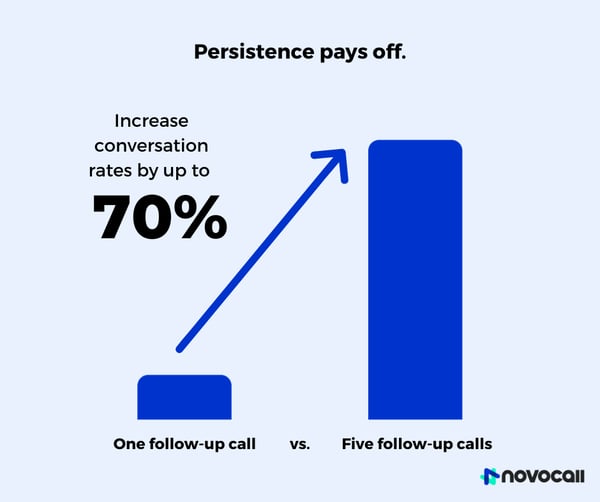 If, at that point, the prospect stops answering, you know to back off. The same is true if they tell you outright they're not interested.
But once you get to that point, you know you've done all you can to win them over and it just didn't work out that time.
Onto the next one!
14. Give the prospect time to talk
A successful cold call lasts an average of 5 mins 50s, compared to 3 min 14 s for unsuccessful calls.
But just because successful outbound sales calls lasted longer, it doesn't mean that the amount of time sales reps were speaking for is the key reason for success.
So, how to increase the sales conversion rate during that short call?
Let the prospect to talk. You should offer a listening ear and learn more about their business needs.
Top tip 💡
The best talk-to-listen ratio for a successful cold call is 55%:45%. That's almost a 50:50 ratio!
Remember that your prospect is an individual, not just another number in a long line of leads.
Sales conversion rate: final thoughts
We hope that you've benefited from this comprehensive list of B2B lead generation tips!
Increasing your sales conversion rate is never an easy thing. But with these handy tips, we're confident that you can definitely drive better results.