The Top B2B Marketing Podcasts for 2023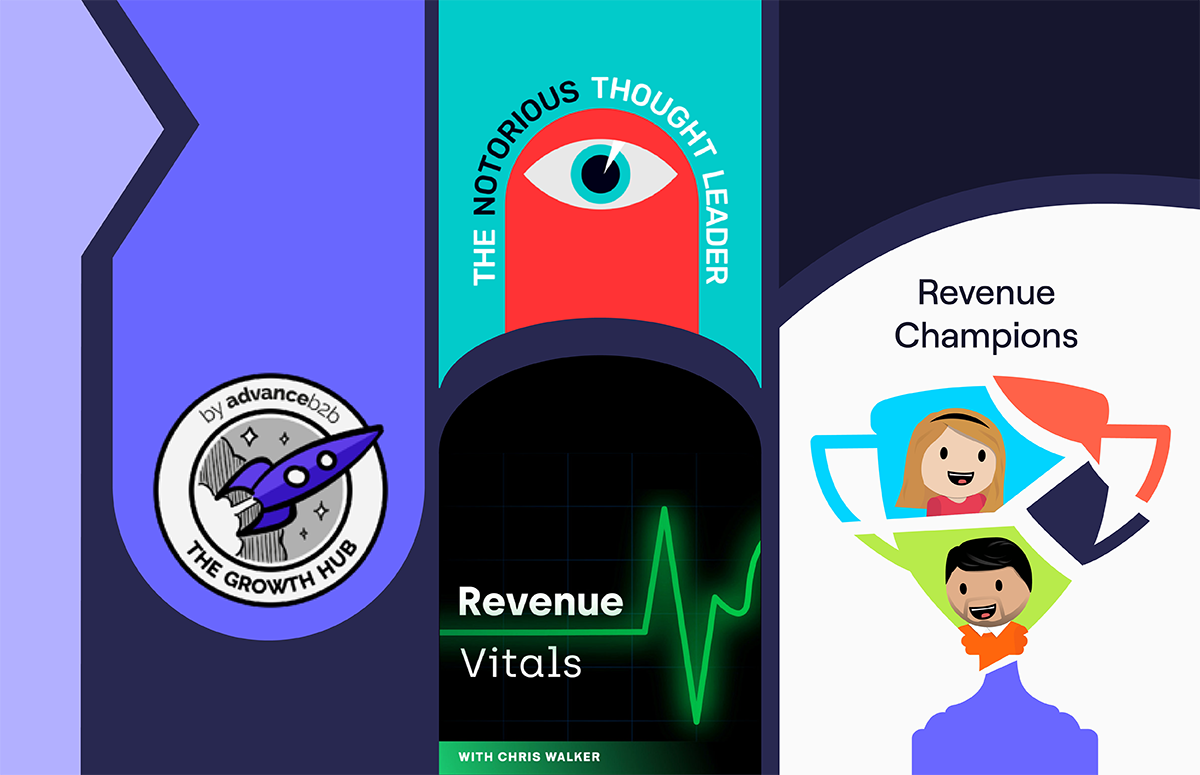 Are your eyes aching from screen use? Are your fingers floppy from scroll fatigue?
Then we've got you covered.
We've collated the top B2B marketing podcasts so you can start absorbing actionable tips in your sleep. And put a stop to strategies that sap your growth.
These folks inspired us so much that we started our own podcast about marketing. Which we've mentioned below. Obviously.
Use the sticky menu or scroll 👇 to get started!
The best B2B marketing podcasts
Revenue Champions (Cognism)
Since its launch, Cognism's Revenue Champions podcast has connected with big-name B2B marketing guests to provide a ton of actionable tips and strategies.
Our Demandism series is perfect for marketers making the switch from lead gen to demand gen!
So far we've covered topics like:
Building a demand gen machine from the ground up.
Campaign strategy 101.
Balancing demand gen with traditional marketing practices.
With guests and hosts ready to lock horns on key issues, the podcast arms aspiring B2B marketers and salespeople with a number of potential routes to success.
What constitutes success, of course, is tactics that improve your company's bottom line.
Hosts to follow
Exit Five: B2B Marketing with Dave Gerhardt
Dave Gerhardt is one of the biggest influencers in B2B marketing. His podcast Exit Five: B2B Marketing with Dave Gerhardt sees Dave sharing his marketing knowledge. As well as speaking to industry experts about driving revenue.
We previously spotlighted the show when it was called The B2B Marketing Leaders Podcast. Now, he shares value-driven content through his community for B2B marketing pros called Exit Five.
At Cognism we were inspired by Dave's podcast and even took some of the tips and tricks discussed and applied them to our own data-driven marketing strategy.
Hit subscribe and thank us later.
Host to follow
Revenue Vitals
You've probably seen nuggets of gold coming from Chris Walker's LinkedIn profile, where he posts snippets of the Revenue Vitals podcast (formerly State of Demand Gen).
But you really need the whole package in your life.
That's because it's different to anything you'll hear on other B2B marketing podcasts. You'll have your thoughts and marketing ideology challenged. And you'll come away from every listen a little bit smarter.
The value of brand marketing and how to build a predictable demand gen engine are key themes of this must-listen show.
Host to follow
Business Growth Show - B2B Marketing & Demand Generation Podcast
As the podcast's title suggests, growing a business is a big deal for host Sam Dunning, sales director and co-owner of Web Choice.
Skyrocketing your marketing and B2B sales, to be precise.
And with a huge back catalogue of episodes, there's plenty of content to help you do just that.
Choose from pods on marketing fundamentals, tried and tested sales strategies, marketing metrics and more.
Our favourite episode is with our CEO, James Isilay. Alright, we're biased. But it's damn good. 😅
Host to follow
Growth Marketing Stories
Want to make a heap of cash in a couple of weeks?
Then this marketing podcast isn't for you.
In Growth Marketing Stories, Growth Marketing Consultant, Aazar Ali Shad, tells you that you should focus on growth flywheels instead.
That means finding new and innovative ways to delight your customers and solve their pain points.
Listen as Aazar unpicks popular topics that are moving the business needle with other growth marketers.
Host to follow
The Growth Hub Podcast (Advance B2B)
For B2B head honchos, The Growth Hub Podcast is essential listening.
After all, why wouldn't you want to learn how to become a high-growth SaaS company from the very best in the business?
Guests from HubSpot, Ahrefs, Drift and a boatload more household names make it one of the top marketing podcasts. With their help, you'll be able to fine-tune your outbound marketing strategy.
Soon enough, you'll be one of the guests on the show.
Hosts to follow
The Notorious Thought Leader (Haus of Bold)
Thought leadership. A term that gets a lot of attention in the B2B marketing industry.
But what does it really mean? And how do you nail thought leadership content as a marketer?
Don't worry! Erin Balsa founder of Haus of Bold sits down with marketing leaders to discuss what thought leadership actually is. And most importantly, how it can drive growth.
Guests from Klayvio, Chili Piper and Refine Labs weigh in on how to do thought leadership authentically and creatively.
Host to follow
The Customer Engagement Lab (PandaDoc)
Are you easily bored by business podcasts?
If you work in marketing, sales, demand gen or customer success sometimes it feels like you're swimming in a sea of boring content.
The Customer Engagement Lab podcast doesn't take itself too seriously. And that's a good thing! Join Travis Tyler, Senior Digital Content Producer at PandaDoc, as he and his guests navigate the latest trends in customer engagement.
Host to follow
B2B Lead Gen Podcast
Anyone can generate loads of leads. But very few B2B marketers can generate quality leads at scale.
B2B Lead Gen Podcast aims to change that.
Los Angeles-based digital marketing consultant and host Eric Schwartzman targets key marketer pain points, from how to hire the right people to the data that can cloud your judgement. And in every pod, there's always a focus on revenue.
Plus with guests like Neil Patel and Anna Lebedeva (SEMrush), you can be sure any recommended tips and tricks are good enough for the cream of the B2B marketing crop.
Host to follow
The SaaS Marketing Show (Hey Digital)
If you're looking for cut-and-paste B2B marketing strategies, The SaaS Marketing Show is right up your street.
What makes it one of the best marketing podcasts is its format. The case studies showcase real-world success stories and get down and dirty with the strategies and tactics behind them.
That means you get to learn what did and didn't work for companies in their journeys to becoming multi-million dollar organisations.
Basically, if you listen to this podcast about marketing and don't change something about what you're currently doing, you ain't doing it right.
Host to follow
Marketing Growth Podcast
Do you want to succeed in growth marketing?
Then make the Marketing Growth Podcast your go-to resource.
Hosted by Shane Barker, this is one of the top B2B marketing podcasts. It aims to arm prospective and current digital marketers with tools, tips, and strategies to succeed.
Learn from the best in the industry including Erik Qualman, Ted Rubin, Rand Fishkin, Lisa Lepki, and many others. Get to the nitty-gritty of what works for them and what doesn't, and the best practices they've accumulated that you can replicate.
Host to follow
Feeling inspired? Check out our podcast below! 🎧