The beginner's guide to SEO
This is a guest article by Shealyn Rager, content marketer at RankPay - a top-rated SEO service that helps hundreds of small and mid-market businesses grow their online presence.
Search engine optimisation (SEO) is an essential and pivotal way to attract customers to your website and generate leads. And by doing so, you'll ultimately increase traffic so you can effectively nurture leads into clients.
However, getting on the first page of Google's results can be even more challenging than it seems. And Google's ever-changing algorithm isn't doing any of us any B2B lead generation favours!
While there are multiple SEO tactics that you need to perfect your overall strategy, the essential SEO pillars listed below will help get you started.
5 essential SEO tactics
1 - Conduct a website audit
For starters, conducting a website audit is vital to identify any possible SEO issues. You'll be able to get a feel for what you're already working with and any improvements you can make.
Typical website issues might include the following:
Slow loading times.
Large image files.
Broken URLs.
Thin and repetitive content.
Be aware: some sites with little to no search traffic may face more issues from an SEO perspective. But you'll be able to identify any problems efficiently with a site audit.
An easy to use audit tool is Screaming Frog SEO Spider. Simply enter your domain URL on the search bar and wait for a moment (depending on how large your site is).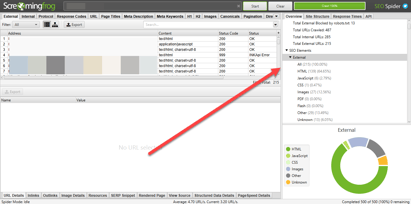 After identifying your critical issues, you can start to improve your site. And, if done successfully, you can quickly boost SEO and your site ranking.
2 - Keyword research
Before you go any further, keyword research is a requirement. Without picking the right keywords, your on and off-page SEO efforts might ultimately end up being wasted!
The goal is to find relevant keywords that have the right balance between a (hopefully) low keyword difficulty (KD) and (hopefully) high search volume.
Keyword difficulty (KD) refers to how easy or hard it is to rank on top of search engine result pages (SERPs) for the keyword. The lower the difficulty score, the weaker your competition is. Therefore, you need to find keywords with low KD so you can rank higher and faster.
And while this is common knowledge, the more search volume a keyword has, the higher chance there is that a user will find your site on SERPs.
Tools like Long Tail Pro or Ubersuggest can help you find easy-to-rank-for keywords by simply typing in your seed or topic keyword on the search bar. They will then generate keywords with low KD and filter them according to monthly search volume.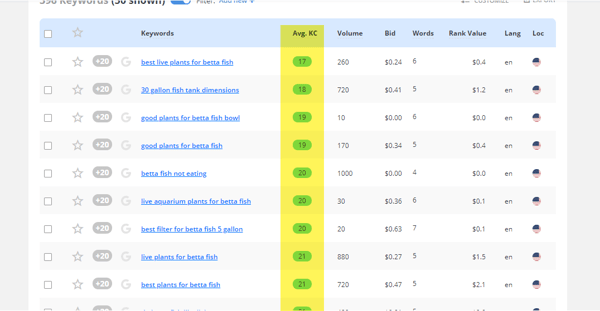 From there, you will have a list of keywords you need to optimise on your content.
3 - Content creation
Writing great content is more than just a well-researched article with zero grammatical errors, especially for SEO driven content.
No, we're not just talking about mentioning your keyword in the title, body, and meta description. While these actions definitely help search spiders understand your content better, there are other on-page SEO signals to consider.
Both your content strategy and SEO strategy should work hand-in-hand together. So, make sure your content offers unique and valuable information that attracts new leads and retains users. Don't be afraid to mix things up and experiment with A/B testing and analytics. Above all, make sure your content is comprehensive but user-focused.
4 - Link building
Link building is arguably one of the most crucial ranking factors. Developing a link profile is considered the fastest way to help you rank for your keyword.
Links are akin to a recommendation. The more "recommendations" you have from popular and authoritative sites, the more importance Google will place on your website. As a result, you can leapfrog your competitors and gain more website traffic and leads than them.
Unfortunately, link building is easier said than done. You'll have to earn your links from websites. That means creating useful and insightful content that leaves no choice other than to link to it.
But, you'll need to use different tools for building sustainable links for your site. For instance, Ahrefs lets you audit your link profile and identify your best connections to keep.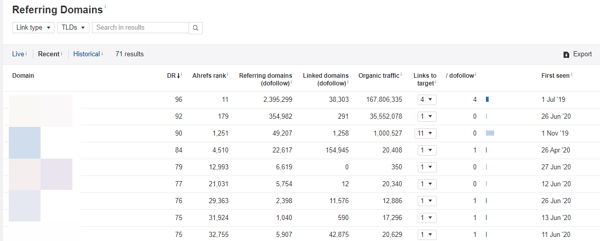 Plus, it gives you the ability to spy on your competitor's backlinks and peek at this link building strategy. That way, you can emulate their success, rework your SEO strategy, and gain powerful backlinks.
5 - Analytics
Of course, the main goal of SEO is to increase traffic; however, how you generate organic traffic is just as important.
And when it comes to B2B marketing tools, Google Analytics (GA) and Google Search Console (GSA) analytics are vital for SEO performance. They do the heavy lifting so you can get a detailed look at your content and SEO campaigns.
Some key indicators of your SEO performance might include:
Sources of traffic.
Best-performing pages.
Top keywords you're ranking for.
GA overall helps you understand the behaviour of your website visitors, too. It's important to note their length of stay on the page, bounce rate, and other variables.
Using this information, you can brainstorm ways to optimise your site, retain leads, and increase your conversions.
Plus, GSA will alert you if Google has issues crawling your site. Using the tool, you can resolve the problem before it escalates so you can maintain your rankings.
With your website data in hand, you'll be able to refine your SEO strategy. For example, you can take advantage of your top-ranking pages by internally linking to other resources, which helps funnel traffic.
Plus, there are many things you can do using both tools to help tweak your campaign and generate more leads.
Conclusion
While there are other components you need to know about SEO, like on-page SEO, the five pillars above should help you get started.
Ultimately, SEO is about providing your target audience with the best possible experience on your website. That means producing useful content on an optimised site.
If done correctly, you can boost your keyword rankings on Google and drive more traffic to complement your data driven marketing strategy.
Get more content marketing guidance
Cognism has published a playbook for B2B content marketers! Featuring contributions from some of the brightest minds in B2B/SaaS marketing, it answers questions such as...
How do you build buyer personas for content?

How do you set goals for content and develop a strategy?

What are the best tactics for writing and optimising a blog for SEO?

What techniques work on social media for building and retaining an audience?

How do you measure the success of B2B content marketing?
Check out Cognism's Complete Content Marketing Playbook today - click 👇 to get your copy!