LinkedIn Ads Deep Dive [Updated for 2023]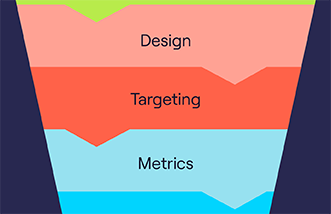 LinkedIn Advertising Tips:
I'm Augustinas Tarabilda, the Performance Marketing Manager at Cognism. I'm always looking for a marketing edge, and in doing so, I've picked up a few tricks.
I'll be writing a series of articles on paid ads, in which I'll share some useful tips and tricks.
When it comes to paid ads, there's no better place to start than LinkedIn.
LinkedIn ads are the single best way to market to a specific professional audience. Bar none.
Don't believe me?
LinkedIn's lead conversion rates are 3X higher than other major ad platforms, including Google Ads.
What's the catch?
It comes with a price. LinkedIn ads ain't cheap. This is why you need to perfect your formula.
Which is why you're here, right?
I'm going to break LinkedIn advertising into chunks and run through the best practices for each one.
Get scrolling 👇
Ad type
There are a lot of ad types to choose from.
I can't tell you which will work best for your business, but I can give you some of my thoughts on each.
Single image ad
These don't take too much time to produce. If you've got a good graphic designer on your side, or know your way around a design tool like Canva - you're good to go.
Here's my number one tip:
Design an attention-grabbing image. Don't put too much information in the image; people will just scroll on by if it's too busy. Make it punchy and eye-catching.
The great thing about single image ads is because you can create them so quickly, you can experiment and improve them over time.
Here's one I created which performed particularly well:
Carousel ads
Some marketing agencies are creating really engaging carousel ads. If you've got the capacity and time to do this, you can have great results.
But this isn't often the case.
I've found that carousel ads take far greater time and resources to produce, and the results aren't that much better than single image ads.
I'd say, try it out for yourself. If you can build an engaging narrative through a series of graphics, this might be for you. Just don't bet your house on it.
Video ads
Again, these take a lot of resources to produce.
But they do come with an added bonus.
Video ads are amazing for building a retargeting audience. LinkedIn collects data from the people who view your video ad. They can then be retargeted in future ad campaigns.
Videos also generate 3 times the engagement of text ads.
If you've got the capacity to create video ads, go for it. They tend to get better results.
Here's one I created which performed particularly well:
Text ads
These are the fastest to make, and the least rewarding (from my experience).
The cost per click is lower, which is good for growing companies. This also makes them great for testing your messaging. You can run a few of them and gather results, then use the best messaging in an image ad.
Crafty, right? 😉
Spotlight ads
These are basically text ads that plaster your face next to your company's primary offer. And they work.
People like seeing faces. Why so? Because it makes the ad appear more trustworthy.
These are only offered by LinkedIn, so if you plan on building a one-size-fits-all multi-channel advertising plan, spotlight ads might not be for you.
Message ads
With these ads, you can reach people directly through their inbox. Sounds good, right?
I'm not so sure. These can be very expensive ads to run, and landing in someone's inbox can feel a bit…intrusive.
Use them at your peril!
Conversation ads
These are chatbot type ads. You can create your own logic, with questions and answers, and determine the route your audience takes.
The benefit? You can learn a lot about your audience, and they can see the content they want.
The drawback? They also land in inboxes and they often take longer to build.
Best practices
Run some tests and see which ads help you achieve your goals most efficiently. It's all about balancing out expenditure and results. Where you fall along this line is up to you!
Content
Here are the buzzwords:
Clear
Accurate
Eye-catching
Concise
If you're creating ad copy that meets each of these requirements, you're on the right track.
Address the audience
This is the first thing you want to do. Often people won't even see an ad if it's not clearly addressed to them. Mention the audience in the copy to attract their attention. Like this:
"Hey, marketers!"
Have a clear headline
This is the line directly under the ad, and it needs to be honest. Avoid 'salesy' language here. Instead, be upfront with the reader. You've only got their attention for a split second, and if they don't understand your ad, they're gone.
Keep it short
If you can convey your message in fewer words, do it. People want to immediately know what an ad is about. Shorter is always better.
Have an accurate CTA
If you want people to book a call, say 'book a call'. If you want them to download an ebook, say 'download our ebook'. Wishy-washy CTAs like 'hear more' or 'interested?' aren't going to trick someone into buying.
Cognism CMO Alice de Courcy shares her LinkedIn ad do's and don'ts - press ▶️ to view our PPC training video!



Design
Whether it's an image, a video or a quote; your design has to be attention-grabbing.
This could mean bright colours, controversial themes (but not too controversial!) or provocative keywords. Anything that gets the audience to stop scrolling for a second.
As with every part of an ad, test it. Don't be afraid to cut off an ad that isn't generating revenue. There's no space for sentimentality in paid advertising.
Targeting
Now that you've created a great ad, you need to put it in front of the right people.
This is where LinkedIn is king.
Building audiences is easier than building sandcastles, and over time they don't fall down, they get stronger.
There are four types of LinkedIn audience. Uploaded list audiences, targeted audiences, retargeting audiences and lookalike audiences.
Here's the low down.
Uploaded list audience
This one's pretty self-explanatory. You have a list of contacts, either from your CRM or a tool like Prospector, and you upload it to LinkedIn.
You're not going to find any new people this way, but you'll be reaching them through a new medium, which can make all the difference.
Here are some things to note:
Your uploaded list has to be at least 300 people.
With more data points, you'll have a higher match rate.
It takes 48 hours to match, so give yourself a cushion.
Targeted audience
Probably the easiest audience to build. Here you fill in their search parameters and LinkedIn will build a list for you.
With targeted audiences, you're not able to really dig into the details due to the number of data points that LinkedIn supplies. That said, there is a useful and/or functionality, which means you can have a good amount of control over the audience you build.
Retargeting audience
This audience contains all of the people who have engaged with your content in the last 365 days.
It's most useful for moving contacts from the middle to the bottom of your sales funnel. These people probably already know your name, so now it's a case of building their awareness and showing off more of your content.
What counts as an engaged contact?
It could be someone who has viewed a video of yours, filled in an inbound lead gen form or visited your website.
Lookalike audience
This audience is made up of similar people to an uploaded list, which makes it great for scaling your reach.
You can upload a list of at least 300 people to LinkedIn, and LinkedIn will generate a list of the people most similar to them.
It's a great formula because you're finding new people who already fit your ICP. Over time you can refine this list to include better fit customers. Lookalike audiences are like leather boots. They get better with age.
Metrics
For me, this is the most important section. Metrics are at the heart of a data driven marketing strategy.
The lead generation metrics you should be measuring for your ad campaigns will differ depending on your objectives. If you're looking for brand awareness, measure website traffic. If you're trying to increase conversions, measure leads generated.
It's a case of identifying what your overall goal is and working backwards to decide how you should measure success.
If you want to measure the efficiency of your campaign (which you absolutely definitely should), measure the cost per result. That could be cost per lead or cost per click.
Once you've got the numbers you need, you have to work out what to do with them. This is where budgeting comes in.
Budgeting
This is where you weigh up your budget with the risk of your campaigns.
Remember the number one paid marketing rule:
Avoid sentimentality!
No marketing campaign is more important than the results, even if it's taken you ages to create.
If it's not working, axe it. You don't want to be sinking your budget into a campaign that's just not getting results.
If you're working with a smaller budget, focus on the quick wins. This could mean building a retargeting audience or using intent data to build your uploaded list.
If you've got a bigger budget, you can prioritise finding new targets by using a lookalike audience and putting more resources into higher quality ads.
Budgeting is all about weighing up risk, reward and margin for error.
Get more paid marketing tips!
We recently created a no-fluff guide to inbound marketing. It's your one-stop-shop for marketing insights.
Between its covers you'll find an in depth analysis of modern marketing, including:
Inbound marketing channels.
Getting started with paid channels and PPC.
Advertising on Google, Facebook, LinkedIn and beyond.
World class advise from frontline, expert B2B marketers.
Top notch advice on other marketing channels, such as content and email.
Get your copy here 👇