The Elusive Unicorn Marketer Explained
Have you ever witnessed a unicorn marketer work?
If not, you're missing out.
And, yes, it's about as magical as this 👇
If you have yet to hear the term or experience the magic of this rare gem of a B2B marketer, then get ready. You're about to discover the pot of gold every business owner has been looking for!
We're climbing the beanstalk of B2B marketing to track this unique individual and discover what makes them so special.
What is a unicorn marketer?
You've probably heard the term 'unicorn' being used to represent anything from a hard-to-find item to a person unlike any other, so you'll know when we say a unicorn is rare, it's rare!
A unicorn demand generation marketer is precisely that:
An exceptional kind of B2B marketer that's incredibly hard to find. This kind of marketer significantly impacts the company they work for: whether it be growth, engagement or awareness, they know how to do it, and they do it well.
But that's not all a unicorn marketer does…
You know that saying, "You can't do it all?"
A unicorn marketer does do it all:
They've mastered every single marketing channel.
They know the ins and outs of successful marketing campaigns
Their marketing knowledge is bar none.
Or as Tim Clarke, Director of Sales and Marketing at SEOBlog.com, puts it:
"A unicorn in marketing can to juggle the many evolving hats of demand generation, is well equipped to manage and implement ever-changing marketing trends and always ready to make positive changes to the marketing process. What's more, they're adaptable and act upon opportunities immediately."
Now we know you're thinking, this kind of marketer just doesn't exist!
They sure do, and we've put together this infographic summarising what makes them an authentic unicorn employee👇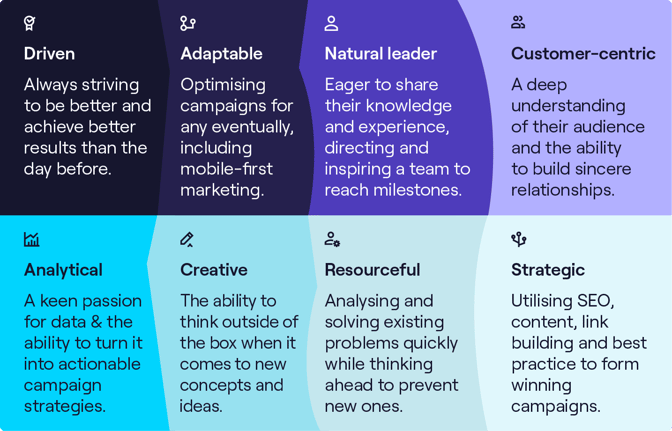 Interested to know more?

Keep scrolling. We're going to look at the top qualities and skills that make a demand generation marketer a real-life unicorn 👇
The top qualities of a unicorn marketer
Are you wondering if you're possibly a unicorn marketer?
Or are you stockpiling information so you know what to look for when hiring a fantastical demand-generation marketer?
No matter your reasoning, you've come to the right place.
But discovering a unicorn isn't all rainbows and glitter. A unicorn needs to have stockpiled a select array of qualities to make an impact in the B2B marketing world.
These qualities are:
1. Authenticity
Actual unicorns are genuine. They say it like it is and don't beat around the bush when things need to get done. This makes them more empathetic, which is useful when building your brand and expressing your company's values and purpose to buyers.
2. Proactiveness
And while they're quick to get things moving, unicorn marketers are also resourceful and innovative. They know what tools they can use to better their campaign outcomes and what B2B data is best to track. They're the first to make recommendations that could help better your process or the team.
Darren Foong from ReferralCandy adds:
"A real unicorn has a plan for short- and long-term demand generation and will tell you the timeline, including milestones, of when each channel will come online."
3. Adaptability
But this doesn't mean they are set in their ways. They understand that B2B marketing is fast-paced and ever-changing, and if they want to stay ahead of the curve, they need to adapt to it. They have a keen desire to learn and won't say no to training, especially if it will help them experiment with a popular trend or digital marketing strategy.
4. Drive
Yes, modern unicorn marketers have drive. Honestly, we suspect it might be their superpower. Their drive to be better and achieve greater results than the day before is what keeps your brand and themselves growing.
5. Open-mindedness
The great thing about unicorns is no box can confine them. When it comes to marketing campaigns, they're willing to try anything and everything - no matter how insane the idea sounds to everyone else. Most of the time, their experiments don't work out, but when they do, they're phenomenal!
Trinity Nguyen, Head of Marketing at UserGems, adds:
"A unicorn demand generation marketer shouldn't be afraid of doing things differently (i.e. "do" outside the box). Marketers often look to those in their space to copy best practices, but that puts us into groupthink such as 'Of course, we have to do X because everyone else is doing it.'"
Her advice to anyone who wants to achieve unicorn status:
"Venture outside your marketing function and industry and talk to customers."

"Let your customers' needs guide your decisions on where and how to invest in demand. Some of those needs might differ completely from best practices and what 'gurus' are telling you."
6. Creativity
To quote Courtney Quigley, Business Reputation Consultant at Rize Reviews:
"Believe it or not, a unicorn demand generation marketer has to be creative! Creativity is the pulse of marketing. You need it to form solutions and generate marketing ideas that make sense."

"You have to be creative enough to design and conceptualise the 'very core message of marketing' and reach the right people who will patronise your product or service."

"Your creativity will help you communicate unique messaging to your audience and build your brand's recognition. Creativity allows you to do things differently to remain updated, fresh, and competitive."
As Courtney says, creativity and marketing work hand in hand, so it's hard to be a B2B unicorn without a healthy dose of creativity. They're never short of ideas and always willing to jump in and brainstorm new concepts or creative solutions to common problems.
7. Team spirit and leadership
The last magical quality unicorns imbue is an unswayable team spirit and natural affinity for leadership. They aren't afraid to take charge and refuse to dim their shine by working in silos.
Instead, they spread their sparkle, getting to know everyone in your business and how they can help achieve company goals. Not just this, the marketing unicorn loves to share their knowledge and vision so everyone can benefit.
Brendan Hufford, Founder of SEO for the Rest of Us, shares his insight on the impact a unicorn has on collaboration:
"I think when we look to define a unicorn demand gen marketer, it comes down to more than just marketing and demand gen. The ability to visualise value and build enthusiasm and buy-in across the organisation will have a larger effect on demand gen efforts than the tactics alone."

"Working in growth at a $3B SaaS (ActiveCampaign), and working agency-side with many other companies, I've seen SO many great tactical marketers fail because they couldn't properly visualise the value of their work."
The six skills of a real unicorn marketer
A unicorn is not built on qualities alone. Their type of marketing magic only happens due to the skills they acquire throughout their career.
What are the top traits of unicorn marketers?
There are six, starting with:
1. Analytics
Problem-solving is just what a unicorn demand generation marketer does. They need a keen understanding of analytics to solve challenges and find solutions.
One place their analytical skills be handy is Google, where they can track and report on marketing metrics. So being able to look at B2B data and understand it is a key skill for a unicorn marketer.
2. SEO
We all know SEO offers fantastic advantages, so a significant skill that should be part of a unicorn's repertoire is SEO. This will ensure your company builds a reputation, gains traffic and quickly gathers performance insights.
3. Data-driven marketing
When it comes to data, Estelle Barthes, Communication and Content Executive at PickYourSkills, says:
"W. Edwards Deming used to say, 'without data, you're just another person with an opinion.' This sentence has never been more relevant than it is today."

"Thanks to all the tools at our disposal, today's marketers can collect a lot of data. The challenge is to have the necessary hindsight to analyse this data and make the right decisions."
While unicorn demand generation marketers are experts at spotting opportunities, much of their skill comes down to understanding data.
So not only can they use their adeptness in data driven marketing for better targeting, but a unicorn knows how to analyse B2B data to develop better strategies and maximise engagement across campaigns.
4. Content marketing
A unicorn marketer can use content to create a deeper connection with their audience. From curating, researching, visualising, measuring, promoting, publishing and optimising, they've mastered it all.
But, to achieve the amazing results we expect from a unicorn, they always, always have the audience in mind.
5. Channel optimisation
The unicorn marketer is well-versed in social media, mobile and eCommerce. Not only do they understand each platform, their specific algorithms and the buyer journey of each, but they also know how to implement, manage and optimise any performance-related marketing that might be needed.
6. Technology
Lastly, a unicorn needs to be aware of and keep up to date with B2B technology. This tech can be anything from CRMs, marketing automation, and marketing intelligence to analytics software. A unicorn knows what to look for and how to best align and integrate it for a more streamlined marketing team.
Are you looking for a unicorn growth hack? 🦄 You'll want to add Cognism CMO Alice de Courcy's new book, 'Diary of a First Time CMO' to your reading list! Click the banner to read it online:

Unicorn marketing: closing thoughts
There you have it, all the skills and qualities that make up a unicorn marketer - an extraordinary person who throws passion, excitement and talent into everything they do.
Or as Petra Odak, Chief Marketing Officer at Better Proposals, summarises:
"A unicorn marketer has to have a good mix of hard and soft skills. They need to cover paid, SEO, mobile, analytics, email and dabble in design. They need to be both creative and focused on hard data."

"At the same time, they need exceptional soft skills, good communication and empathy. When you have all that in one person, you've struck gold!"
What do you think?
Do you have what it takes to be a unicorn marketer?
Discover marketing magic with Cognism
If you don't have a unicorn marketer in your midst, it's not the end of the world…
With Cognism, you can make marketing magic happen with our globally compliant marketing data.
Click 👇 to schedule your screen share.