Cognism, an Apollo.io alternative
A comprehensive comparison between Apollo.io vs Cognism to know which sales intelligence solution is worth investing in.
If you're looking for a data provider to streamline your outreach, Apollo.io is a good option. But are they a good fit for your company or is Cognism better?
While they are both sales intelligence solutions with similar functionality, they do have their differences.
Take a look at this page to help you decide which platform will bring you the most ROI.
Start scrolling or click a topic in the menu below to head directly there 👇
Features | Data | Compliance | Pricing | Reviews | Why Cognism?
How does Apollo.io compare to Cognism?
| | | |
| --- | --- | --- |
| | COGNISM | APOLLO.IO |
| Packages to suit business size | ✔️ | ✔️ |
| Chrome extension | ✔️ | ✔️ |
| Web app | ✔️ | ✔️ |
| Phone-verified mobile numbers | ✔️ | ✔️ |
| Unrestricted access to data | ✔️ | ❌ |
| Intent data | ✔️ | ❌ |
| Phone-verification/research on demand service | ✔️ | ❌ |
| Do-not-call lists in US and Europe | ✔️ | ❌ |
| Advanced phone number filtering options | ✔️ | ❌ |
Where do Cognism and Apollo.io get their data?
By using Apollo.io, customers automatically grant Apollo perpetual and irrevocable licence to use, share, sublicense, display, copy, publish and distribute any submitted data.
This means that by connecting your CRM to Apollo's software and using its services for outreach, you're adding data to their database.
What's more, Apollo claims its data comes from dozens of verified sources but openly admits to scraping hundreds and millions of websites.
Cognism, on the other hand, gathers data via proprietary AI technology that's verified by a team of data science experts and data researchers.
The platform also offers Diamond Verified Phone Data®. This is where mobile numbers are phone-verified to ensure they are factually correct. It's one of the many factors that helped 69% of customers achieve ROI in the first six months of use!
Here's a table detailing just how beneficial Diamond Data® can be 👇

Want to see how much ROI you can get with Cognism?
👉 Click to use our free ROI calculator 👈
Now that you know where each platform gets its data, what about data coverage and quality?
Apollo.io offers a large database of global data, however it's lacking when it comes to specific data types like intent.
Intent data is an emerging data type that helps salespeople and marketers see which companies are currently searching for solutions like theirs, so they can prioritise those accounts and intercept them earlier in their buyer journey.
Cognism's platform includes intent data powered by Bombora. Cognism also has research teams in both the EU and the US, making it a great option for anyone looking to find highly targeted leads in both continents.
With the fast-changing economy we now live in, having the right data is essential for effective prospecting. Quality is of the utmost importance to Cognism with 99.9% accurate phone-verified data and the most complete mobile numbers and EMEA data of any provider.
What is the compliance status of Cognism and Apollo.io?
According to Apollo's Privacy Center, the platform is GDPR compliant as both a Data Processor and Data Controller, as well as being ISO 27001 and SOC 2 certified. Apollo gives users the option of removing the data it's collected on them from its database.
Apollo.io states the following in its Terms of Service:
"If you access the Service and provide information to the Service from a European Territory, Asia, or any other region with laws or regulations governing personal data collection, use, and disclosure that differ from United States laws, you understand that that your personal information and the information you provide may be processed in countries (including the United States) where laws regarding processing Personal Information may be less stringent than in your country."
They then say:
"The Terms of Service and the relationship between you and Apollo shall be governed in all respects by the laws of the State of California, without regard to its conflict of law provisions."
Cognism is more straightforward about its privacy laws:
Follow strict privacy laws.
A stringent

B2B data

verification process.
Ensures all data is legally sourced and of the utmost quality.
Is regulated by the ICO and provides users with a notified database.
One key differentiator between Cognism and other providers is that Cognism scrubs all mobile numbers against:
TPS/CTPS lists in the UK.
Do-Not-Call lists in the USA, Canada and European countries including Germany, France, Spain, Ireland, Belgium, Croatia, Portugal and Sweden.
If a number is marked as TPS or DNC, it means that the user has opted out from receiving unsolicited phone calls by applying to the national do-not-call registry.
Cognism hides contacts that are on DNC lists, meaning that its customers have complete confidence in the legality of their outreach.
Get more information on Cognism's compliance status courtesy of this video with Head of Legal, Aksa Kalam. Press ▶️ to watch.

Cognism vs Apollo.io pricing
*Pricing information for Cognism and Apollo.io is dependent on your company's needs. For accurate pricing, please contact your preferred data provider.
Apollo.io offers Free, Basic, Professional and Custom packages. Depending on the package, the pricing is set per user, per month with a set number of credits for data access. The higher up your plan, the more features you get including data enrichment and A/B testing.
Cognism's pricing model was created to overcome the scarcity mindset and allow teams to prospect into their target accounts without worrying about credits.
The following are included in all Cognism packages:
Unrestricted access to contact and company data.

Technologies.

Sales event triggers.

Diamond Data®.
All Cognism users are granted access to the following:
The Cognism web app.

All available integrations.
In addition to this, users are able to add intent data (powered by Bombora) and Diamonds-on-Demand® (Cognism's research-on-demand service) to their package.
Cognism also offers credits as an add-on for bulk list-building workflows, used primarily by marketing and operations teams.
Don't hesitate to test out each platform to see which one works best for your business.
Book a call to discuss your needs with Cognism below 👇

Cognism vs Apollo.io G2 reviews
Ease of use
If you're looking for a great compliment to your CRM and a tool that makes B2B prospecting easier, both Apollo.io and Cognism are good contenders.
When it comes to Cognism, G2 users agree that it's a fantastic B2B sales intelligence tool with an easy to use interface:
"Cognism is a handy tool with a user-friendly UI. Its database is vast and covers many markets across the globe." - Georgios
"There isn't anything I don't like. The platform is easy to use. Everything works well and it is very user-friendly. The chrome extension is a great feature and it has helped my team increase their sales and they are having more relevant conversations with direct decision makers." - Administrator in Professional Training & Coaching
"I like the ease of use best - you can install the chrome extension and off you go." - Kamal
"Cognism is very easy to use with an intuitive interface. It integrates seamlessly with Salesforce. The customer support is swift and very helpful and Cognism's data quality is very good for Europe." - Andy
Customer support
Cognism is reviewed by G2 users as a first-class lead generation solution with impeccable service. No request is ignored and every need and want is met by a top-notch account management team that's hyper-responsive, helpful and a total delight to work with:
"Cognism has an incredible customer service experience. The personal contact point is incredibly helpful in case you have any questions or suggestions." - Colin
"The site is very intuitive, and the fact that I can use Live Chat to get quick support if I need it is beneficial! The onboarding was smooth, with everyone involved friendly and helpful at all times." - Adam
"We have enjoyed a good level of success across multiple campaigns and have benefitted from strong CS support." - Aaron
Data quality
Cognism receives reviews like these on G2:
"Excellent service! Cognism has better quality data that are GDPR compliant than similar data from other providers! The information is always correct! Customer service is superb - always ready to help." - Martina
"We like how much more efficiently we can collect data and relevant prospects. Saves us a lot of time and the data is of high quality." - User in Information Technology and Services
"Better quality data than I've seen before on these kinds of tools platforms made deliverability and follow-up effective. The ability to set up automated sequences and build in manual steps was intuitive and fit right into our sales process. And whenever we got stuck, the customer success team was readily available to help us." - Tim
"The data quality in the Cognism universe is excellent. We have been using the platform for over a year and have never seen more than 2-3% bounce rate from any of the data lists we've extracted. We use the platform solely as a data provisioning platform and find the user interface very easy to use and intuitive. The account management team has also been fantastic." - Sam
Other important information discovered via G2 is that clients feel Cognism has a lot of great features to offer. The platform is praised for having a smooth onboarding process and providing users with:
More accurate mobile numbers.
Verified emails.
Firmographics.
Sales trigger events like hiring, funding, location move and more.
Fully blended intent data that's powered by intent data leader, Bombora.
That's worth a 'wow,' don't you think?

Why is Cognism a good alternative to Apollo.io?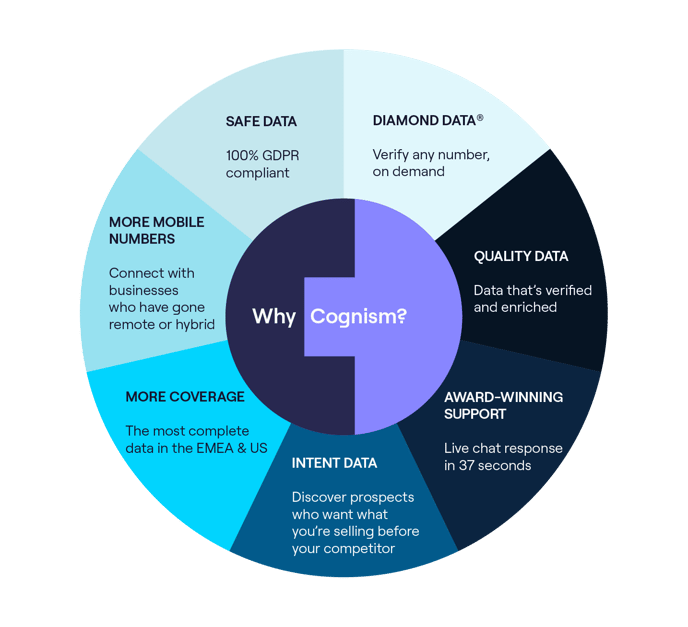 Cognism is an Apollo.io alternative with the most complete data in the EMEA and the biggest mobile coverage in the US. Even better, it's the only data provider actively phone-verifying mobile numbers, making it a great choice for global B2B prospecting.
But, if you're looking for:
A platform that only offers limited contact data and no other data types such as intent.
Lacklustre customer support.
High bounce rates.
A complicated platform that takes time to learn.
Then Cognism is not for you.
Cognism prides itself on being a premium sales intelligence solution offering the most accurate data on the market which means:
Mobile numbers that are verified and factually correct.
Bigger focus on quality.
Simple, intuitive interface and reliable tech.
GDPR and CCPA compliant data.
Multiple data types including intent data.
A fast and friendly support team who can assist you in real-time.
This is why Cognism is a good alternative to Apollo.io. Because you get more:
More calls that go through to the right contacts ✔️
More confidence when prospecting ✔️
More hot leads ✔️
And more incoming revenue ✔️
Try Cognism, an Apollo.io alternative
Think Cognism is the best Apollo alternative for you?

Book a demo with our sales team to see Cognism in action 👇