Cognism launches a new version of its platform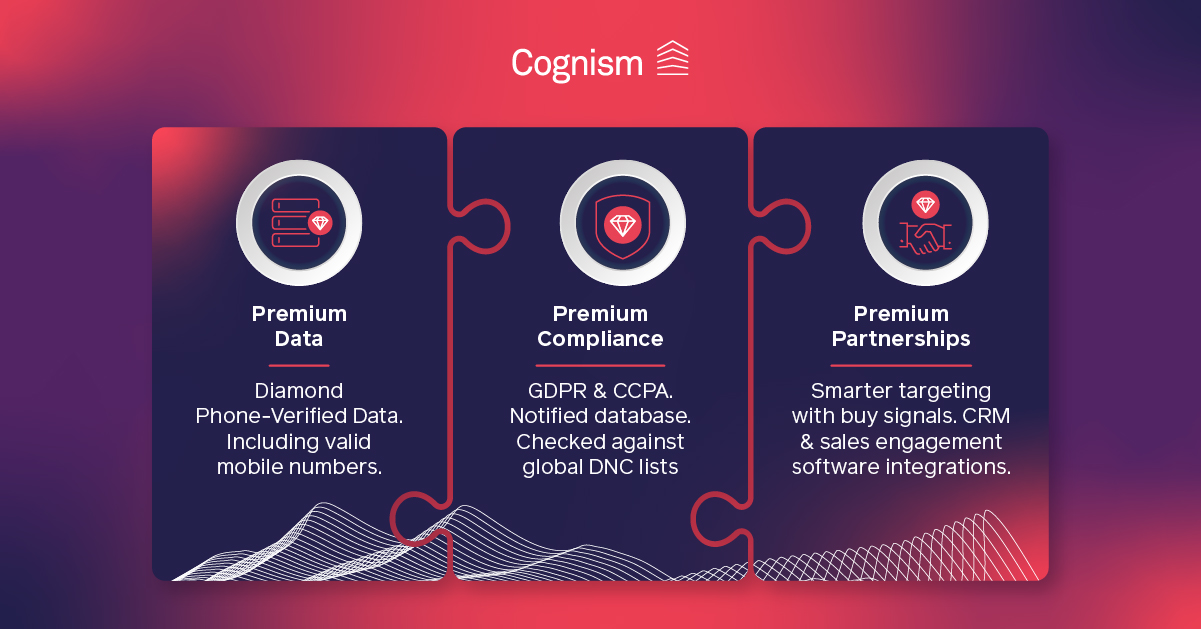 Cognism launches a new version of its platform committing to deliver a new standard in B2B data quality.
The addition of Diamond Data into the platform will see Cognism provide the most accurate, compliant phone-verified contacts for business development teams internationally.
Latest version of the Cognism platform promises to set a new standard for data quality
Mobile/cell numbers that have been phone-verified and cross-checked against global DNC lists
Unrestricted ability to view company and contact data in the new platform
Consent-based intent data powered by Cognism's partner Bombora
Industry-leading data accuracy and seamless user experience enable B2B companies to deliver results in less time
Premium partnerships with leading solutions and providers make it best in class
Cognism, the globally compliant sales intelligence company, has today launched the latest version of its platform offering the best / Diamond Data possible for intelligent B2B lead generation globally.
The company is committing to Diamond Data which will give its customers access to phone-verified leads and the best data available on the market when it comes to intelligent sales prospecting. The promise to companies is that they can minimise inefficiencies due to inaccurate job titles and incorrect/misdialled numbers and create a leaner, faster sales process.
The upgraded version of Cognism will allow businesses' revenue teams unrestricted access to prospect data to build intelligent targets suited to their individual needs, all in the knowledge that the Diamond Data will provide a level of accuracy not yet seen on the market. Plus, it can guarantee compliance in an increasingly stringent marketplace.
Diamond Data has been through additional verification to ensure it's both accurate and compliant. By equipping their individual contributors with phone-verified Diamond Data, businesses can expect to see better results and a significant reduction in valuable prospecting time. Speed to connect will see a big rise with the use of Diamond Data.
Cognism customers will also be able to flag the prospects & data that are most valuable to their business growth through the Diamonds on Demand feature. Cognism will ensure resources are put into helping them validate the best contact for their business need, whilst guaranteeing compliance to ensure complete confidence when it comes to prospecting.
James Isilay, CEO and founder of Cognism said:
"As a company we are constantly researching and identifying new opportunities and partnerships to ensure our platform delivers the best possible results for the highly competitive B2B market landscape. Diamond Data is just that – the best you can get. It is always evolving, and we want to assure our clients that they can target their prospects in confidence, leaving the compliance and data accuracy to us."
Cognism's key partnerships ensure organisations receive the highest-quality B2B data, all in one place, when they need it. The platform can integrate with the tools sales teams use every day, including leading CRMs like Salesforce and HubSpot, as well as sales engagement software like SalesLoft and Outreach.
Through the integration with Bombora's intent data, Cognism's platform also provides the ability to identify companies that are in-market and ready to buy, as well as the buying team in those companies and their contact information. This enables revenue teams to target organisations actively looking for their products and services more accurately, shortening sales cycles and increasing their chances of sales and marketing success.
Cognism 'Diamond data' is available immediately.
To learn more, visit Cognism - Premium Sales Intelligence
About Cognism
Cognism is a leader in international sales intelligence, setting a new standard for data quality and compliance, trusted by 1000+ revenue teams worldwide.
Cognism helps businesses find, engage and close their dream prospects by providing premium company and contact information, including firmographics, technographics, sales trigger events, intent data, verified business emails and phone-verified mobile numbers.
Next level GDPR & CCPA compliance, combined with innovative technology and integrations with leading CRM and sales engagement partners, makes Cognism the number one choice for businesses looking to create a predictable pipeline, find their next best business opportunity and overcome global compliance barriers.
For more information on Cognism's intuitive sales intelligence platform powered by industry-leading data, compliance and partnerships, please visit Cognism - Premium Sales Intelligence