Webinar recap: How MDRs increase conversion rates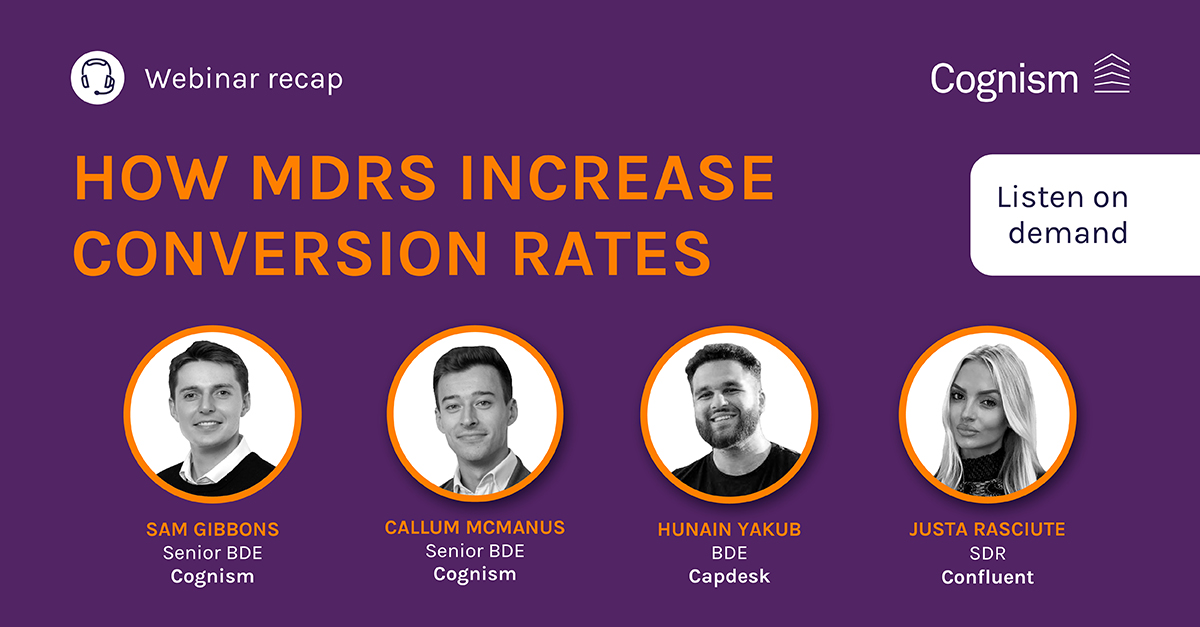 In B2B prospecting, the person you actually need to speak to is not necessarily the person you think you need to speak to.
Identifying this person should be a crucial part of your sales strategy, as it's guaranteed to lead to more closed-won deals.
Find out how to action leads, find the right person, and how you should be reaching out to them in our latest webinar recap: How MDRs increase conversion rates.
🚨 Spoiler alert: you need to offer them value. 🚨
The panellists were:
Key takeaways
1 - The winning process for actioning leads

🏆
Firstly, you need to figure out what kind of leads you're dealing with. Did the lead download a piece of content? Register for a webinar? Request a demo?
Your approach is going to be completely different depending on where the lead came from.
So, how do you make the first touchpoint once the lead has engaged? 🤔
You need to give before you demand, so make a phone call that will add value.
"It's crucial to give information before you demand information from a prospect. Use the 90 to 10 rule. 90% of what you talk about on your initial call with a prospect should be about them and only 10% should be about you." - Justa Rasciute
You also need to go further than just looking at where the content came from. You need to look at who downloaded it and what the focus of the content is.
Remember, it's not only your intended audience who will download a certain piece of content, so actioning to different personas is a must.
"We'll have finance leaders downloading our Cap Table Guide for tips and tricks to adapt and streamline their process. However, with our Equity Guide, we have stockholders wanting to gain a better understanding of the value of their equity." - Hunain Yakub
If you're talking to a finance leader, get more technical. If you're talking to a lower-level employee, be more supportive and educational.
Make sure your outbound sales approach is adaptable - the same process won't work for everyone.
"Ask situational questions that tie into your selling point. Straight away you'll spark off a really rich conversation about their challenges which is going to create better quality leads." - Callum McManus
2 - Identify a good persona fit for your business

🤵👨‍🚀
In B2B sales, you'll get a mix of different people entering your funnel, as anyone can request a demo.
How you go about prioritising who you will target is incredibly important. Your approach will be dictated by the person you're talking to - messages that work for a CEO may very well not do for a CMO, for example.
"You need to find a champion - someone who will vouch for your when you're not in the room, someone who will sell your solution for you to everyone else on their team." - Justa Rasciute
When you find your champion, continue working with them rather than asking for a more senior person to join your next sales call.
Why do this?
Well, it's likely to get you a lot further than speaking to someone higher up in the company, without laying any groundwork first. An internal champion who has good rapport with you could be a better route to reaching the decision-maker than just going straight to the top.
It's all about finding the right prospect - keep this in mind when selling your product.
3 - Adapt your outreach for different personas 🤳
Someone has requested a demo or downloaded your content. How are you going to open up the conversation?
"You need to go about it in a very prospect-centric way. Ask questions about the prospect and learn about their process, rather than a me, me, me, me, me approach." - Sam Gibbons
So, how do you start the conversation with people in different job roles? 🤔
"Before you reach out, you need to look back at your research on the persona and what they want to achieve from engaging with you." - Hunain Yakub
Quite simply, you should adapt your approach - are you chatting to a CFO or someone in HR? The decision-makers in the company may differ from the stakeholders who are actually using your platform.
Whoever you're targeting, keep in mind that they're getting hundreds and hundreds of emails.
You need to make your prospecting cadence more exciting - consider adding voice notes and videos towards the end of your cadence. You don't want to get lost in all of the noise.
"It adds a unique touch to it, where they don't have to spend five minutes reading email testimonials. They'll feel like you genuinely care and you must reach out with the intention that there is a genuine use case for them." - Hunain Yakub
This type of outreach shows leads what you could be doing for them, rather than simply telling them in an email.
Remember, you ALWAYS want to add value.
4 - Make use of your tech stack

🕹️
In B2B SaaS sales, there's a lot of great tech out there to help your team. Here's what Cognism uses to structure our workflow and make our MDRs' lives a bit easier.
We use Pardot and SalesForce together to generate content leads and demo request leads.
You can then push these hot leads into relevant cadences using SalesLoft. This platform structures your workflow and gets your volume to where it needs to be.
"We also use Drift to manage the chat on our website and it's another great way of getting some extra leads." - Sam Gibbons
5 - Tips and tricks: how to convert leads 📑
Use video to stand out

📹
"Always keep your videos under 60 seconds and talk to the prospect about the prospect. Vidyard is a great tool to use for this." - Justa Rasciute
Aim to help rather than sell 🆘
"There needs to be a genuine use case for you to promote your product. Have a very detailed discovery call and understand the intentions, use cases, business set up and structure."

"And consider connecting your prospects to partners that may be able to facilitate your service offering. Don't be afraid of competitors." - Hunain Yakub
Find the pain and dig into the impact of that pain to create more value

⛏️
"Have the answers to every why question and ask the prospect why questions to get more information. Be really tough with qualifying. If you send your AEs more qualified leads, they're far more likely to convert." - Justa Rasciute
Create cadences for absolutely everything

📤
"If you speak to someone and they say "no", put them in a cadence. If you speak to someone and they want more information, put them in a cadence. Referral to someone else? Put them in a cadence."

"Having different cadences for every outcome will help improve your overall conversation." - Sam Gibbons
Remember, leads don't grow on trees

🌳
"Content leads are a lot warmer than cold leads. Make sure you're reaching out to every single one of them. That's going to make the difference between you hitting target and not hitting target." - Sam Gibbons
Read, read, read

📚
There are plenty of sales books to read. Justa recommends SPIN Selling and Fanatical Prospecting - in that order.
Webinar FOMO?

🎙️
Don't worry, you haven't missed out on the webinar!
Listen to ALL of the tips and tricks our incredible panellists shared right here 👇