Using data to optimise the B2B customer journey
Breaking down the customer journey into individual steps makes it easier to optimise and improve the overall customer experience.
The most effective way to optimise each step is by using metrics and gathering information to create a data driven marketing plan.
Most B2B companies have access to invaluable data which could improve their customer experience, but it's often used only as a measure of progress. This is like using an iPad as a chopping board. It works, but you could be getting so much more from it!
To find out how, scroll down! 👇
The 4 stages of the B2B customer journey
Basing your approach on your customer's journey, rather than your own, will facilitate a more timely and relevant outreach. The customer journey can be split into 4 separate stages:
Awareness
Consideration
Decision
Return
Each of these steps can be optimised with the help of B2B data. These are our tips.
1 - Awareness
Every good solution starts with a problem. The customer will realise that they have an area which needs to be improved and they'll start looking for ways to do it. This stage usually involves some internet searches. At this stage, you can use data to improve your chances of being discovered.
Total Addressable Market
Understanding your TAM (total addressable market) is the first thing to do before prospecting; after all, before you start looking for business, you need to know who you're looking for.
The best place to start is to study your existing client base. Record the job titles, industries, company sizes and locations. Add in any other data points which are relevant to your product. Then, look for trends.
Once you've done this, you can search for similar leads using Cognism Prospector. This makes the process of scaling your customer base much simpler!
Calculate your own TAM the Cognism way - try our free TAM calculator! Click 👇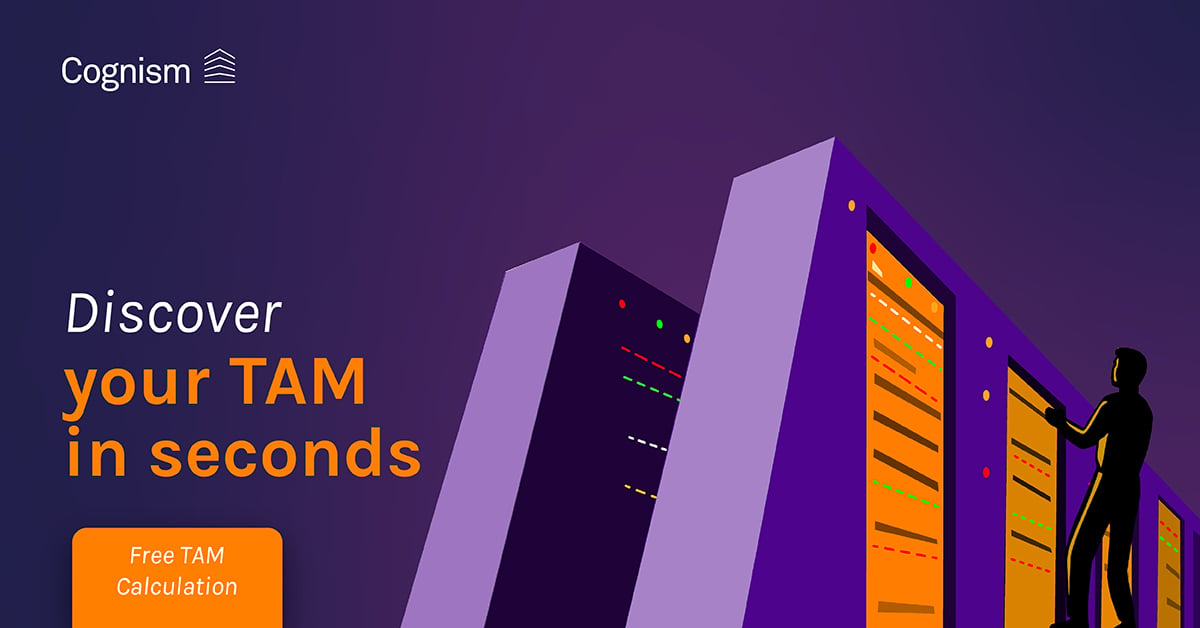 Content and SEO
In a survey conducted by Databox, 70% of respondents said that SEO is better than PPC for generating sales. (Databox, 2019)
Content marketing and SEO are easy, cost-effective ways to ensure that potential clients can find you. If you have a blog, publish valuable insights into areas your ideal buyers are interested in. Demonstrate your ability to help them and provide value.
Run keyword searches to find out which keywords will attract the right visitors. Also, research your competitors' keyword strategies. What keywords are they ranking for? Are there any opportunities to publish your own content targeting the same keywords?
Paid tools like Ahrefs or Moz are great for keyword research, but if you don't have the budget, we can point you in the direction of many free tools. Don't miss our guide to free B2B marketing tools.
The number one goal of content and SEO is to get your articles ranking highly in Google's search results. The higher your articles rank, the greater the chances of the right buyers finding your solution.
2 - Consideration
After the lead has found your solution, what next? It's likely that they will look at a few options to see which is the best fit. This is a good time to remind them of the value you offer and keep your product at the forefront of their mind.
Drip email marketing
One way to achieve this is through drip email marketing. Sending emails to people who have signed up for your content will remind them of your offering. You'll also gain valuable data from the choices they make while engaging with your emails.
Some of our best drip email marketing campaigns offer recipients a number of choices over the types of content that would like to read. This information helps us to zero in on the type of prospect they are, so we can send them more personalised, relevant content moving forward. This is one way to optimise the consideration phase for the customer.
PPC
Another way to present yourself to prospects who have shown interest is through PPC (pay-per-click). Display social media ads to people who have recently visited your website and people who are searching for relevant terms. This will be easier to get right with the data you've collected on your ICP (ideal customer profile) from email marketing.
3 - Decision
This is the final stage before the lead converts and buys your product.
During the decision stage, the prospect will consider a shortlist of solutions, including yours, and will identify the best option for them. Your goal is to make their decision easy. Guide them to your website and show them highly relevant content.
Sending well-timed, useful content to the prospect will demonstrate your value. By this stage of the customer journey, you should have a good idea of their interests. This data can be gathered using UTM tracking links, chatbots, drip email marketing, direct interaction, and almost any online CRM or business tool.
Every time you interact with a potential customer, make a note of their interests and the problems they're facing. It will help you to send them more effective messages. Use this information to send them a piece of content, gated behind a landing page. Include a CTA (call-to-action) encouraging the lead to arrange a demo with your SaaS sales team.
Analytics
If your goal is to direct prospects to your website, make sure it looks good! It could be the difference between making a sale and causing doubt.
Optimise your entire website by analysing metrics. This can help identify where leads are coming from and being lost. Your goal at this start is to improve the conversion rate. The metrics you should be looking at are listed in our recent blog, 'How to turn website traffic into leads'.
Try and make it as easy as possible for a website visitor's journey to end on a sign-up page. Make your CTAs regular but not intrusive. If you bombard the lead with pop-ups and offers, you'll scare them off!
4 - Return
Congratulations on making a sale! So far the customer journey has proven your brilliance, but it's not over yet! Retention is cheaper than acquisition, and customer referrals are a great way to find new customers. Optimising the final stages of the customer journey will encourage them to work with you in the future, and share their experience with others.
Customer feedback
Arguably the most valuable data a company can gather is feedback from existing and former customers. They will have pain points and product requests which you've not considered. Gather information on every customer request or reason for discontinuation. Use the insights to prioritise future product developments.
Finally, after the customer journey is over, you should reach out with a follow-up email. Get in touch to ask about their customer journey, their experience with the product, and whether they would recommend your product to someone else. Maybe they'll be willing to collaborate on a case study about their experience?
There are several reasons for sending this email:
You're re-engaging with the former customer, which could prompt return business.
You're finding out how the customer journey could be improved.
Lastly, you're potentially opening the door for a referral, so someone new can start their customer journey with you!
Get more B2B marketing tips!
If you enjoyed this article, you'll love our guide Demand Generation: How to create demand that drives growth. It's full of great marketing tips that will help you generate high-quality B2B leads. Including sections on:
The latest demand generation techniques.
A marketer's guide to scaling content marketing.
Top tips for SEO success.
How to track, test and optimise your demand gen efforts.
Our experts' advice will help you to start building predictable, long-term growth for marketing. Don't miss out!
Click the image below to download your free copy!