Sales diallers: turning art into science
If you're working for a 21st-century business, take a look around. Technology is built into the fabric of your everyday.
We rely on tech to aid almost every B2B sales task - and the ancient art of cold calling is no exception...
How so? 🤔
A sales dialler will transform your cold calling process from an art into a science. This is how you achieve predictable, scalable revenue - without breaking the bank.
Scroll down to see the benefits of making the jump from sales art to sales science. 👇
What is a sales dialler?
For those of you who don't know: in its most basic form, a sales dialler simplifies the manual process of dialling phone numbers - by doing it automatically. It allows users to go through lists of contacts and call them consecutively, without their fingers falling off.
This is nothing new.
However, more advanced sales diallers now offer the ability to keep notes on your calls and integrate other software. This opens up an invaluable opportunity for a data-driven sales strategy, requiring minimal effort.
From B2B prospecting to cold calling, to closing. The complete sales toolkit has never been so accessible.
How will a sales dialler make your life easier?
This is what it really comes down to. How would using a sales dialler improve your workflow, day to day?
A good piece of outbound sales software should do the same job as a backpack - it helps carry the load so you can focus your attention elsewhere. A sales dialler is no different - here's how it helps.
Time-saving
The most obvious way a sales dialler saves time is by removing the manual process of entering phone numbers - but you already knew this. A predictive dialler also saves time through its integrations and note-taking features.
Now that you can make notes on the calls you've had, and supplement your dialler with lead information from a prospecting platform, it eliminates the need for salespeople to jump from page to page.
Make a call, record your notes, move on to the next call, come back to your notes when you need them. A dialler makes this easy.
The value added from having all of the information in one place can't be overlooked, considering 42% of sales reps feel they don't have enough information before making a call.
It's suddenly a lot easier to stay organised and keep moving. This allows sales reps to focus on what they do best. Selling.
Leave the organisational skills to your software, leave the jumping around to House of Pain, and leave the spreadsheets in the past!
Multi-channel outbound cadences
A huge benefit of using a sales dialler is the potential for multi-channel outbound cadences.
When prospecting, the chances of connecting with someone through outbound email or cold calling alone aren't great. In fact, 70% of initial prospects are not in a position to buy when they first interact with your company (Marketing Sherpa).
On top of this, if you limit the number of channels you use, you're also limiting your chances of connecting with a prospect through their favourite channel. Some prospects will spend hours every day on LinkedIn, others will spend hours checking their inbox. A multi-channel approach removes the risk of your message slipping through the cracks.
Cognism Prospector now has an integrated dialler along with prospecting and outbound functionalities. This means from one platform you can find net new leads and run effective multi-channel engagement campaigns.
Here's how it looks: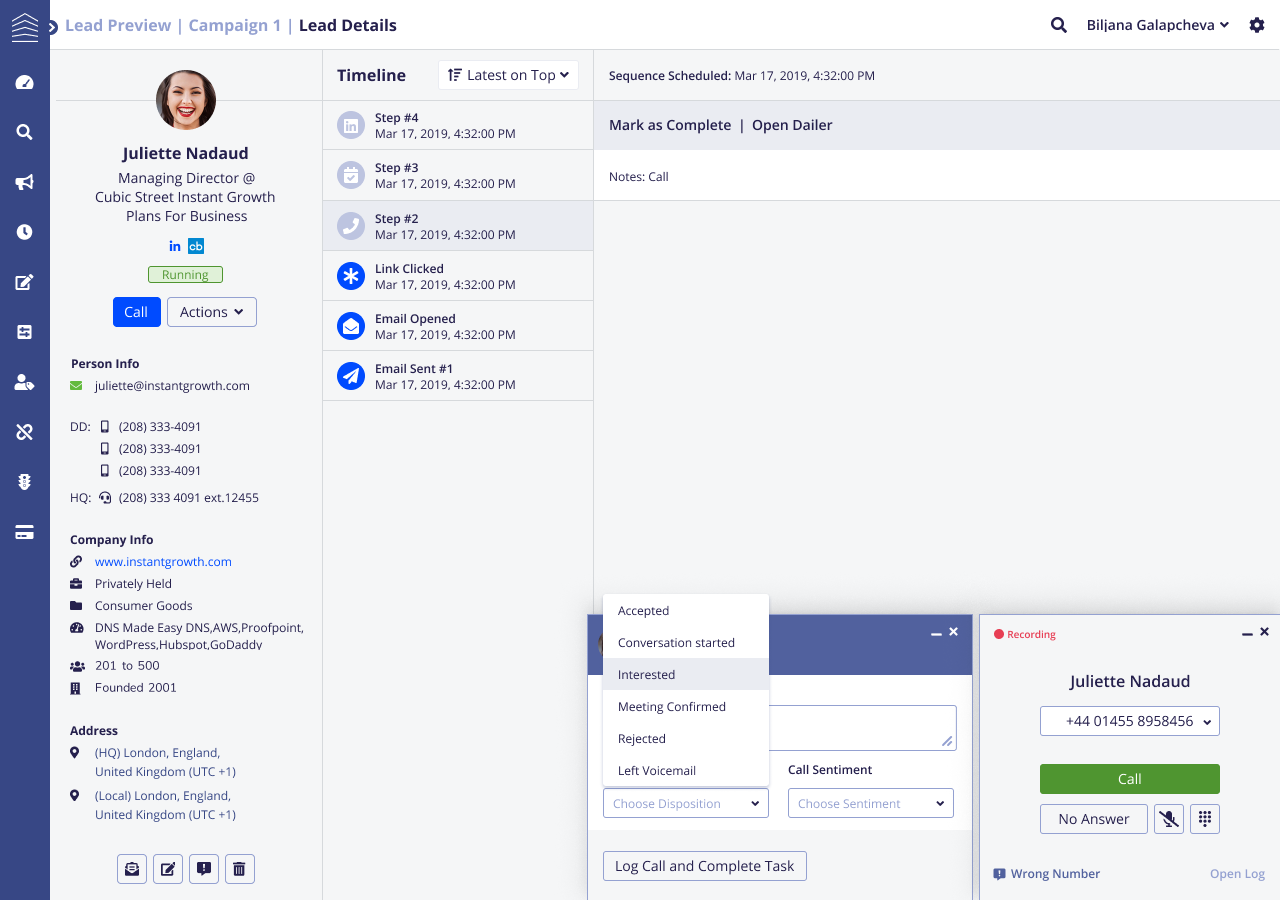 More feedback
The future of B2B sales is data driven, and top performing sales teams will use data to optimise every step of the customer journey. With the help of sales software, this data is easy to find. Sales diallers will provide actionable data for sales reps and leaders to review.
Sales reps will be able to view information such as the amount of time spent on the phone, number of calls made, the sentiment of the call, the topics covered and more.
This allows them to review the calls which achieved a positive or negative outcome, and refine their process based on this information. It's a great way for salespeople to improve.
Sales dialler data is also useful for sales leaders, who can use it to measure tangible performance in their team. Analysing the length of time spent on the phone and the success team members are having will make it easier to identify positives and negatives. Based on this, sales leaders can incentivise input rather than output, which is fairer for new starters!
Check out the Cognism sales dialler!
If a sales dialler sounds like a must have for your business, then arrange a call with one of our experts to take a look. The cold call isn't dead, it's evolving - and you can be a part of the process!
Combined with access to 16 B2B data points on over 400 million prospects worldwide, your sales team will be able to dial high quality phone numbers from dusk till dawn.
To speak to one of our experts, click the link below! 👇