Cognism at SaaStr Europa 2019 - LIVE BLOG - DAY TWO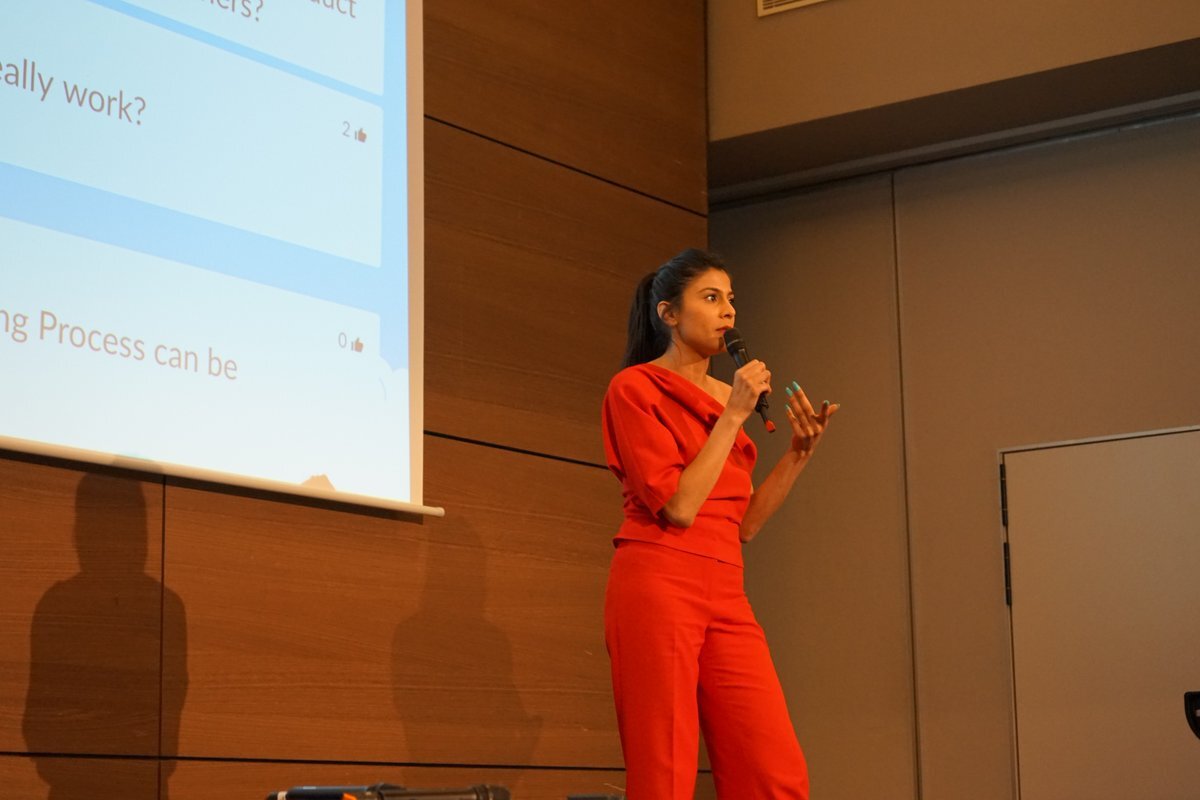 We're back for Day Two of SaaStr Europa 2019! Follow our live blog from the event.
Hit refresh for the latest updates!
Catherine concludes that in order to implement this process in your business, you need to do several things:
Always set next steps in the sales process
Create value for prospects
Enforce the above two points internally by aligning processes and putting tight gateways in place
The result will be a stark increase in your closed win rate, and let's face it, what business wouldn't want that!
2:45pm
It is all about creating value, and by this we mean: sharing knowledge, simplifying the buying and buying process.
This approach to sales empowers sales reps, because it can:
Eliminate confusion
Gives reps the means to forecast their pipeline more accurately
Increase the closed win rates within the pipeline
Below you can see the impact that using incremental commitments had on the closed win rates at Ometira.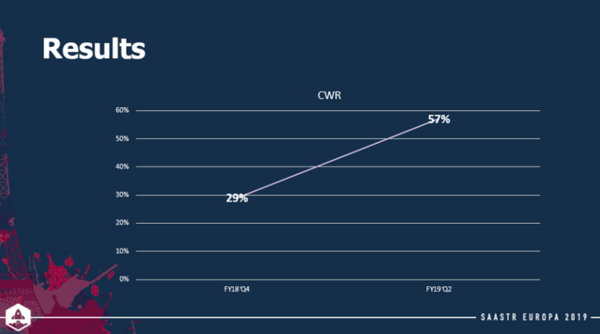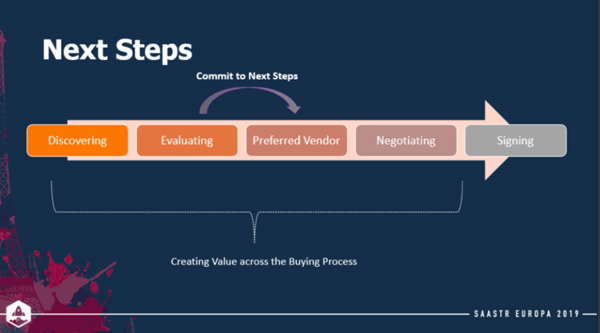 2:40pm
Catherine has now taken to the stage. She is discussing increasing closed win rates with incremental commitments. How do we keep and maintain momentum in the funnel by using incremental commitments?
How do we get prospects to incrementally commit in the sale process?
Catherine explains that it's through using next steps. But how do we get our prospects to actually commit to them? What value as a rep can I add during the process so that you can make those incremental commitments.
2:35pm
So when you create your cadence you need to bear in mind the below 3 points:


Day 1 of a cadence must be multitouch
Use phone calls in the first step of a cadence
Video will increase your engagement rates, but it is most powerful when used later on in the cadence

So to recap: the winning formula to a cadence that converts involves 3 key numbers: 45, 25 and 17. Cognism has grown from $0 to 4 million ARR in under 2 years. What has been unique about this growth is that almost 85% of it has come from outbound. This success has very much been driven by finding cadences that convert and by applying this winning formula.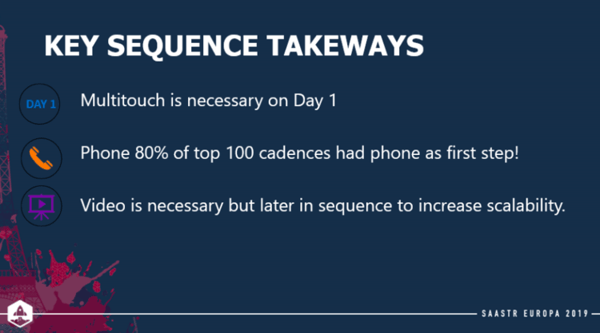 2:30pm

Nazma is now showing 2 cadence sequence examples. She is explaining why sequence 1 is the top performer. Importantly, the first step of any winning cadence will be multi-step, and it will include a phone call as a part of this first step.

Then as you can see in the slide image below, the placement of video in the sequence is also key. While using video will increase engagement with your cadence, you need to look at where you place it. Video should come further down the sequence and using it at the start of a cadence is unscalable and won't have the same impact on engagement rates.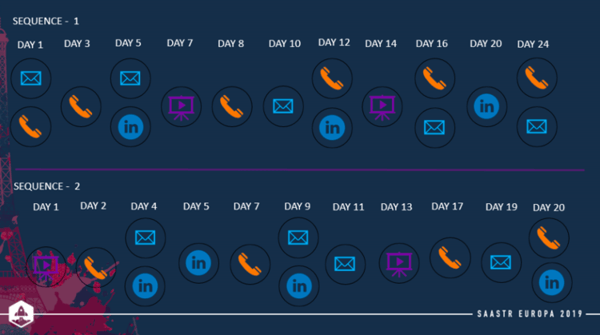 *Sequence 1 is the winning cadence structure here

2:25pm
Moving onto the final number in the formula: 17.

17 represents the number of steps you need to create in a winning cadence.
It may sound like a lot. But it reflects the following facts:
Our buyers are now mainly millennials
They are engaging with content across multiple channels
So we need multiple steps to maximise our chances of getting a response
2:20pm

Nazma is now showing a video filmed by one of the reps at Cognism. It's a great example of how you can use video to engage with your prospects.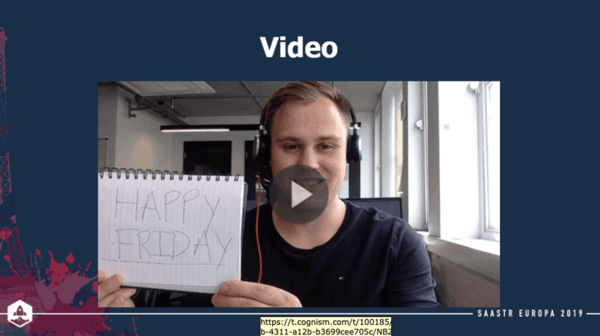 2:13pm

Moving onto the next key figure in the formula - 25.
25% represents the percentage increase in conversions you can expect to see when you use video in your cadence.

When you think about your buyers being millennials, it makes a lot of sense that video should play a key role in the way that you engage with your prospects today.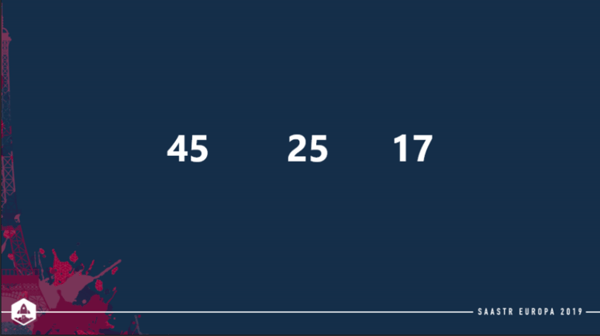 2:10pm

Nazma is kicking off by covering how to build a cadence which converts.
In order to build this cadence, she explains that you need a winning formula. This formula is made up of three important numbers: 45, 25 and 17.

45% represents the largest demographic of your buyers today, and surprisingly, these are millennials.

This is important because the way that millennials consume content is unique. They require multiple touch points and multiple channels. It's important to bear this in mind when you're prospecting to them and building out your cadences.

You need to understand your buyers and understand how to engage with them across these different channels.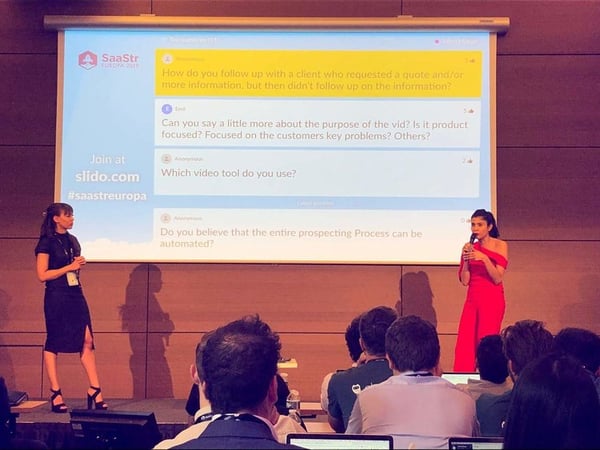 2pm

The next session is: Building a sales pipeline, with Cognism's CRO, Nazma Qurban, and Catherine Mandungu, Director of Sales Operations, Ometira.

12:30pm

The next question is: at what stage should you get a US VC onboard?

As a founder, you don't need to go to the US, but part of your business will need to have a presence there.

You need to think about the following:


Think carefully about the VC that you work with
How much of that fund you will make up
The impact that that will have on the support you will be able to get from them
The general consensus from the panel is that this should be happening around the Series B stage.

12pm

The session kicks off with some key stats. According to research conducted by Christoph Janz of Point Nine Capital, 2-3 million seed rounds were the exception and not the rule. Following this, the floor has now been opened up for discussion around the topic.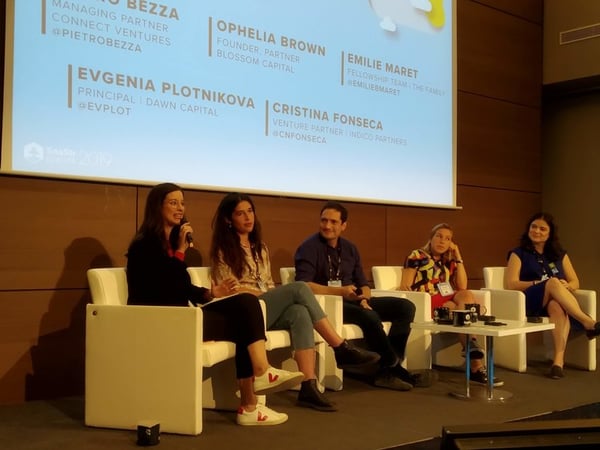 The success of education within this space has impacted the supply of entrepreneurs and investors. The barrier to entry for starting your own business has been lowered significantly.

So how do you know if a company is ready for a seed round vs a Series A round? The answer from the panel is that, historically, there is a clear playbook for this:


Seed stage is all about building a product
Series A is for building out the growth engine
The bar for Series A is higher and the rounds are getting larger.

From an Investor perspective, if they are writing a larger cheque, the payoff will be in the valuation.

And as a business looking for Series A, you have to be prepared for a higher bar that you will be measured against. There needs to be greater proof of repeatable growth.

Interestingly, Ophelia is discussing how she doesn't believe in any one playbook. For her, it is all about establishing product market fit - there is no one size fits all.

Cristina is in agreement with Ophelia. She says that, for her, what she is looking for is product and execution. It's the ability to define a category and become the centre piece of a value chain.

Ophelia is dispelling the myth that founders need to prove certain things before they go and raise Series A.

The panel have now been asked if it is harder to raise for B2C than B2B. Cristina answers by saying no. She does say that B2B software may be more in vogue, but that there are successful businesses on both sides.

Ophelia disagrees. She says it is because the cost of distribution has increased so much and the demand to fund B2C is lower.

Pietro adds that actually he thinks the thing is that B2C is rarer now and so actually raising money here can be easier - as long as you can prove your idea.

Moving onto the next question: B2B or B2C, the conversion to Series A from seed is around 15%, which is very low.

The question to the panel is: what can you do to ensure success here?
A top tip is that it's all about storytelling and giving yourself time to communicate. Focus on the right metrics and tell a story that resonates with VCs.

11:40am

Kicking off Day 2 of SaaStr with a session on: Is seed the new series A?
This session features:


Emilie Maret, Fellowship Team, The Family
Evgenia Plotnikova, Principal, Dawn Capital
Pietro Bezza, Managing Partner, Connect Ventures
Ophelia Brown, Managing Partner, Blosson Capital
Cristina Fonseca, Venture Partner, Indico Partners