Risky Business: Giving CMOs Permission to Fail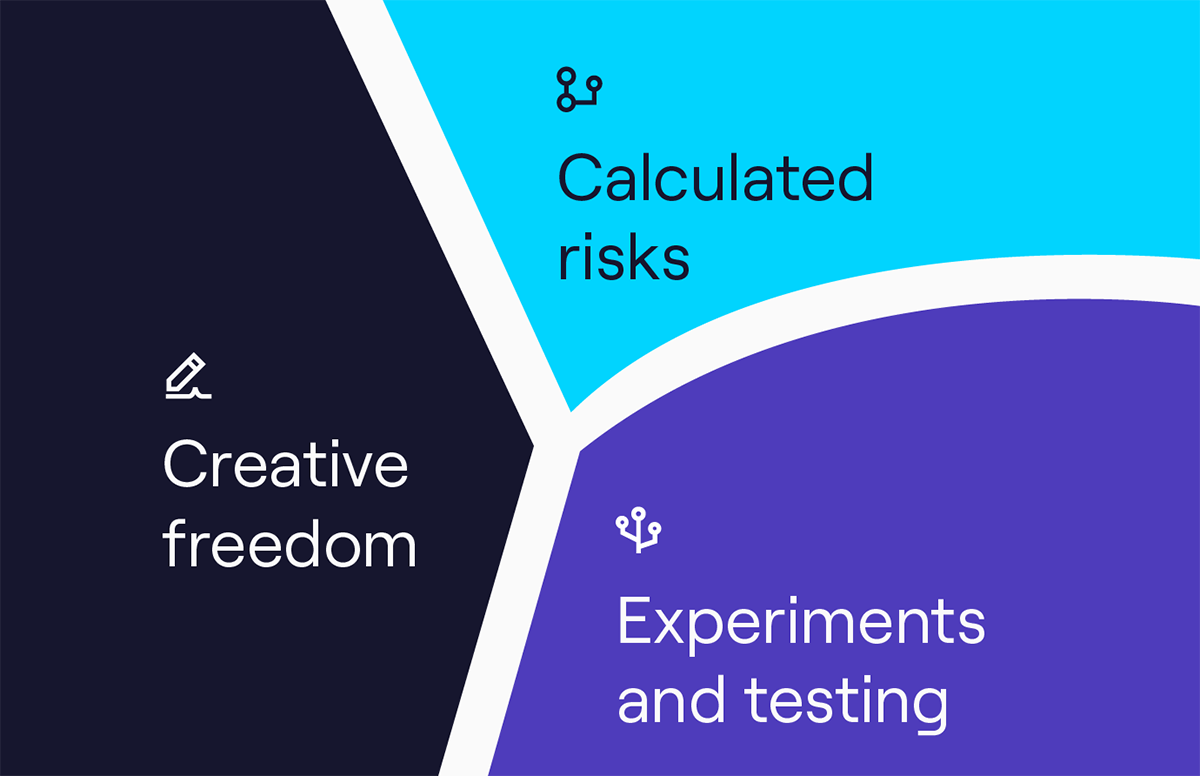 'Comfort is the enemy of growth.'
We live in a world of excess, in a market of countless options for products and services. This means that only those who think outside the box can stand out of the crowd.
Doing things in a new way is difficult, because it's hard to predict the outcome. It's new. It hasn't been done before. There's more to be learned. No one can fully 'know what they're doing' when charting new territories.
So risk taking - well, calculated risk taking - should come with being a business leader, right? Whether you're an entrepreneur, or a CMO - you should have the ability to experiment and find creative ways to drive the business forwards.
Well, it seems all too often, the pressure placed on the role of a CMO stunts their growth. Forbes published an article earlier this year, saying:
'At a time when CMO tenure is just an average 25 months, its lowest level since 2009, it seems reasonable to posit that many CMOs neither have nor feel this permission [to fail].
They urged for CMOs to be treated like entrepreneurs - offering them opportunities and freedom to take risks without fear of being fired.
Because ultimately, this role is about pushing boundaries. And in uncertain times, it's all the more important to be encouraging 'out of the box' thinking.
We reckon that sounds like a good idea.
Our CMO, Alice de Courcy, regularly experiments to find groundbreaking avenues for Cognism's growth potential. And we'd encourage other businesses to adopt this mentality.
We wanted to speak to some other marketing leaders in the B2B SaaS space to get their take.
Keep reading for insights from Fernando Amaral, CMO at Rydoo, Adam Holmgren, Head of Demand Generation at GetAccept and Mark Kilens, CMO at Airmeet.
The role of a marketing leader
A CMO or a Head of Marketing role has a number of responsibilities. Mark describes them as:
A champion of the customer
A steward of the brand
And a driver of growth
And there's a lot you could unpack about each of these three areas - the role of a SaaS marketing leader is expansive.
A modern marketing leader's job is hard, and getting harder. That's because they need to understand the complexities of marketing, as well as the technologies that they work with. Which as we know, are evolving and upgrading over time.
Mark adds:
"There are so many marketing channels now. Endless tactics and strategies to try out. And they're not just responsible for raising awareness and bringing in leads. They're now also commonly responsible for a revenue target."
"Which they should be - but not everything marketers do can be directly attributed to revenue. So they've also had to become much more analytical and there's a huge science piece that comes along with what marketing is now."
In other words, not only do they need to be creative, coming up with engaging B2B marketing ideas - they also need to be operational and data driven. Truly embodying 'art and science'.
But getting so bogged down in the numbers can create problems too. Adam explains:
"If you have to attribute everything, then you can never be creative. Some marketing activities can't be tracked. You have to wait to see the positive impact further down the line."
"I think being a marketing leader is one of the most high-pressure roles out there."
The importance of risk taking
We've learned at Cognism is that it's better to create a problem for yourself than to never try anything at all.
So, it's better to start testing something, without knowing how it's going to go, or how it might scale in the future... rather than being scared to try.
And that's what we mean when we say it's important for marketing leaders to have permission to fail. Not all tests are going to work.
Sometimes, you'll invest in projects that don't move the needle. The important thing is learning what works and what doesn't. You can only do that by trying.
Mark says:
"You have to take risks if you want to be different."

"The best CMOs lean into different - not better - but different. It's always better to be different."
Fernando adds:
"There's two halves to this. The first is that marketing leaders are allowed budget to run campaigns that they aren't sure are going to work. They believe it has a strong chance at positively impacting revenue, but they're not sure."
"This is important because you have to keep learning. Things are always changing. If you don't keep adapting, you'll start losing."
"Because there's often diminishing returns on platforms. Things that once worked really well become less efficient, so you need new methods."
"The other half is understanding that not everything can be tracked and attributed. You need to have both of these."
Fernando also argues that most marketers don't go into their career wanting to do boring lead generation activities.
They want to be able to flex their creativity, and trying out ideas is an important element in keeping marketers motivated and engaged.
He says:
"It's valuable for the potential campaign results, but also for building a great team."
Reckless vs calculated
To clarify, we aren't recommending throwing caution to the wind and taking risks to the extreme!
No, we're talking about taking calculated risks. Ones that you believe have a chance of influencing your business performance positively.
For example, what minimal viable test can you run to prove a hypothesis that a new idea will work?
Finance are much more likely to approve a small investment to test something, if you can persuade them that will have a positive impact.
Once you've gathered the data from the test, you're far more likely to get further buy-in for scaling if results look favourable.
And while many marketing leaders are now expected to be able to attribute the success of different elements of a campaign. Some activities can't be truly measured.
Fernando explains:
"Any campaign around brand awareness or brand affinity, you should invest in, but you're not going to have an accurate measure for the success. So don't ask me for attribution on that."

"It sometimes depends on what the goal of the campaign you're running is."
And this doesn't have to cost a lot of money either. There's a misconception that testing and experimenting can waste resources. But there's many ways to test and experiment, without breaking the bank.
For example, there was a time at Cognism when we could only offer demo requests.
But we wanted to diversify our offers and let people experience our product hands-on. That way, they could see the value upfront.
Our CMO came up with this idea of '25 free leads', where we could offer people 25 leads in their ICP for free.
But this plan needed CRO approval before it could go ahead. The stipulation she gave was that it had to be run super tight and to a limited audience. This was to keep costs and required resources low.
At this stage, our CMO only wanted to prove that this idea would work. So this method was used to retarget people who had already engaged with Cognism.
It had amazing results! Not only were people converting on the offer, but they were converting into revenue further down the funnel.
It became our top-performing campaign by a mile. But it was born from taking a risk and doing something new.
Far fewer discussions were needed when it came to asking for funding to scale this idea. Curious, eh?
What can marketing leaders do?
A huge factor determining if a marketing leader feels encouraged to make bold moves is the exec team around them.
Adam says:
"It's crucial that your exec team trusts your decision making. If you have the backing of your exec team, I think the pressure around failure goes down."
It's not all doom and gloom for marketing leaders who feel stuck without freedom to experiment. A huge part of changing this kind of culture is education and trust building. This is something which can come from the marketing leaders themselves.
Mark says:
"A great exec is someone who's a great salesperson. Any great leader is great at sales. It's a top skill in life."
"What's your strategic plan, and how do you sell that plan to the other people that you need to be involved with?"
"If a marketing leader is skilled at getting people to work together then they're going to be far more successful."
Mark's key message here is to share context. Explain:
Why you're making the decisions you are
What your hope for the outcome is
How you plan to limit any negative outcomes
How you're going to test your hypothesis
And ultimately, what the benefit to the organisation would be if it went well
Fernando says:
"It often depends on the culture of the organisation you're in as to how much they're willing to invest in experimental campaigns and projects."
"But having a strong relationship with your CFO and CEO really helps."
At the end of the day, companies generally want to invest in marketing. Most CEOs, CROs and CFOs understand the value of marketing activity.
But they won't have the same in-depth understanding of marketing the way a marketing leader will. This gap can be bridged with communication and setting expectations.
Fernando explains:
"They need to understand that things take time, a lot of marketing activity doesn't create linear results. Not everything is measurable. Not everything looks like a funnel. Some things take more time than others."
By breaking down your plans into short and long-term plays, you might have a better chance of getting sign-off.
Execs get the short-term wins (hopefully!) and you get a chance to experiment with some other campaigns that take longer to bear fruits.
It's all about how you present your plans to the rest of your team.
Also, it's important to communicate your plan to limit negative outcomes by keeping a close eye on any risk-taking activity.
Mark says:
"You should be able to spot some indicators of potential failure. And in some cases you'll be able to fix problems, in others you may have to pull the plug to limit the damage."
"Understanding what the positive and negative indicators are before you start is important."
A message to CEOs and founders
Building a culture of creativity, experimentation and freedom to explore ideas, comes from the top down.
And while marketing leaders can do their best to communicate their plans and goals, it comes down to how comfortable they feel to share their ideas.
You brought in a marketing leader because you need someone to fulfil this role. So give them the freedom to do so (within the healthy boundaries of realistic KPIs and budgets of course).
The businesses who make it big aren't the ones playing it safe. It's the ones being bold, making waves and the ones willing to take a risk.
The final word
The good news? There appears to be opportunities for marketing leaders to make space for risk-taking and creativity in their roles.
Whether it's by influencing the culture in an existing company, or by choosing to work for companies that carry a similar ethos.
Mark says:
"I've been really lucky to work in companies that embrace failure. If I'm honest, I only choose to go to companies that have that mentality."
Take away message here? You're going to find it much easier to attract top marketing talent if you share their cultural ideals!
For more insights from us at Cognism, you can sign up to our bi-weekly newsletters. Choose from our sales, content or demand generation editions (or all three!) by signing up below.