A Quick Guide to Optimising Your Google Ads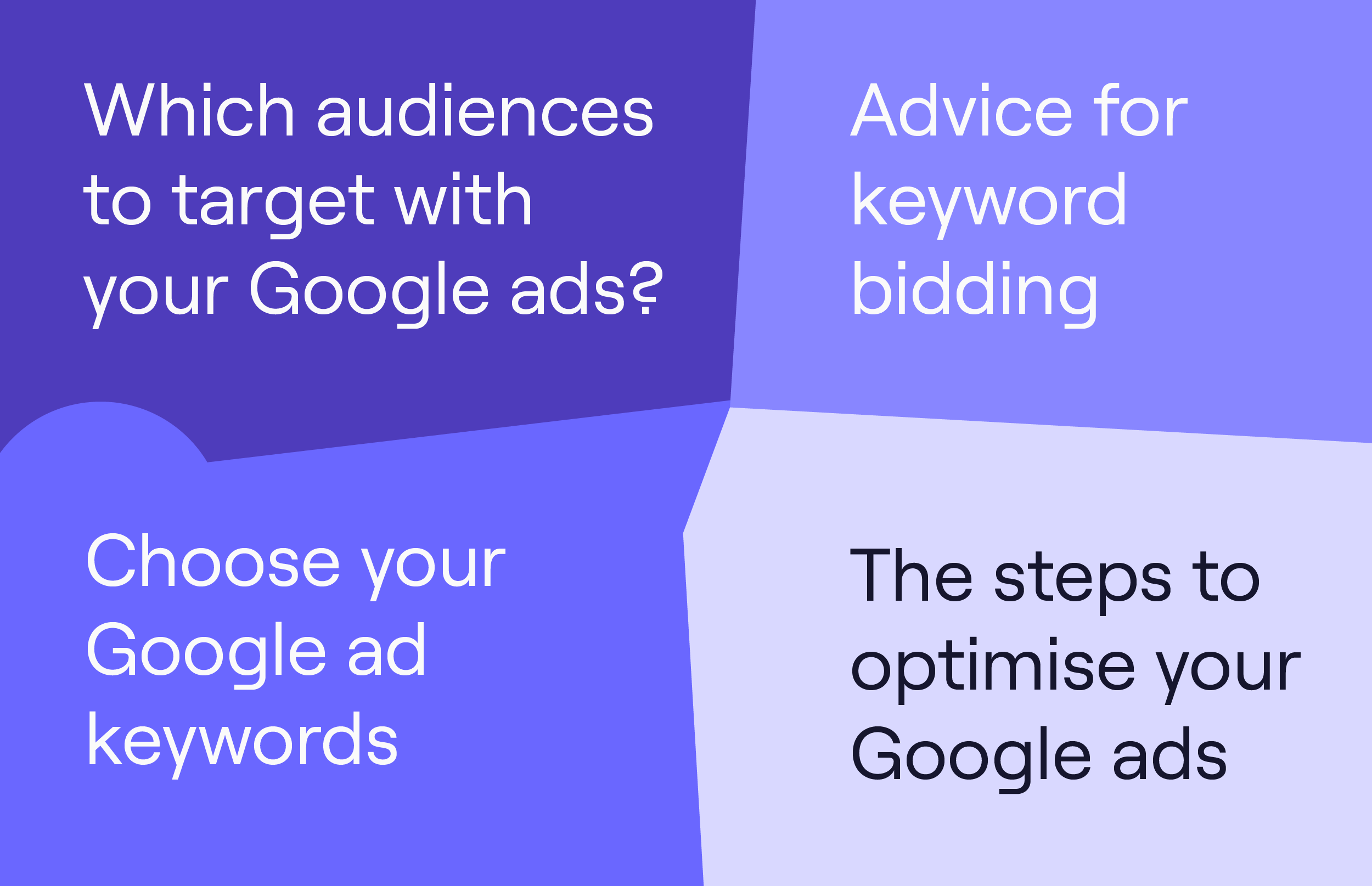 Sophie Logan is the PPC Manager at Adzooma, the market-leading digital advertising platform. She is an expert in Google search and ads, and pursues a smart, data-driven approach to paid media advertising.
We recently interviewed Sophie about the steps she takes to optimise Google ads at Adzooma. If you're struggling to get good B2B lead generation results from paid ads on Google, then Sophie's advice will definitely help you out.
Here are the 10 questions we asked Sophie about Google ad optimisation. Let's get started!
10 questions to help you optimise your Google ads
1 - How do you know which audiences to target with your Google ads?
"There's no point in doing PPC unless you know your audience! Use targeting methods to make sure your ads are reaching the right people. You can change your bids to target particular demographics. You can also exclude certain keywords that your audience isn't interested in. With Google advertising, you want to go for quality, not quantity."
2 - How do you choose your Google ad keywords?
"The best tool to use is Google Keyword Planner. It shows you how much you'll pay for a click. Don't just go for the keyword that looks the best in terms of search volume. Be realistic; can you afford it?"
"It's also good to be aware that people use all sorts of words to search for your business online - not just the words you want! Take a look at alternative keywords. They're often cheaper than your target keywords. For example, you can try using 'software' or 'tool' instead of 'product' or 'solution'."
3 - What's your advice for keyword bidding?
"A healthy bid is very important. You want to manage your spend well, to make sure your ads get on Google's first page. Some campaigns we run at Adzooma have an automated bidding strategy, but for some others, we do manual bidding."
"My advice for keyword bidding is to be restrained. I always look at it like bidding on eBay - you don't want to spend any more than you think the item is worth! Set some limits on your bidding and stick to them. Otherwise, you can end up spending much more than you intended."
"Another tip is to keep an eye out for what's going on in your target industry. If a competitor goes bust, for example, you can bid for their keyword! That can be a very quick PPC win."
4 - What are the steps you would take to optimise your Google ads?
"When optimising Google ads, it's very important to get into a routine. Mistakes can be very easy to miss if you don't look too often. You should aim to spend half of your day optimising your ads and reviewing performance and spend. If you put enough time and effort in, you'll get good rewards!"
"Always be on the look-out for out-of-date content and ad copy. I've seen companies run ads with last year's date on them, or with seasonal offers that aren't relevant any more. It looks bad and it's a waste of money, as very few people will click on those ads. That shows the importance of constant optimisation."
5 - What's your process for A/B testing your Google ads?
"Don't be afraid to test and play around with your Google ads. You can create a contest between your ads, to see how effective they are."
"What I do is, I choose an ad that's doing well - I call this the 'champion ad'. Then I'll have a different ad, called the 'competitor ad', running alongside it, with alternative images and keywords. I'll have them both running at the same time for a month. Whichever ad does better is the one I'll carry on using."
6 - How important are ad copy and images to the success of a Google ad?
"A Google ad must make an instant impression. You only get one chance to get people to click on it. If the ad looks bad, they won't click. So it's vitally important that spelling and grammar are all correct and the information on the ad is relevant and up-to-date."
"In terms of ad content, I always try to hone in on a USP that is really unique. Too many ads I see are very samey. Think hard about what makes your product truly unique. It could be anything - the length of time you've been trading, the experience you've got in your team, any awards you've won recently. It's good to be specific and detailed."
7 - How do you manage your Google ad budget/spend?
"I have a simple rule when it comes to managing budget for Google ads: it's about the quality of traffic. Don't spend for the sake of it; be targeted and focused on where your money goes."
"In PPC, spending more doesn't guarantee success. A good question to ask yourself at the start is: how much are you willing to spend to bring a new customer in?"
"One thing that can be very tricky is that Google can automatically spend more than your daily budget. It's a system that Google uses to boost an ad's performance - if it sees an opportunity to make an ad do even better, it will spend more. It can be quite worrying if you're not prepared for it! But I've found it usually balances out after a month or two. Just keep checking your Google account!"
8 - What metrics do you use to track your Google ad performance?
"Before you start running a Google ad, always work out what your objective is. The majority of our clients at Adzooma are after leads for conversion. If that's your goal, the metrics I recommend are the number of conversions, the cost per conversion and the conversion rate."
"You might be after something else besides leads. Some of my clients are looking to increase their brand awareness. To track this, I recommend measuring the website traffic from the ad, the volume of impressions you get and the total number of clicks."
9 - What's your number 1 PPC tip?
"My number 1 PPC tip is to always be prepared for change. The PPC industry is constantly evolving. New tools are always being developed and Google refreshes its processes almost every year!"
"Keep on top of the latest trends. There are a couple of PPC LinkedIn groups you can join, which are a great source of industry information."
10 - Beyond Google, what other PPC channels are worth considering?
"I'm a massive fan of Bing Ads! It's not a channel that's used very much in the UK, but 12-20% of all UK searches are done on Bing. That's a big chunk of the total UK audience. A lot of advertisers overlook it, but it can be much cheaper than Google."
"Luckily, you can import your Google ads to Bing. One thing though, the demographics on Bing tend to be older than those on Google. But, if your audience is more senior, it can be a very fruitful channel. I've certainly found a lot of success on it!"
More insights for B2B marketers
Thanks to Sophie for sharing her knowledge with us! If you're looking for more PPC-related content, then we definitely recommend adding the Adzooma blog to your bookmarks - you'll find some great insights there.
Here at Cognism, we have some B2B marketing insights of our own to share! We've recently published a 'no fluff guide' to inbound marketing.
It's a complete playbook for building and scaling a marketing function from the ground up. We wrote it in collaboration with some top B2B/SaaS leaders and it can be yours, right now, for free!
Click below to get your copy!