69% of reps set up to fail when prospecting in multiple territories
Over two thirds of salespeople aren't equipped to effectively prospect in different markets, according to data collected by The Daily Sales.
The LinkedIn poll showed that 47% of 1,468 respondents used no B2B data vendors at all, while 22% used 1 vendor, 16% used 2 vendors, and 15% used 3+ vendors.
From a sales enablement perspective, this is a big problem.
Because using no vendors at all leaves reps hamstrung by manual prospecting, keeping them off the phones.
Using a single vendor, on the other hand, means reps access vastly different hit rates in different territories. This can compromise launches in new markets.
That's why onboarding multiple data vendors is a necessity for modern sales leaders in the current landscape.
Roderick Jefferson, Vice President of Field Enablement at Netskope, and Jonathon Ilett, Global Head of Sales at Cognism tell us more:
Why can't Google satisfy my prospecting needs?
RJ: There isn't a salesperson out there who hasn't searched for a free email finder on Google.
When you did that, you probably came across tools like Hunter, Skrapp, and Snov.
Sure, platforms like this serve a purpose. But they can't support scaling sales teams. That's because many of the contact details they provide are either incorrect or out of date. And that's before you talk about how they collect their data.
Going to market without these key assurances on data quality or compliance is a surefire way to tank your launch, and even pay hefty fines.
Why is it a mistake to assume the same data vendor will support your reps' prospecting efforts in multiple territories?
JI: Different data vendors have different strengths and coverage, depending on the territories you use them in.
Go-to-market sales teams in the EU, for example, may struggle with GDPR compliance if their vendor doesn't host its data in Europe, or if the database of contacts isn't robust enough. On the other hand, the same vendor may function perfectly well in another territory.
So to properly enable reps as they tackle new markets, you should consider onboarding multiple data vendors - ideally, those with the best coverage and hit rates in a particular region.
This will prevent them from encountering issues that keep them off the phones, and ensure MBs keep flowing.
Want to better enable your reps? Download our SDR onboarding cheat sheet 👇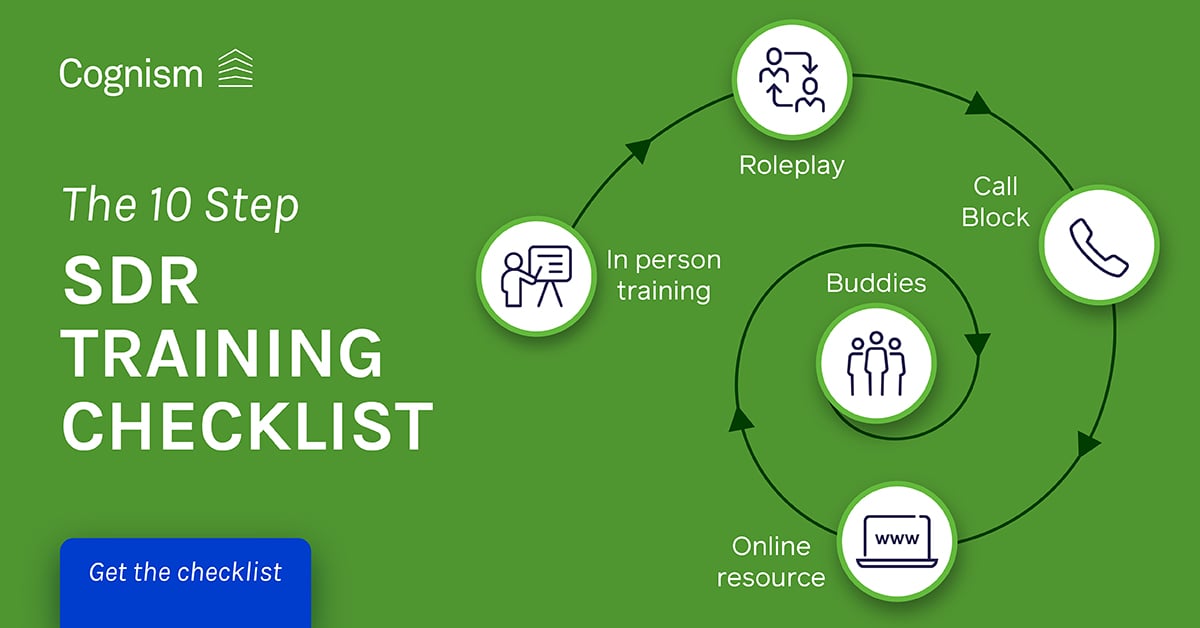 How many sales leaders are making this mistake?
JI: According to The Daily Sales' poll, only 31% of salespeople use more than one data vendor to support their prospecting across the globe.
And aside from the data, comments on the post allude to a lack of awareness about the issue, with users mentioning Google and LinkedIn as solutions to it.
A separate poll from Ryan O'Hara indicates a higher level of awareness, with 57% of respondents having 2 or more data vendors in their stack.
While this poll is over 8x smaller than The Daily Sales', the comments level with the data gathered.
For example, one user says: "Single source/vendor for sales ops teams is a kiss of death in my opinion.
"But I would add that you have to have a defined process for dealing with data gaps or bad data. Plus the team has to follow it.
"We used 'research' as a stage and then had that funneled out or over to a team member who could run additional research or use 'other' tools.
"SLA the research so the sales team can have reliability."
Another notes: "It's become a question I ask companies / encourage others to ask before joining! It shows they know how to lead an outbound sales team."
So what can we make of the two polls when matched against each other?
Clearly, there's growing recognition for the need for multiple data vendors in sales stacks. But a majority of sales leaders aren't problem aware.
And by reconfiguring your stack, you could get ahead of the competition.
How should you go about selecting data vendors for your sales stack?
RJ: Prospecting is the process of initiating and developing new business by searching for potential customers, clients, or buyers for your products or services.
The goal of sales prospecting is to move these people, or prospects, through the sales funnel until they eventually convert into revenue-generating customers.
Keep in mind that the primary user of these tools will be Business Development Representatives (BDRs) and Sales Development Representatives (SDRs) with minimal sales experience.
As a result, prospecting tools should be selected based upon creating the easiest and most efficient way to reach the right person, with the right message, and at the right time, with the goal of generating more quality opportunities.
The same goes for when you select the data vendors in your stack.
Are there any downsides to having multiple data vendors in your sales stack?
RJ: The key question is how to strategically integrate your tools in a way that creates value for your sales professionals and accelerates speed-to-revenue, increases sales productivity, and minimizes barriers to closing deals.
You must align all of your sales enablement organization's technology resources to the needs of your sales professionals, prospects, and customers to scale, automate, and drive engagement.
You don't need to use every tool just because it is available, but you should find the right tools and use them in the right way.
Here are some of my best practices to keep in mind when researching new sales enablement technology:
Assess and vet new tools: Just because you can, doesn't mean that you should or that it's a good fit for your company. You don't need to integrate all of the shiny new technologies and tools that come your way.
Each purchase should serve a purpose: If the tool will not accelerate speed-to-revenue, increase seller productivity, and create customers for life, it's just a waste of time and resources.
Involve the IT team: Always work with your information technology team to confirm whether or not a proposed tool will fit into your company's secure technology stack prior to purchasing.
Whether you're selecting a sales coaching tool, a prospecting tool, or a communication tool, never lose sight of why you're making the purchase. If the why remains your guide, you're less likely to be allured by shiny new products and more likely to find the tool that truly fits your enablement organization's needs.
About the contributor
Roderick Jefferson is the Vice President of Field Enablement at Netskope. He is a Senior Executive with 20+ years of sales enablement leadership experience.
He is also an acknowledged practitioner and keynote speaker in the sales enablement space that understands how to create bridges between internal organizations to empower sales to exceed expectations.
Roderick's answers to How should you go about selecting data vendors for your sales stack? and Are there any downsides to having multiple data vendors in your sales stack? are excerpts from his bestselling book Sales Enablement 3.0: The Blueprint to Sales Enablement Excellence which has been named an Amazon #1 new release.
You can order a hardcover, paperback copy, or eBook here.