Paid ads: Cognism's experiment (with real-life example)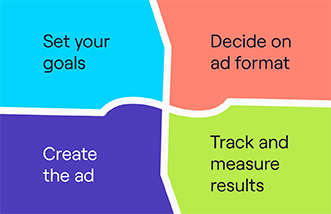 B2B marketers are a bit like mad scientists.
Always testing, measuring, and changing things.
And when it comes to paid ads for social channels, there's certainly no exception. And the marketing team at Cognism has been on quite the journey with them.
This article will feature key learnings and insights from Fran Langham, Cognism's Head of Enterprise Marketing. She recently ran an experiment herself.
Scroll 👇 or use the left-hand side menu to uncover the secrets.
1 - Set your goals
What do you want to achieve from the experiment? 🧐
Seems like a simple question on the surface.
But it's useful to set yourself clear goals or aims, so you know exactly what it is you'll need to be tracking throughout the course of the experiment 🎯
So, setting something like 'get more conversions' is too vague of a goal.
Here's Fran's goal:
"I wanted to see whether the paid ad would increase inbound demo velocity in enterprise accounts. More specifically, generating around 10 direct demo requests a week from an ad."
Remember: don't be 'wishy-washy' with your B2B marketing aims!
2 - Decide on the ad format
Static or video?
Should it have infographics?
How to decide? 🤷‍♀️
It's a million-dollar decision to answer.
And the best way to decide on the formatting?
Simple - you have to ask yourself more questions!
Fran expanded on what this meant for her:
"This ad was going to be targeted in the enterprise segment specifically. And we weren't well known in that market. So my team and I had to ask ourselves questions like:
Does our audience know what they can expect from a demo?
Should a demo be the only way our audience can learn about our product?
Does our audience only consume content via static ads?"
Fran and her team soon discovered that the answer was 'no' to all 3 of these questions.
Their conclusion?
It's important not to have a rigid mindset when it comes to thinking about how people consume content.
So, the decision was made - a video ad was the best one to experiment with 📹
3 - Create the ad
Fran went from a static ad to a video ad with our Director of Sales Development, Dave Bentham 👇
So, to kick things off, why did Fran work with him? Why was Dave the one recording the video?
"He was the best person to explain how the tool worked. After all, his team are the ones doing the demos, so he can effectively communicate the value of the product."
She added:
"Also, we're targeting a B2B sales persona. So Dave understands and shares the pain points of our ICP."
Why is this worth outlining?
It links back to providing value for your audience 🚀
Fran said:
"We had to remember that we should be creating something that's value-driven, with a strong focus on the return on investment the solution delivers. And for us, David Bentham helped us with this aim."
Here's more details on how he achieved this:
"He recorded a video that:
Calls out our retargeting audience. He does this by mentioning the audience's previous engagement with Cognism in some way.
Explains what to expect in the demo and why it may be worth the audience's time.
Objection handles the hard sell and makes it sound like a no brainer.
Delivers the core value proposition."
And above all else? What was the cherry on top for working with Dave? 🍒
"We actually noticed that the video had a teeny tiny mistake in it where he fluffed his lines a little. But this actually ended up working in our favour. Because he appeared more authentic for our audience. And we got a much better response because of it. He was speaking directly to our audience in a conversational way."
It goes back to the demand gen mantra of the moment:
'Be human in everything you do.'
4 - Track and measure the results of the experiment
This is a no-brainer really.
How else can you assess if your demand generation experiment has worked?
Ask yourself whether the result is aligned with your original B2B marketing goals or metrics. And leave yourself enough time between setting the ad live and pulling the data ⏰
Fran said:
"For Dave's video, we gave it a week to get a good amount of impressions and shares. Then we started to track and iterate different versions of it."
Now, onto the good stuff! For Fran, the video ad experiment passed with flying colours:
"We saw conversions from 1000+ companies. Previously I often struggled to get direct demo conversions from larger companies. So this was a huge win for my team!"
Fran also said:
"We saw over a 3% CTR, which for a video ad is huge! And finally, it was one of the best performers in terms of cost per demo request."💥
Amazing results, right?
Paid demand gen experiments: the key takeaways
Let's recap the key points:
Set your agenda and outline exactly what it is you'd like to achieve from the paid experiment. Don't be vague - set a clear number of conversions or demos you'd like to see.
Think about the format you'd like the ad to take. And decide which extra resources you'll need. For example - for a video ad, who would you need to record the video, and why?
Finally, remember to track and monitor the results. Once you start seeing some initial figures, you'll be able to start A/B testing and so on 📊
And that's it.
You're ready to experiment with different types of paid ads for your social channels.
For more demand gen insights, check out the Demandism Webinar and sign up to the next session here.

And if you prefer to read more demand gen insights, sign up to the DG Digest here.