How to become an MDR that crushes target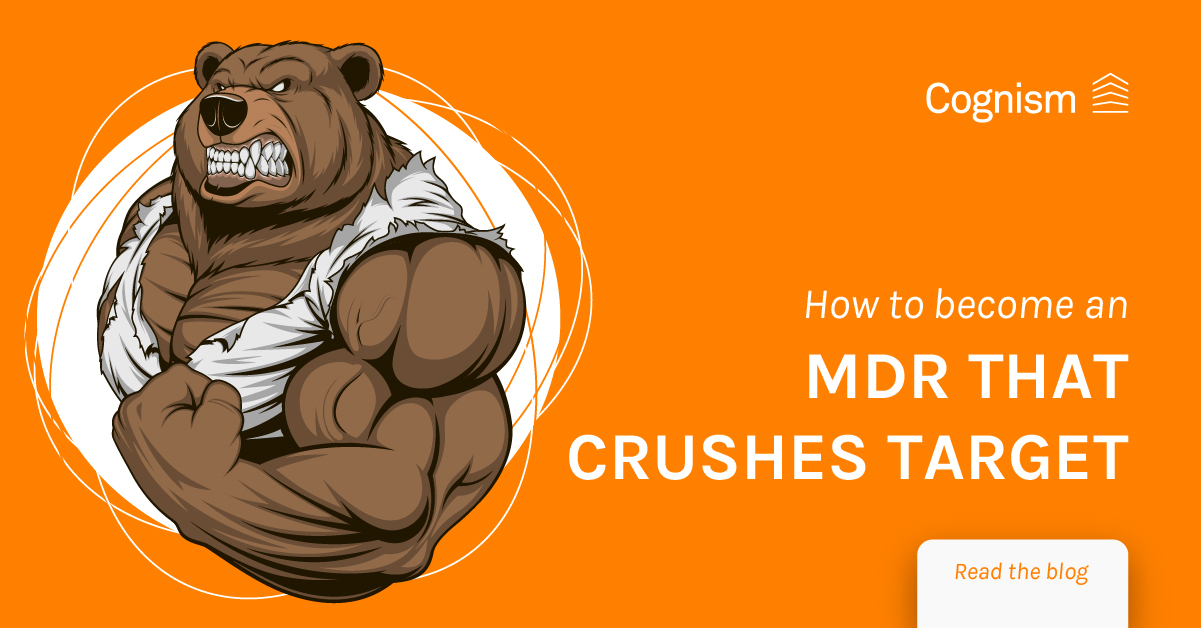 Being a Marketing Development Rep (MDR) is fast and furious.
New leads, new contacts and new records stream into your to-do list every second of every day.
And actioning every single one is the difference between success and failure.
Not just for you. For the whole business.
But the demands on MDRs are huge. And being a success in the role is an uphill task.
So, how can you effectively juggle everything without sinking?
Well, we spoke to sharpshooting BDM and former MDR, Will Gay, to find the answers.
During his time in the role earlier this year, Will hit 123% of target in Q1, 159% in Q2 and 167% in Q3, before securing a promotion.
Keep scrolling for his secrets to success 👇🏼
What targets do MDRs need to hit?
MDRs have monthly targets.
At Cognism, they're responsible for generating 16 Sales Qualified Opportunities (SQOs) from content. That means focusing on leads who've:
OR
MDRs are also responsible for dealing with and qualifying all the inbound direct demo demand that comes into the business. This could be through the website, direct phone calls, or the online chat bot, for which there is a two-minute response time SLA.
Here, MDRs are responsible for asking the right questions and ensuring any prospective customer is a good fit for Cognism. To do this, they need an expert understanding of our ideal customer profile (ICP).
What routine can help you hit those targets?
The bulk of your day as an MDR will be made up of doing outreach to content leads. That means pushing leads through the relevant cadences in SalesLoft, while picking up any inbounds that come through ad-hoc.
Because you're regularly switching between tasks, you need to impose as much structure on your day as you can. This will keep you from losing hours down a black hole and struggling to hit target as a result.
Below is the daily routine I followed while I was an MDR which kept me ahead of the game:
07:00 - Wake up and get ready.
Get a hearty breakfast and a coffee. It's gonna be an action-packed day.
07:30 - Prep for the day.
Start by reviewing the meetings in your calendar hour-by-hour. This should include the inbound qualification calls you need to book your demos, plus your outbound sales activity.
Then check that you've confirmed all your prospect meetings with the attendees.
Next, check which BDMs you're speaking to and compile a list of your total activity for the day.
Finally, set reminders in your calendar so you're on time for every call.
09:00 - Prospecting & BDM calls.
Start calling any prospects who have a demo booked in and confirm they're still available.
Notify the BDM so they can prepare.
Notify the BDM that you've been unable to reach the prospect.
10:00 - Focus on outbound.
This is the first two-hour slot in the day you can block off when people are most likely to answer the phone.
12:00 - Take lunch.
Or find a more convenient time if your diary is booked.
12:30 - Attend meetings and training sessions.
Switch back to learning and prospect work.
14:00 - Focus on outbound.
This is the second two-hour slot in the day you can block off when people are most likely to answer the phone.
16:00 - Attend meetings and training sessions.
Switch back to learning and prospect work.
17:00 - Catch up on admin.
After all your prospect and BDM calls, finish your demo notes to make the handover process as smooth as possible. If you have time, you can also do this on the go or before work.
Example demo notes
Here is an example of what inbound demo notes might look like: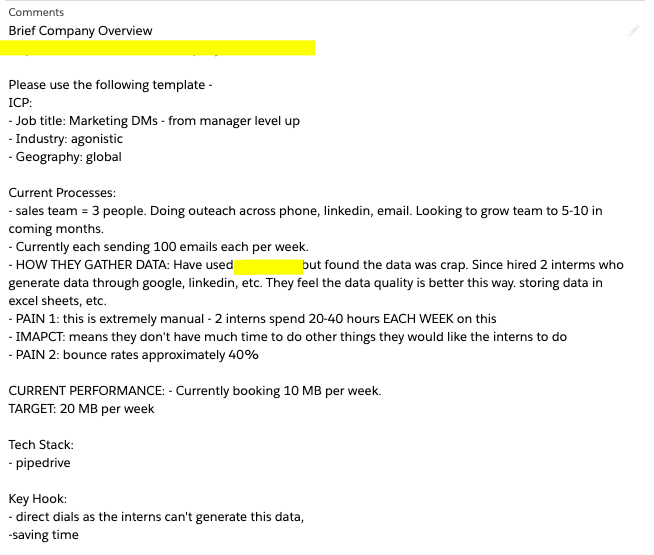 As you can see above, inbound notes are focused on in-depth qualification. That means working out why the prospect has contacted you and understanding their pain points.
Here is the template outbound demo notes should follow: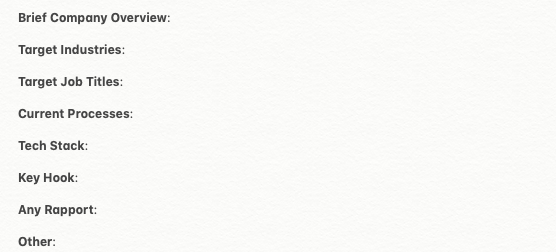 Outbound is about piquing interest. So although good qualification is necessary, it isn't as important as it is in inbound.
18:00 - Tie up loose ends.
Make sure you've completed all your SalesLoft tasks and actioned every lead in your cadence before ending the day.
Top tip
Every MDR has core hours where they want to focus on content and outbound calls. But you should be prepared for this time to be interrupted by inbounds.
To get around this, use any unfilled time in your calendar to focus on outbound so you can hit your quota of 60-75 calls per day.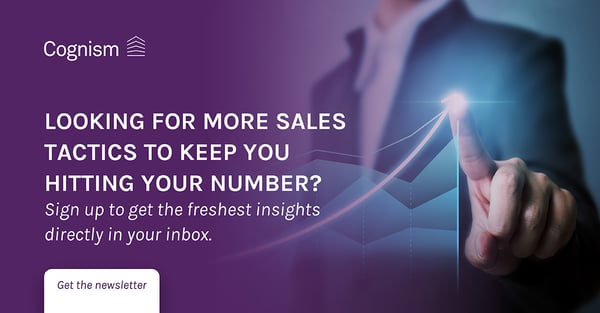 When are MDRs most effective?
Following a winning routine goes a long way to getting you and your business results.
But for MDRs to thrive, your company needs a very high volume of inbound leads. You also need to create enough content to allow MDRs to go after outbound leads.
At first, Cognism's MDRs didn't have the desired effect because of this very reason. But as we scaled, the role became vital to the function of our B2B sales team.
For example, now it's common for us to have hundreds of leads sat in our inbound queue.
With 10% of those leads becoming Sales Qualified Opportunities (SQOs) and 20% of those SQOs closing, that's tens of thousands of pounds worth of business sitting in our pipeline ready to be won.
The second thing MDRs need to succeed is the ability to action inbound leads within two minutes, while maintaining outbound performance.
To do this, any prospective MDR needs to prove they can be highly organised and efficient.
We've found that the best way to do this is to introduce the following hierarchy in our sales team: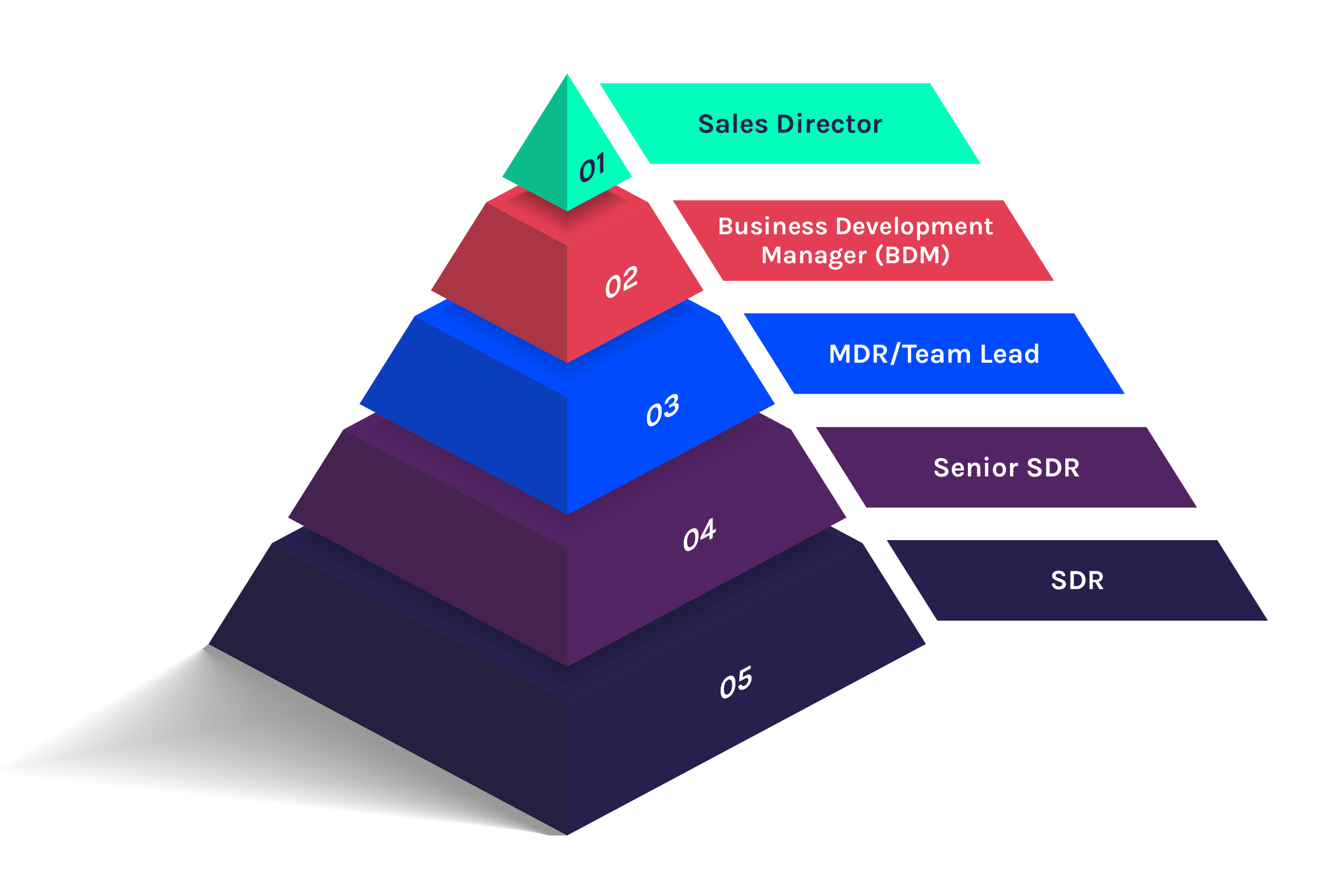 This way, the responsibilities and targets given to our sales professionals gradually increase, helping prepare them for the demands of the role. It also acts as a screening process, ensuring that you're always putting your best people forward for the role.
Communication with marketing
Constant communication between sales and marketing is another key part of empowering MDRs.
At Cognism, we find that shared Slack channels help us maintain this.
By discussing new ideas and feeding back on performance in real-time, we strengthen our lead pipeline, generate more SQOs and get more conversions.
How do MDRs contribute to the wider sales team?
In our previous blog, we discussed the differences between SDRs, MDRs and BDMs. Now we're going to speak a little bit more about how the roles interact on a daily basis.
Above all else, MDRs - alongside SDRs - book meetings into the BDMs' diaries. However, MDRs and SDRs aren't assigned to a particular BDM. That means there's plenty of overlap and looser relationships between all parties.
That said, it's in the best interests of the BDMs to keep the SDRs - and particularly the MDRs - sweet. This is because the latter primarily book in inbound opportunities.
These close at an average of 27%, by comparison to 15% with outbound.
As a result, MDRs hold a lot of power and are key to the performance of the wider sales team.
How much product knowledge do MDRs need?
One quality that sets a top-performing MDR apart is the depth of their product knowledge.
As you're dealing with inbound leads, prospects know about your product and are genuinely interested in what you have to offer.
They'll also be checking out your competitors, their functionalities and price points.
So being aware of all this and demonstrating it in customer calls is key.
It'll also stand you in good stead when you eventually take the step to becoming a BDM.
Key takeaways
Organisational skills are crucial to being a successful MDR
MDRs need a high volume of inbound leads to action to be effective
MDRs provide sought after leads and have a big say in the wider sales team
If you want to help nurture your content leads, check out winning cadences from our MDRs! ☝🏼