21 Tips for Building a LinkedIn Personal Brand (in B2B SaaS)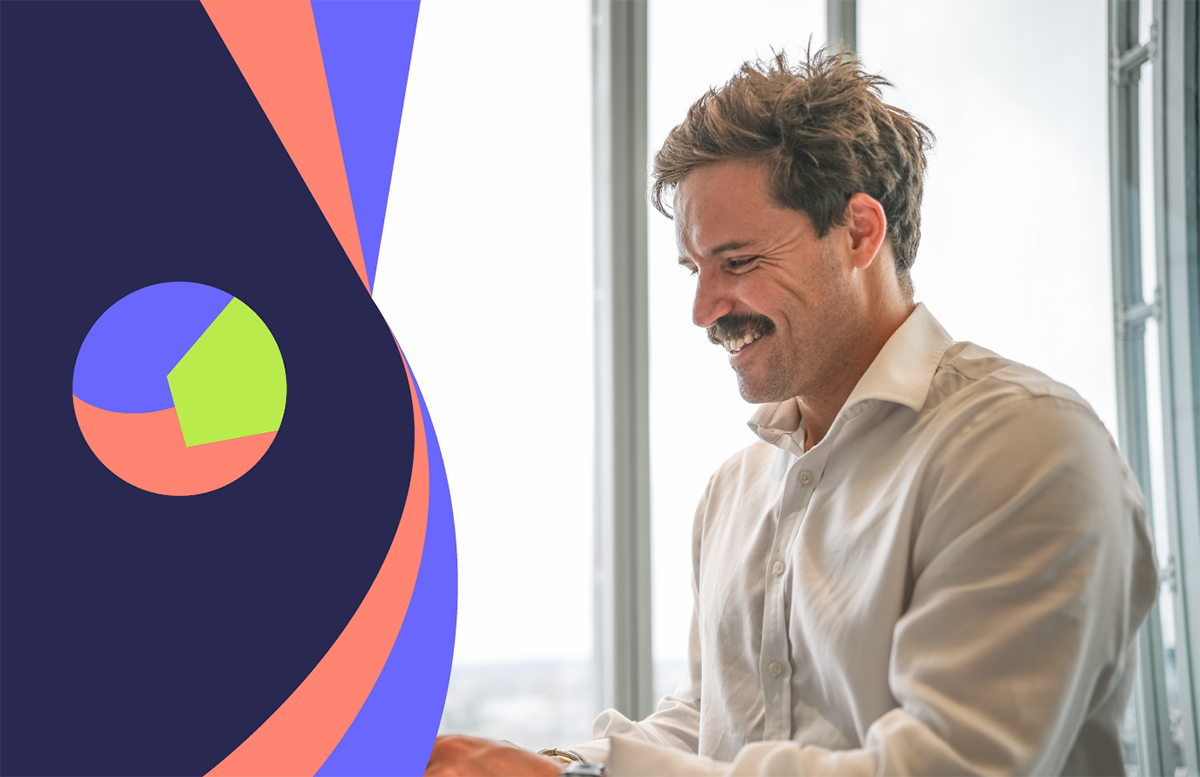 LinkedIn has 260 million users. Wanna hazard a guess at how many of those create content?
1%.
Or in other words, 99% of people use LinkedIn passively.
But what are the reasons for this tiny pool of posters?
Well, the professional sphere is slightly more complicated than the personal one. People in all industries, not just B2B SaaS sales and marketing, are blocked by a number of factors. These include:
Imposter syndrome. Potential content creators feel like they're not experienced enough to be telling people how to do their jobs.
Lack of ideas. Potential content creators struggle to work out how they can add value to existing conversations without sounding like they're imitating someone else.
Finding time. Potential content creators find posting several times a week doesn't align with their workflows.
Keeping at it. Potential content creators find that once they first start posting, ROI is low in terms of likes and engagement, so persevering seems pointless.
That said, overcoming these pain points gives you a huge edge. This is made easier by the fact that LinkedIn is now incentivizing B2B SaaS influencers with its new "Creator Mode". Also, with so few content creators around, it's easy enough to stand out.
In this blog, Cognism's Associate Sales Director, Saif Khan (9,368 followers), and SEO & Content Executive, Greig Robertson (1,141 followers), tell you how you do this and make your LinkedIn personal brand explode.
Either scroll or use the menu below to flick through 👇
Starting your personal branding journey | Setting goals for your personal brand | Creating content that resonates
Starting your journey
Hey Saif, Greig. We've mentioned some of the key challenges potential LinkedIn content creators face. What are the best ways to overcome them?
Saif: For me, there are three key things you can do to start your LinkedIn personal branding journey on the right foot. These are:
Accept you're imperfect - there's an audience for everyone, no matter how "basic" or "beginner" you might think your insights are. It's just a case of finding them.

Have a posting routine - start by A/B testing different times and days and see which work best. Even the best practices suggested by big studies don't work for everyone.
Have a content plan - this'll prevent you from staring at your screen at 11am every day, wondering what to post.
Another thing I'd say is, don't try to be someone you're not. For example, a lot of people on LinkedIn are revenue leaders, CROs, CEOs, and so forth.
I don't have the same kind of knowledge they do, so for me, it's about accepting what I do know and sharing lessons I've learned along the way.
That's a much less daunting task than having to teach people what they should be doing. I just accept what I do know and share it.
Greig: It's one of the most nauseating cliches going, but you'd be surprised at how much you learn every day. It's just a case of externalising it, rather than internalising it.
"Keep swipe files of ideas you get, when you get them. Then let them sit for a while, before moulding them into something coherent."
You'll be surprised at the quality of content you can produce day-to-day by doing this.
Also, no one cares what you're posting when you first start out. That sounds brutal, but it's true. After your first post, which could blow up, your reach will fall drastically and some posts will only reach a couple of hundred people.
As Dave Gerhardt says, that makes it a great time to find your voice and try new things. None of the top sales and marketing influencers landed on the perfect formula with their first post.
So use those first few months to iron out the creases in your LinkedIn personal brand. Then, by the time people are paying attention, you look like the finished article.

What were the first steps you took to build your personal brand?
Saif: I started off by using Justin Welsh's Guide to Personal Branding. The first thing I did was make sure my profile was slick and up to date. So my bio was optimised, my headshot was on point. Essentially, ensuring everything was pristine.
Beyond that, I built out the content plan I mentioned earlier, and understood who exactly I wanted to consume my content. Those people were account executives, SDRs, and Sales Development Managers, so I connected with those people and wrote my content for them.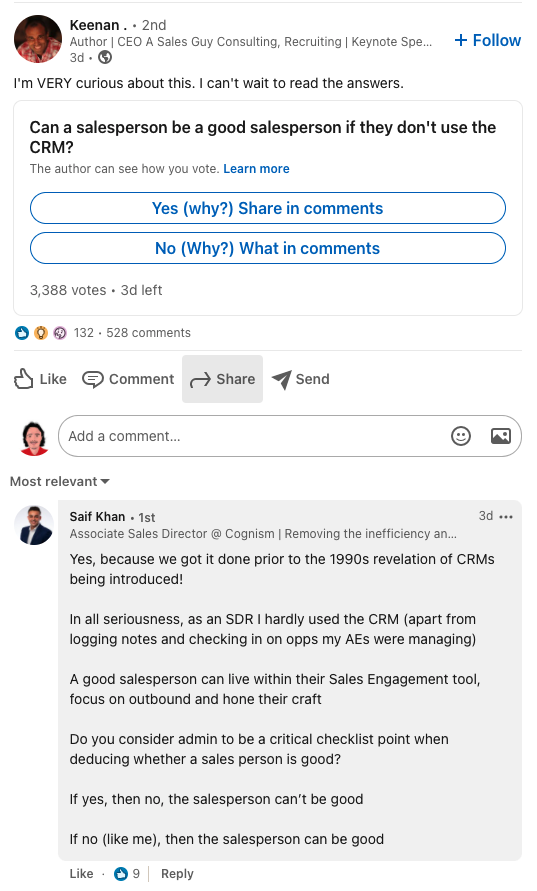 I also make a conscious effort to engage with people who engage with my posts and send a good LinkedIn messaging template to connect with their connections who fit a similar profile. This helps to build a community of people who are engaging with each other's stuff, and the algorithm reflects that.
Greig: I think what Saif says about focusing on the basics is absolutely right.
To be honest, it took me around four months to get my profile close to where I want it. And even now, it's a living document.
But the key to getting yourself on the right path with this is making your headline and bio:
Benefit led
Results-driven
Ultimately, this page is all about selling how you can solve the problems of your target audience. So if you brag and have nothing to back it up, your audience will switch off.
I rely on a formula called Align, Present, Proof (APP) a lot when it comes to content writing, and it's just as useful here.
Firstly, empathise with your audience's pain points. It's worth mentioning here that something like "I know content marketing is hard" isn't gonna cut it. You need to find something that genuinely resonates.
Next, you say how you can help solve the problem. Likelihood is, this is with the solution your company sells.
Finally, you prove that you're fit to solve the problem. What data do you have that reinforces what you're saying? What results have you helped other customers to achieve in the past?
On defining your audience, it's easy for me and Saif, because we're targeting people like us. After all, Cognism is a solution geared towards salespeople and marketers and loads of these guys hang out on LinkedIn.
If your audience is more niche, you may need to look beyond LinkedIn. Think about joining private Slack communities where your ICP lives. Check out subreddits and Quora threads. Or if you don't know where to start, follow and connect with people you can ask.
Setting goals
Why do you need to set goals for your personal brand?
Saif: One clear motivation is that I speak to so many different prospects every day and give new demos every day. As part of that process, I connect with them all on LinkedIn.
A big reason I do the posts is because I want to build credibility with that target audience and my prospects. Coming across as a "thought leader" will improve my ability to not just be viewed as a "salesperson" in their eyes. In essence, I want to build relationships with potential partners, not just "customers"
Another one is that I want to increase my own personal awareness. So, if one day, I ever change role, I have a strong community I can tap into. It's also great for inbound leads, when prospects come to you asking about Cognism, rather than the other way around.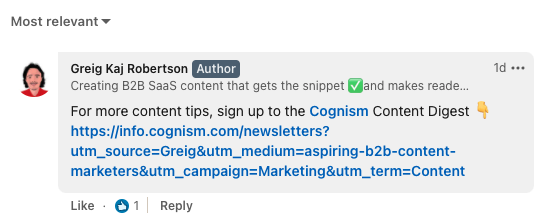 Greig: Like with any other task, goals help keep you focused and motivated. Chances are, if you start posting on LinkedIn with no solid reasoning, you'll run out of things to say within a couple of weeks.
For example, my goal is to build subscribers to Cognism's Content Digest newsletter. I don't directly promote this in my posts, but I do include comment CTAs with tracking links.
The idea is, by adding value to the content marketing community, they'll trust me enough to give their details for extra content. Those details can then be used by the wider marketing and sales teams.
What are the telltale signs that you're on track to reach your personal goals?
Saif: You should see an upwards trend in terms of the level of engagement with your content.
"Your content doesn't solely have to be posts, it can also be comments. This will create a general awareness of who you are and what you're doing."
In a sense though, there's no singular goal, because you can't complete LinkedIn. If you're always trying to learn and improve, you'll gain a growth mindset, which is crucial in sales.
Greig: I thought about quitting when I was getting shocking engagement. The type of engagement when you and your mum are the only likers. That's tough to take when you're putting a lot into posting, and seemingly getting nothing out of it. Sorry mum.
But this is a wall you have to push through. And you do it by continuing to add value, continuing to engage with other influencers' content, continuing to post.
As Saif says, you'll eventually see your reach and engagement rise - more people will comment on your posts, more people will DM asking for advice, more people will see you on their feed.
At this point, your company is getting tangible payback for your time investment.
"People on the other side of the world you'd never interact with are now aware of your company and the problems that you solve."
You also clearly benefit from this. For example, you can use your network to solve problems. You can arrange partnership blogs. You may be offered new opportunities to speak on podcasts, webinars. The list goes on.

Finally, it's worth mentioning that platforms like SHIELD give you a more in-depth look at your personal LinkedIn metrics. Like any other platform, you can use these analytics to glean insights on what you can improve. For example, if your engagement rate is low, are you asking the right questions at the end of your post?
LinkedIn is pretty thin on personal analytics and you'll have to do a lot of manual work in Excel to make sense of your data. Do you have time to do that? And is it really worth it when someone can do it for you?
Creating content
What kind of posts resonate with B2B SaaS sales and SaaS marketing audiences?
Saif: Posts that focus on challenges, shortcomings, failures and solutions tend to work well, as long as they're digestible and relatable. Anecdotes are always great too.
Greig: No matter what field you're in, you'll always see a story arc post getting thousands of likes. The general premise of those posts is this:
You start off bad at something
You realise you're bad at something and do something about it
What you do makes you amazing at the thing you were bad at and you share your results
There is a danger in trying to replicate these more than every few weeks, though, because you'll end up creating content for the algorithm, rather than for your target audience.
The bulk of your posts should be niche, value-adding stuff. Then, every now and again, you should toss in a "crowd-pleasing" post.
By doing this, I completely changed the trajectory of my engagement on LinkedIn and I got more eyes on my value-add content.
What can you do to put a unique stamp on your content?
Saif: I post on Tuesday and Friday mornings because I've found that works and I normally include an upbeat greeting like "Happy Wednesday". Also...
"I always sign off with the ✌🏽emoji. The more people see you using the same emoji, the more they associate it with you, which helps your personal brand."
Greig: My entire sense of humour is based on references to pop culture and football. In my posts and my newsletter, that's something I try to incorporate, although you have to be wary of going too niche.
I also tested using special social media fonts in my first line to differentiate my posts from others on the feed and hopefully stop people scrolling. Unfortunately, the algorithm killed me for it, so I stick to using a couple of emojis a lot like ✅ and 😅.
Although pretty much everything I create is text only, I have seen people make carousel posts work really well for them. Other people use video, which tends to get a lot of reach. Honestly, it depends what you're comfortable with. Then, if it's something not many people do, double down on it.

Get more updates from us by following us on LinkedIn 👆