Juro's 6 competencies for hiring BDRs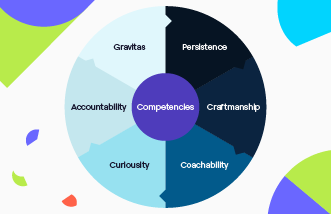 It's every candidate's nightmare:
"Sorry - we've decided not to proceed with your application because you don't have sufficient experience."
We've all been there - but really, does experience matter?
As long as someone has the room to develop the skills and the passion for a role, there's no reason why experience even has to be relevant.
We sympathise that this is a common frustration amongst many entry-level candidates looking to get into B2B sales.
But at Juro, they've developed something rather interesting in their hiring process. And it's one that doesn't focus on CVs or experience.
We chatted with Joe Porter, Juro's BDR Manager to find out more. He shared the 6 competencies that they test for prospective sales candidates.
Scroll or use the menu to navigate through the article 👇
The story behind the 6 competencies for hiring BDRs @ Juro
To kick things off, we wanted to know the story behind the competencies.
Joe said:
"These are hiring and development competencies for us. And it's related to the behaviours that people exhibit that gets them to hitting target and booking meetings."
And why these competencies specifically?
Joe mentioned:
"You have to look at competencies for BDRs that have been developed in non-working environments. They have to be fairly general otherwise you risk narrowing down your hiring pool. And that means that building a diverse and successful sales team then becomes really tough."
It's important to note that these competencies didn't just appear from thin air. Joe said they're all linked to Juro's wider company values:
"Trust and deliver, keep it simple, love the details, and be more human."
So, now we know the story behind the competency framework, let's get into the nitty gritty of each one 👇
The 6️⃣ competencies
Persistence | Craftsmanship | Coachability | Curiosity | Accountability | Gravitas
1 - Persistence
We've all heard the following expression:
"If at first you don't succeed - try, try, try again."
This is very much the essence of this competency at Juro. Joe said:
"Persistence is an exhibition of Juro's value around trust and deliver."
He added:
"We all know that successful BDRs will face rejection. They will face challenges in their role. For example, cold calling. But you also have to do a lot of repetitive tasks, such as lead sourcing."
This competency is based on a "constant execution of candidates' inputs. That's what makes people successful."
Now, you might be wondering.
How on earth can you hire for something like that?
Well, Joe said:
"We look for a commitment to a sales career. When we first hire BDRs we don't look at CVs. All we do is ask 2 simple questions:
Why do you want to work in sales?
Why do you want to work in a startup?
That way, we can pressure test and see if candidates have thoroughly considered why they want to be in sales."
But that's not all.
Joe said the hiring team for BDRs at Juro "also look at if they've achieved something in the past. Or if they've pursued an ambition to improve something."
Joe said sports people are likely to exhibit this sort of trait.
2 - Craftsmanship
Don't get confused!
This competency doesn't relate to art or woodworking skills. That's a different kind of craftsmanship.
Instead, this is linked to Juro's value of "love the details". And Joe explained why:
"If you're obsessed with the small things that make the big things happen, you're exhibiting craftsmanship. You've got an ability to want to learn. And then you develop an understanding of the product, competitors, the market and pain points quickly."
What about before BDRs get to that level? How's craftsmanship tested in the interview process?
"It's all about this aptitude to learn and implement feedback without much hand-holding."
For Joe, this quality is based on whether or not a candidate can demonstrate initiative.
3 - Coachability
Isn't this the same as craftsmanship?
No! Joe clarified this for us.
Here's how coachability is different:
"With craftsmanship, we give feedback but don't tell them how to act on it and change. Whereas with coachability, we give live feedback on their calls and give suggestions. And we'll sometimes even ask you to do something again. It shows more humility."
Essentially, it's the difference between "live and static feedback."
4 - Curiosity
For Joe, this competency is by far the most important.
"It's an actual interest in stuff. We assess this competency in interviews by evaluating the questions candidates ask us. And we'll have multiple people across the interview process doing this, checking if candidates are directing their questions to the right people about certain things."
We totally agree when Joe said this trait is crucial. What's the point in interviewing if you can't show an interest in the company, the product and the role?
Questions in sales interviews are a two-way street!
5 - Accountability
Actions have consequences.
And owning up to mistakes, especially to your team, is important.
Joe describes this competency as linked to company values. And it's related to "doing the right thing by the team and when no one is watching."
Joe also said:
"Every salesperson has to be accountable - you'll never be successful without it. It's a really important trait that comes through in self-reflection. For example, can someone own up to their mistakes?"
Juro has a fascinating way of testing this competency in the interview process. They look at a candidate's behaviour during an interview. Joe said that they assess things like:
"Are they responsive? Do they turn up to interviews on time? Do they connect with us on LinkedIn?"
Accountability in outbound sales is also centred around teamwork:
"Competitiveness in sales goes 1 of 2 ways. Number 1 is toxic competitiveness where you want to be top of the leaderboard and want everyone else around you to fail. Or number 2, where someone is competitive but equally supports and uplifts others around them."
The key learning here is this:
There's nothing wrong with friendly competition. Remember that there's so much to learn from your colleagues. So be accountable and never put others down as a result of your own success.
6 - Gravitas
Newsflash!
Not every prospect enjoys loud and hypey sales reps.
And for Joe and the rest of the team at Juro, this competency relates to demonstrating that a candidate's "demeanour is mature, engaging, and concise."
He explains why:
"Sometimes this [the loud personality] works well - if you're selling to certain personas. But at Juro we're selling to lawyers - they're incredibly good at smelling fake enthusiasm and overzealousness."
Joe warned that not showing gravitas can also have consequences later down the line:
"When you become an AE and you're trying to sell deals, the loud personality can be quite damaging. And the thing is that when we hire for BDRs we hire for their aptitude to be AEs too. So this competency is important to test from the very start."
The key finding is:
You don't have to be an over-excited, egotistical and loud salesperson. Leave the Wolf of Wall Street persona where it belongs - on the big screen!
Does every BDR have to have all 6 competencies?
Juro assesses each competency using a scorecard system.
It's just like being on Strictly Come Dancing or Dancing With The Stars! Joe told us:
"There's 'Strong No', 'No', 'Yes', and 'Strong Yes' as options to rate each competency for a candidate. But given the nature of the competencies, it's hard for candidates not to have at least a glimmer of each one."
And what happens once you rate the candidate? Forget about the results?
No way!
Lots of managers make this mistake. They hire someone, and then forget all about interview notes and details.
But instead of doing this, Joe said there's great value in using this information to your advantage during onboarding:
"A part of doing this isn't just about hiring the right people - it's about tailoring the onboarding. If we know certain things from Day 1, we can shape onboarding to help tackle gaps from the very start."
Joe emphasised the following:
"Have a thorough interview process and document it well so you can tailor new hires' first couple of weeks with you."
How long has it taken Juro to build the process out?
It's fair to say that Juro's BDR hiring process is well-documented, detailed, and organised.
So, how long did it take for Joe and the team to put in place?
"I'd hope that things were refined once I joined back in September 2021. I sat down with our head of talent and really took the time to discuss what was missing. We now know our hiring process can be switched on and off pretty quickly. And we know the framework we're hiring on will help us to bring out the best in our BDRs. It did take a bit of time to get it right."
Closing thoughts
Our conversation with Joe revealed some incredibly actionable tips for sales managers.
It's clear that sales reps don't need to have experience. So don't think that CVs are the ultimate snapshot of a candidate's ability.
Ultimately, managers need to assess candidates on their passion and ability to develop a skill set.
And remember - document feedback from interviews and use it to your advantage. One way of onboarding isn't going to work across your entire sales team. As is often said: one size doesn't fit all!
Want to hear more?
Cognism's Brand Ambassador Ryan Reisert had a very insightful conversation with Joe on the Revenue Champions podcast.
Check it out below 👇