Intent Data: Why It's Essential for B2B Sales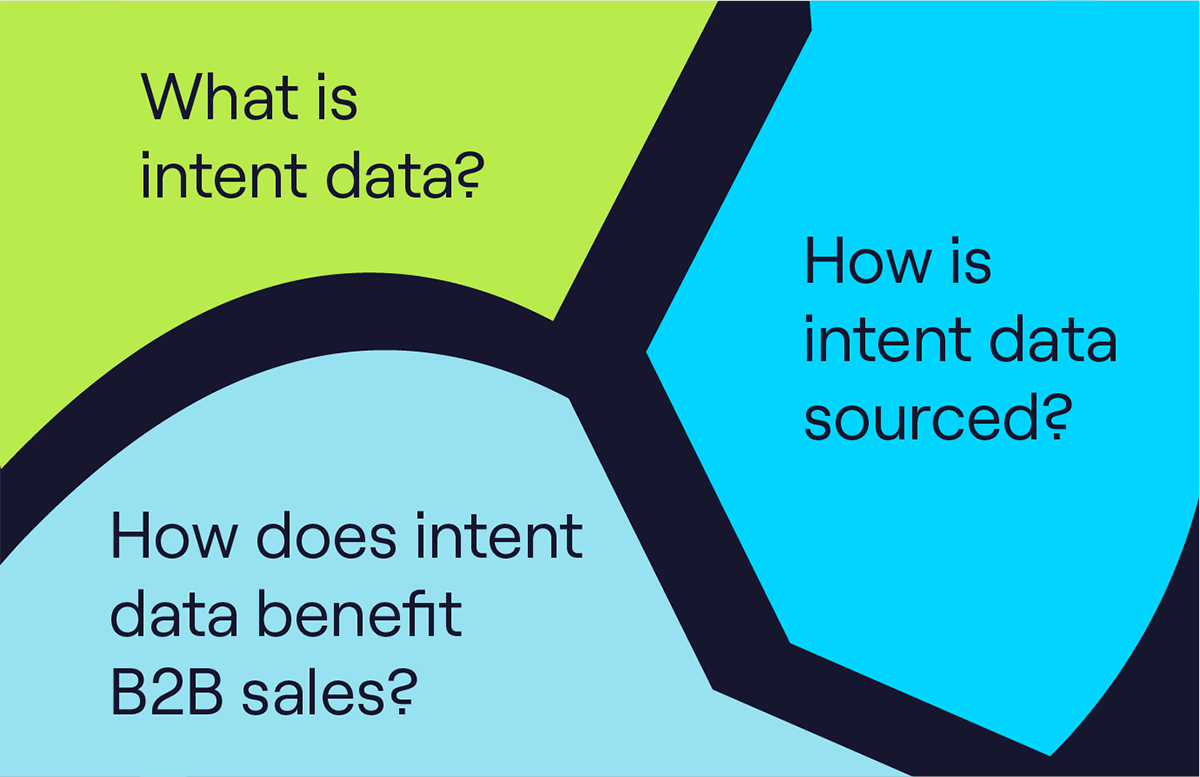 Imagine how easy B2B prospecting would be if...
A prospect popped your company's name into Google, clicked on your website, immediately requested a demo, AND you closed the deal, all within a few days.
Yeah, keep dreaming! 😴
🚨 Controversial opinion alert! 🚨
In B2B sales, salespeople may work hard...but the prospect works harder. 😈
When seeking a particular product or service, prospects will do all this and maybe more:
Visit a bunch of websites
Read articles and reviews
Attend webinars
Download whitepapers
Follow people on LinkedIn
Why do they do all this? To get as much information as they can in order to make an informed decision about their purchase.
While doing their homework, your prospects are leaving a trail of digital evidence called intent data.
Follow it, and you're sure to head down the yellow brick road. Ignore it, and like Hansel and Gretel, you may find no path home...or at least, no path to reach out to people already looking for you!
Keep reading to learn more about intent data and how it relates to sales.
We've included some of the top takeaways on intent data from our recent webinar with Charles Crnoevich, VP Partnerships and BD at Bombora, and Fran Langham, Senior Growth Marketer, Cognism.
Use the menu to jump to the bits you're looking for 😉
What is intent data | First-party intent data | Third-party intent data | How is intent data sourced? | How does intent data benefit B2B sales? | Cognism's intent data webinar

What is intent data?
Cognism's Video Marketer Emily Liu is your guide to intent data and how it helps B2B sales! Press ▶️ to watch her sales training video.
B2B intent data is behavioural data. It looks into your prospect's web activity and lets you know more about whether they're actively considering your product - or a similar solution.
Intent data is collected from a variety of digital sources, largely using cookies to monitor key intent search items.
This allows you to pinpoint when a prospect is actively on a buying journey, so that you're able to respond in a timely manner.
"Sales triggers and timing in sales are nothing new. Intent data is the next broader timing aspect of sales. The classic sales triggers only happen every so often. What intent data does is it allows you to target people while they're researching what you're selling - bringing in far more opportunities to approach your prospect at the right time." - Charles Crnoevich
There are two types of intent data:
First-party intent data
This is the data a business collects about its users on its own website and other platforms. This data is useful, but can't help a company determine whether their prospect is looking for a similar product or solution elsewhere.
First-party data is available at an individual level when a prospect completes a form on your website.
Charles explains:
"First-party means you own it, it's across your website, your marketing campaigns. Essentially, it's the strong signals you're likely already acting on. First-party is just one piece of the puzzle."
Third-party intent data
This data complements first-party data, as it's collected across a variety of websites and is focused on a specific category. It creates a more complete view of your prospect's activities across the web.
Third-party data is generally only available at a company level, rather than knowing which individual at the company read your whitepaper.
If you want to get the most out of your intent data and get a more complete view of your ideal prospect, you must use first and third-party intent data together; otherwise, you may be overlooking prospects who never end up on your website.
"Third-party intent data takes the universe of activity that you already know and can harness, and allows you to expand it to a much bigger portion of the internet for you to act on." - Charles Crnoevich
How is intent data sourced?
There's a huge difference between how first-party intent data and third-party intent data are sourced.
Sourcing first-party intent data
First-party intent data can be sourced from your company's:
Website or app
CRM system
Subscription campaigns
Social media
Offline surveys, forms, and questionnaires
Sourcing third-part intent data
Third-party intent data, however, is sourced differently. It can be gathered from:
Different websites within a specific category
Aggregated datasets sold by third-party vendors
Third-party vendors like Cognism's partner, Bombora, collect data from clients' websites, along with websites and domains Bombora owns itself.
Bombora collects high-quality data from an exclusive B2B data co-op, which comprises of a massive network of over 4,000 highly trafficked B2B research sites.
The network includes premium vendors, analyst firms, content syndications businesses, publishers, marketers, agencies, technology providers and research and events firms.
Over 70% of the websites in the network are exclusive to Bombora. The company takes a consent-based approach to intent data, rather than the standard legitimate interest approach to compliance in terms of the GDPR. This is made possible by the exclusivity of their sites.
Bombora's data is 60% international and 40% is focused just in the USA.
The company uses a standard opt-out process and makes the Data Subject Access Request (DSAR) portal available - a requirement of GDPR.
CRM integration and lead prediction are often offered alongside third-party data offerings. As you'll see within the Cognism platform, now powered by Bombora's intent data.
How does intent data benefit B2B sales?
Data driven marketing tools are incredibly useful for sales teams to gain a competitive edge. By leveraging intent data, you're able to target prospects who are already looking for you by providing them with helpful and meaningful content.
Intent data allows you to form a relationship with your prospect before your competitors even know that they're in the market for your product or solution.
In B2B sales, intent data is extremely useful for:
Calculating your Company Surge®
This data tells you when companies are actively looking into new products or services, signalling buying intent.
A Company Surge® score ranges from 0 to 100. It indicates the intensity to which a business is demonstrating intent on a particular topic when compared to its historical baseline. Any score above 60 is demonstrating active intent.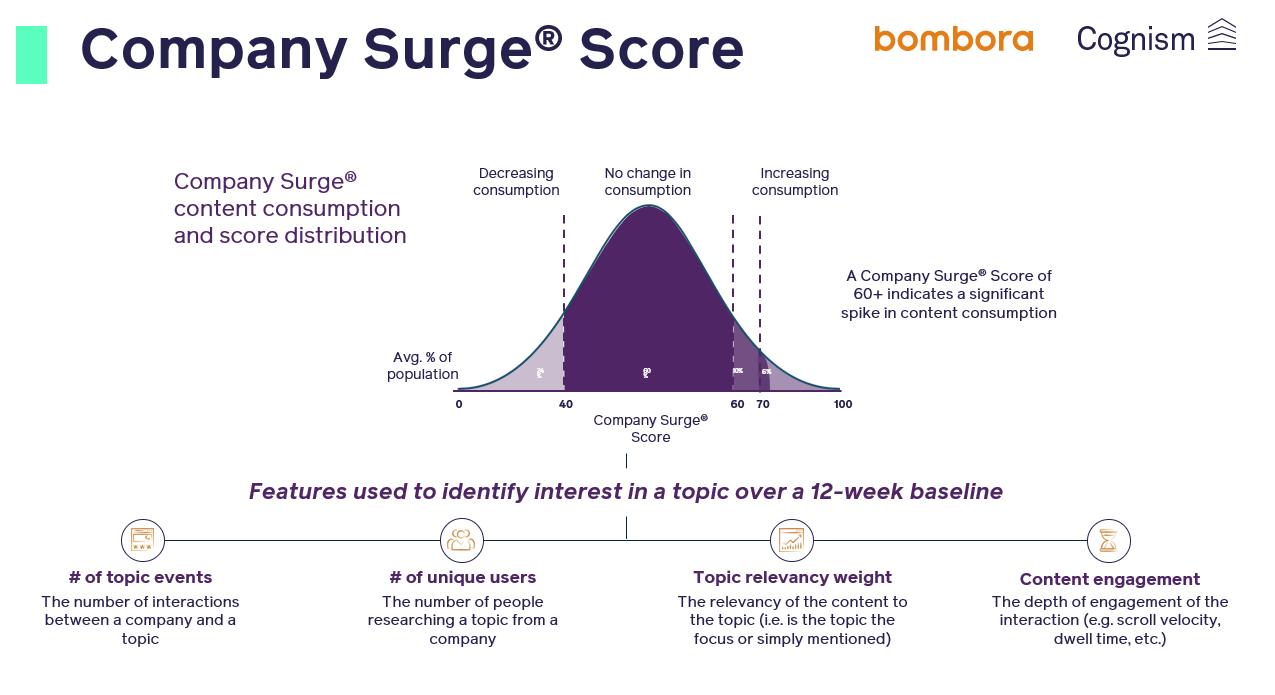 Taking action in the zero moment of truth (ZMoT)
Intent data provides real-time insights. What's the benefit of this?
It means that you can get in front of your audience with your solution or product, at the exact time they are experiencing a particular challenge.
This is known as the Zero Moment of Truth - the most resonant time for you to engage and take action.
Reducing churn and increasing upselling
Retaining your customers is definitely more cost-effective than finding new ones. Intent data allows you to see the products or solutions your clients are considering.
Armed with that kind of intel, you now get a chance to save the client. You can add the feature a competitor may have that your product lacks. You can analyse the gaps that exist in your product and improve your offering.
Get this right, and you'll see reduced customer churn and increased opportunities for upselling.
Prioritising your leads
Lead scoring is life-changing for lead generation.
It refers to the process of prioritising leads when you have a large number of outbounds, but may not have the time to reach out to all of them.
Lead scoring lets you know who to speak to first, by prioritising their intent. If they're more likely to buy now, you need to be on the phone with them yesterday!
"Sales prioritisation is really important. It's not just generating business leads into the funnel, but rather getting them to convert quicker. So if we have an inbound queue of leads that go into Salesforce, when our MDRs and SDRs pick up these leads, we want to make sure that the ones with the highest intent score and who are surging around these topics are actioned first. You want to close them off as soon as possible."

"Intent data helps you target people who are more likely to convert, so you don't have to live on a hope and a prayer that somebody's going to convert." - Fran Langham
Building an account-based strategy
Sales prioritisation is a great way to start off using intent data, but Charles explains how, once you're comfortable with using intent data, you can take this even further.
"Sales prioritisation is a great starting point, but you can grow it from there. You can add it to an account-based strategy if you're serving ads to accounts over LinkedIn, or through online advertising. This will help you improve your budget spend and be a lot more dynamic and tactical with how you're spending that budget."
Cognism's intent data webinar
You'll be off to see the wizard, the wonderful wizard of…sales? Cognism has added intent data to our platform!
To learn more about how intent data works and to start making your own way down the yellow brick road of sales, watch our full webinar here 👇