Building a Brand on Instagram: Top B2B Marketing Tips
B2B marketers, listen up! You're missing out on a huge opportunity.
It might seem that a platform like Instagram is only designed for B2C, but you'd be wrong. With over a billion active monthly users (yes, you read that right), Instagram is worth investing your time and creativity in.
According to Hootsuite's Global State of Digital 2022 report, over 70% of Insta users are between 18-45. What does that mean?
It means this is where your decision-makers, your champions and your prospects all spend their free time!
So what should B2B marketers be focusing on when it comes to building a brand on Instagram?
Don't worry; we've got you covered!
Below we outline five key areas:
Define where Instagram fits within your B2B marketing strategy.
Highlight your company culture and create brand awareness.
Focus on adding value and telling stories.
Leverage different formats to get the biggest impact.
Feature SMEs and like-minded collaborators to create a community.
Plus, we share some B2B Instagram accounts you should follow for inspiration.
Use the sticky menu or keep scrolling for more 👇
Define your B2B marketing strategy for Instagram
Part of a whole, not a singular piece
It goes without saying. But Instagram should form part of your wider social media strategy.
As a platform originally designed for photo-sharing, Instagram is a visual medium and won't work for every campaign you have. That said, don't overlook your captions. You still need them to engage your audience.
So if you use your LinkedIn page to educate and inform, use your Instagram to inspire and celebrate. After all, Instagram is the home of the millennial humblebrag… aka engagement posts and holiday snaps. So why not post about your company's successes?!
Vanhishikha Bhargava, SaaS Content Marketer and Founder of Contensify, says:
"Start by defining what purpose, goal or objective the platform serves for you when it comes to projecting your brand and whether that impacts the BOFU for your sales."
"For example, if you know your decision-makers are inclined towards understanding how you work, your work ethic, or processes that your company follows, show them the raw side of it on Instagram."
"Seeing the people behind your brand can make a positive impact on the buyer's mind."
It's also a great idea to use Instagram's interest-targeting feature to drill down on your niche and reach your ICP.
Allan Stolc, Founder and CEO of Bankly explains:
"Use Instagram's interest-targeting feature to build your brand. This will help you evaluate your audience's behavioural and demographic data and check if they are the right fit for your business."

"Focus your marketing drive on posting content to attract consumers with interests that align with your products and services. Targeting your niche market creates a higher customer engagement score and improves your conversion rate."
A clearly defined content strategy that sits within your wider social media plan is key to avoiding the trap of reposting the same content across all your channels. This will have your audience scrolling past your posts before you can make an impact.
Highlight your company culture
How can you humanise a piece of B2B software?
Simple, show the humans who helped create it! In a world of hybrid working and endless Zoom meetings, showcasing company culture is more important than ever.
Highlighting your company culture can be broken down into two parts.
1. Brand Awareness
Pure and simple, this is about getting your name and your purpose out there.
According to Chet Holmes' Buyer's Pyramid, just 3% of people on your list are looking to buy right now. So it's vital to get your brand out there to the 30% who aren't thinking about it yet.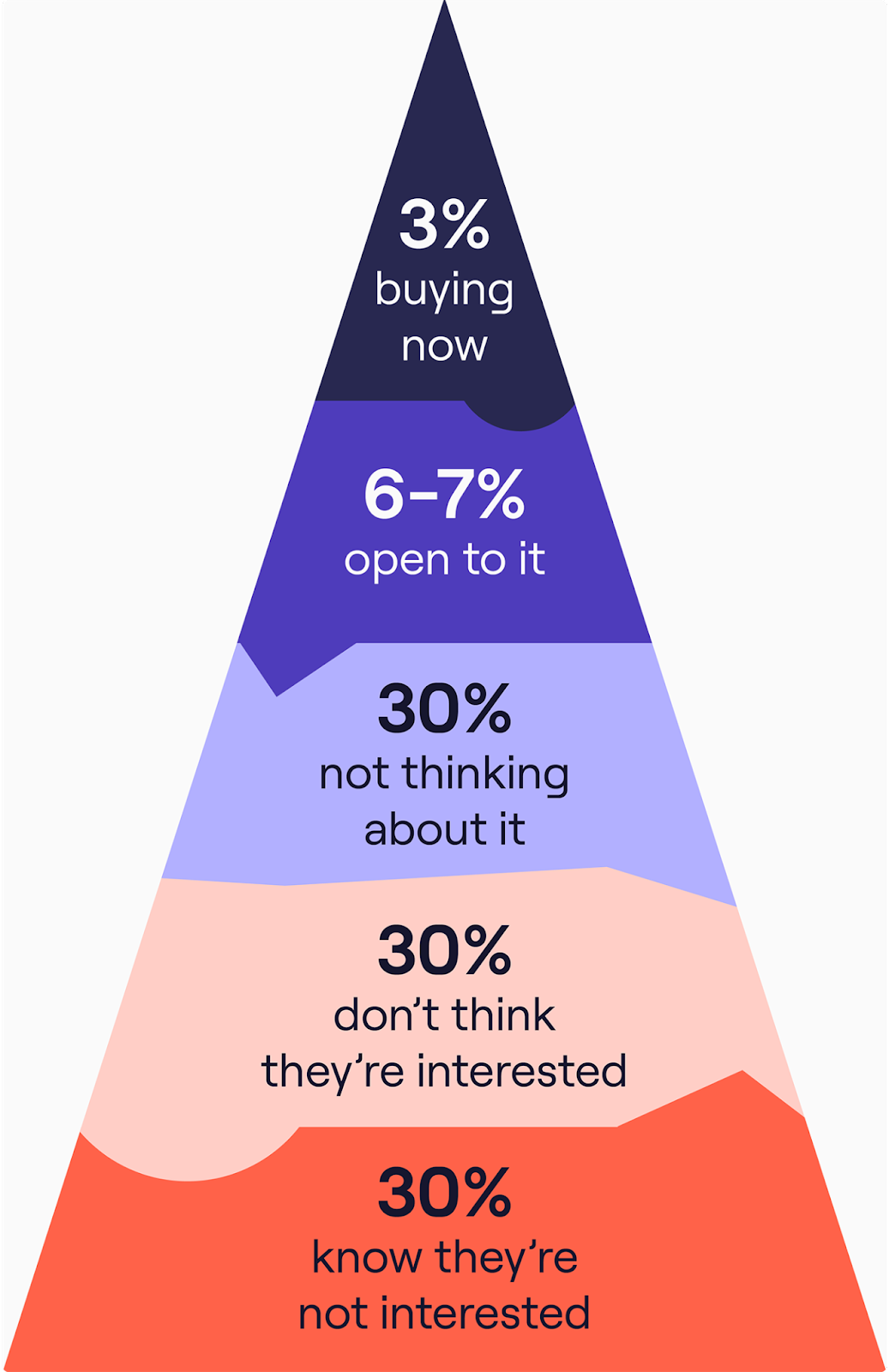 That way, when they're ready to buy, your brand will be at the forefront of their minds. Use Instagram to spread awareness and build trust in your company.
2. Employee advocacy/social proof
As part of your focus on brand awareness, highlighting employee advocacy is a great way to promote your company culture.
Despite all the data and analytics involved, buying is an emotional experience. Building trust is essential to developing a long-term relationship with your customers. So giving them an insight into how your company works is a great way to create brand awareness.
Lieu Dang, Marketing Project Manager at Ling App, says:
"B2B companies can humanise their brand by showcasing their company culture, values, and employees on Instagram. Use Instagram's behind-the-scenes features to give followers a sneak peek into what it's like to work at your company."
And this doesn't just have to be limited to sharing the odd photo of a post-work event. Companies can reshare employee hype posts or charitable causes they've been involved in. It's all part of giving a human perspective to a traditionally 'colder', more formal industry like B2B.
Alvin Wei, the CMO and Head of Strategy at SEOAnt, says that user-generated content is the way forward on platforms like Instagram.
"User-generated content has been the backbone of our B2B brand growth on Instagram. This type of content allows us to engage with our target customers and create social proof for our app, attracting more e-commerce merchants to sign up for it."
"We've also leveraged Instagram stories to help us share what happens in our company and engage more with our audience."
Focus on adding value and telling stories
Find new ways to add value for your customers
Providing value creates loyalty. Simple as.
If your company is known for creating invaluable resources for salespeople to do their job better. You'll be more likely to be considered a 'must-have' in their tech stack. Instead of a 'nice to have'.
Use Instagram's different formats and functions to showcase what your product does. And how it can benefit their business.
Kate Wojewoda-Celinska, Content Manager at Spacelift explains:
"My favourite strategy focuses mainly on storytelling. Consumers care about businesses that tell real stories about how their products or services have made a difference for others - and this is especially true in the B2B world."

"Try using customer videos or testimonials to help build trust with followers when looking to spark conversations."
All good marketers are storytellers. So harness that creativity and share your brand's story via Instagram. Case studies are a great way to use storytelling to share how your product or service has benefitted your customers.
Will Yang, Head of Growth at Instrumentl, says:
"Leverage the power of storytelling by creating compelling content that tells a story about your brand's mission and values."
"For example, if you're selling software for enterprise or educational organisations, consider showcasing real-life scenarios involving such customers and how your product benefited them."
Leverage different formats
Be creative, and capture your audience's attention
One of social media's benefits is the multiple ways it allows B2B marketers to capture their audience's attention. And Instagram is no different. You can build a successful brand on Instagram by leveraging each of its formats.
But this isn't a set-it-and-forget-it exercise. Reels, Stories, Posts and Link in Bio are all valuable, but they're worthless if you're not adding value and connecting with your audience.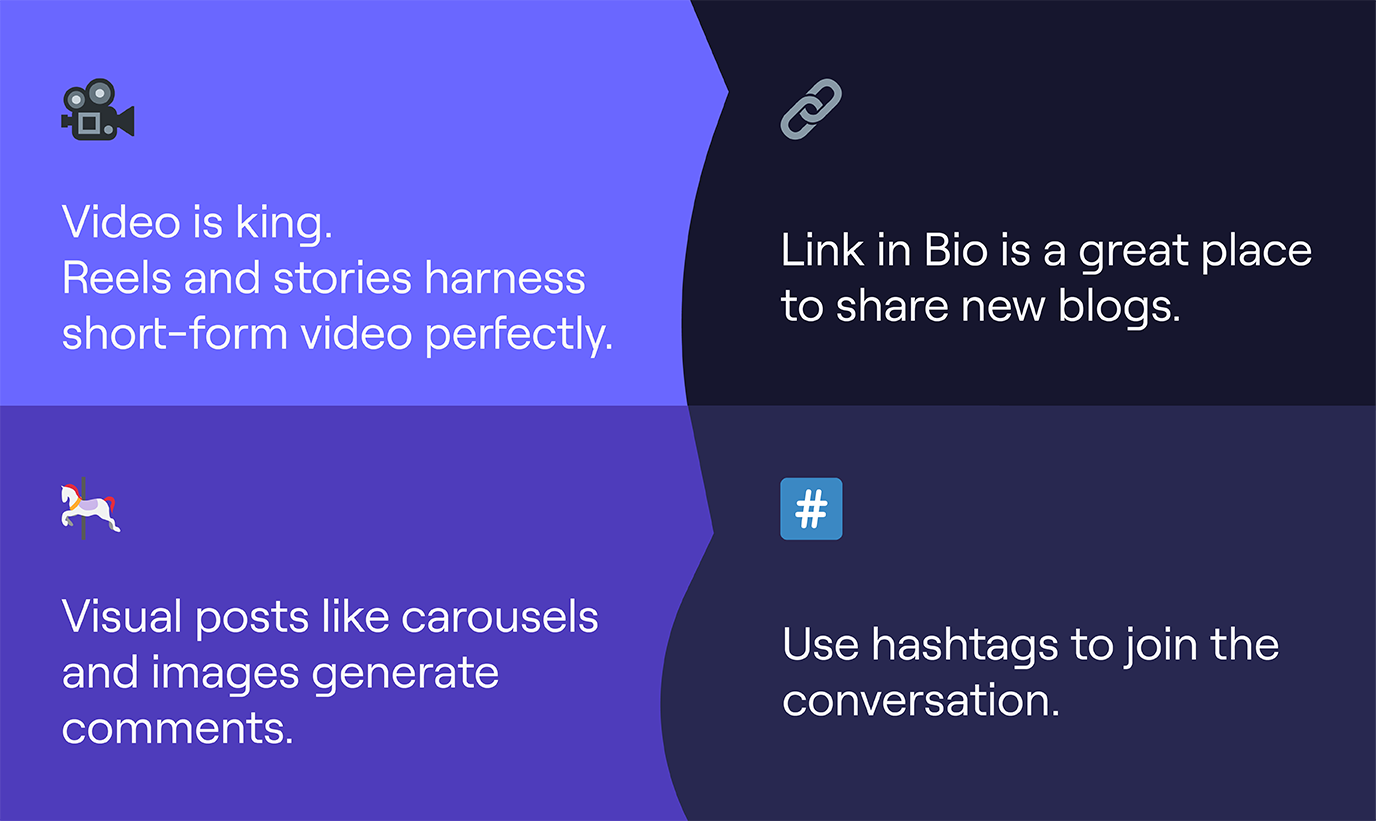 Hashtags are one way of connecting your brand to relevant conversations that your ICPs are having. Mocca Bajao, Demand Gen Digital PR Specialist at Thrive Internet Marketing Agency, explains.
"Instagram hashtags are a great way to increase your content's exposure to relevant audiences. Instagram wouldn't be the same without them. In B2B, brands should use non-branded hashtags alongside branded hashtags."
"Using branded hashtags encourages people to post about your business on social media. Additionally, they can categorise your content if you have more than one division, product line, or service."
"Non-branded hashtags, on the other hand, help connect your content to broader topics. Ensure to include your main company hashtag in your Instagram bio to promote its usability."
Similarly, maximise your Instagram real estate by adding a link to your bio. This is the only place where the platform lets you share a link, so make it count! Share a link to a recent blog and highlight it to your followers by sharing a carousel or picture post of the key points. 💁
It's no secret that short-form video is a hugely popular format for sharing content. It's also a great way to boost engagement and build community. Lieu Dang, Marketing Project Manager at Ling App, says:
"Instagram Stories offer a fun and engaging way for B2B companies to showcase their products, services, and company culture. Use the platform's features, such as polls and quizzes, to drive interaction and engagement."
Feature like-minded collaborators
Create a community and be a thought leader
Social media is designed to bring people together. So make sure you take those real-world business connections and build a thriving B2B community online.
Collaborating with subject matter experts (SMEs) and micro-influencers is a great way to do this. After all, they're the best way to give your content authenticity and value.
So why not get your SME to host an Instagram takeover? Or take part in a live Q&A that you've set up?
Run a poll and ask your followers what experts they want to hear from. Or hold giveaways, so your followers stay engaged and motivated.
Sinoun Chea, digital marketing consultant and CEO of ShiftWeb, says:
"To create a successful B2B brand on Instagram, leverage influencer marketing, create partnerships with other brands, and host giveaways or contests."
"Implementing these strategies builds trust and credibility with your target audience, which can lead to increased engagement and sales for your company."
Insta Inspo: B2B accounts we love to follow
So what does it look like to put all of these ideas into action? Don't worry; we'll show you!
Below are a handful of B2B companies already killing it on Instagram. And we'll explain our reasons why.
Lavender
I mean, are you even surprised?! It seems that every social media post they send out at the moment turns to… well, Lavender!
Most of their posts aim to educate their audience and debunk email-etiquette myths that stop people from writing great emails.
Gong
Gong is great at showcasing what their team are passionate about. Both at work and in their downtime. 🤙
Chili Piper
Chili Piper builds trust and authority using social proof. By sharing their customer satisfaction in an engaging way, they're building brand recognition and loyalty.
Descript
Descript does product presentation like no other. In one well-executed, lighthearted video, they share a bunch of cool features… announce a product update AND share funding news!
Their comments section shows that this creativity is engaging and that they have a strong brand following. 🏄
HubSpot
HubSpot is great at educating its audience. Sharing easily digestible tips on how to stay connected to your customers to what successful leaders have in common.
Key Takeaways
Wow, that was a lot to take in! Let's round up how to build a B2B brand on Instagram.
Define where Instagram fits within your B2B marketing strategy.

Highlight your company culture and create brand awareness.

Focus on adding value and telling stories.

Leverage different formats to get the biggest impact.

Feature SMEs and like-minded collaborators to create a community.
Wanna learn more? Smash the button below and follow us on LinkedIn! 👇