How to Go Viral on LinkedIn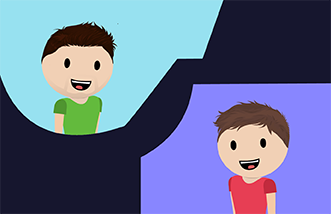 Each social media platform has a viral post or trend.
We all saw our fair share of TikTok dances and Instagram memes during the pandemic. And for many, it was what got us through that crazy point in time!
Did you know that LinkedIn is certainly no exception? It's got its own version of viral content.
This is the subject of today's article.
We'll be sharing insights from a recent chat between Cognism's Global Head of Demand Generation Liam Bartholomew, and Sean Ball, Founder at Generation Demand.
They'll cover how B2B is far from boring, plus much more.
Scroll or use the menu to get started.
The move from lead gen to demand gen
The jump from lead gen to demand gen can seem daunting.
But the beauty is knowing how it's worked for other companies.
So, firstly Sean wanted to know what motivated Cognism to make the change.
Liam said:
"When Alice and I first started out, we were playing from a traditional lead gen playbook. We were getting set up on LinkedIn, Google, Facebook. And then creating a follow-up process with SDRs. But over time this became cost-inefficient, and wasn't providing the value we needed for growth and scalability."
And then once you make that change, how on earth do you get others onboard?
"The rest of it just takes a lot of guts. You need to take it to sales, C-suite executives. And promise that the revenue won't suffer, and higher conversions will be the result."
Liam mentioned Alice's words of wisdom, that it's about earning the right to make this change. So this is how the persuasion project panned out:
"To begin with, we said we'll gradually do the process. For example, we began to ungate content. It was about a commitment to general marketing. The idea of giving your content for free, to educate and engage your audience. It's the power of brand awareness."
And this was the learning curve for Liam and the team at Cognism:
"You don't want the whole marketing model to be outbound. Demand generation offers another way to bring in high-quality leads into the business."
The story behind that viral email
The whole reason Liam and Sean connected in the first place, was because of the genius in an email, that you can check out here.
Sean wanted to know what the approach was behind the email. Liam said:
"We were building out a closed-lost opportunities email nurture. And we had to think very carefully about what we wanted to do. The reason so many sequences miss the mark is because they include content that people don't really care about, or they pressure people back into the buyer's cycle."
And why is this approach not effective, you might ask? Back to Liam:
"People aren't just going to come back. You need to get to the bottom of where a prospect is at in the buyer's journey. Because once you've understood this, you can work on making sure that you're at the top of their mind. So, there's no point sending a "Book a demo" button."
What was the inspiration behind the copy?
For Liam, it's all about tapping into relatable situations in everyday life:
"I took inspiration from some of the dates that I've been on. These mutual texts make me laugh because of the awkwardness. Thinking about that same feeling, but within the closed-lost scenario."
"Everyone knows what it's like. It's relatable - you're not allowed to be annoyed. You've got to accept it, let people go. So I wrote the email as if it's a date that's gone wrong."
And how do you make sure that you can play into this experience and still keep your brand at the top of customers' minds? Liam said:
"If you've been dating someone you really like, you want to stay in contact. So we just ask the prospect to follow us on social media so they can see what we're up to."
The key takeaway here is next time someone says B2B marketing is boring, just show them a killer sequence or campaign. One that plays into popular culture, common life experiences, or even nostalgia.
Advice on copywriting
Liam offered 1 golden rule that B2B copywriters should follow:
"Speak to your audience like they want to be spoken to."
Because as Sean said:
"Especially in the world of B2B, writers can get caught up in the pressure for the copy to be nothing but data."
But here's the issue…
You end up doing more harm than good because the human element is forgotten altogether.
Liam added that this approach can help you go viral in the first place:
"If you think about it, some of the people we listen to the most in the world are funny. They have a massive influence."
Sean agreed about using humour in B2B marketing, saying:
"Marketers add value by making people's days slightly better than before."
Liam and Sean both agreed that going viral on LinkedIn isn't down to code-breaking the algorithm. It's about writing and posting copy that other people like and engage with.
And we couldn't agree more. Work smarter - not harder.
Listen to the podcast
Delve into Liam and Sean's full conversation below. Press ▶️ to get started.
Check out other episodes of Revenue Champions here.