How to get more women into sales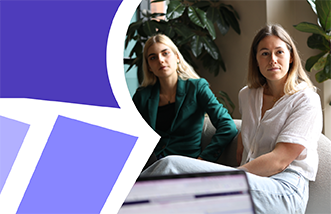 Here's a stat to remember:
Among sales reps in the US, 41.9% are women whereas 58.1% are men (Zippia, April 2022).
It's quite a stark difference, right?
But why has this been the case? What's been the obstacle(s) that have stood in the way of women being able to break into sales roles?
Well, all of these questions are going to be considered in this article.
Because we recently spoke to various different women both at Cognism and elsewhere, including:
Scroll for more 👇 or use the menu on the left to navigate through the article.
Why aren't there enough women in sales roles?
The best place to start is understanding the root of the problem.
Why are there more men than women in B2B sales?
Well, during our conversations with different women in sales, we identified a couple of common themes.
By no means is this going to be an exhaustive list. But it does provide some great food for thought 👇
The long shadow of the Wolf
Popular culture has done a lot of good for us.
For example, where would we be without the likes of the Met Gala, the Star Wars franchise, and Harry Styles?
But it's also done some not-so-great things for the reputation and understanding of certain industries - sales being one of them.
Yup - you guessed it. We're talking about The Wolf of Wall Street.
That film presented a boisterous stereotype of sales.
Its main characters conformed to the loud, energetic, 'dodgy car salesman' type persona - and that's become a defining factor of how people view or understand a sales role.
Nancy explained:
"The Wolf presented a male-dominated image - things like where he's ringing a bell after closing a deal and going out drinking to celebrate."
Rachel added by saying:
"The reason why many women feel put off from pursuing a career in sales is this belief that they'll end up working with arrogant salesmen in a workplace rife with toxic masculinity."
That's one side of the coin. What about the other side - are there any examples in popular culture that show women making it in the workplace?
Nancy picked up on something interesting:
"Take The Devil Wears Prada as an example. You see the girlboss with the big corner office, not afraid of confrontation. But this is an example of seeing a woman as a success, when they've already made it. Not the experience beforehand."
What's the key takeaway from all of this?
There clearly needs to be a shift and change in narrative. And we need to desperately debunk The Wolf of Wall Street image of sales.
Because the sooner this happens, the better women's perceptions of sales will be.
Sophie summed this up:
"When someone mentions Wall Street or sales in general, immediately people are thinking of white males in suits. Popular culture has a responsibility to normalise women in sales - it should show that there's a balance."
And it's true right?
The more women can see themselves in a sales role, the more likely they are to consider it as a career choice.
Lack of knowledge about sales
Think back to every career or job fair you attended.
There were always the traditional options:
Law
Consulting
Finance
Medicine
Marketing
We're pretty sure a career in tech sales or SaaS sales wasn't on that list.
This has been a common issue that many of our interviewees identified.
Mia said:
"I think in software sales, a lot of women don't know that these roles even exist. For me personally, I had to do an entire bootcamp to find out - and even then it was a friend of mine who told me about it in the first place."
Nancy agreed:
"There's a lack of knowledge of B2B, tech, and the SDR role. People don't know about all of the career options that are available to them. And I think that university and school leavers have got this massive information gap."
And Brahm said:
"It's very easy to come out of university as a graduate and say that you're going to first and foremost work at a large, well-known company. And the go-to roles at these companies tend to be law or investment banking. Sales isn't the go-to, even though tech sales is really driving and growing."
It's clear there's a significant lack of exposure. So, what more can be done?
Mia offered some great insight into what can change for the better:
"There should be sales classes in schools, colleges and universities. Sessions that are centred on building relationships and closing deals. So companies (especially tech sales or SaaS ones) should reach out to colleges or universities. For example, here in Chicago at Northwestern, there are more entrepreneurial-based classes available for students."
Now, it's true that this issue affects people in sales more generally.
But crucially:
If we fix this then more women especially are going to become aware of the role. It'll be a viable career path for consideration - that's the marker of success.
Rachel summarised this perfectly:
"The people that are mostly applying are men. So I think it's important to influence grads that sales is actually really fun and empowering."
Now, here's the thing:
The 2 issues outlined above are far from small ones. It's going to take a long time for them to happen.
So, with that in mind, what other advice have women got at their disposal, to feel empowered to break into the world of sales?
Well, keep reading for some…
Words of wisdom
Company culture is important
During our conversations, it became clear that the culture matters more than the actual make-up of company sales floors.
Brahm said:
"The biggest distinguishing factor comes down to the culture rather than the ratios themselves. I've never felt the pressure to prove myself more, because in the environment I'm in, everyone is warm, welcoming, and inclusive."
Cat agreed, sharing her experience when she first joined:
"It could potentially be intimidating to be the only woman on a sales team. And at first I did feel a little nervous. I asked myself: 'Am I the kind of person who could go into this role compared to the guys, who were so loud, confident, and keen to get on the phones?'"
What changed then?
"I soon realised everyone was friendly, welcome, and open. And that mattered more - I removed the subconscious pressure of having to prove myself more. And I took the attitude: 'I'm here to learn and be a success.'"
"And if anything, the team (despite it being male-dominated) helped me to grow in confidence. Because I was surrounded - gender aside - by people who believed in themselves. That energy quickly rubs off on you."
What's the key takeaway here?
Work for a company that's young, vibrant, and inclusive. That's one way you'll feel more comfortable and empowered to be in a sales role.
Believe and play on your strengths
There are many characteristics or traits that women have that are important in sales.
For example, having a sense of empathy is crucial.
Nancy explained why:
"When someone is telling you your pain points on a call, you're reacting to their face or voice. And it takes an empathetic person to effectively understand that over a Zoom call. And this has been something (intentionally or unintentionally) that women tend to understand a lot more."
Rachel agreed:
"The female voice has the power of being nurturing and approachable. We can use it to our advantage."
And besides these "soft skills"? What else?
It's just important to be yourself.
Mia elaborates on what she meant by this:
"People buy from people. Who you are, and what you bring to the table is going to differentiate you from competitors. Because prospects are going to be asking themselves: 'Who's the person I'm talking to?'"
What about if you don't have as much confidence in yourself?
Nancy offered a unique take on how to think about all of this:
"It's hard because so much of it comes down to being honest with yourself. If you're able to clear through the fog and be confident, you're on the way there. You've really just got to go for it."
"And remember you can always reach out to someone on LinkedIn. There's nothing wrong with a second opinion - so a cold outreach message to a female recruiter, for example, is always worth sending."
Go to companies with women in leadership positions
This theme came up time and time again in our conversations.
The idea is that the more women see other women in sales leadership roles, the greater their confidence will be.
Mia's experience is a clear example of this:
"75% of our BDR team consists of women. And I think a key driver of that has been because Highlight's CEO is a woman. She [Dana Kim] is really passionate about having balance and diversity across the different teams."
Pretty amazing, right?
Nancy also agreed with this idea:
"There's something about having a woman in charge - the mixed-gender team functioned well underneath. Males respect a female boss - there's clear authority."
This all makes sense - because these women in leadership positions become role models.
If you're considering a move into outbound sales, reach out to women in leadership roles. Ask them for advice and empowerment. Find out what it's really like to be a woman in sales.
Don't let the stereotypes put you off. If this article has proved anything, there are already strong, intelligent and determined women working in the sales industry. You could be one of them!
Key takeaways
Phew - that was a lot of information!
Let's recap and round off the article with some key points to remember - in order to get more women into sales, we need to work on 2 things:
Breaking down The Wolf of Wall St. stereotype or myth;
Educating and providing more awareness about sales as a career choice.
When considering a sales role, remember that:
Women have soft skills that are great for a successful sales career.
Company culture is important - always ask about this in interviews and, if you can, reach out to employees to double-check.
Applying and working for female-led companies and sales teams can be an empowering and inspiring way to start your career.
Women in sales: useful resources
And finally, we asked our lovely contributors to share some valuable resources with us. In our opinion, these are all definitely worth checking out 👇