How to Generate Enterprise Leads on LinkedIn for $10
Cognism's marketing team was put to the test...
Build a new pipeline.
The catch?
They had absolutely no previous marketing data to work with.
How did they do?
From the title, you've probably realised they smashed it with enterprise leads coming in at $10!
We spoke to Fran Langham, Senior Growth Marketer and James Sutton, Campaign Manager at Cognism, to find out how they did it and how you can achieve the same fantastic results.
Click one of the topics covered below to jump to a section or scroll 👇 to start reading.
The challenge | The process | The results | Tips and tricks| B2B marketing tips delivered to your inbox

The challenge
If you got a call to build an entirely new pipeline from scratch, what would you do first?
For James, the answer was simple - setting targets and agreeing on the following budgets:
AMER under $50 for the first quarter
EMEA under $30 for the first quarter
But, having a clear plan of action doesn't always mean smooth sailing, as James explains:
"It wasn't completely smooth sailing at first. We hit our target CPL, then went over it, and it was on and off for a while until we figured out the correct strategy."
Fran agrees, highlighting the particular challenge the team had to overcome before they discovered the perfect strategy:
"The challenge for us was that we have a very scalable and repeatable content engine running across SMB, and we needed to do the same for enterprise. But we weren't sure if we could get content leads in the same way via LinkedIn or if we should be more ABM focused."
But here's the thing, when in doubt... Use Cognism.
That's right.
We turned to our own trusty software to start building a pipeline that would generate quality targeted leads for our sales team.
But, first, that meant working closely with sales to discover what kind of conversations they were having with customers and how meetings unfolded with SaaS sales leaders.
All these conversations helped us define our TAM, and the Cognism platform gave us the means to reach out to them.
But, this was only one part of the challenge.
The next step was for our team to figure out if lead generation would work in the same way for enterprise as it does for SMB.
After all, these sort of lead gen strategies aren't one size fits all, as Fran explains:
"After some failed experiments, we decided to mimic our repeatable model from SMB. But, it was tailoring the content for our ICP that really got things going."

"We've managed to fill the pipe with leads coming in at 10$ cost per lead, and sales are regularly closing deals. So, now we have more time to focus on improving different enterprise initiatives like targeting, ABM etc."
The process
As we mentioned before, it took a lot of experimenting before we found the best strategy to get a $10 cost per lead.
Unfortunately, sometimes those experiments result in a mistake or two, as Fran explains:
"Our initial thoughts were that we can't use what we've previously used for SMB. We needed to level up our content. Initially, we made a bit of a mistake - we put the pieces out there targeting an enterprise audience we thought would work. We thought they would be more interested in strategic content as opposed to tactical content, and we put that out there with no response."

"So we had to go back to the drawing board, and we realised what we were putting out there was content that we liked, and we felt our audience wanted, but it wasn't based on any real data."
But with all mistakes come invaluable lessons:
"We needed to figure out what our audience wanted and fast, so who better to speak to than our own B2B sales leaders? We started talking and realised that what we want is to target boots on the ground salespeople in enterprise companies who are dealing with specific pain points."
When you're stuck, the best thing to do is just ask.
Our sales team gave us the best advice when it came to our new ICP.
First off, they wouldn't need a strategic guide. Our team wanted checklists and content that helped them with their pain points while adding real value to their positions, like articles on how to keep their reps motivated.
Now that we knew what our audience wanted, we could really get down to business.
Phase one started with a multi-phased process where we tested what content people liked by launching a few cold calling, sales culture and sales manager content.
Then we picked the content that did the best because it told us what content our target audience liked the most and what they weren't interested in.
And here's where the real golden ticket to enterprise leads came in - as Fran said:
"We took a cold calling script template we'd been using for SMB and reworked it to better fit enterprise, and it literally just flew with a very low cost per lead!"
Here are 2 examples of our cold calling ads: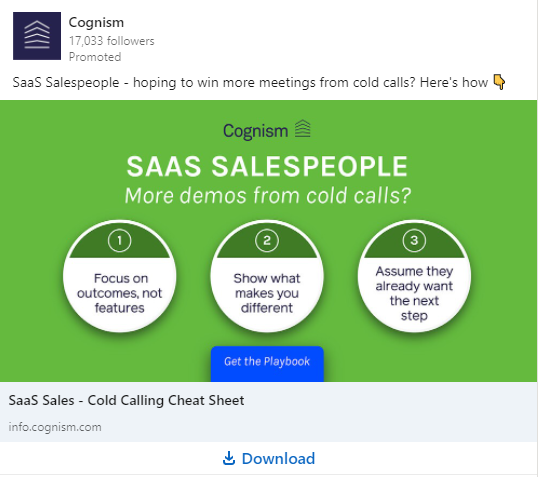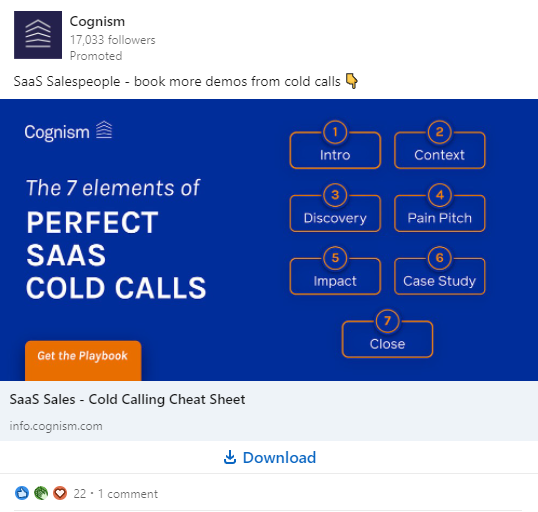 Phase two involved improving those campaigns and building more new content in our selected topics but for enterprise.
James explains further:

"Because we knew what our customers wanted, we launched a tech industry campaign. We also know what industry our ideal customer is in, so this sort of campaign could really help us hone in on our audience with targeted messaging and content. We launched pieces with SaaS leaders, and we tailored a cold calling cheat sheet for them."

"After that, I went back to our first ads to find out what learnings we could take from them. I looked at what messaging they enjoyed, what sort of creatives performed best etc. At first, it felt like we were throwing a net into a pond and trying to drag leads in, but after two months, we were fishing with a pole and hooking specific segments."
In the end, this process taught our B2B marketing team a few key lessons:
"We got the $10 enterprise leads because we learnt from each and every move we made. By experimenting to see what worked and repeatedly asking ourselves how we could do better, we were able to improve and optimise our campaigns for the very best results." - James
Most importantly:
"Just because someone is working at an enterprise company doesn't mean they don't have the same pain points as other salespeople. They still have to manage a team of people cold calling, and that's their everyday life."

"Once you find the pain and double down on it by addressing how to solve it in a very industry-specific way, you'll be creating demand for your offering. So, rather than giving people a strategy that they may already have, you need to offer them a solution to their pain points." - Fran
The results
Before you can celebrate your results, you need to track them for accuracy.
For Cognism, that means looking at the big and the little numbers.
We do this because our lead generation cost isn't the most important factor of our marketing. We also want to make sure we're getting through to the right people in our target accounts.
But, you also need a benchmark to work from when measuring your lead generation metrics.
At Cognism, we look at previous campaigns, and for our new enterprise segment, we looked at SMB for our benchmark, which turned out to be about $30. James explains his process:
"I make sure to check our vital metrics on LinkedIn every day - our cost-per-leads, clickthrough rates and spend. I make sure our ads are still performing well, that the cost per lead is under budget and if I need to launch new versions of any ads because they aren't performing on target."
What we look for when it comes to our click-through rate is anywhere between 0.7 and 1%.
Then we hope that whoever is clicking is also filling out the form.
"If the campaign I'm looking at has a high spend but also a high click-through rate, I don't want to turn it off immediately. Instead, I want to test more and see if that cost per lead will go down because a lot of people are clicking the ad."

"Or conversely, we might get really cheap leads with a very low click-through rate. Then I'll want to launch a few different variations of the ad to see if we can get that CPL to stay down but our CTR up." - James
Fran, on the other hand, likes to look at a complete overview of the campaign:
"For me, the key metrics to track are CTR and CPL. However, it's all well and good getting loads of leads, but you're not booking any meetings or having anyone attend them."

"So, you need to track meetings booked and attended too. These metrics will tell you how good the leads your campaign is attracting are, and if you've got 1000 leads that don't go anywhere, you need to relook at your campaigns."
Then once our team has checked their different metrics, they'll align to discuss what they need to do to improve the results because:
Marketing means constant optimisation for the best results.
Tips and tricks
Now you know how our team managed to get a jaw-dropping cost per lead of $10, but what are the key takeaways from their process?
1 - Speak to your ICP
Just because you think something is good doesn't mean your audience will agree. Speak to your ICP and get their feedback on what they actually want.
This might mean continuous communication with your sales team, reviewing Gong calls and discovering pain points so you can offer workable solutions your audience will love.
2 - Be proactive
Instead of reacting to anything going wrong, start working on fixing it and test, test, test!
Start to map out your next test, and then when you know what works, start creating more of that content.
3 - Failing isn't a bad thing
Look at your failures as wins. All of that hard work, testing and experimenting will lead you to a strategy that works and works really well!
Plus, you'll learn what to avoid, and that's probably the most valuable lesson of all.
4 - Recycle content
Just because you're using content for something else doesn't mean you can't use it again. All you need to do is tailor it so it fits your new audience.
Check the messaging, check the language and double-check that it's industry-specific. This will significantly help reduce your cost per lead.
This also goes for your campaign messaging - you can reuse ads. In fact, it can have such a huge impact, potentially increasing your CTR by 5%!
5 - Be prepared to spend
You're going to need to spend some money to make things work, so losses are inevitable.
If you're entering a new market like us, you've got to be prepared to spend on testing, running lots of adverts and learning what's going to work and what isn't.
6 - Test, test, test
You always want to have about four or five ads running for a campaign at once. Why? Because the LinkedIn algorithm will want to test as many as possible.
Plus, when testing, don't be afraid to switch between 'optimise for performance' and 'rotations.' The optimise option will run the ad more because it thinks it's better, and the rotation option will run your ads equally, so your spend stays the same on each.
New adverts should start on rotation while the algorithm learns. Then, once you see which one does the best, switch over to optimise for performance.
At Cognism, we jump between the two settings every two weeks or so, and we will only leave something on even rotation for a max of three days. We do this to give our new ads a bit of a bump, and to gain B2B data to base our decisions on.
7 - Don't set and forget
If you want your campaigns to do the most for you, you have to constantly check them every three days. You don't want to change them too often, but you don't want to forget about them either.
Experimentation is everything!

If it weren't for all the experiments, our team may never have discovered they could achieve enterprise leads at $10.
B2B marketing tips delivered to your inbox
Want to learn more about B2B marketing?
We've got an insightful demand generation digest that goes out every second week.

Why not sign up?

And, while you're there, sign up to our content and sales newsletters too!
Click 👇 to choose.