How marketing teams use Cognism to deliver record-breaking months
In August 2021, we broke our record for the best ever marketing revenue month!
We ended the month 190% over our revenue target.

This contributed to 75% of Cognism's NB revenue number for the month.
We typically do 53%.
We shifted from a pure lead generation-focused model to a demand-focused one.

And, we used our own product - Cognism.

Want to know more?

We're diving into how exactly we used Cognism to deliver record-breaking months, including:
Making the switch from lead gen to demand gen | Putting an end to gated content | Showing up for your buyers | Focusing on content distribution | Better data with Cognism
Click one of the headings ☝️ to jump to a topic or scroll 👇 to start.

Making the switch from lead gen to demand gen 🔀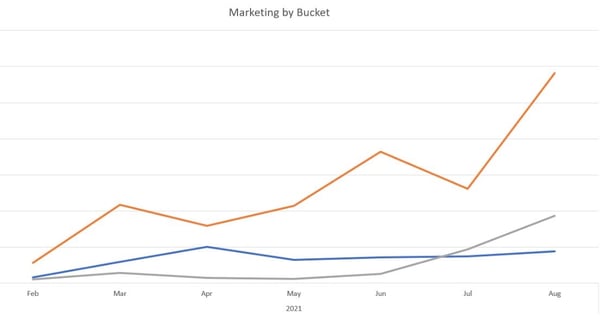 As you can see from this graph, there was a huge shift in our revenue performance from July to August.
Why?

Cognism CMO, Alice de Courcy says:

"I believe that August, as shown on the above graph, is the first sign of the compounding impact that all of these new shifts can have on revenue performance."
These new shifts are, in fact, our change from a lead generation model to a demand generation model, which you may have seen our CMO, Alice de Courcy, documenting over on LinkedIn. She says:
"One thing that was clear to me was that direct demo requests were converting at a far higher rate than content downloads. The difference for us was a 10% MB rate from content downloads and a 45% MB rate from direct demand demo requests."

"We had no doubt that generating more direct demand leads would make us more efficient, more effective, and give us a better marketing engine overall."

But, there was no playbook for how to make this change, so we decided to make the move slowly by tweaking our tactics on a weekly basis in the pursuit of a better way of doing B2B marketing.
This meant stepping away from going after leads and focusing on getting our customers to voluntarily contact us, whether by filling in a form for a demo, asking for more information or requesting a free trial.
A far cry from our scalable, predictable and consistent lead acquisition structure, but definitely worth it if you look at the graph above!
Putting an end to gated content 🔓
But how to start?
"Our best content is more likely to compound over time to give us direct demo requests if it is actually consumed. So rather than gating it, we started thinking about how we could get more people to engage with it."

This meant shifting our focus and spend, away from gated content and generating MQLs.
Instead, we chose to create engaging content that our market would find valuable with no intention of using it to collect contact data. Alice explains:
"First, we looked at our highest performing content and we started looking at different ways of sharing that content that would be engaging, video has played a very important part of this strategy."

"We haven't stopped gating content altogether - it's not going to be probable for us in our business model right now, but the results we've received have really been paying off for us. Now we want to focus on building more high-quality content."
But it wasn't all fun and games.
Ungating our content meant:
Creating new landing page templates for our newly ungated content
Updating our forms across approximately 400+ landing pages for the deployment of lean data and faster inbound lead routing
Building a retargeting funnel of users who engaged with our content with BOFU content such as product video snippets, testimonials and use cases.
Once people started to engage with our ungated content, our demand generation team started creating nurture campaigns to offer even more free content of value for those users.
Here's an example of one of our nurture emails: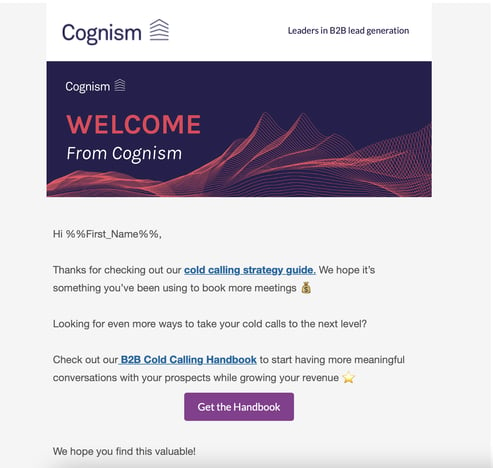 We treat each campaign differently by pushing each prospect through a different funnel according to the content they've interacted with - something Cognism's intent data and campaign analytics have helped tremendously with.
Since implementing this strategy, our inbounds have gone up by 40%!
But that doesn't mean we put an end to paid.
"To do this, we used Cognism to identify and build the most relevant audiences for us to target. We then put this data directly into LinkedIn to expand our reach."

"By using our own tool, we saved a tremendous amount of time as we didn't have to first collect and check the data we wanted to use, and if we want to create matched audiences, everything we need is already there."
To date, we have about ten different AMER and EMEA campaigns running on LinkedIn.
Here is an example of one of our best performing video awareness ads:
And one of our best static ads: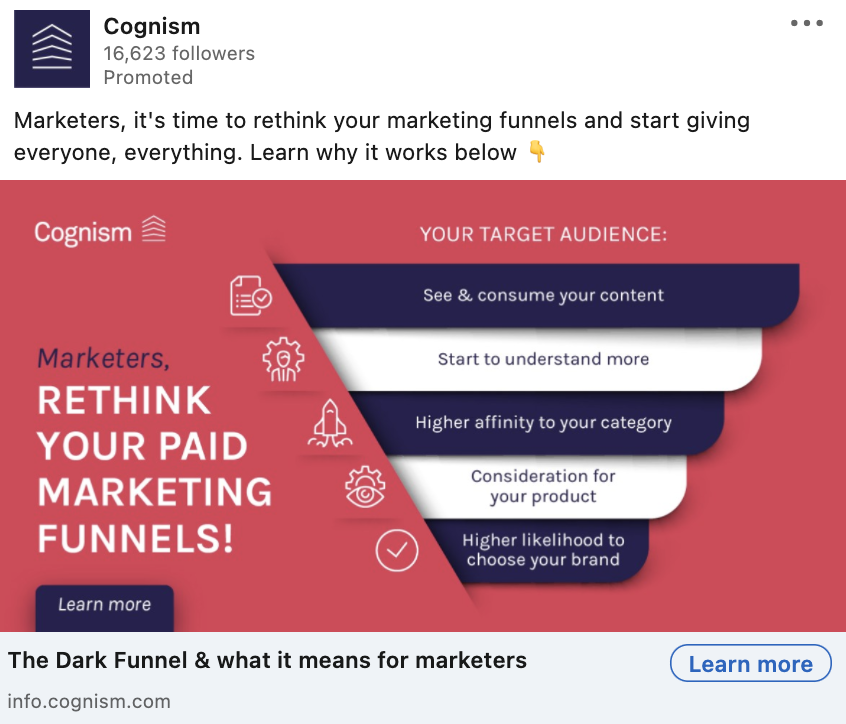 As AMER was a new territory for us to target it was initially a bit harder to launch because we didn't have any previous data to work with.
But, Cognism's intent data was a game changer!

We used it to find companies that had been looking at specific topics relevant to our software or had shown an interest in software like ours and built personalised campaigns for them.
Showing up for your buyers 💡
With our change in strategy, we had to look at new ways to connect with our buyers.
The best way to do this is to show up where they are.
And we've been using Cognism's intent data to help us get there!
We can pinpoint exactly who's interested in what and customise our campaigns to ensure they're getting what they need, rather than being spammed by information they don't want.
This works out to be a combination of content distribution (which we will elaborate on more in the next section), paid, and organic marketing across our channels.
However, to do this, you need to ensure you have engaging content to share.
Think, podcasts, videos and webinar snippets.
"I wanted my team to stop focusing on the number of emails that were sent out to generate leads. I wanted them to focus on creating quality content, and how they're going to distribute it afterwards." - Alice
But, it also means refocusing your goals for this content.
Take webinars, for example.
We used to measure the success of a webinar by net new leads.
Now, we measure success by the quality of the content and the distribution of the content after the webinar. Secondary content distribution is a great metric to be looking at here.
Here's an example of how we think about webinars now:
We still make use of outbound email to spread awareness whenever we have a new webinar.
For these new audiences, we use Cognism to find people who might be interested.
For instance, if the webinar is focused on a topic for sales leaders, we use Cognism to find 500 sales leaders at specific companies and send them an invite.
Here's an example of these campaigns and their results: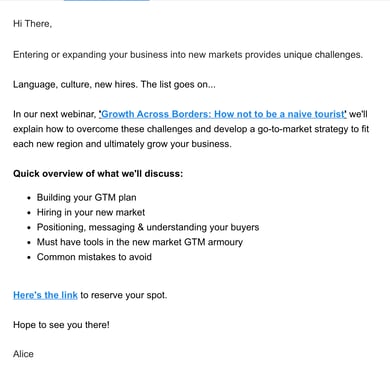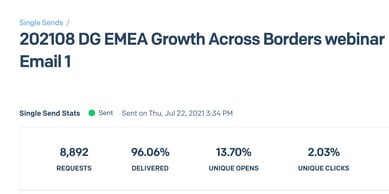 ---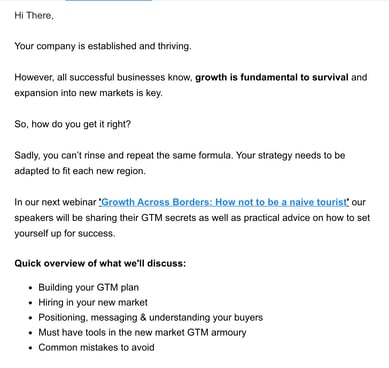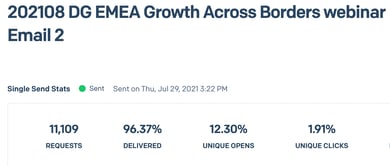 Now, for content, we used to focus on lead acquisition, but we've decided to replace eBooks with actionable templates and tools our buyers need and want to use.
To do this, we use Cognism to directly match our readers' and consumers' intent.
If you're looking to implement a similar strategy, remember to turn up repeatedly by offering value your buyers will be interested in and want to share with their networks.
Focusing on content distribution 📚
Lastly, and an often underrated B2B marketing strategy is content distribution.
This means we needed to get someone on content distribution full time to really create the impact we wanted. Alice says:
"Often, companies spend too much time writing and not enough time distributing. We want to focus on distributing really well."
So, rather than hiring someone new, we decided to promote one of our content writers to focus on organic, rather than paid activity across a variety of social platforms.
Again, that's not to say we've stopped focusing on paid - our campaigns and performance teams run paid activity but they tie back to different objectives.
The role of our specialist is to become ingrained in the communities and channels our buyers are in and understand the best ways and methods to repurpose relevant content in those channels. Alice elaborates further:
"At the same time, they are feeding back into the content engine to ensure that the content we are producing is in line with what is trending and what our buyers care about. All their work is organic rather than paid. They own our social channels and working out how best we can engage with those, treating each one individually."
Platforms we've been focusing content distribution on include:
Facebook
Instagram
Medium
LinkedIn
Youtube
Reddit
Our new content distributor, Oscar Frost, adds:
"In the exact same way as content shapes our success, content distribution does the same, it just focuses more on exposure. I describe it as the content team putting on this great party, and I go round giving out tickets. When you're driving content through different channels you're going to find readers who you weren't even aware of before, and exposure is fundamental in demand marketing."
So, don't be afraid to enter new channels to share. You'll be surprised where your audience hangs out!
Better data with Cognism 🚀
Do you want to break revenue records of your own?
Equip your team with the world's best global marketing intelligence platform.
The best thing about using Cognism is that you really can move away from traditional lead generation strategies that at their core are just focused on capturing contacts' email addresses.
Arm your marketing team with an on demand database of all the contact details they could wish for and watch the creativity and magic happen!
Click 👇 to book a screen share.

Or not ready to buy yet but interested in hearing more about our approach to marketing?
Sign up for one or all three of our newsletters to get more marketing insight delivered straight to your inbox.
Click 👇 to sign up.