Finding the perfect match: Cognism's rebrand journey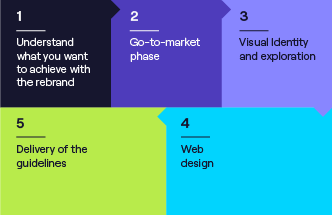 When a company rebrands, they're telling a story.
It makes a statement that an organisation is ready for a new chapter, and for new beginnings.
It's exciting, it's nerve-racking - it's all the feels really.
In this article, we wanted to share Cognism's story.
We sat down with Cognism's CMO Alice de Courcy, and asked her questions like:
How did the rebrand come about?
How does the new brand fit Cognism's story and ethos?
How did you manage the process?
Plus much more!
Why did Cognism decide to rebrand?
This is the million-dollar question.
It's important to understand why a company decides to rebrand. And what motivates that change.
And for Alice, it was due to Cognism being in brand limbo:
"On an almost daily occurrence, we had brand situations arise that we had no guidelines around, in terms of how to handle them. We had outgrown the creative framework and style that had been put in place. And that meant our design team was left to create assets based on very basic founding guidelines such as colour and typography."
For example, Cognism had evolved its banner 👇
BEFORE:

AFTER:
Alice added by saying that Cognism as a company had changed too:
"Our positioning as an organisation had changed significantly from the time of the original brand build, which meant that our brand no longer aligned."
For Alice, "these were core items that played at the heart of how Cognism was going to operate in 2022. And importantly they were also things that could directly impact the company's ability to hit its revenue goals".
What was Cognism trying to achieve with the rebrand?
Cognism decided it was time to rebrand. What happened next?
Alice and her B2B marketing team had to figure out what they wanted to achieve with it. Due to the scale of the project, it was vital to have goals and aims attached to it.
Alice laid out 2 key objectives:
Build a scalable design that would take Cognism out of brand limbo.
Create a brand that aligned with Cognism's positioning and helped them bring this to life.
How does a rebrand actually work?
Where to start?
What to do?
How is the process structured?
These are questions that whizz around a company when it comes to organising a rebrand. So, how did it pan out at Cognism?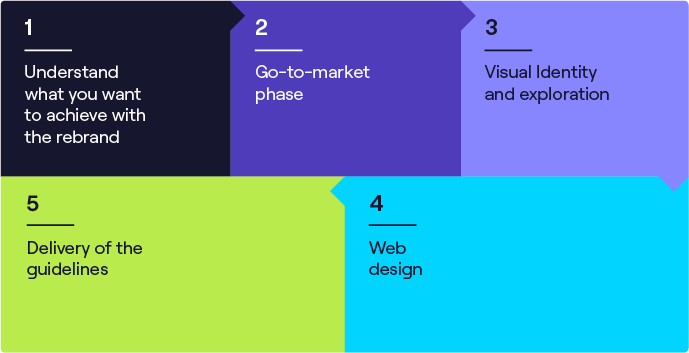 Phase 1: Understand what you want to achieve with the rebrand
We've already touched on this phase.
But understanding what you want from the rebrand is crucial, because you have to pitch your concept to executives.
Alice explains more about this:
"Getting your CEO and CFO to sign off on a rebrand will not be easy. Because if you're going to do it well, it's not going to be cheap. So I needed to build a very clear business case for why the rebrand was required, and why now."
Phase 2: Go-to-market phase
This phase is centred around choosing the right design agency for the rebrand. Alice said:
"I'm a sceptic of working with agencies. For that reason I turned to my network to shortlist potential partners. And from this shortlist I worked closely to determine which one would be the best fit for our project, our processes, and ultimately delivering on our outcomes."
And who was the winner?
Here are Alice's reasons for choosing them:
They took the time to thoroughly pitch the idea.
They had a clear process that matched Cognism's approach.
They understood Cognism's objectives.
They had a proven track record of creating scalable brands, such as Slack and Yahoo.
Once you've selected your agency, Alice advised:
"Ensure your chosen agency will be successful by fully briefing and immersing them in what it is you do, what you stand for, and how you want to portray this in your market."
Why is this important?
"All the work you do here will show in the output you get from them. If you do a bad job, you can't expect to get directions shown to you that truly align to your positioning."
Phase 3: Visual identity and exploration
This phase is about considering all of your options. Alice said:
"Depending on how your agency works, you're likely to be shown a variety of options at this stage. And it's normal that there'll be elements from some that you like, and elements from others that also resonate."
"Once you've chosen the right path, you'll move onto design development. At this point, you need to carefully think through all the places and elements that will be included in the rebrand. Work closely with your product team here as well, so you can ensure that all of the requirements from their end are being met too."
Phase 4: Web design
In this phase, you have to work out in detail how the rebrand will look across your site. Alice told us:
"You need to have it clear in your mind all the pages you need, how those modules could work or look and exactly how many are required. There's a lot of upfront work to be done to ensure that the end delivery covers all your requirements."
And yes - it's hard work.
But when you see your shiny new web pages, it will all be worth it.
Phase 5: Delivery of the guidelines
With brand guidelines, it's best not to be too rigid.
Because as the rebrand progresses, your plans will change.
Alice said:
"I would avoid a static PDF deliverable of your guidelines. You want it to be a living, evolving document. And above all else, scalable. This was a vital outcome of the project for us."
What's the story behind "find your perfect match"?
The rebrand was centred around the message of "find your perfect match".
We wanted to know how this messaging came about, and why Cognism favoured this concept for shaping its rebrand.
Alice's answer did not disappoint!
"At Cognism, one of our key reasons for being is that we help humans connect with other humans. And the contextual contact data that we offer allows them to do this in a meaningful way. This is what makes Cognism different from any other B2B contact data provider."
"We felt like the 'perfect match' was a great way for us to visualise this difference."
How long does a rebrand typically take?
It's clear there's a lot of steps involved. And that a lot of thought has to go into the process as a whole.
So, from Cognism's experience, how much time does a rebrand actually take?
Alice said:
"We made the decision and signed the contract with Pentagram in November. They delivered guidelines at the start of March, and we went live at the start of June."
"Most of the work goes into developing the brand guidelines and the website. You should be able to complete the operationalisation of the new brand in a month, depending on your resources and how many assets are impacted."
When should a company rebrand?
Alice recommended the following:
"If situations arise regularly where you have no guidelines on how to tackle them, that's the time to start thinking about rebranding. That's the greatest sign that you've outgrown your current guidelines and are heading for the dreaded world of 'brand limbo'."
Who else is involved with a rebrand, other than marketing?
At Cognism:
"The CEO has been heavily involved, as well as the design and product teams. We've kept other department heads closely updated and included in feedback rounds. But the core circle of those in the day-to-day has been small. And this has meant we've never missed a deadline."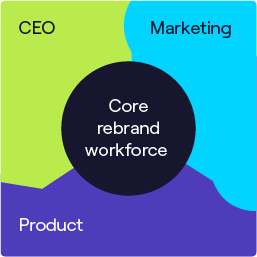 What are the best practices for B2B companies looking to rebrand?
Alice shared 4 top tips for B2B companies who want to give their brand a shiny new makeover:

And there you go. That's the exciting journey to Cognism's rebrand!
Want to see Cognism's new look for yourself? Head over to our LinkedIn - and don't forget to follow!