8 things to consider when renewing your data provider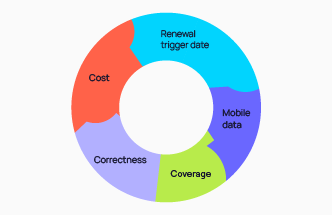 Here's a question for you:
Why do you still have a direct debit for an adopted Snow Leopard you haven't heard from in 32 months?
Because renewing is easy.
And hitting cancel on your £5-a-month direct debit could be denying Mildred vital nutrients. Or her little baby cubs warmth. Or, more likely, a super-spinny chair for an office worker.
Ok, renewing with your data provider isn't quite the same.
For starters, there's a lot more money at stake. Plus, there are a ton of stakeholders besides yourself you need to account for.
You also may be required to provide a business case for renewal by your organisation, while providing alternatives.
Given all this neck ache, sticking with the devil you know seems like the hassle-free option. But it's not always as simple as that.
Here are 8 things you need to be aware of ahead of renewal to ensure you get the best fit for your organisation.
Scroll or use the menu below flick through 👇
Mobile data | Coverage | Data types | Correctness | Research on demand | Compliance | Adoption | ROI | Book Cognism demo
Mobile data
Sure, office switchboard numbers are great.*
When the gatekeeper doesn't tell you your prospect is at lunch. In a meeting. Or on a celebrity space shuttle with Peppa Pig.
And office switchboard numbers are what many providers use to … let's say embellish … the amount of records in their databases.
Thing is, when reps actually test those numbers out, they don't connect, wasting time and impacting your bottom line. This is especially the case when large droves of prospects permanently work from home.
This is why it's so important your provider gives you access to mobile data.
With it, you can reach your prospects both in and out of the office, making it a thousand times easier to prospect in the hybrid working environment.
A word of warning though:
Not all mobile numbers are good to use; in particular those listed on Do Not Call lists. Flick to the 👉 compliance section to see how you can protect yourself against fines.
Coverage
Your AMER team is crushing it using your current data provider. Awesome.
Meanwhile, the same tool has turned your EMEA sales team into paupers, pleading for more gruel like Oliver Twist.
Why?
Because different data providers have different strengths when it comes to coverage. Those with strong US datasets, for example, often have poor EU coverage because of GDPR.
You should also check on your provider's industry coverage and the data they can provide on the job titles your sales team targets.
In some cases, it can help to have multiple data providers to satisfy different data needs. That said, you'll need to know this before you re-sign an enormous contract with a single provider so you can account for it in your budget.
Data types
Contact data is all well and good.
But if you're after truly actionable insights that accelerate your sales pipeline, you need contextual data points. These include:
Sales trigger events
Funding rounds
Technologies
Intent data
By combining contextual and contact data, reps can conduct hyper-specific, personalised outreach, giving them a better chance of hooking prospects and booking meetings.
Correctness
At some point every day, SDRs find themselves in the same situation:
Dialling wrong numbers.
Chances are, their prospect has changed roles, organisations, or disappeared clean off the earth. But their data provider hasn't picked that up.
That's because most providers' data is only 60%-70% usable.
Fortunately, there is an antidote that can improve speed-to-connect rate. And that's phone-verified data.
This ensures that prospects are who the database says they are, and, most importantly, that they actually pick up the phone.
The impact of this type of data is mind boggling, too. With 95% usable data, reps get 5x better reach and 7x better connect rates (according to an independent evaluation by Reisert Consulting).



Research on demand
We'll let you in on a secret:
No database has every contact you'll ever need. And even if you're happy with your data provider, not being able to find the high-value contact you need to penetrate an account is tear-your-hair-out frustrating.
That's where research-on-demand functionality comes in.
This process doesn't just mean flagging bad data for your provider to change at their leisure.
Instead, the provider finds and verifies your desired contact as a matter of urgency, allowing you to reach every prospect you need to, exactly when you need to.
Compliance
Neither paracetamol, Eastern remedies, nor witchdoctors can solve a headache like compliance.
And worst of all, if you get caught out, the ICO could slap you with a six-figure fine.
This is most likely to happen if your sales team is cold calling contacts listed on DNC lists like the Telephone Preference Service (TPS).
The best way to protect against this is to ensure that your data provider scrubs their database against DNC lists.
This means non-compliant numbers will be flagged and avoided by reps.
You should also be wary of providers who do not have notified databases and those who provide B2C email addresses, as they're likely to be in breach of GDPR.
Adoption
Newsflash:
If you need a doctorate to operate your data platform, it's probably time to look elsewhere.
Providers should tailor their offering around your needs, including actionable data as well as flexible workflows and integrations.
As a result, you'll be able to onboard new users easily and get value as soon as possible.
Meanwhile, end users will trust your platform more and drive better results for your business.
ROI
The thing with ROI is:
You have to measure it to know you're getting it.
After all, just because you've spent an arm and a leg on a platform and heard coffee break chat about how good it is, that doesn't mean it's doing what it's supposed to.
Renewing is the only course of action you can take in this situation. But, obviously, it's not the best.
What you need to do (ideally well in advance of renewal) is to track your lead sources.
Then you can see how your data provider is helping move the needle on MBs, MAs, and CW business.
Beyond pure financials, the right data provider will benefit you by bringing significant efficiency gains.
These in turn improve reps' morale, as they're better enabled to hit and exceed target.
Book a Cognism demo
Cognism is a leader in premium sales intelligence, trusted by 1000+ revenue teams worldwide. We helps businesses connect with their dream prospects by providing:
Premium contact data
Company and event information
Verified business emails and phone-verified mobile numbers
Next-level GDPR & CCPA compliance
Bombora-powered intent data
See how we can meet the needs of your B2B sales team by speaking with our reps 👇