Every marketing metric you need to track in 2022
It's time to get revenue-focused! 💰
Which means asking yourself what it is you want to achieve through your marketing this year.
B2B marketers all want the same thing:
Increased performance
Great efficiency
Optimised sales activity
Improved accountability
But how to achieve this?
Marketing isn't cut and dry. It takes effort and changes constantly - giving you more reason to track your marketing metrics so your team knows where to focus their efforts for increased revenue generation!
To help, we've assembled a line-up of our own B2B marketing pros and asked them to share their expert opinions on the metrics you need to be tracking this year.
Meet the team:
🥇 Alice de Courcy - Chief Marketing Officer
🥇 Liam Bartholomew - Global Head of Demand Generation
🥇 Augustinas Tarabilda - Performance Marketing Manager
🥇 Joe Barron - Content Manager
Let's dive in 👇
Top-level metrics | Campaign metrics | Paid metrics | Content metrics | Better, smarter marketing with Cognism
1 - Top-level metrics 🏆
Revenue-focused marketers aren't simply looking at spend and ROI. There are a number of factors to consider across your funnel, including efficiency, conversions, deal statistics, monthly incoming revenue, MQLs and more!
So where to start? 🤔
Lasering in on these will help you change the game:
Sales Qualified Opportunities (SQOs)
Closed-won deals
Monthly recurring revenue (MRR)
Average deal size
Average sales cycle
But, powering up your revenue isn't all about the deals you've won. It's important to track your team's efficiency as well, by following these metrics:
Cost per MQL
Cost per MB (Meeting Booked)
Cost per SQO
Cost per acquisition
Cognism aims to keep...
➡️ Our cost per MQL under $25
➡️ Our cost per MB under $250
➡️ Our cost per SQO under $450
➡️ Our cost per acquisition under $1200
Alice suggests:
"Your businesses benchmarks for these metrics will directly depend on deal size and average deal length. If you bring in larger deals, that stay longer, you can afford to be spending more on bringing these in and vice versa."

"It will also vary from region to region. For example, we see most of our metrics increase in the US as we are operating in a more competitive environment."
When forecasting, it's important to track conversion rates achieved across the whole funnel:
MQL: MB - Marketing Qualified Lead to Meeting Booked
MB: MA - Meeting Booked to Meeting Attended
MA: SQO - Meeting Attended to Sales Qualified Opportunity
SQO: CW - Sales Qualified Opportunity to Closed Won
MA: CW - Meeting Attended to Closed Won
Alice says:
"When reporting to the board, the revenue-focused marketer is also going to be looking to report on CAC - this is the customer acquisition cost. We break down our CAC across our 3 'channels': Inbound, Paid and Content. This enables us to see which channel is more efficient and scaling better."
When tracking top-level marketing metrics, it's also vital to look at your whole B2B sales funnel. Track the following::
Your average response time to an inbound request.
➡️ At Cognism, we target under 3 minutes and compensate our MDRs on this by tracking it daily.
The percentage of inbound requests that have an outcome.
➡️ We try to target 70%. It's one thing to action an inbound straight away, but you also want to motivate your MDRs to be persistent and track down outcomes consistently.
Stalled and inactive MQLs: by region, rep and campaign.
➡️ At Cognism we have an "Inbound Dashboard", where we track these metrics. You can do the same via an Excel or Google sheet, that can be updated by your team.
2 - Campaign metrics 💻
Your campaign metrics work hand-in-hand with your revenue-focused metrics, Liam says:
"CW and revenue are your ultimate metrics; you want to be optimising for this at all times. You may find that a campaign generates leads but not SQOs – if that happens, turn it off. You may find it generates SQOs but not revenue – why? How can you adapt it, to get people over the line?"

"You want to be looking at the closed-won number and what is an acceptable customer acquisition cost for your business or product to truly determine campaign success. MMR is individually important too, you want to optimise your campaign to churn out the biggest deals possible, not just deals themselves."
The most important metrics to track in campaign marketing are:

➡️ This metric can be indicative of metrics further down the funnel, and while more can only be a good thing, keep in mind that there are many other factors that will affect whether that traffic makes it into your pipeline or not.

➡️ It's important to watch your raw number of leads and your CPL so you can keep track of how many are coming in. However, it's not a determining metric on its own. You can accept more or fewer leads or a higher CPL if the metrics further down the funnel look good.


Marketing Qualified Leads (MQLs)
➡️ These are the B2B leads that fit within your ICP and can be worked into your pipeline. It's always a good idea to qualify your leads before handing them over to your outbound sales team so the funnel metrics further down don't start to show poor quality leads.
➡️ Keeping track of your meetings booked will give you a good indication of the quality of your MQLs.
➡️ Like meetings booked, tracking the meetings your BDMs attend is a good indicator of the quality of your MQLs and helps you predict your SQOs.
Sales Qualified Opportunities (SQOs)
➡️ This is a metric you want to watch closely, and one you should optimise campaigns toward. Your SQOs are strongly indicative of incoming revenue, while also telling you which of your campaigns are performing well.
Liam explains:
"An SQO is a sales rep, saying, "I think this could close," and you want to be generating as many of those as possible. It's important to note that all SQOs are not the same, and although indicative of a successful campaign, your incoming revenue is the most honest indicator of campaign success."
You can never monitor too many metrics, which is why you should also have your finger on the pulse of your so-called 'vanity metrics'. These help to assess the success of individual lead generation strategies and may also help explain problems in more important campaign metrics or predict success. These include:
Impressions/engagement
Form completions
Open rate
Bounce rate
Unsubscribe rate
Newsletter signups
Social media followers
Webinars registrants/attendance
Podcast audience/listen time
3 - Paid metrics 💲
"It's important for your performance marketer to go one level deeper in detail." - Alice
Taking your paid metrics to the next level involves breaking down the performance by channel and studying the results with a laser-like focus for optimisation.
But it all comes down to the type of campaign you're running, what you're evaluating and the advert or creative in particular.
Important metrics to track in paid marketing are:
Leads in
Cost per Lead (CPL)
Cost per Click (CPC)
Click through Rate (CTR)
Conversion rate
Your marketing should be monitored across channels and should include everything your budget is used for, including your demand generation ads for LinkedIn, Facebook and Google.
Here are a few examples from our social campaigns:
LinkedIn Ads

Google Ads

Facebook Ads

August recommends tracking metrics from both your bottom of the funnel campaigns and top of the funnel campaigns, individually.
BOFU metrics
If you're looking to generate B2B leads, then track the metrics from your bottom-of-funnel (BOFU) campaigns:
➡️ Look at the CTR to understand which ad attracts the most clicks.
➡️ You're likely not going to want to run an ad that's got a CPC that's 3x higher than other ads in the same campaign.
➡️ This is your ultimate metric - if you see that one ad has more expensive clicks, or gets fewer clicks but seems to be converting better than others, that's your metric to go with since it's a lead generation campaign. The conversion rate is important as well.
TOFU metrics

On the other hand, your top-of-funnel (TOFU) campaigns look at reach and traffic in order to gauge how expensive it's going to be to reach your total addressable market. You'll want to track:

➡️ Cost-per-view is important when it comes to video ads, but so is looking at the % of the video that's been watched. It can help you understand what your audience is interested in - do they only watch the intro, the whole thing or the first few seconds?

➡️ It's always a good idea to track how many times your ad has been shown to the average person. You don't want to oversaturate them. Ad frequency can also resemble the curve of a bell, in that repetition can improve performance.


4 - Content metrics 📚
What are the best methods for reporting on the success of content marketing?
At Cognism, we have a content-first strategy, which makes tracking key leading indicator metrics here essential. Joe explains them as follows:
LinkedIn engagement
➡️ Tracking your social media is easiest when you have a scheduling tool that includes a reporting function. We use Agorapulse, which can give you an in-depth analysis of each platform's data including followers, engagement and impressions. Here you want to focus on engagement.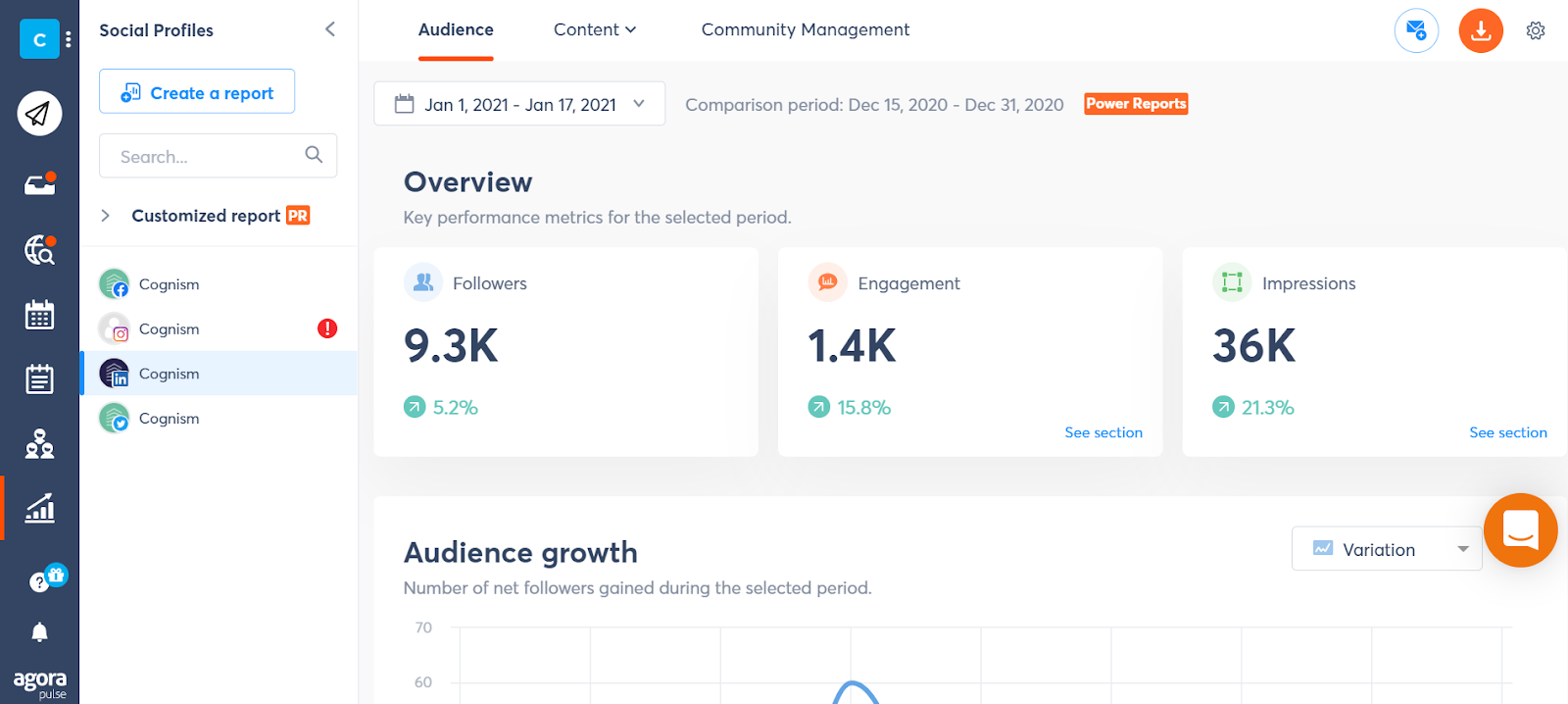 Some social sites have their own built-in analytics function to track engagement on a more granular level. A particularly useful feature is the ability to export reports as an Excel sheet, so that you can have an offline list of your most popular posts: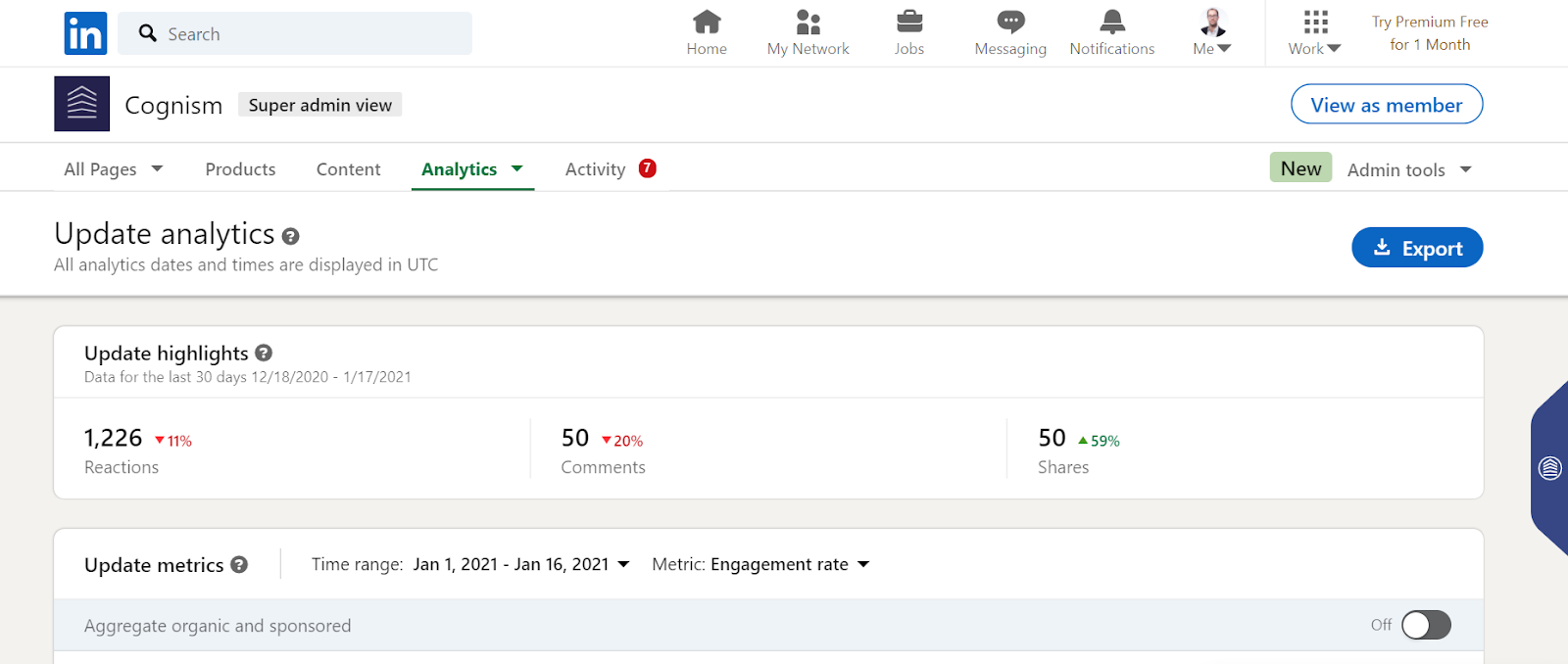 Blog engagement
➡️ To monitor your blog engagement, you'll need a Google Analytics account. The reports section gives you some great options. Scroll to:
Behaviour → Site content → All pages
After you've chosen dates to track, the report will populate with the essential data, including:
Unique page views
Average time spent on a page
Bounce rates
This engagement data is vital for gaining data driven marketing insights for each individual blog.

Keyword tracking
➡️ A great keyword tracker is a must here. We use Ahrefs. You can populate a report based on the time period you want to investigate and your target keywords.
The main metrics to keep an eye on here are:
Position - shows the position that a target website/URL holds in organic search results for the selected keyword.
Volume - the average number of monthly searches for the target keyword in the selected country (e.g.: the UK and USA).
Traffic - monthly estimated search traffic to the webpage from the tracked keyword.
Keyword Difficulty - an estimation of how hard it would be to rank in the Top 10 organic search results for a given keyword in a given country.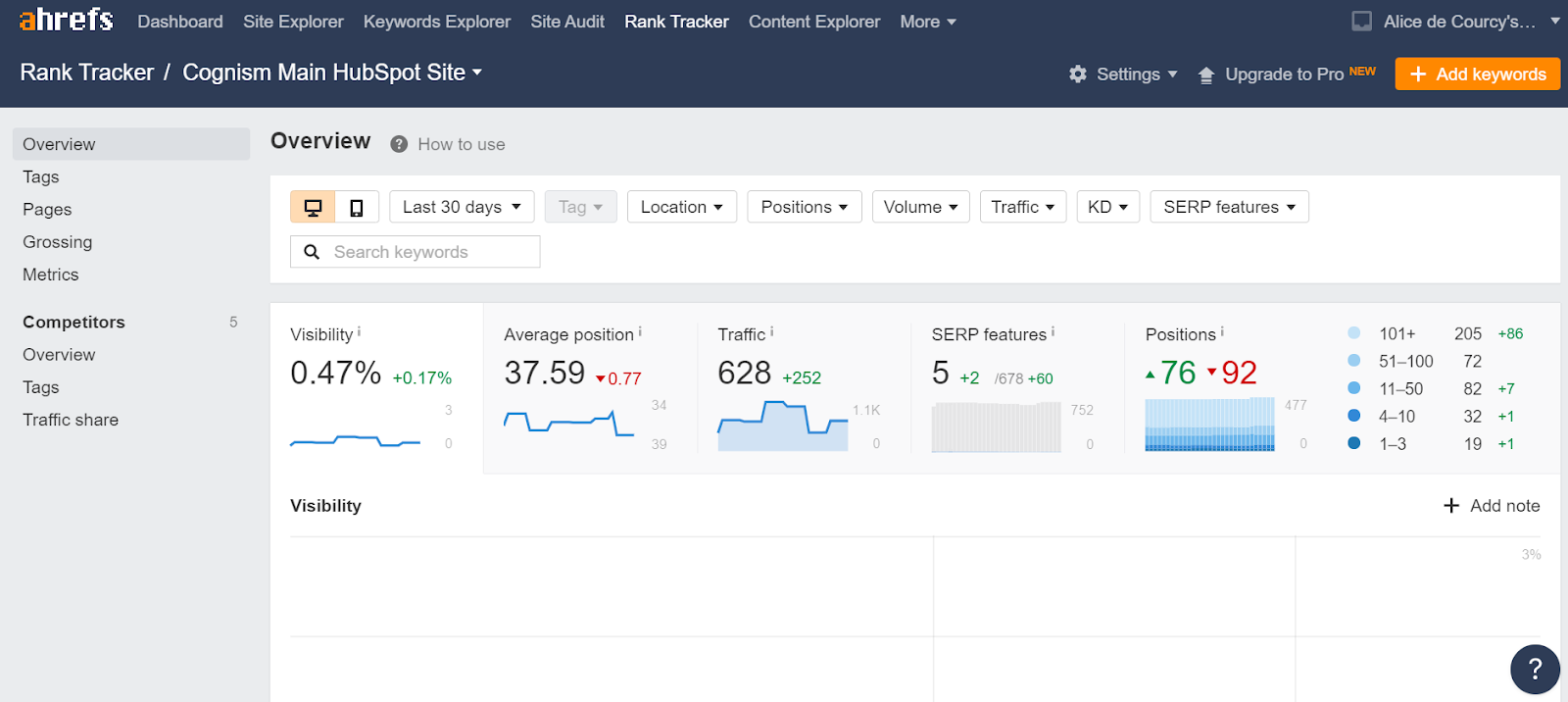 Plus they have a great search function to help look up specific keywords you want to examine.
Closed won deals from content
➡️ Access Salesforce or whichever CRM your company uses to track this metric. If your UTM tracking is set up correctly across your content, you'll be able to create a dashboard showing the closed-won deals that were generated from specific content pieces.
From there, you can choose to create a content report that includes your highest-ranking deals, and the total value of all your deals in a given month.
SQOs from content
➡️ You can also use Salesforce to track this metric and track SQOs by content pieces.
Alice also suggests tracking the following for added insights that might help you gather intent data that will help with your sales strategy later:
Top 10 blogs month on month
Blog Google page rankings
Content opportunities - which content assets led to opps being created
Content revenue - which content assets led to closed-won revenue
Download Cognism's content report 📥
Once you've amassed all this data, you can put it together in a monthly report. Click the button below to download Cognism's content report template, broken down month-by-month.
Better, smarter marketing with Cognism 🚀
Cognism is the world's top B2B data provider, with 1,000 customers and counting. We asked 10 of our top-performing marketing clients for the main benefits they've seen from working with us.
They said that Cognism:
Integrates seamlessly with your tech stack
Automates the sales process and frees up bags of time
Is versatile, with data that can be used for broad email campaigns or hyper-targeted ABM
Helps you scale a business
Keeps your data clean and accurate
...and does all this while being 100% compliant with global data laws, including the GDPR.
What are you waiting for? Want to book a screen-share with us? Simply hit the button below to arrange a date!