Creating equal opportunity in tech sales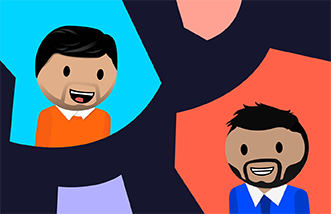 Every industry has its challenges 🎢
There could be a tough work-life balance. Or even a lack of opportunity for women or for people from a lower socio-economic background.
And the world of B2B sales is no exception!
This is how the idea of Train-Yo came about.
The CEO and Co-Founder Sunil Kumar sat down with our Global Head of Sales Jon Ilett.
He shared how Train-Yo is helping to create a fairer environment for hiring in the tech sales space 🙌
Scroll 👇 or use the menu on the left-hand side for more.
The rationale behind Train-Yo
To kick things off, Jon wanted to know where the idea of Train-Yo came from.
Sunil said it was all about equality in the world of tech sales:
"When you look at the tech sector, 80 to 90% of people in SaaS sales come from the nicer parts of society. For example, they've gone to a top university, so their career has been mapped out for them."
But unfortunately, this means that for "the rest of society, it's harder to break into this industry."
Enter the magic of Train-Yo 👇
"Our mission is to create a fairer world in SaaS. But we don't use the word diversity and inclusion, because it seems manufactured and forced."
Sunil wanted to create a boot camp programme specifically for people in EMEA, looking to land an SDR role.
And the intake into the boot camp wasn't based on whether a candidate had an education or not.
All that mattered was their determination for a career in sales:
"The people we find and get into this boot camp are generally hungry for a role in SaaS sales. Some of them are single mums, single dads, or people who haven't gone to university."
So it's clear why Train-Yo was set up. But Jon also wanted to know why this idea came about at this moment in time 🕰
Sunil identified a gap in the market for sales boot camps in the EMEA region:
"I initially spotted the boot camp model in March 2019, called SV Academy in the US. And in EMEA we don't have any boot camps, whereas in America there seems to be 2 popping up every week."
Train-Yo boot camps: the fundamental skills
Jon wanted to find out about the core skills that candidates can learn at these boot camps.
Here's what Sunil had to say:
"So we definitely need to teach the hard skills of sales. For example, the psychology behind cold calling, or the reason behind writing an email."
But there's also an emphasis on teaching "the cohort about what's going on in the real world of SaaS from a range of different perspectives. From a Global Head of Sales all the way through to a top-performing SDR."
That's how Train-Yo sets itself apart from the rest. It's about going above and beyond the basics of sales training 👏
What sales managers should change with onboarding
Here's the thing.
It's all well and good having great candidates with the right skillset.
But Sunil said sales managers could be doing more regarding the onboarding process.
And he identified a specific problem, just from his own past experience as an SDR:
There should be "a thorough onboarding programme to the tech stack". Because everyone retains information differently:
"There are different styles of learning. So there should be an element of customisation for individuals. For example, if someone can't read a white paper on the product, there should be a video walkthrough or a 1-2-1 session with the product manager."
Sunil's pushing for sales managers to abandon the one-size-fits-all mentality 🧠
And ultimately, the more flexible the approach, the more confident reps are going to be when it comes to their roles! Because they'll know the products inside out.
Train-Yo's takeover of the SalesLife podcast
Something like acquiring a B2B sales podcast can be quite risky for early-stage start-ups.
Jon wanted to know the story behind Train-Yo acquiring the SalesLife podcast.
Sunil said: "I had a good relationship with the host of this podcast Marco Serma. And the podcast had over two and a half thousand followers."
But Marco had to take a break due to other priorities. So Sunil thought, why not take it over? 👇
"When you look at communities like RevGenius, and companies like Cognism with this [Revenue Champions] podcast, it's clear there's a shift to leading by content."
"It's really making a difference, and I thought we'd be silly not to take the opportunity to do the same."
But we shouldn't be mistaken. It wasn't a one-sided, hostile takeover:
"We acquired it for a little bit of equity…and providing we turn this into something that's going to be very powerful, then it'll be sort of like a marketing machine for training. And then Marco will benefit quite considerably."
And how will the podcast be turned into a powerful B2B marketing engine? 🔋
Sunil said:
"We want to get some snippets and articles from the podcast onto the communities we have strong ties to, like RevGenius." 🚀
Success @ Train-Yo
Numbers don't lie.
And when it comes to Train-Yo's numbers, the picture has been positive:
"We've placed 20 graduates with some pretty amazing companies. And we've doubled, even tripled their salaries." 💰
Sunil has also managed to snap up some weighty partnerships in the US, with companies like RevGenius and Sales Hacker.
But Sunil has never forgotten the real value of Train-Yo:
"It's been an extremely profitable venture, but it's been for the right reasons." 💓
So Sunil has never lost sight of the rewarding end-goal: create equal opportunities in the tech sales space.
The future of Train-Yo
It's great Train-Yo's experienced such an immense level of success.
But when it all comes down to it, there's no harm in thinking about long-term goals or vision. If anything, it shows preparation and organisation.
So Jon asked the following question:
What mark are you looking to leave on Train-Yo, 5 to 10 years down the line?
"At Train-Yo, we want to be wildly ambitious. And this has come out of being so close to the problem that it was infuriating."
Sunil believes that the way people hire needs to fundamentally change:
"The way you get jobs is flawed. Because it's not set for purpose. In fact, 70 to 80% of the global workforce is going to have to re-skill in the next 10 to 20 years. That in itself just shows you the size of the problem."
And that's where Train-Yo and its future plans come in:
"There aren't many adequate solutions that tackle the problem in the way that we are at Train-Yo. And we've recently had a $2 million round of funding, which we want to put towards building a learning platform." 📚
It'll be "a learning track with analytics for different styles of learning. Because every team has different personas."
The product will help managers to take a value-driven approach when it comes to something like onboarding new hires.
And you might be wondering:
Surely Train-Yo will need a bigger team?
Sunil is working on it. For example, they'll be hiring a new Head of Product, since they don't have those skills internally.
It's fair to say we can expect big things from Sunil and the team at Train-Yo!
Listen to the podcast
There's plenty more insights from Sunil. And you can check out the full conversation below.
Just press ▶️ to get started 👇
You can check out other episodes of the Revenue Champions podcast here.