How to Create an Outbound Cadence Which Converts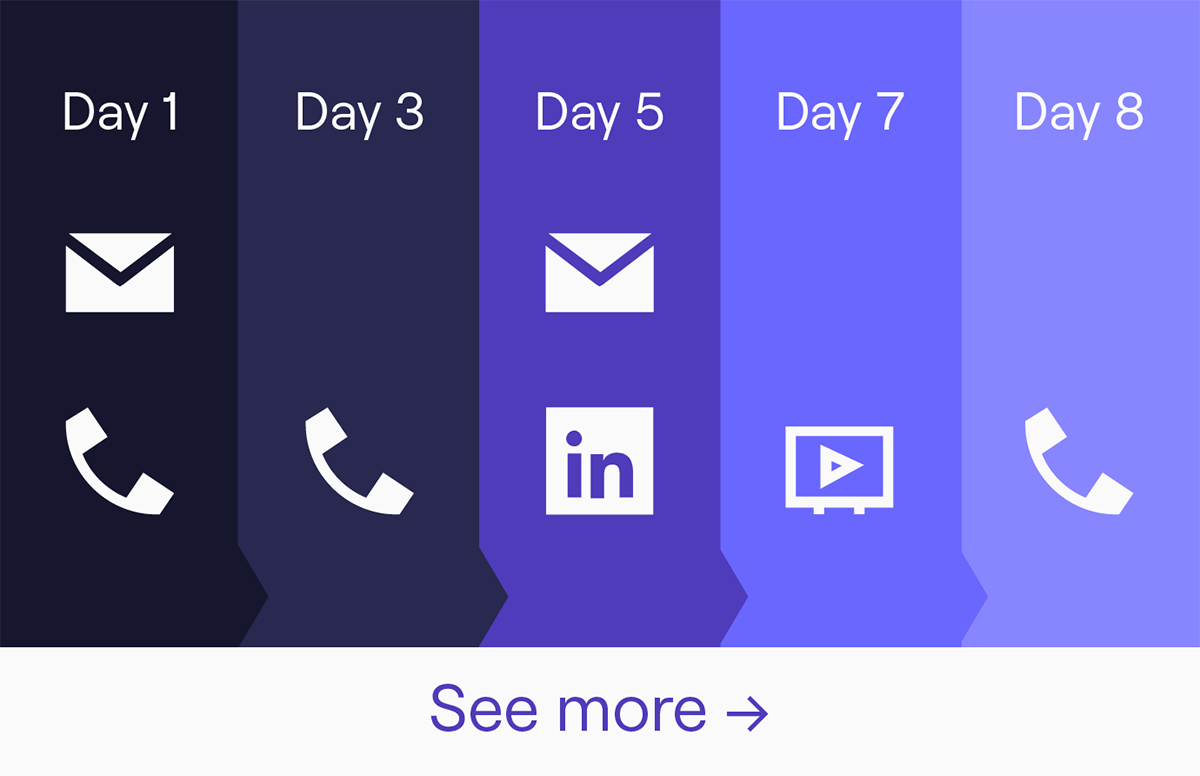 Creating an outbound sales cadence which converts is critical to the success of a scaling business. When a company is scaling up, one of the biggest difficulties it can face is converting B2B prospects into customers. Especially so in the B2B sales, SaaS and technology spaces, where competition has never been fiercer.
Here at Cognism, we know all about scaling up. We've been there already, growing from $0 to $4 million ARR in under two years. What's unique about our astonishing growth is that almost 85% of it has come from outbound lead generation. How have we done it? It's simple. We've discovered a winning formula that has helped us to shape cadences which convert.
In this article, we're going to share this formula with you, so that you too can create outbound cadences which drive B2B lead generation and take your B2B sales operation to new heights.
The formula
When creating your outbound cadences, you need to remember three important numbers:
45 25 17
We'll deal with each of these numbers in turn. First up…
45
45% represents the largest single demographic of buyers today. Surprisingly, these are millennials (the generation defined as being born between 1981 and 1996, with ages between 22 and 37 years old). This cohort has sparked a revolution in culture, politics, and even business. They bring with them needs and aspirations which are markedly different from older generations.
What does this mean for outbound sales? Quite simply, it means you have to up your game! The way millennials consume content is unique. They are online more often than their older peers and they engage across multiple channels - Facebook, Twitter, LinkedIn, Instagram, Snapchat, to name just a few.
So, to engage and convert the biggest group of B2B buyers today, you need to understand where millennials spend their time and how they want to buy. You're prospecting an audience whose attention is split across many different channels. Your outbound cadences have to rise to that challenge if you want them to succeed.
With this in mind, here are some tactics for creating outbound cadences which convert millennials:
The first step in the cadence is crucial. With so much noise and online chatter vying for millennial attention, you have to make a big first impression.
You will need to create multiple touch points across multiple channels. Millennials are used to frequent engagement with their favourite brands and businesses. And it's not just the length of the cadence which matters - you'll have to diversify, pushing out your message on many different networks at once.
Personalisation is key. Cognism's own research into B2B sales emails shows that simply by adding the prospect's first name and company name into the text of an email, you can increase conversion rates by up to 20%. But you can do even better than that. Forensically research each prospect. Swot up on their LinkedIn profile. Find out if they've recently won any awards, for instance. Use sales triggers to discover if they've been promoted or changed jobs. Leverage that information to create a truly personal cadence that won't fail to get responses.
25
The second number in our formula, 25%, signifies the percentage increase in conversions you can expect to see, if you use video at the right time in your cadence.
When you think about the majority of your buyers now being millennials, it makes sense that video should play a key role in engaging with them. They've grown up in a world where online video has exploded in accessibility and popularity. Video must play a part in your outbound cadence - your conversion rates will thank you for it!
Here are some stats to back up the power of video, taken from our own research:
If used in the second or third step in a cadence, video increases conversion rates by 25%.
If video is used in a confirmation email on the day of a demo, attendance rates are lifted from 75% to 95%.
75% of our late-stage prospects who received a personal video message from us decided to buy.
Now, to finish, let's see an example of a B2B sales video in action. This is a video recorded by Alex Shorthose, a Senior Business Development Specialist at Cognism. He sent it to one of his prospects at the end of the month. It's a great illustration of how video can be used to engage with potential buyers.
On a side note, if you'd like to receive your own daily dose of Alex, be sure to get in touch with him! He can show you how Cognism's high-quality B2B data can help you find your target buyers and cut your B2B prospecting times in half.
17
Moving onto the final number in the Cognism formula - 17. This represents the number of steps you need to have in a winning cadence. It may sound like a lot, but it reflects the following facts:
Nearly half of all B2B buyers are now millennials.
They are engaging with content across multiple lead sources - so the more steps you have in your cadence, the better your chances of success.
What follows next is an infographic displaying the optimal cadence sequence used by the Cognism sales team. It's based on all the data and analytics we've gathered to date - it's the ultimate winning outbound cadence!

There are a few things to note:
The first step must be multi-step. Use phone and email together in the first step of your cadence.
You must include phone calls in your first step. Our sales reps found that 80% of their most successful cadences contained phone calls in the first step.
Video increases engagement rates - but it's best used further down the cadence. This is where it will have the greatest impact and increase scalability.
Top Tip! Building outbound cadences is a lot easier with a cold email template! Click the link to 14 of the best for B2B sales.
The science of B2B sales
At Cognism, we're fond of the saying, "sales isn't an art - it's a science." Our outbound formula is proof of this. By using demographic and statistical data, and analysing the success rates of our outbound campaigns (campaigns which helped to skyrocket our growth last year by an astronomical 657%!), we've come up with an equation for sales strategy success.
We're excited to offer this formula to other companies who may be having difficulty making the most of their outbound activities. If you would like to find out more about how Cognism could help you achieve lead generation success, get in touch today. Our B2B lead generation and sales acceleration solutions have already helped our 200+ customers to scale in the same way we have.