Webinar Recap: Cold Calling - The Next Generation of Outbound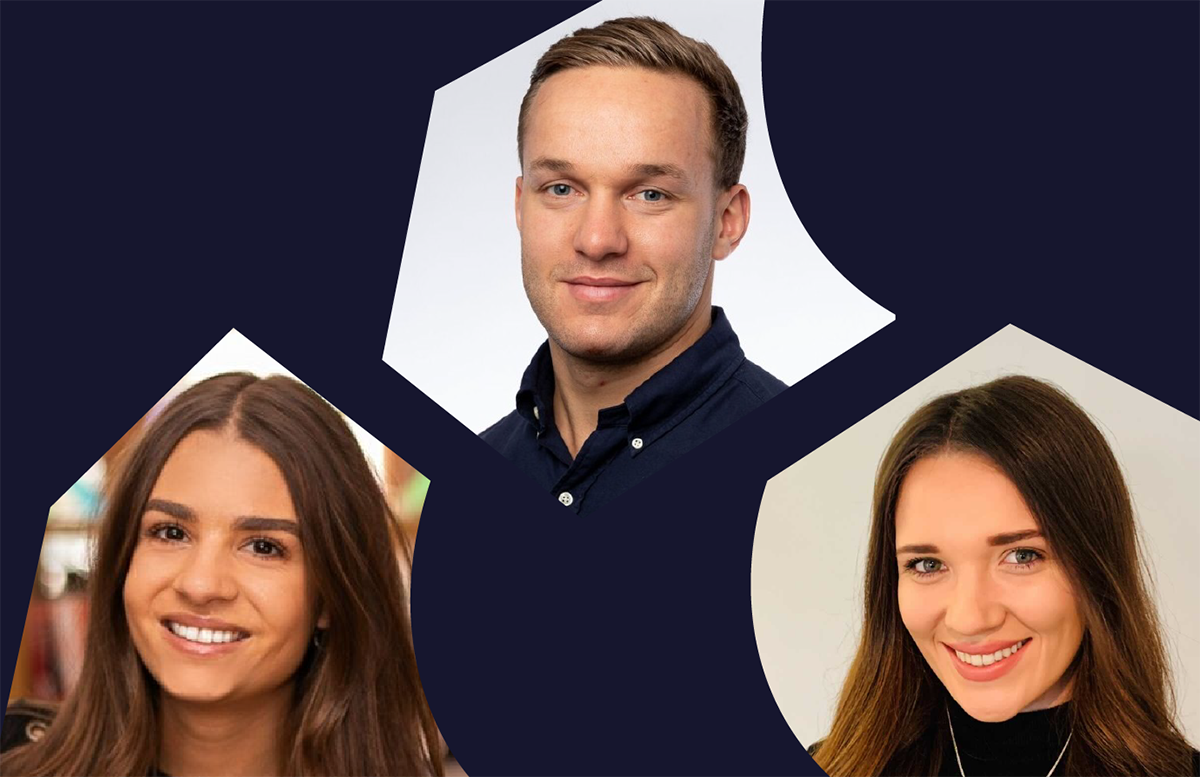 Cold calling is dead!

You hear these words repeated over and over right?

But is this outbound sales tactic really seven feet under with no chance of revival?
Nope, in fact:

69% of buyers accepted a call from new salespeople in the past 12 months.
However, securing a meeting or booking a demo needs a careful, measured approach - something our SDRs are pros at!

To help you out, we assembled a line-up of B2B sales experts from Cognism and SalesLoft, to help break down what's needed to for warm calls and hot and toasty leads in our recent webinar - Cold calling: the next generation of outbound.
Sharing their proven methodologies and favourite tips and tricks are: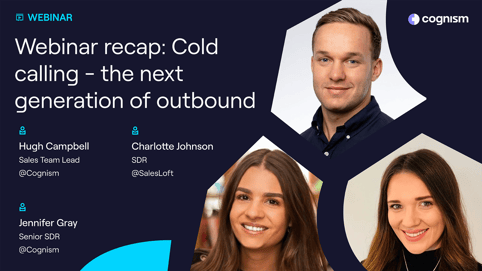 In this article, we're going to look at the five key takeaways discussed by our panellists:


Scroll 👇 to kick-start your sales strategy into hyperdrive!
Key takeaways
1 - Why cold call?
"The easiest way to get hold of a prospect is to phone them and explain in detail why they need your product - plus, it's easy!" - Charlotte
Working in B2B sales, you need to effectively manage your time between researching prospects, qualifying them and prospecting to them.

It's a time-consuming process, one that can easily be slashed in half with a quick call rather than an email.
Why?

Because your buyers are busy people, and they often don't have the time to get back to the email or video message you've spent so much time painstakingly writing.
"Even though we follow a multimedia approach to outbound, cold calling is still the most effective because you can really connect with your prospect." - Jenny
Three reasons why cold calling works:
It's quick - you save time and your prospect isn't hounded by 100 emails asking if they're interested in what you're selling.
You can be flexible with your product knowledge - when you send your prospect a cadence it can't be too wordy or you'll lose their interest. Whereas on the phone you can chat freely about pain points and how your product can help solve their challenges.
It builds rapport - the best thing you can do for your B2B business is build relationships with your clients. This is something you can easily do with a cold call, showcasing your personality and creating a tone that can't be portrayed in the same way when emailing.
2 - B2B prospecting
71% of company leaders would rather speak to a rep over the phone than by email, fax, drop-in visits or other media.
But how can you be certain you're speaking to the right person at the company?
Our panellists have a few ideas on this, starting with Hugh:
"Always calculate your TAM before you start cold calling. This way you know you're talking to the RIGHT prospect."
💡 Need help calculating your total addressable market? We've created a handy TAM calculator to help you out.
Charlotte and Jenny recommend choosing more than one contact to target at a specific company. This way, if you can't get hold of one, you have a backup.
Jenny likes to create lists on LinkedIn's Sales Navigator. Each list is filled with various people she'd like to reach out to and is easily accessible when she needs it.
Charlotte adds:
"New starters make great prospects as they have something to prove and are more willing to listen to your ideas. You can find some fantastic information about the role they just filled on their employer's career page."
Which brings us to research...
When B2B prospecting, your research shouldn't take more than 5 minutes:
"I used to spend 30 minutes researching each prospect, and then they never picked up - research is important but volume is even more important!" - Charlotte
These are the B2B data points you'll need to have before you start calling:
Name
Company name
Job title
Email address
Direct dial phone number
Target industries
Have they recently moved?
Is their company hiring?
Extra research is always a good idea! You never know when it may come in handy.

Plus, the extra initiative might just be what bags you the deal.

Our panellists top 6 suggestions are:
Check out LinkedIn to see if they've posted anything interesting. If they have, casually mention it during your conversation.
Block out time to research prospects. This way you aren't wasting time doing it just before you call.
Visit their company website - and take a look at their careers page!
Google their name to see if they've been in the news.
Connect with their SDRs - they can give you crucial information.
Log everything in your CRM.
"Sales is all about balance. Don't spend so much time researching that it affects your productivity. Just get the information you need to personalise your pitch." - Hugh
3 - Getting started with cold calling
Step 1: Start calling
"Confidence is literally the hardest hurdle to overcome - especially when you're starting, but it's going to be your strongest cold calling tool." - Hugh
The worst thing anyone can say to you is no!
Keep a positive attitude, laugh off any mistakes and trust in your natural progression - no one starts out as a pro cold caller.
Step 2: Qualify and adapt
"Prospects are people too - they want to see that you care, that their goals are as important to you as they are to them." - Jenny
The purpose of your first call should be 70% discovery and 30% selling - you want to get your prospect talking so you can see if they're right for your product, as well as learning their challenges at the same time.
The worst thing you can do is jump right into a sales pitch when first calling a client. This method won't work because the harder you come at people, the less they want to hear what you have to say.
"Always add value. Whether it's cold calling or emailing - adding value warms people up to you and helps forge worthy relationships." - Hugh
4 - To script, or not to script?
Every SDR has a script.
When you start cold calling it's essential to start with one, but as time goes on, your words will flow more and banter will come easily.
But the fact is this:
New cold callers and seasoned pros all have some idea of how their conversation is going to go, and it normally involves these 7 steps: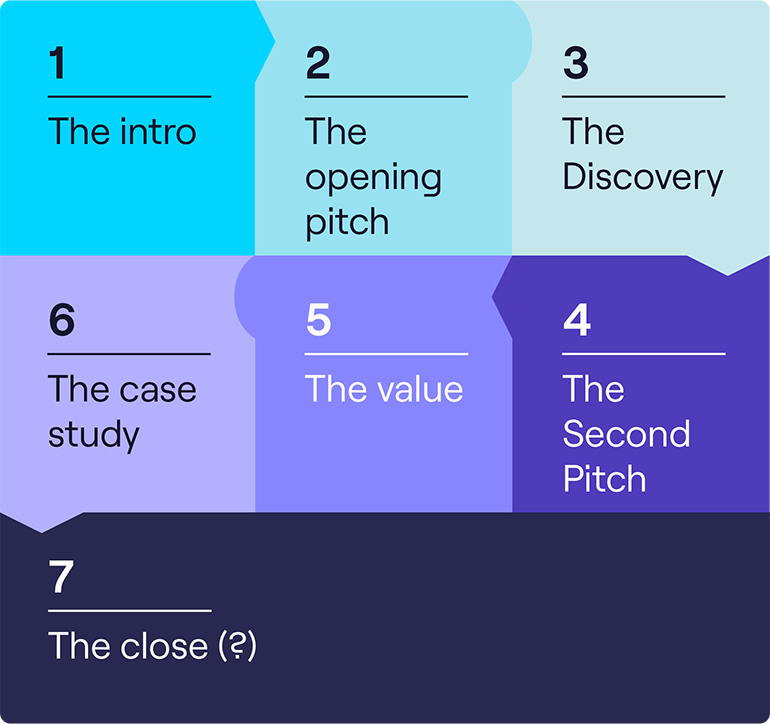 A lot of the time, influencers on social media say, "Don't use a script!" because you come across as robotic. However, not using a script can be detrimental for your call.
It's best to use your cold calling script as a guide for your own - one that can be moulded to work for you and your sales style.
Tips on script:
Be polite.
Be friendly and warm.
Be honest about why you're calling (if they ask).
Use their name - it establishes trust!.
Mention that someone else at the company recommended they call the person you're speaking to.
One thing that works really well for our SDRs is a tactic called the 30-second push:
✔️ Open your call by introducing yourself and asking for 30 seconds of their time.
✔️ Let your prospect determine the tone of the conversation, and then mirror it.
✔️ Try to frame your pitch as a direct solution to a specific problem. For example: "You spend five hours a week prospecting? Save that time."
"Remember, people buy from people, so find out what works for you and stick to it. Whether it's your tone of voice or opening line." - Hugh
5 - Objection!
"I'm really busy, can you call me another time..."
You're going to hear this cold calling objection a lot as a sales rep.
The trick is NOT to get defensive.
Agree with them and reply:
"I can imagine you're so busy! I really appreciate you answering, but can I take 20 seconds to tell you why I'm calling, otherwise I can call back tomorrow?"
Sometimes, they'll ask you to send them an email:
Here, you can respond with:
"No problem, can I just ask you a few questions to help write my email?"
They'll normally start chatting and sometimes they'll even forget they were too busy!
Charlotte adds:
"Adding in some humour will do wonders for your call, but always feel out their tone. If they're cold and you're making jokes, it might not be such a great idea."
Cold calling - final thoughts
The key to successful cold calling is to breathe! Your prospects are human too, so cold call at the right time, be confident and actively listen to what they have to say.
We hope you enjoyed this recap of our cold calling webinar. If you'd like to watch the recording or view the accompanying slides, simply click the button below 👇
Better calls with Cognism
57% of C-level executives and VPs say they would rather hear from sales reps via the phone than any other channel.
Which makes cold calling your best strategy for more incoming revenue and higher conversions.

Become a cold calling champion with the help of our 'The B2B Cold Calling Handbook,' and increase your cold calling success rates!
Click 👇 to download your copy.