Campaign planning template
Liam Bartholomew is Cognism's Campaign Marketing Manager.
He has a wealth of experience in planning, implementing and measuring B2B marketing campaigns that convert. We asked him for his insight into campaign planning, why it's important and how to do it right.
Plus, we'll give you Liam's own planning template, which you can use to formulate your own data driven marketing strategy.
Campaign planning insights
Liam spoke to us recently over a Zoom call. Here's his advice for effective marketing campaign planning:
"Formalising a campaign plan may seem like an unnecessary step, when you all want to do is get your campaign live and start delivering results."
"However, building out your campaign will take time, so it's important to give yourself structure. This will help you to execute your campaign methodically and to schedule. While your campaign is in development, it's delivering no B2B lead generation value to you. Setting yourself milestones and targets means you will get the campaign live quicker!"
"The danger in starting a campaign without a formalised plan is that you may find halfway through that you've missed something important. This may leave your campaign ineffective and incomplete."
"By planning first, you can ensure you've covered all channels and have enough marketing content before you start! Doing all this means that you've set yourself up for the best possible success."
"It's important to remember that no matter how much you believe in your idea, it still may not work! Planning allows time to research and iron out any creases before you start."
"It also means you have your original starting point documented, so that when you come back to optimise the campaign, you'll have a clear understanding of what parts you can change or tweak."
"A clear overview of where you started is also useful when planning future campaigns - especially if you need to start from scratch!"
The campaign planning process
Liam explained how the campaign planning process works at Cognism. We've put his workflow together into a useful infographic, which will help you plan campaigns at your own company.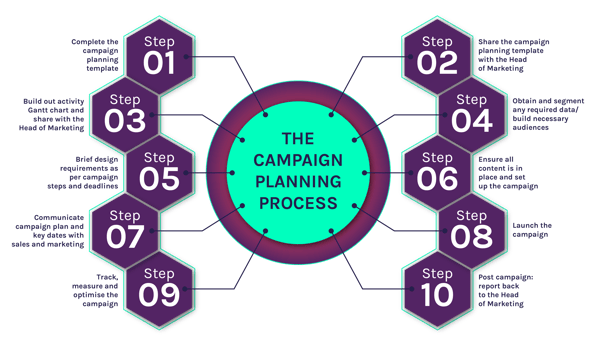 The campaign planning template
Here is the campaign planning template that Liam uses to prepare his campaigns in advance. Hit the button below to download and start using!
Top campaign planning tip
Liam had a final thought for us:
"Never start a campaign without defined goals. The planning template provides a constant reference point to what you originally wanted to achieve. Without that reference point, your campaign can easily morph into something it wasn't intended to do - you don't want to waste any time or budget on not delivering the value you intended."
A guide to B2B marketing
We hope you found our infographic and template useful! We have other B2B marketing insights for you. Our eBook Demand Generation: How to create demand that drives growth is available now.
Leverage the knowledge of some top B2B/SaaS marketers and learn how to…
Generate demand with the latest marketing strategies.
Scale content marketing and use it to drive business growth.
Boost brand awareness through SEO hacks.
Track, test and optimise your B2B marketing efforts.
Click the image below to get your copy!