Webinar Recap: How to Build a High-performing Sales Team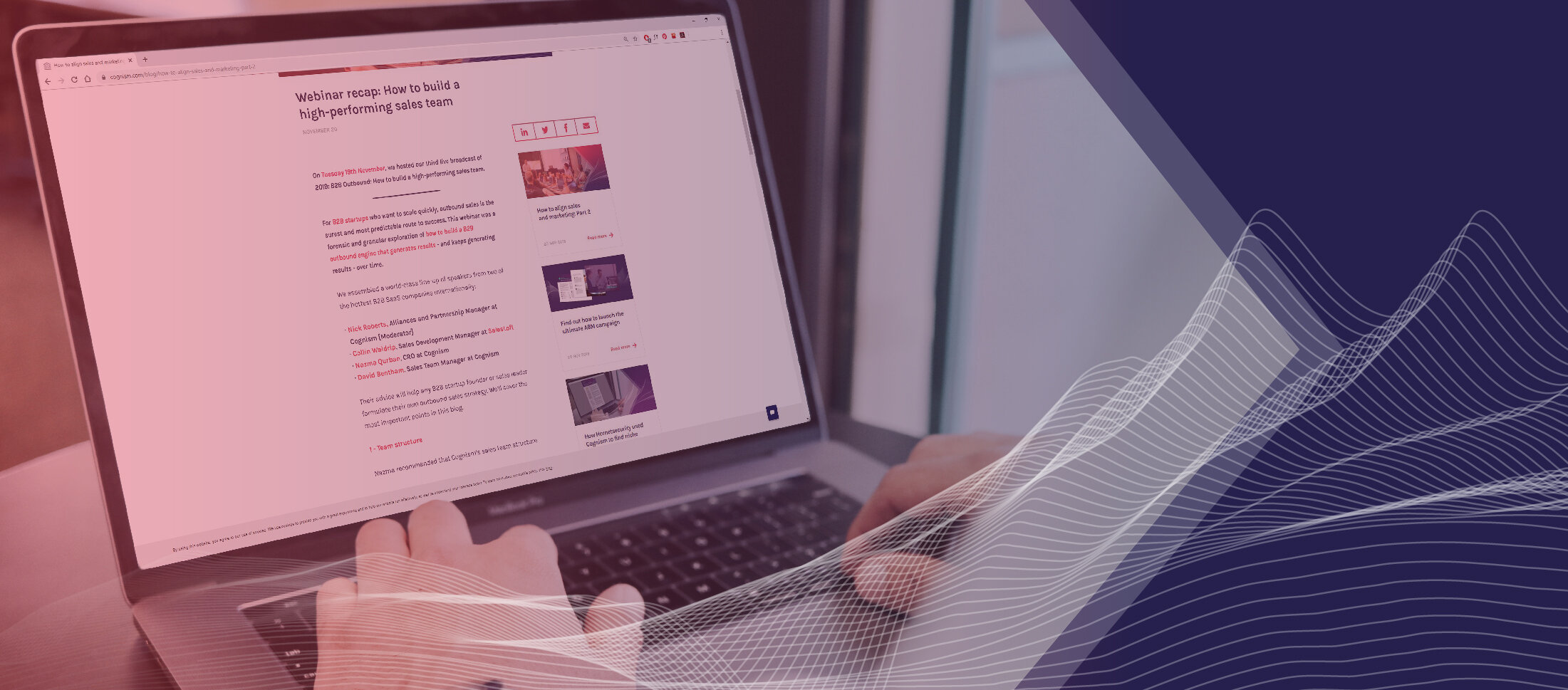 On Tuesday 19th November, we hosted our third live broadcast of 2019: B2B Outbound: How to build a high-performing sales team.
For B2B startups who want to scale quickly, outbound sales is the surest and most predictable route to effective lead generation. This webinar was a forensic and granular exploration of how to build a B2B outbound engine that generates results - and keeps generating results - over time.
We assembled a world-class line-up of speakers from two of the hottest B2B SaaS companies internationally:
Their advice will help any B2B startup founder or sales leader formulate their own outbound sales strategy. We'll cover the most important points in this blog.
Key takeaways
1 - Team structure
Nazma recommended that Cognism's sales team structure was a good model for B2B startups to follow. The team is split into two "pods", based around clearly delineated roles:
Sales Development Representatives (SDRs): responsible for creating opportunities and booking meetings.
Business Development Managers (BDMs): responsible for closing deals and generating revenue for the business.
There are two benefits to adopting this model:
It allows the employee to focus solely on just one responsibility, meaning that they quickly become experts in their roles.
It creates a roadmap for progression: if an SDR consistently hits their targets, they become eligible for promotion to a BDM.
2 - Hiring
Both Nazma and Collin agreed that they look for a very specific type of person when hiring for SDRs:
They must be resilient and capable of dealing with rejection every day.
They must be overachievers - in their personal lives, if not their careers.
They must be enthusiastic about a career in sales and developing their skills.
They must be creative and tech-savvy - able to communicate in-person and by phone, email and video.
3 - Promotions and compensation
Collin identified that a lot of SDRs aren't after greater compensation for their efforts - they're after greater recognition.
SDRs often feel like they're at the bottom of the company ladder and they can be too easily ignored. Collin's tactic to counteract this is to foster a culture of micro-promotions, where top-performing SDRs are elevated to mentor or team leader roles.
Collin also shared his compensation system at SalesLoft. He creates personalised compensation schemes for his SDRs, where their goals (for example, saving up money to buy a new motorbike) are aligned to their sales output.
4 - Training
Collin listed a number of excellent training strategies from SalesLoft:
Call libraries - a central resource of recorded cold calls, categorised by persona.
Weekly meetings where the team listens to the week's worst cold calls and discusses areas for improvement.
Sales workshops based on topics picked by the team (e.g.: objection handling, email sequences).
Persona training - recently-closed prospects are invited into the office and speak with the SDRs about why they bought the product.
David Bentham shared some of Cognism's winning methods:
A mentor-mentee scheme, where senior salespeople advise their junior colleagues - this is very useful in terms of creating a culture of knowledge-sharing.
No fixed training timetable - instead, new SDRs are encouraged to get on the phones and make as many calls as possible in their first two weeks. Learn by doing!
5 - Metrics
Nazma explained the capacity model for B2B sales, which is adhered to at Cognism. It works like this:
If in one month your revenue target is $32k and your average deal size is $1k, then you need 32 closed-won deals.
Based on a 25% conversion rate, you then need to create 97 opportunities in that month.
So, in order to hit your $32k target, you need to have 7.5 SDRs working on outbound sales activity (cold calling, email outreach etc.).
Essentially, it's engineering your sales team in reverse. It's starting off with your ultimate goal (the revenue you want to create) and then working backwards scientifically, to the point where you can calculate the number of sales reps required to hit that target.
It's a good model to follow because it's predictable and it allows you to manage your resources on a month-by-month basis. A good starting point for a new B2B company!
6 - KPIs
Collin was keen to share his advice for putting in place lead generation KPIs for your sales reps.
At SalesLoft, Collin takes the top three performers in his SDR team. He studies their performance (e.g.: calls made and account conversion rates) and works out what the averages are for each KPI.
Then, those averages are communicated to the wider team as the "benchmarks" that every SDR should be aiming for.
Find out more from Cognism
Those were just some of the actionable B2B sales nuggets featured in this webinar! Our speakers have a lot more outbound insights for you. Follow this link for the accompanying slides: