B2B marketing leadership: your first 90 days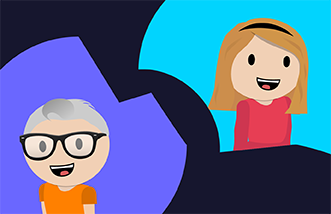 Are you a B2B marketing leader that's just entered a new role?
Then you'll want to read this one!
We spoke to Alice de Courcy, CMO of Cognism and Doug Bell, CMO at LeanData, about the importance of the first 90 days in your leadership role.
But that's not all...
We answer all your questions on how to...
Click 👇 to head straight to your topic or simply start scrolling to start reading from the top.
The first 90 days as a CMO at a new company | Getting your tech stack right | Choosing which metrics stay or go | Scaling your marketing team | Communication between marketing and sales | Closing thoughts | Listen to the podcast
The first 90 days as a CMO at a new company
We've all been there…
Starting a new role is like joining a TV series in the middle of season seven.
It's a lot to take in, everyone has their roles, and here you are taking over.
So how do you make a new role your own while ensuring your first 90 days make an impact?
For Doug, it's about taking on any problem, big or small, and finding solutions that work fast.
This thinking is not only what helped him secure a position as CMO at LeanData, but it's what helped him progress from a career in finance to one leadership role after another. He says:
"The difference between an individual contributor and a leader is very infrequently, skill or smarts or capability. Those are usually things that marketers have a lot of. It's the willingness, at least in my career, of taking on those jobs that no one else wants to do."
Since Doug started in finance and moved over to marketing, he had to establish himself first. That meant approaching organisations that weren't in SaaS sales or using SaaS. Instead, they were using what was called installed software and server ware.
His job was to take them from one business model to another and make the transition go as smoothly as possible.
Doug says:
"Marketers don't really enjoy those jobs, or they find the product isn't a good fit or the funding is low. But they're such great testing grounds, and I've worked with so many great companies that have scaled because they've had someone like me to guide them. But then, I've also worked with a few you might not have heard of because they couldn't overcome some issues.

It's such a great way to learn how to tackle some of the bigger problems you may encounter as a leader and helps you take on any problem with the attitude of, 'I'll take on this problem, I'll own it."
And it's this attitude that's going to help you become a leader.
Alice wholeheartedly agrees, saying:
"It's not only about going after the biggest project but starting from the ground up."
It's not just your attitude or your willingness to take on the jobs that no one else wants that's going to get you scaling in your own career. It's also a passion for the job.

Doug has watched as SaaS became the standard and traditional marketing moved over to digital.
He hasn't been scared to experiment or try new strategies either.
When approaching a new role, he takes that passion and his problem-solving skills and looks at the opportunity and approaches it like a product launch or expansion or an entry into a new market:
"It's like you're almost starting from scratch on some level, right? Your first 30 days are really about listening, discovering and diagnosing. I am singularly focused during this process on anything that might be slowing the team down, now or in the future."
According to Doug, you need to look at your first 90 days as a whole company or product challenge.
For your first 30 days, decide what you can and can't solve immediately.
"You're going to prioritise low complexity, high impact projects. You need to understand that marketing's role in a company like LeanData is really a growth role. Quite often you have a product play or a sales enablement play or a positioning play that you've got to think about."
This helps you create a roadmap of what you need to do and what your goals are.
"For me, that roadmap has the low hanging fruit, and then you have these intermediate sprint projects that can last as long as 60 or 90 days. At the same time, you need to look at creating the foundation for those projects that are going to take a long time or be ongoing."
For example, at LeanData, they had bits and pieces of a great ABM program, but they needed to pull a few different things together and make it one coherent whole.
That project was projected to take 18 months, so it's one of the very first things that Doug started working on.
Then for the next 60 days, Doug focused on projects that could get done quickly.
For Alice, those low-hanging fruit opportunities are incredibly important:
"Those projects are what gives you that momentum and goodwill early on. Your board and CEO trusts you to make this work, and when you hand them those quick wins you're giving them proof and getting acknowledgement that you know what you're doing."
Doug adds:
"I could do a whole podcast episode on finding quick wins. I had one straight out of the gate. They're great because they allow you to carry on your agenda because you've shown your CEO that they really can trust you and your tactics."
So, if you're looking for ways to excel in your first 90 days, follow this roadmap:
Chase quick wins.
Focus on creating a foundation for long-term projects.
Look at how you can improve your current processes and team structure - speaking with your company's

RevOps

team will benefit you here.
Getting your tech stack right
"If you're an emerging enterprise, it doesn't matter if you're growing like crazy; you're looking for efficiencies out of the gate." - Doug
And that means looking at your tech stack.
This is the first thing Doug does. He explains why:
"It's not about how much I can stuff into the top of the funnel. It's not about how many companies I can target. It's about how effective I am at creating interest in the business and how that interest translates into qualified leads in the pipeline."
To get this right, he looks at his new company's tech stack - specifically what works and what doesn't. Then he revitalises it so that the team and their processes are running as effectively as possible.
"I try to understand which programmes are effective from a revenue standpoint. Generally, what I'm looking for is a ten to one spend ratio. Each dollar or euro I spend, I want ten dollars or ten euros in return.

Now, out of the gate, you're typically not going to be that efficient, so you need to look at programmes that can create that efficiency for you."
But, he does have to add:
"LeanData's RevOps operation is probably the best that I've seen throughout my career. We apply a few tools that are standard to the stack, but we also have no hesitation in reaching into new places in the market overall.

Plus, we use our own product. So if there's a new tool that's out there, we'll give it a spin, and it's probably been in or going to be in our revenue operations stack at some point."
When building your own marketing tech stack, you want to look at one that does the following:
Optimises your website for SEO.
Helps with keyword research.
Revolutionises the way your team communicates for better efficiency.
Enables you to create and schedule content fast.
Tracks and measures your core metrics.
If you're keen to see some of these tools, Cognism has compiled a list of the very best B2B marketing tech available for every stage of the marketing funnel.
Choosing which metrics stay or go
Once Doug understands what tech he needs to invest in or cancel subscriptions for, he then looks at metrics.
Every company has different protocols in place for measuring success and output.

For marketing, the CMO and RevOps team work hand in hand to ensure that every process flows efficiently and key targets are achieved.
This is why a new CMO, like Doug, might introduce new metrics and scrap some old ones that he doesn't agree with.
Doug says:
"I'll start out with awareness. For me, that's cookies all the way to customer wins, and then you're just examining conversion rate down. I'm looking to see what the dense parts are in the process, but that's both diagnostic and measuring for efficiency. The second thing I'm looking at is cost efficiency metrics."
Like with your tech stack, you don't want to be spending more than you bring in.
"You don't want to be spending a lot of money on awareness because when your company is still scaling, you don't want to find yourself in a situation where money is being spent without purpose."
To ensure your budget stays on track, these are the metrics you need to prioritise:
Sales Qualified Opportunities (SQOs).
Closed-won deals.
Monthly recurring revenue (MRR).
Average deal size.
Average sales cycle.
At Cognism, we aim to keep our MQLs under $25, our MBs under $250, our cost per SQO under $450 and our cost per acquisition under $1,200.
For more info, see our list of the B2B marketing metrics we track and why.
Scaling your marketing team
After you've figured out your new protocols, you can start focusing on scaling your B2B marketing team.
Doug starts off by explaining the differences in various marketing teams:
"LeanData and Searchmetrics, my previous company, have such different needs and organisational growth. Searchmetrics started as a boutique SEO agency and grew into an international SEO powerhouse, but the challenge there was how do you grow a local company into a global name?

You can have 2M prospects to approach in your home country, but at some point, you're going to be limited by that. Their goal was to grow internationally, and they created quite a footprint for themselves. So that's one type of marketing background.

LeanData is a North American company and we have customers all over the world but none really in Europe. So we're looking at two very different companies. LeanData is much larger, which wasn't the case two years ago, so the growth here has been fantastic."
Since LeanData has scaled so rapidly, it's now up to Doug to scale the team and to take on a CMO/Recruitment Officer role.
This is something he didn't have to worry about much at his previous company:
"At Searchmetrics, there was a lot of demand for the product but also lots and lots of competition. So that was really about ensuring their brand projected well to the USA. Our team was very demand focused - a content team, a demand generation team and marketing ops.

LeanData's team is a small and fierce team of ten. So, we're going to have to bring on at least eleven people in the next four to five months. We're experiencing rocket ship growth, but a big part of continuing this trajectory is getting the right team in place. We'll be looking for more content and demand gen marketers to fill out those teams."
This is something that Cognism has experienced too.
In order to scale, your team needs to grow. For Alice, that means bringing in more skilled professionals:
"My three key hires this year have been on the performance side, customer marketing and a DACH specialist for new markets."
Communication between marketing and sales
One of the most important factors when joining a new organisation as a B2B marketing leader is making sure your teams are aligned.
If your marketing and sales teams aren't communicating, one or the other won't reach target.
How does sales and marketing alignment work in practice?
It could mean weekly or monthly meetings with department heads. Or it could be based on having a tech stack that supports transparency.
Doug says:
"It's always a challenge to stay aligned internally. Quite often, marketing will be pushing the envelope, and you have to be careful not to get too far ahead of product.

My job is to produce a high-quality, low-cost pipeline, and as long as I've got that as my focus, then I shouldn't have a problem aligning with sales. We both want the same thing - growth, but we just have different tools in our toolkit."
For Alice, aligning B2B sales and marketing meant restructuring roles:
"We've introduced a new MDR role this year, as well as reps whose sole purpose is to focus on inbound lead generation. We've seen a big uplift from making this change.

Plus, we've implemented LeanData, removed MQL MDRs, and now all of our leads are routed through the SDR team."
But at the end of the day, what really matters is the experience your team offers prospects. Marketing should focus on creating an incredible customer journey so that by the time a customer reaches sales, they're already warm and happy to convert.
Closing thoughts
Your first 90 days in a new marketing leadership role are the most important.

Focus on:
Building a fantastic tech stack.
Aligning your teams.
Hiring experienced marketers that suit your strategy.
Implementing new metrics and getting rid of any that don't support your goals.
Most of all, have fun with it!
The best leaders are passionate individuals who love what they do and care about the success of their team and company.
Listen to the podcast
Did you find this article illuminating?
You can listen to the whole conversation between Doug and Alice over on our Revenue Champions podcast.
Press ▶️ to get started.