Cognism at B2B Marketing Expo 2022 - LIVE BLOG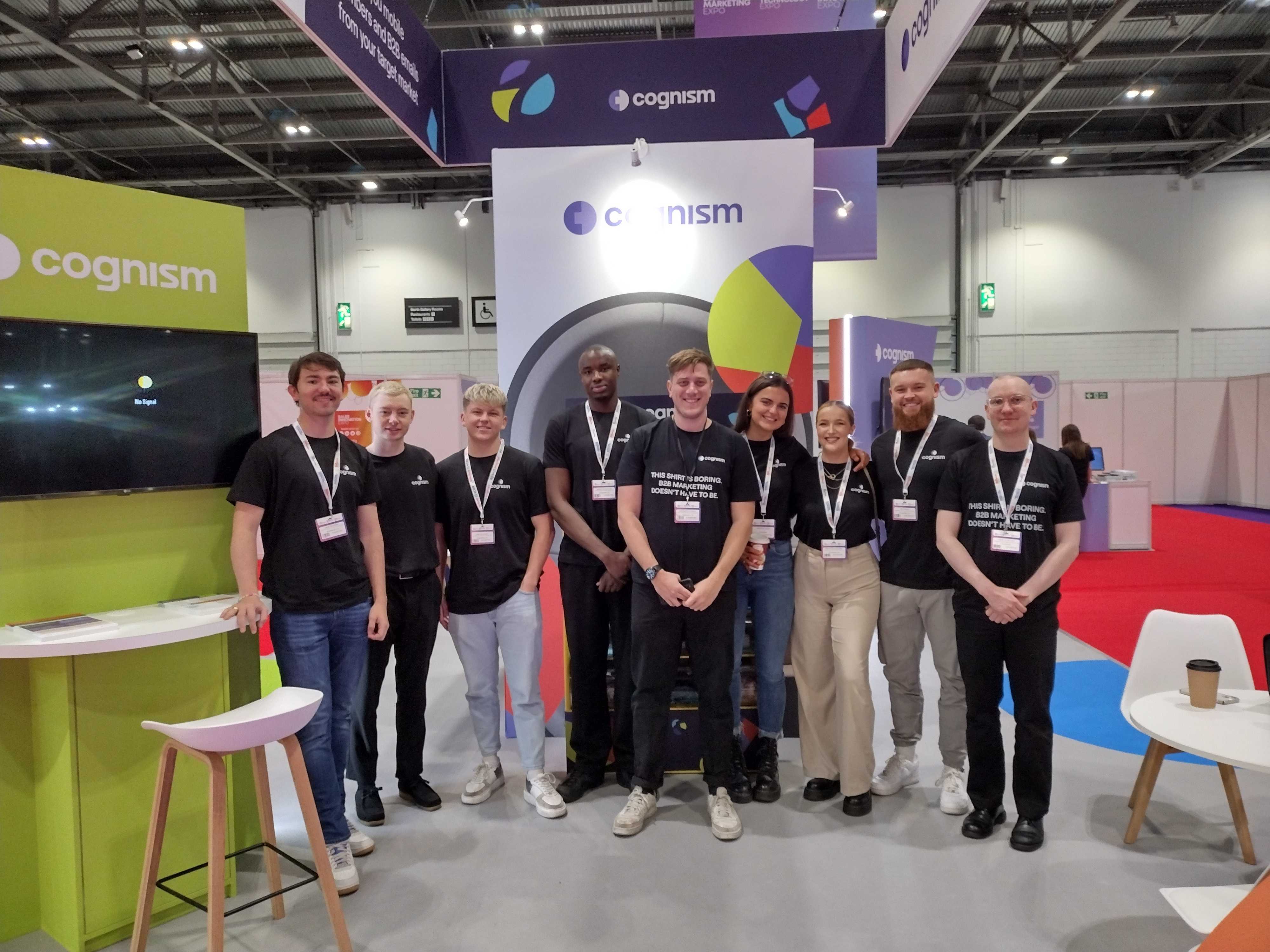 B2B Marketing Expo is Europe's leading marketing event and Cognism is there!
Hit 🔄 for live updates from ExCeL London.
Day Two
15:58
"Start with insights, not assumptions."
15:54
Where do these insights come from?
Konrad looks at:
- Surveys and polls
- Buyer interviews
- Focus groups
- Social listening
- Competitor analysis
15:52
How do you know what content will work?
Konrad says:
"You need to gather insights on your customers. Understand their pains and triggers. What are their objections? We can take on those barriers in the content."
15:49
Konrad believes it's dangerous to only focus on leads.
You should think about:
- Traffic
- Conversion
- Customer lifetime value
15:47
"Retention is super important. You can create referral marketing packages."
15:45
"When a prospect is brand aware then you can use conversion copywriting."
15:41
Different stages in the funnel require different types of communication.
Konrad says:
"A brand new clueless business owner requires education. The goal is to make them problem aware."
15:38
Konrad believes that the role of marketers is to take a prospect to the next step. Rather than jumping to the sale.
15:36
Konrad explains that most companies are not ready to buy (yet).
"The temperature of the marketing message should match the temperature of the prospect."
15:35
"Marketing is a bit like dating. Don't try to sell too quickly!"
15:30
Next up Konrad Sanders, CEO and Founder - The Creative Copywriter. He'll be delivering his marketing seminar:
"Scaling up: How to grow predictable revenue with a smart, data-driven content strategy"
14:25
"We need to work both harder and smarter."
14:20
"Certain paths in conversations affect win rate."
"Specific keywords resonate more with CFOs."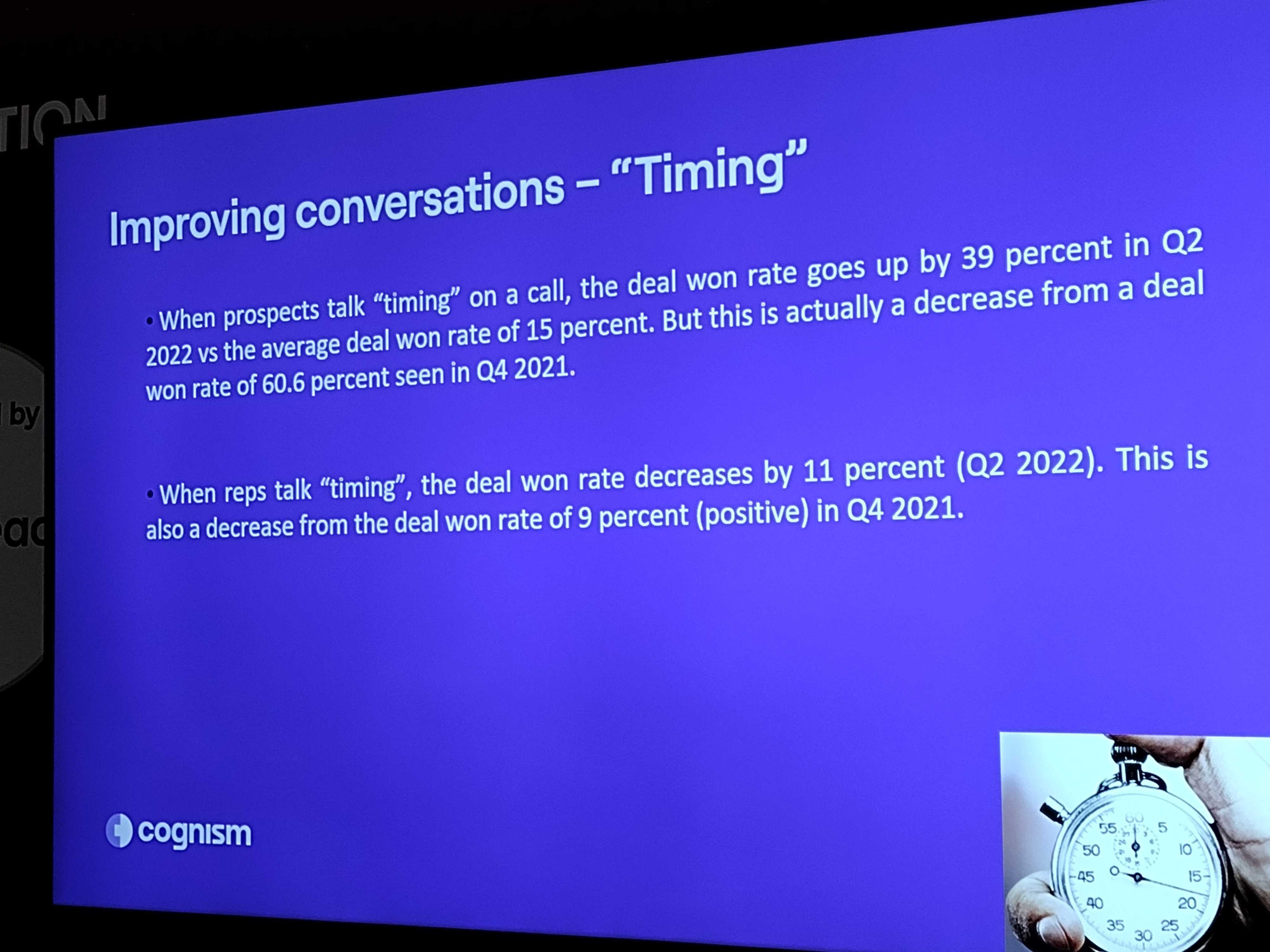 14:18
James believes that conversational is "a secret weapon" against the recession.
14:16
"The more decision makers we have in deals, the higher the win-rate"
James highlights the importance of multi-threading.
14:12
James discusses the advantages of high-quality data.
Diamond Data increases the average connect rate from 3% to 25%.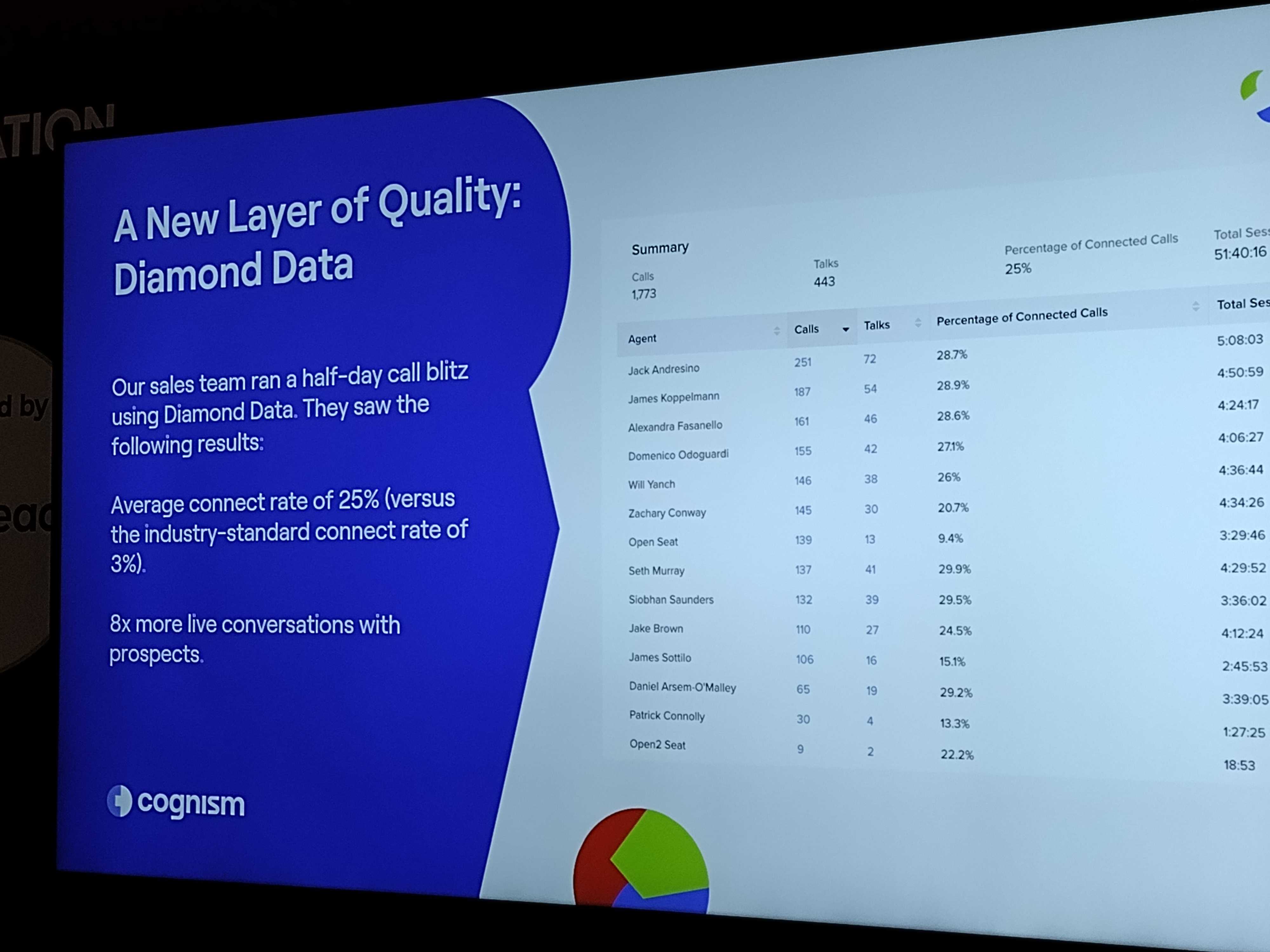 14:10
"Probably with inflation the cost of SDRs will continue to rise. We need to maximise the use of SDRs."
14:06
What is the use of Cognism?
The purpose is to make the best of SDRs time.
Dial to connect rate is boosted.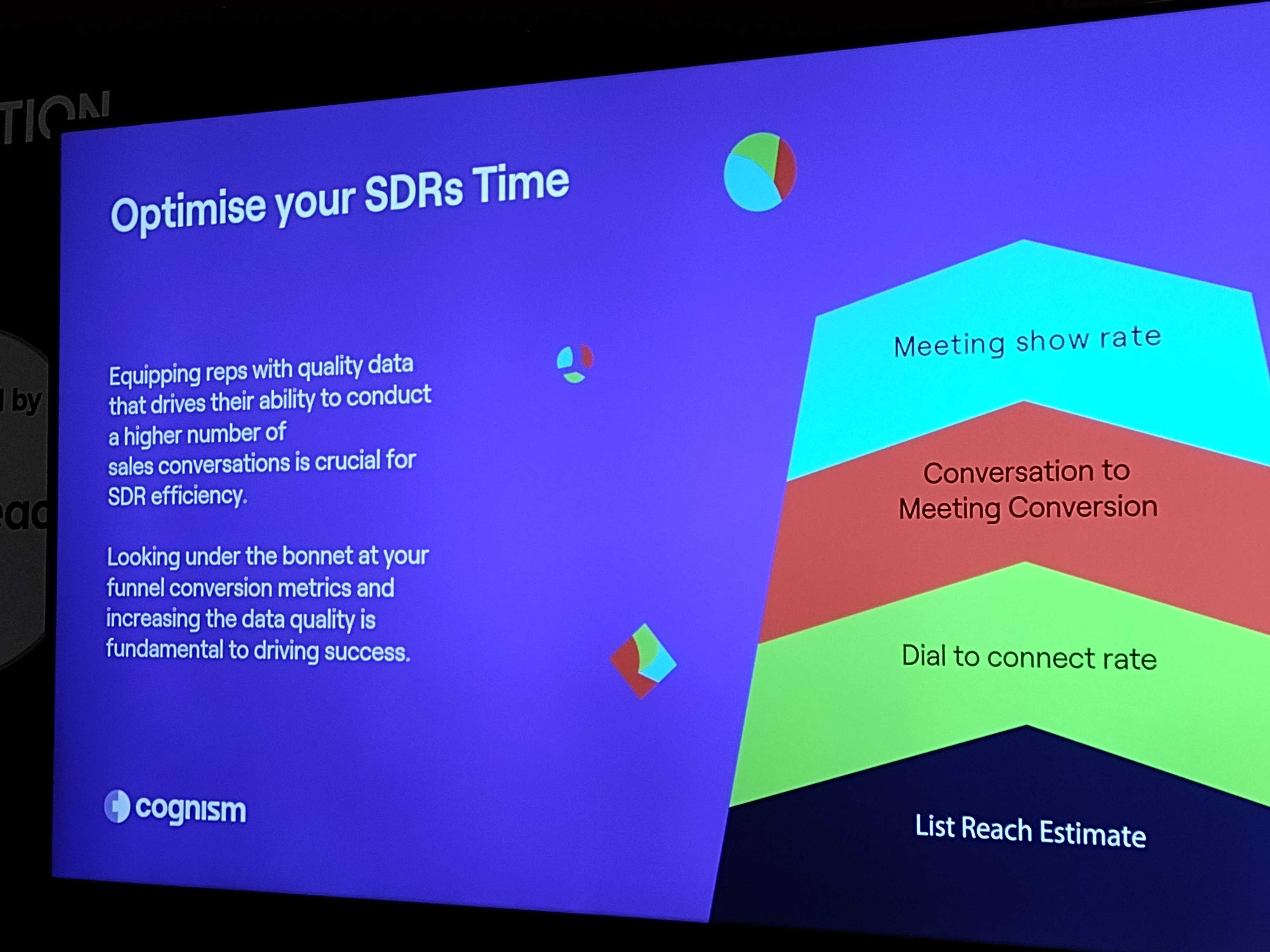 14:04
James says:
"It's harder to get deals over the line in a recession. However, it's crucial to be optimistic."
14:00
James Isilay, Cognism CEO and Founder, is here for his seminar:
"Cold Calling Utopia: How to increase your connect rate BY 7X"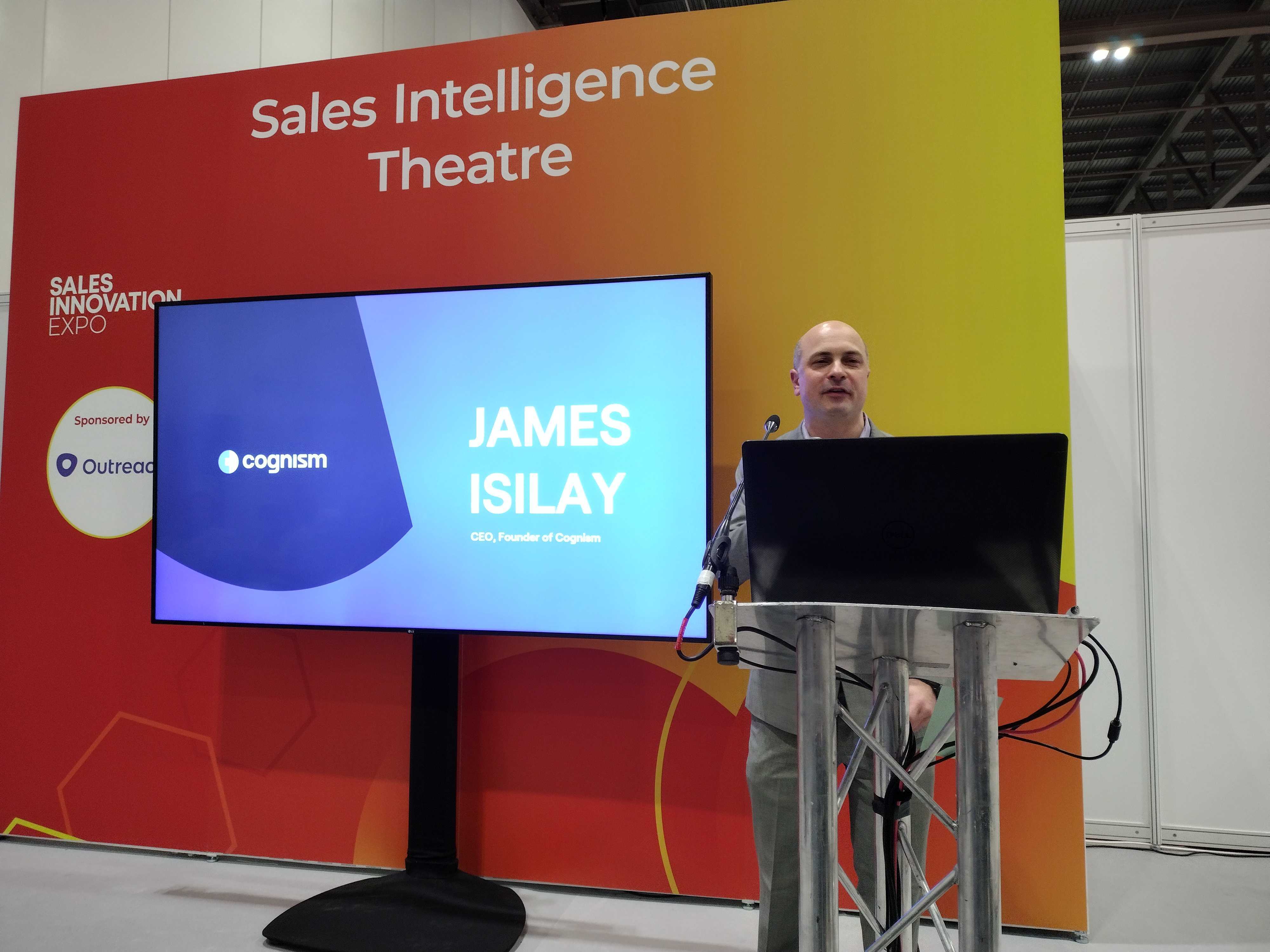 12:04
How do you make a brand stick?
Beck believes the key is to be consistent.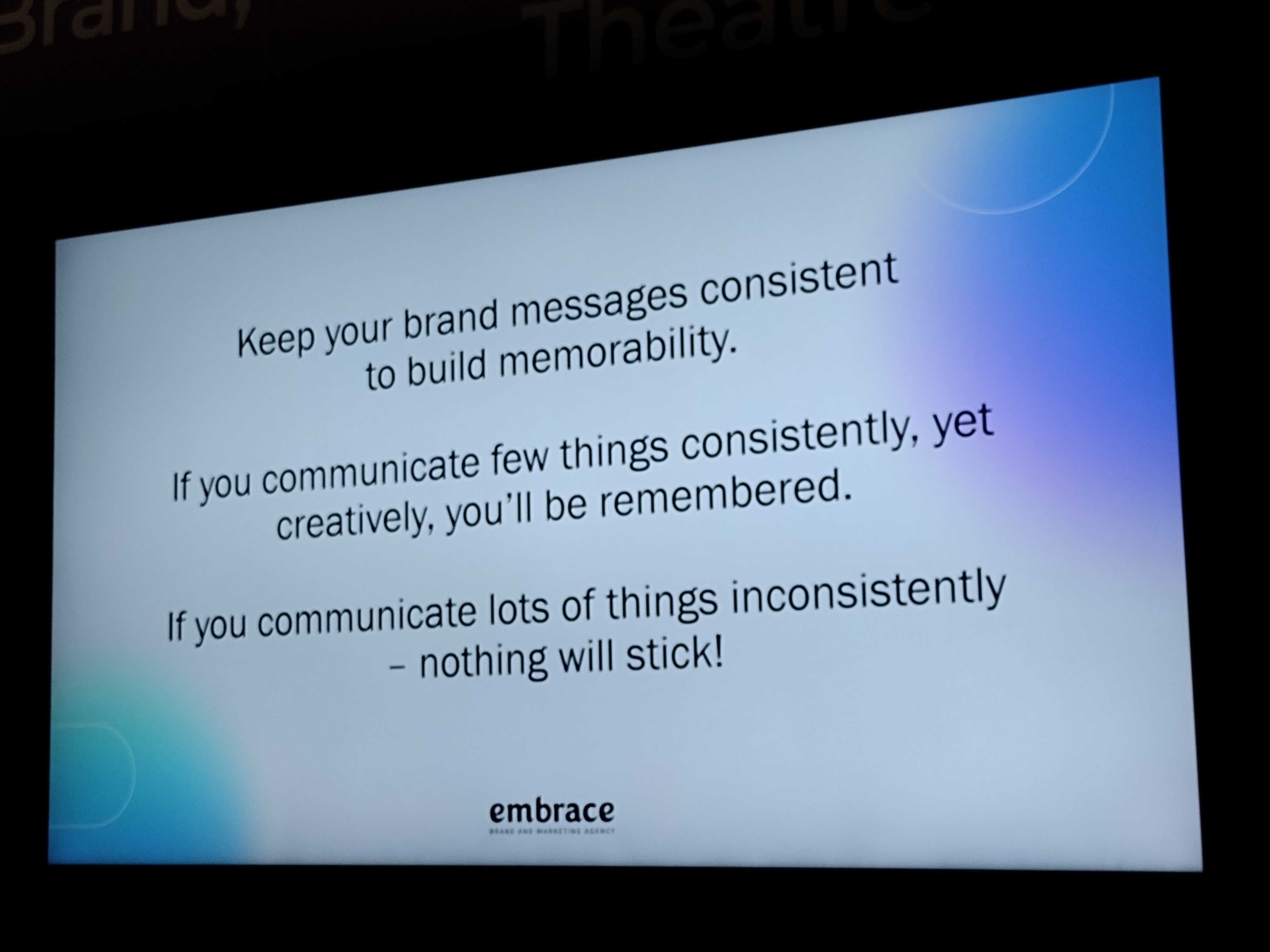 12:01
"Brand values should never be a tick box exercise. They should be punchy and meaningful. Everyone in the company should understand them."
12:00
"Some directors see it as fluffy. But branding is incredibly powerful when you get it right."
11:56
Becky describes the importance of a meaningful purpose to drive your brand.
Leading with a "why" creates emotional buy-in.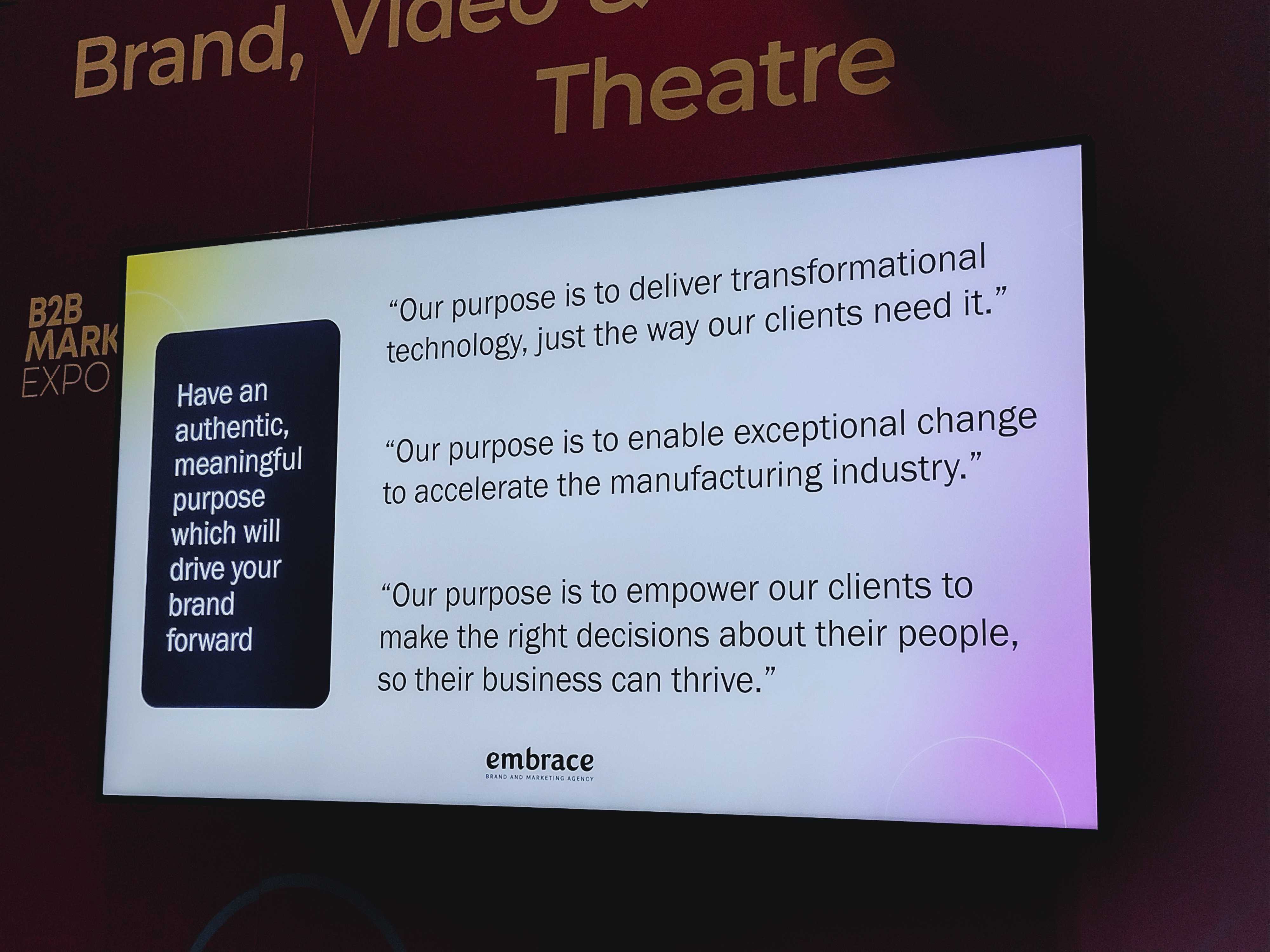 11:51
"Not considering emotion is a big mistake. B2B branding is often very rational."
"You should lead with the emotional and the hook. Then reference evidence."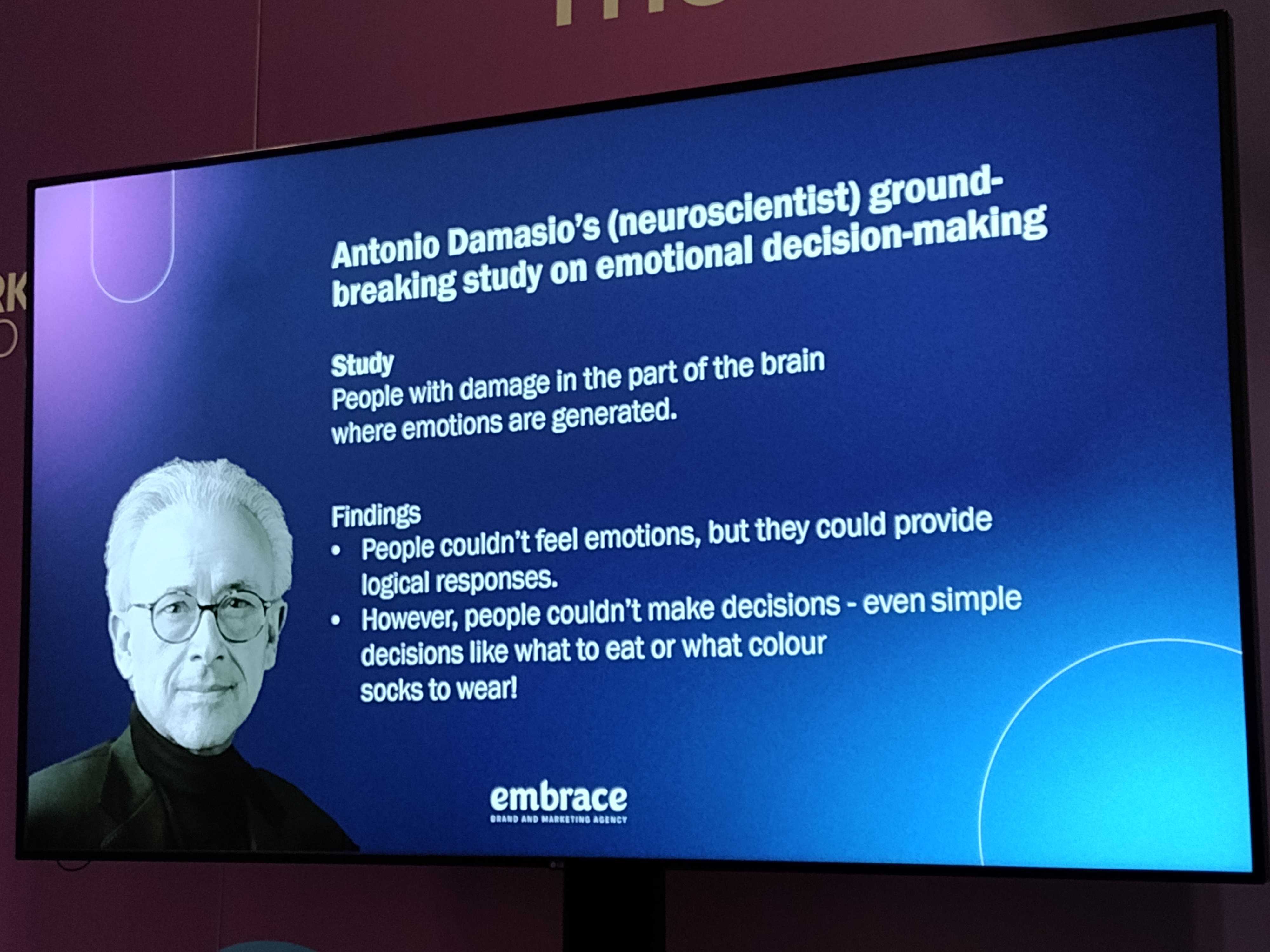 11:50
Becky says:
"The creative team should be involved in the brand strategy - everything needs to align."
11:45
Becky Reardon, Managing Director and Brand Strategy Lead at Embrace Marketing, begins her seminar.
The title is: "Transform your marketing with a powerful B2B brand".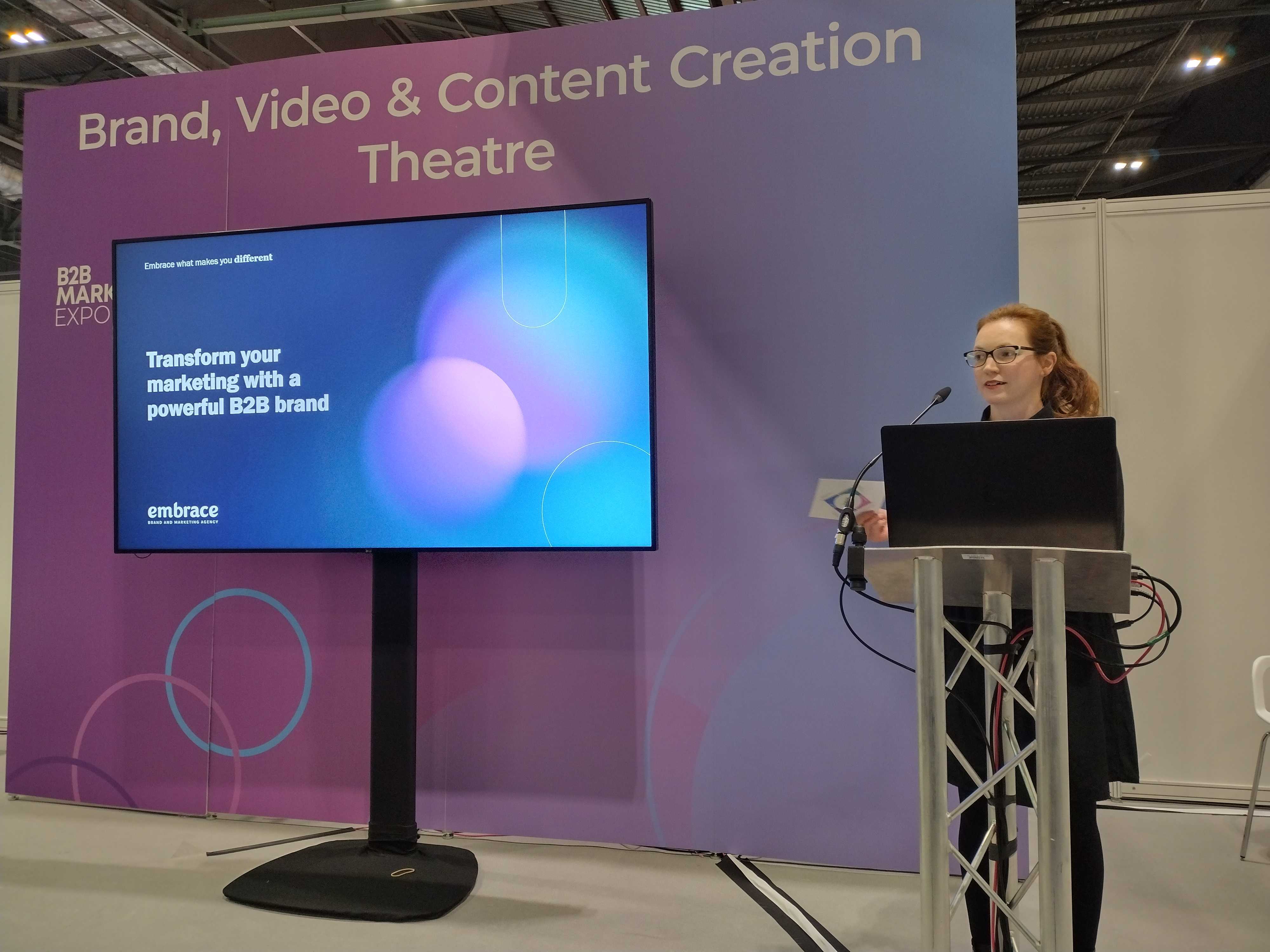 10:30
80/20 rule is discussed.
This is the idea that 80% of your content should be give, 20% should be take.
10:28
Daniel says:
"Don't overthink it and get started. You have value to give."
10:25
Holly's top tips:
- Be yourself.
- Be consistent.
- Enjoy it.
10:21
Daniel says:
"A little bit of personalisation makes a huge impact."
10:18
How do you turn a personal brand into business?
Don't try to sell immediately! It's about delivering value first.
Talk to them, get to know them and start a conversation.
10:15
Holly's tips for getting started:
-Start small
-Engage with other people's content
10:13
Holly emphasises the importance of contributing to communities. Being social on Linkedin is a part of brand building.
10:12
Ellie Twigger, Account Director at Salesloft, adds:
"Don't just use text - it allows you to stand out!"
10:09
Daniel Disney stresses:
"Let people get to know you. It's okay to take selfies."
10:05
Holly Allen, Head of Sales Development at Thrive:
"Consistency is key in building a personal brand. It's the same as going to the gym. Set a goal and think about how you will get there. It's good to think about your brand and plan when you will post."
10:04
Daniel Disney says:
"It's good to show your personality, but it's important to be credible as well. You should be providing value."
10:00
Kicking off Day Two with a panel discussion: "Building your Personal Brand and achieving success on Linkedin".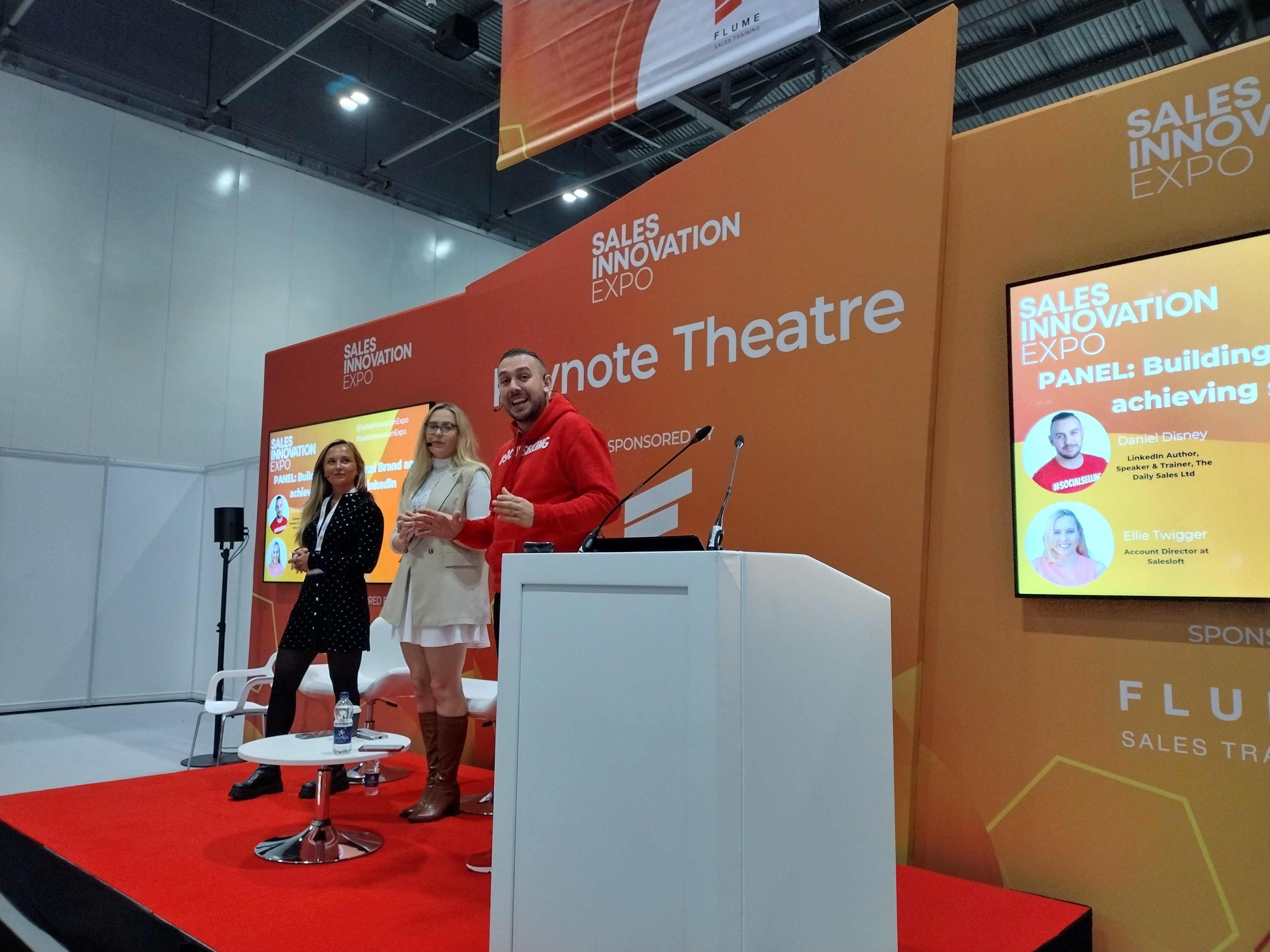 09:15
We're back for Day Two of the B2B Marketing Expo!
Cognism gives you mobile numbers and B2B emails from your target market - come and visit us at stand SIE-D85!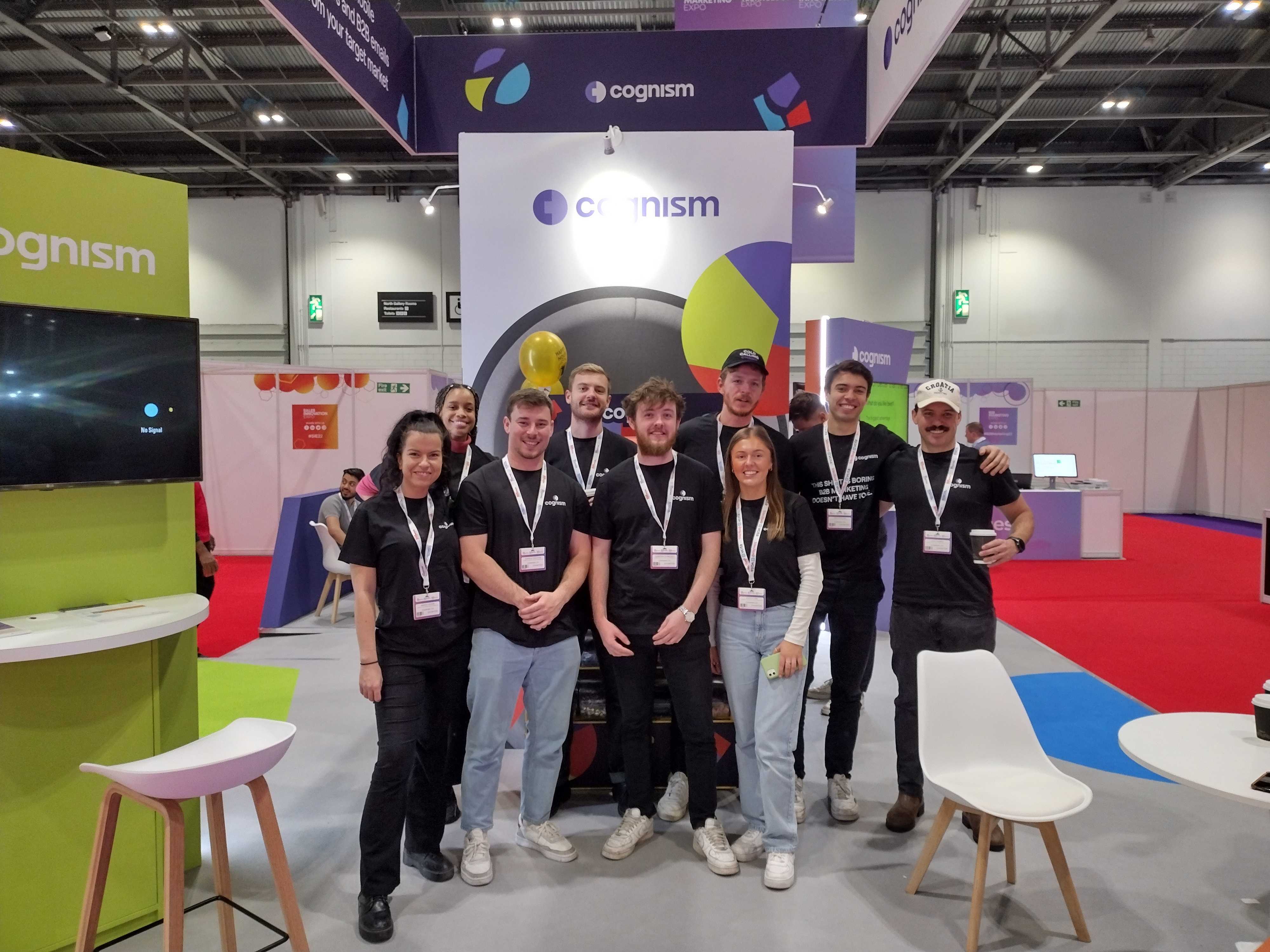 Day One
15:57
"Do innovate and don't wait for something to be perfect before launching"
15:51
Alice sped up learning by working with experts.
She brought on board Refine Labs, a demand generation marketing agency. Instead of scaling the headcount.
Their processes and systems are still in place today. Now new roles have been created at Cognism.
15:48
"As a CMO I need to wear many hats. When talking to the CFO I have to be great at financial planning. Efficiency and ROI are crucial to think about."
15:40
Don't forget your website!
"Wynter allows you send anything for review. We found out we were being too clever."
Alice simplified the website messaging and it prevented a leaky bucket!
15:38
What is a DG Content Producer?
Alice says:
"They need to be a persona expert. They need to be focussed on delivering content in all formats."
15:35
There are 3 types of content roles in a modern B2B marketing org:
- SEO
- Journalistic
- DG Content Producer
15:10
Cognism CMO, Alice De Courcy, is here for her seminar:
"Top lessons from a first-time CMO"
15:27
What metrics are important?
Measure everything! No one dashboard will work - you need multiple dashboards to tell you what's working.
It's important to ditch the conversion mindset.
What does success look like if not conversions?
- Performance over time
- Performance against benchmarks
- Performance against existing campaigns
15:25
Cognism CMO, Alice De Courcy, is here for her seminar:
"Top lessons from a first-time CMO"
14:24
What if they leave?
Liam stresses the audience is only a fraction of the benefit.
Also, don't just have one influencer!
They can also be in-house. You just need to help them build their brand.
14:21
What can you measure?
Engagement is the primary success measure.
Conversions can also be tracked.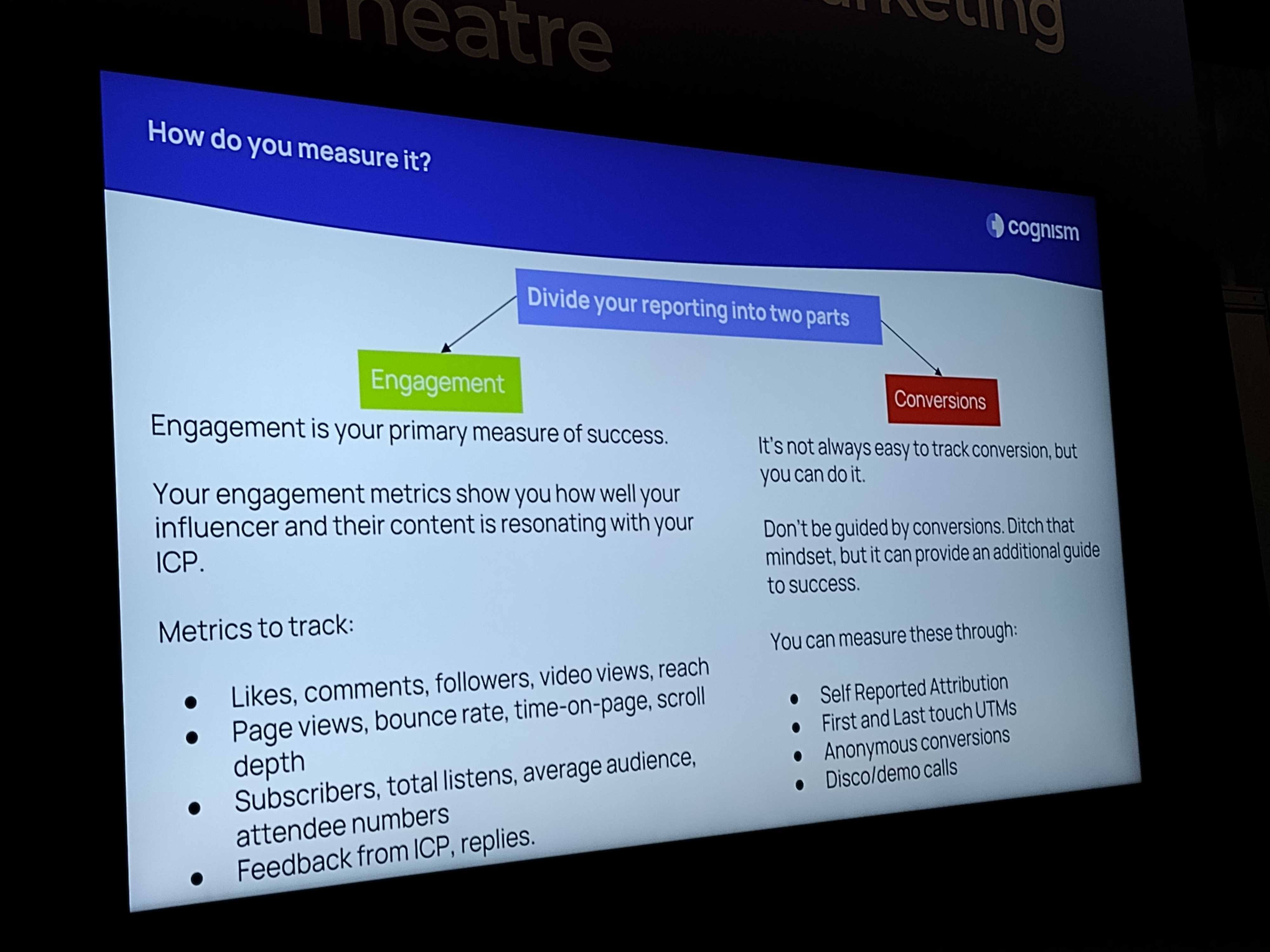 14:18
Content from influencers can be repurposed in many ways.
Liam highlights these different formats.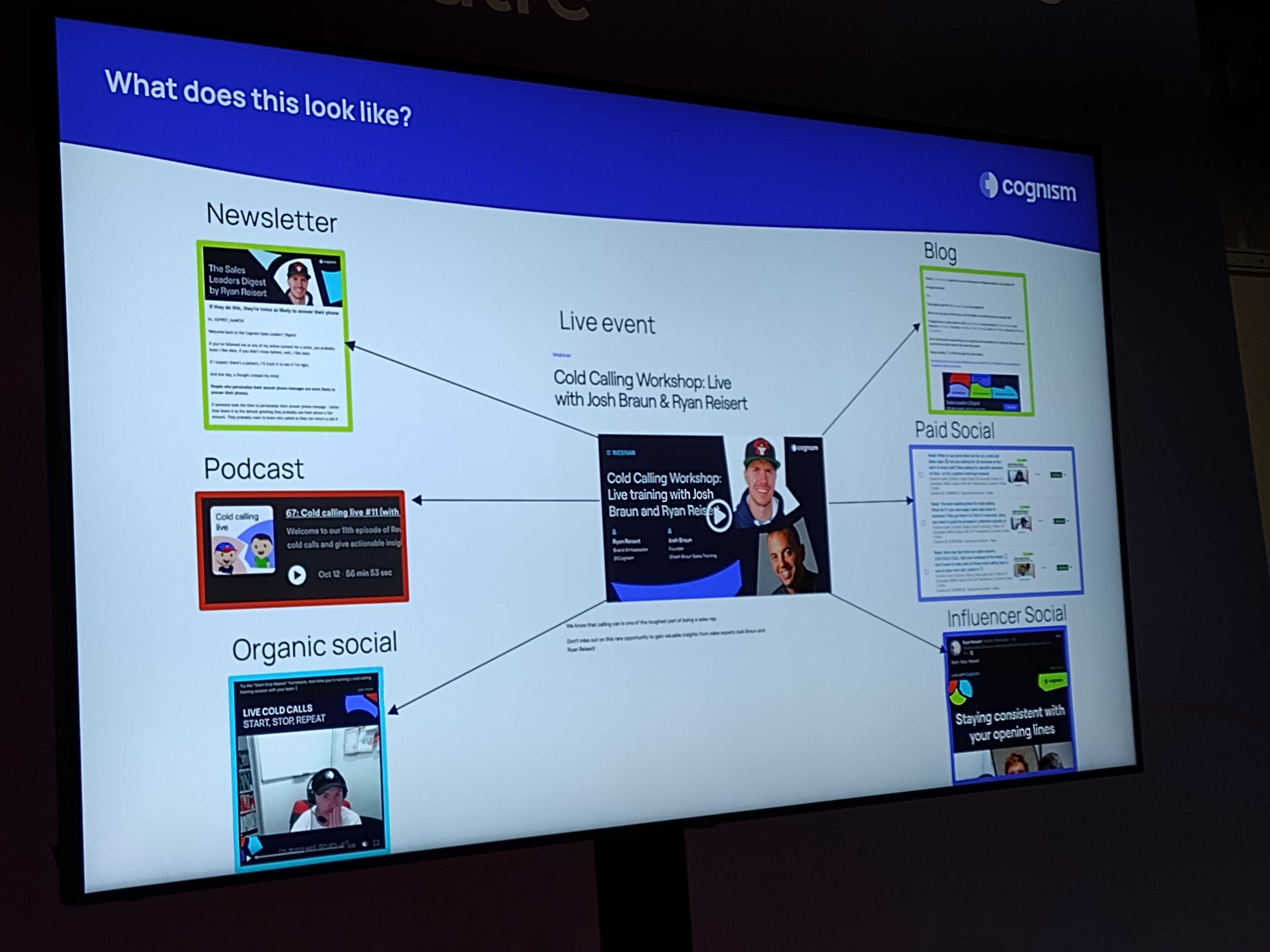 14:13
Liam pairs influencers with a demand generation manager and a content manager.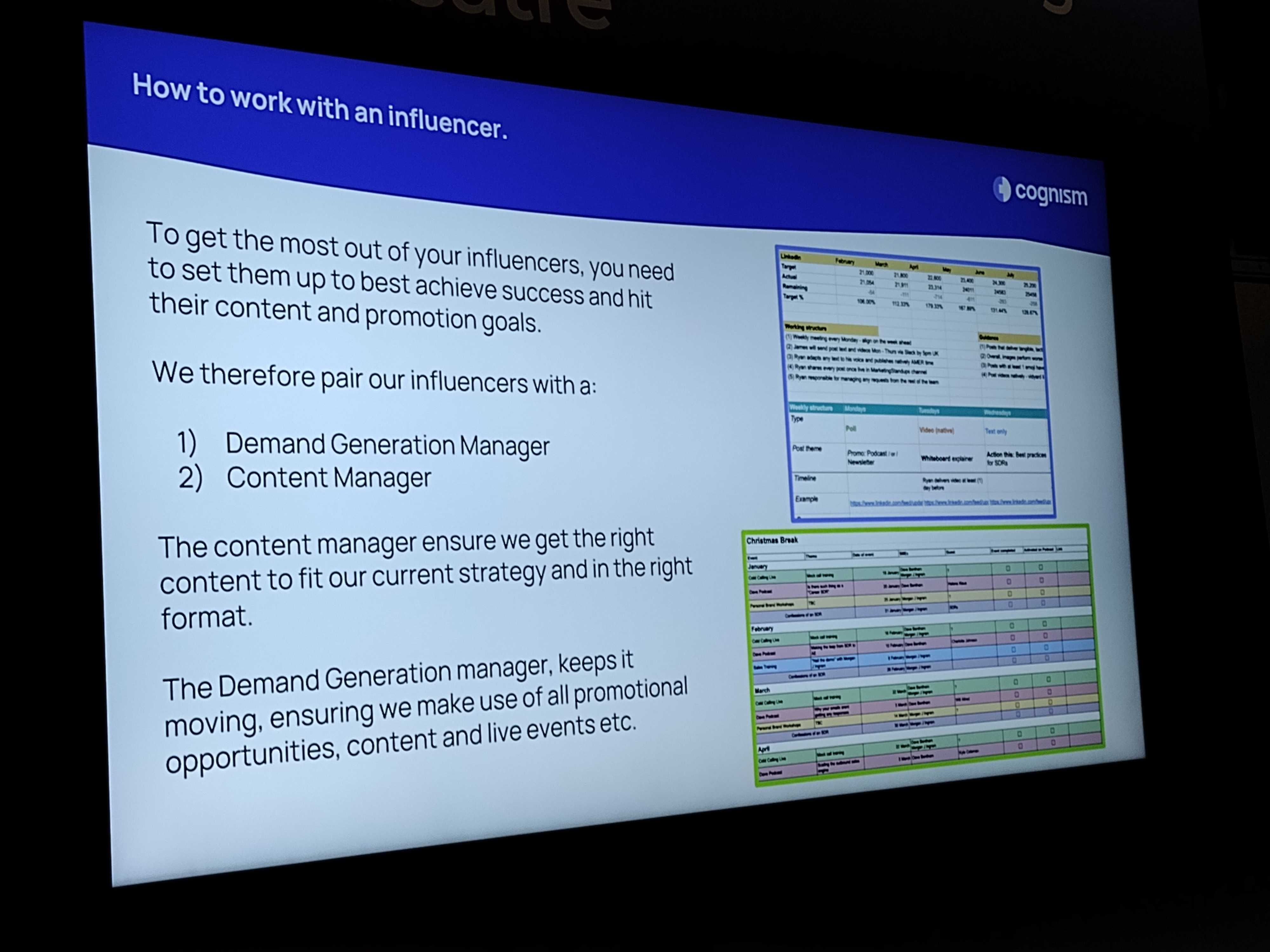 14:10
How do you choose an influencer?
Most influencers are willing to contribute to webinars and blogs for free.
This allows you to test the water.
Paying for it ensures it becomes consistent.
Liam believes there's a balance between knowledge and likeability.
14:07
Ryan Reisert is a subject matter expert for Cognism.
Importantly, he is not employed by Cognism. However he is contracted, to create content in partnership.
14:05
Liam believes an influencer needs to have an audience and authority.
Content should be delivered in easy, consumable formats to your ICP.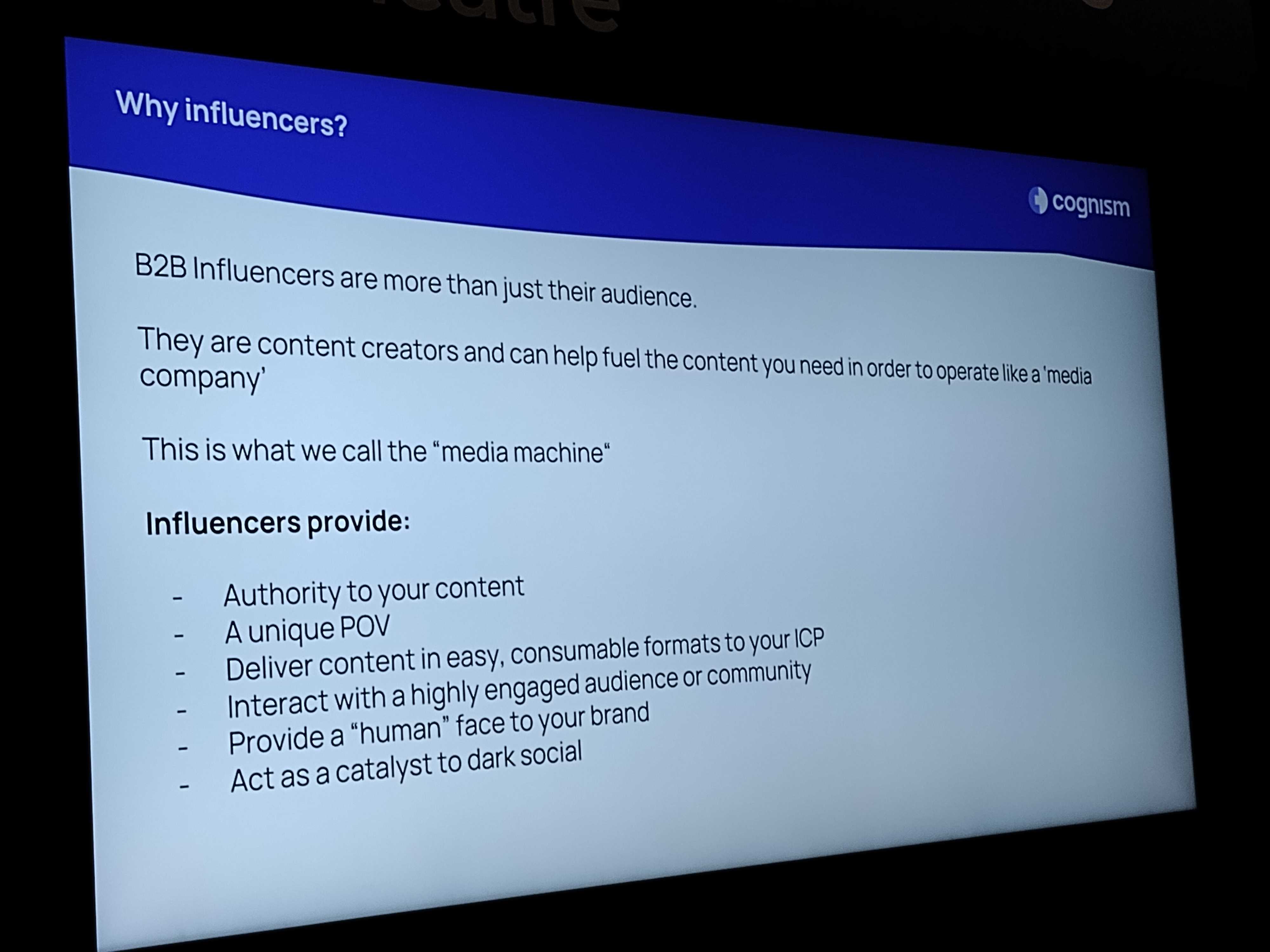 14:04
What is an influencer?
Liam defines it as:
"An influential person who has a reputation for being an expert in their field"
14:00
Cognism's very own Liam Bartholomew is up next.
The topic is "How to use influencers to create a media machine".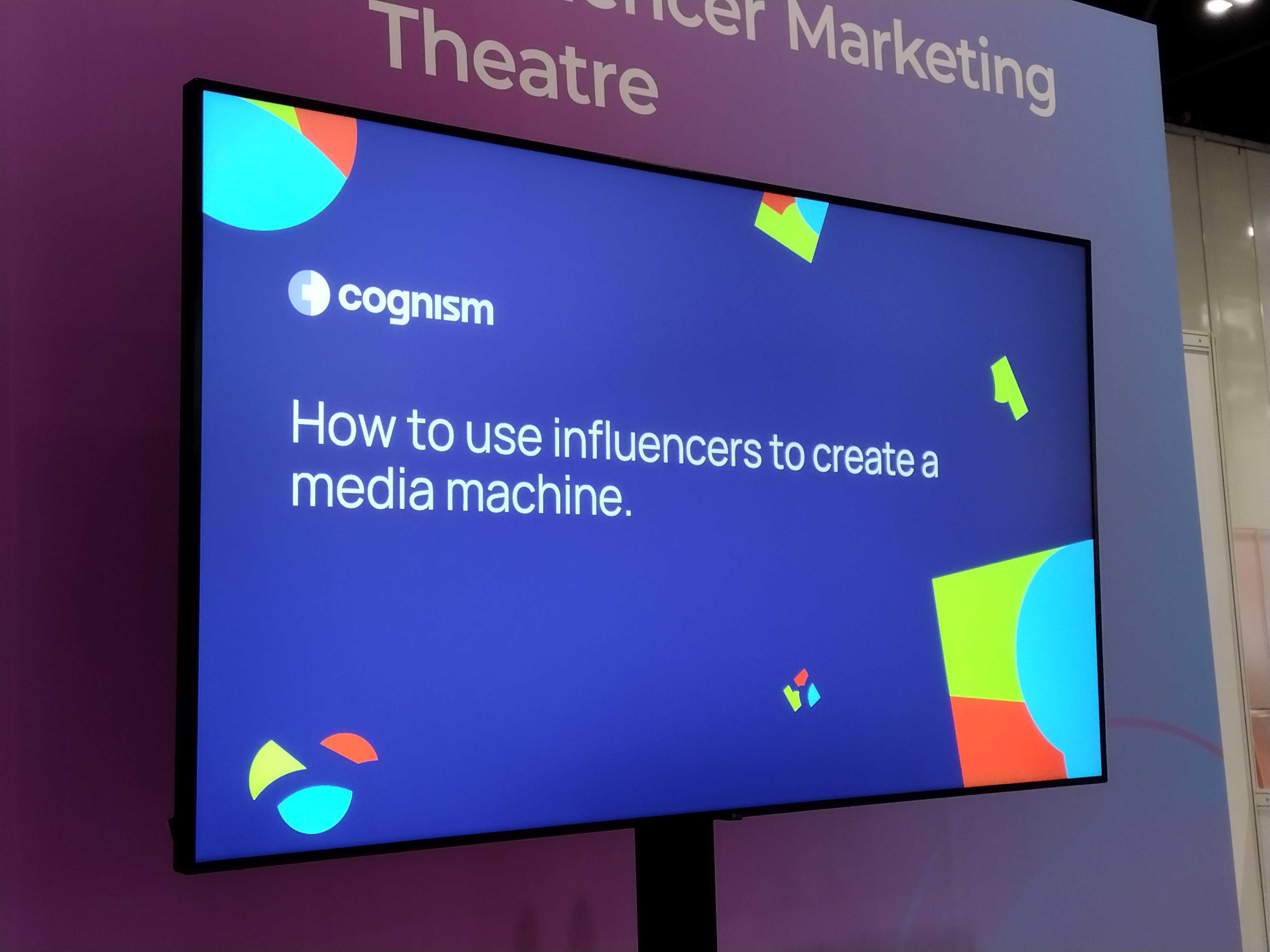 12:56
Dave is a huge advocate for SDRs. Especially in a recession!
He summarises the benefits and wraps up.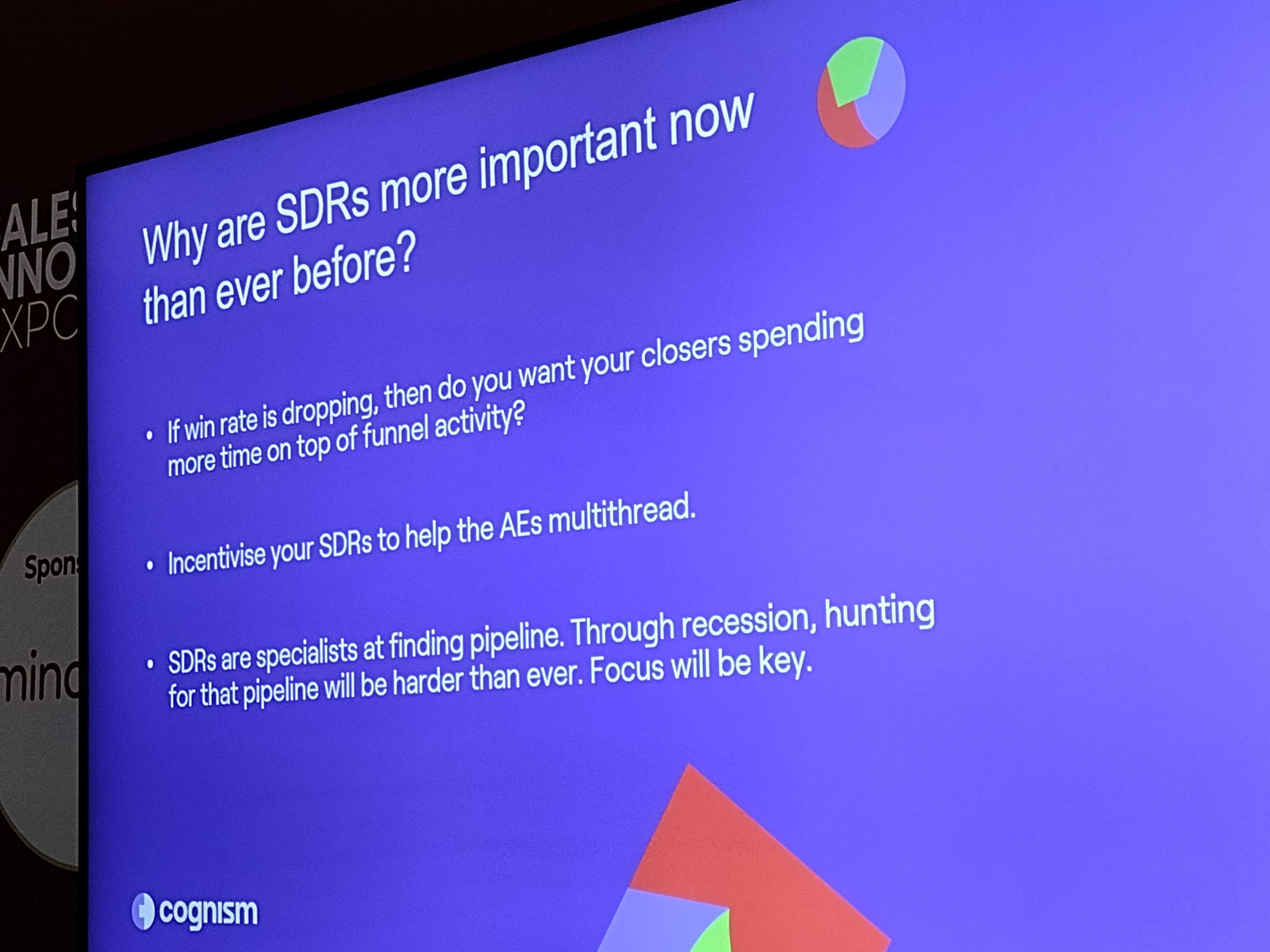 12:54
Promotions are the next topic.
He creates micro promotions, to keep reps motivated.
They're always thinking about that next step!
12:51
Dave stresses the importance of working in the office - It helps create a structure for SDRs.
12:48
"It's not all about the money. It's about the training."
Dave thinks it's too often overlooked.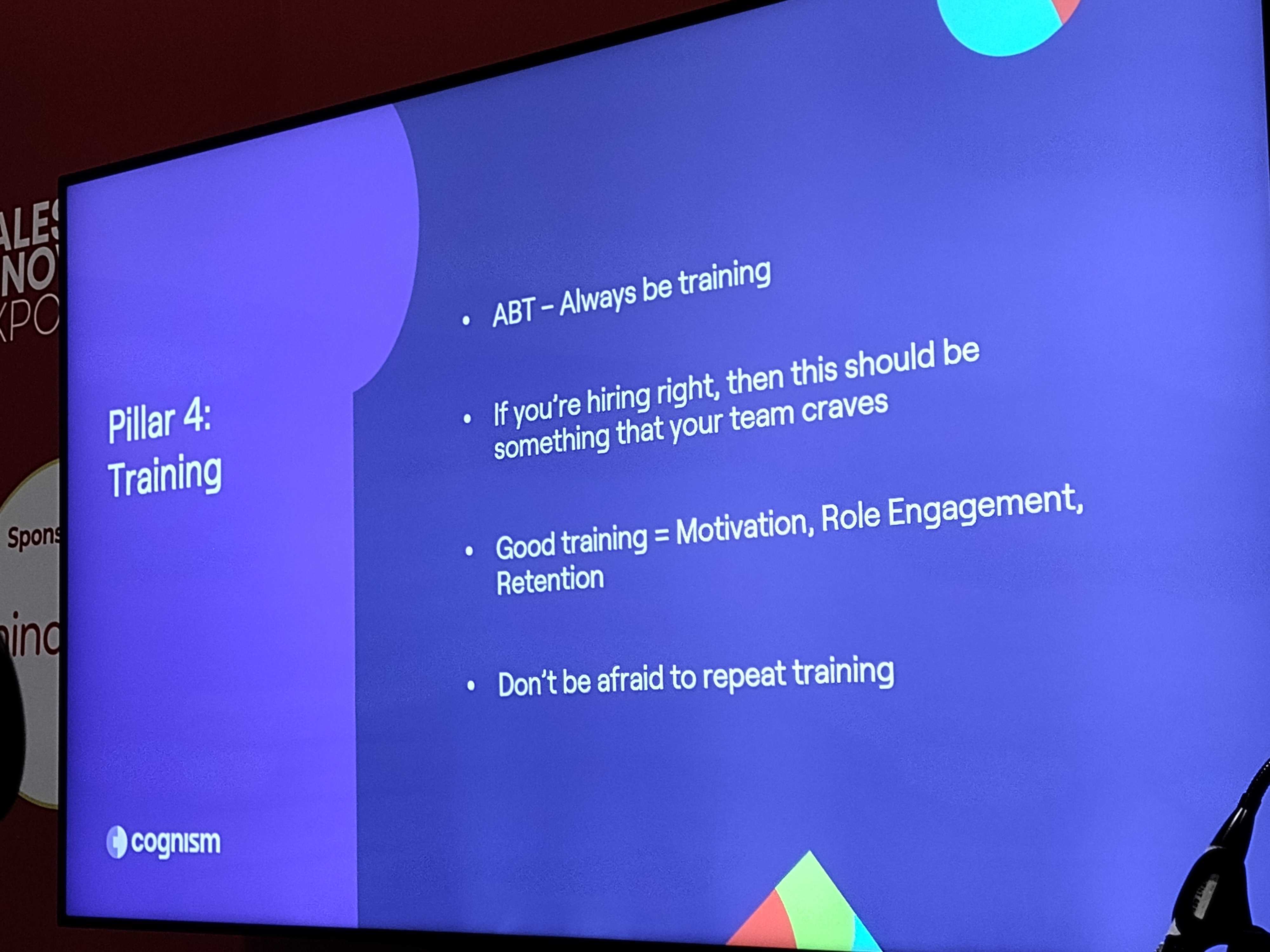 12:45
Talk tracks - he believes the key is keeping it simple! You should think clearly about what value you add.
12:41
Dave discusses comp plans.
SQLs/SQOs/SALs - can be subjective.
Revenue sourced - perfect alignment with company objectives. However, SDRs don't feel attached to the outcome.
Now Cognism use meetings held and 20% revenue sourced.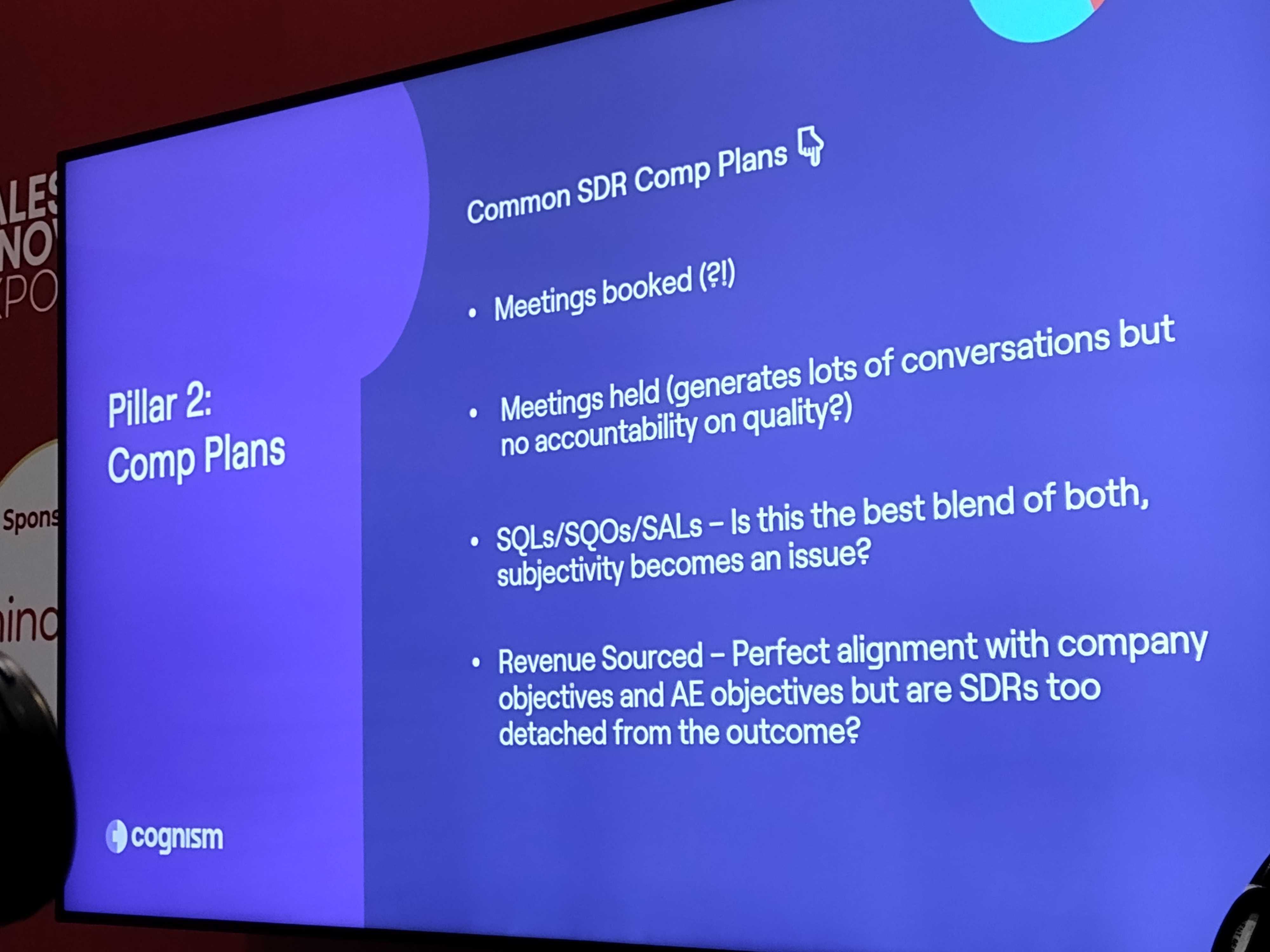 12:39
When hiring, he looks for people who want to commit to working in sales.
Hiring in twos helps with competitive drive.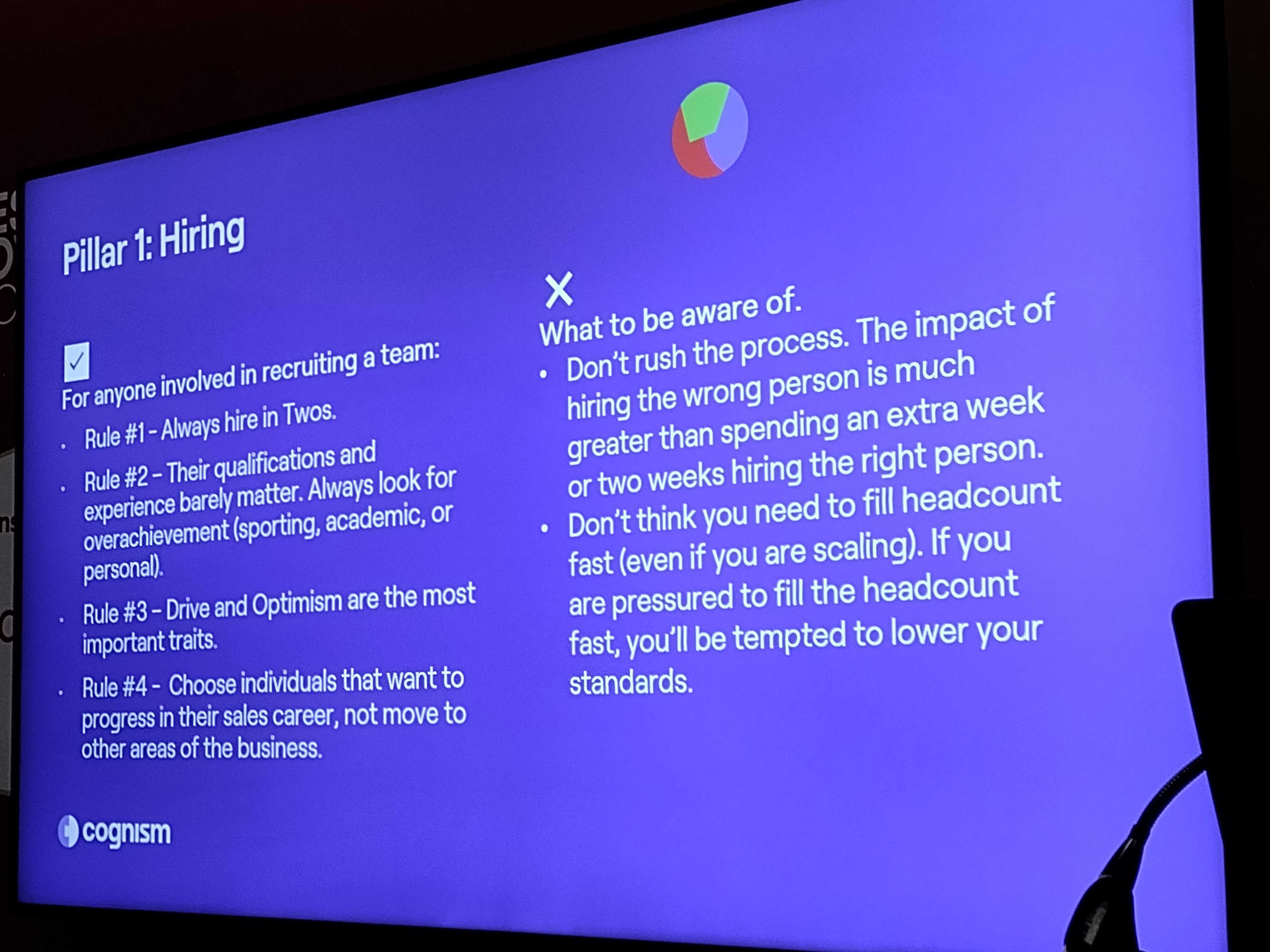 12:37
Dave stresses that experience doesn't matter!
Instead, he looks for drive and overachievement.
You need unrivalled optimism.
12:32
Dave breaks down why SDRs are so effective.
Often salespeople don't want to do top-of-funnel work.
It becomes a training ground for the rest of the business.
He believes being hungry trumps skill.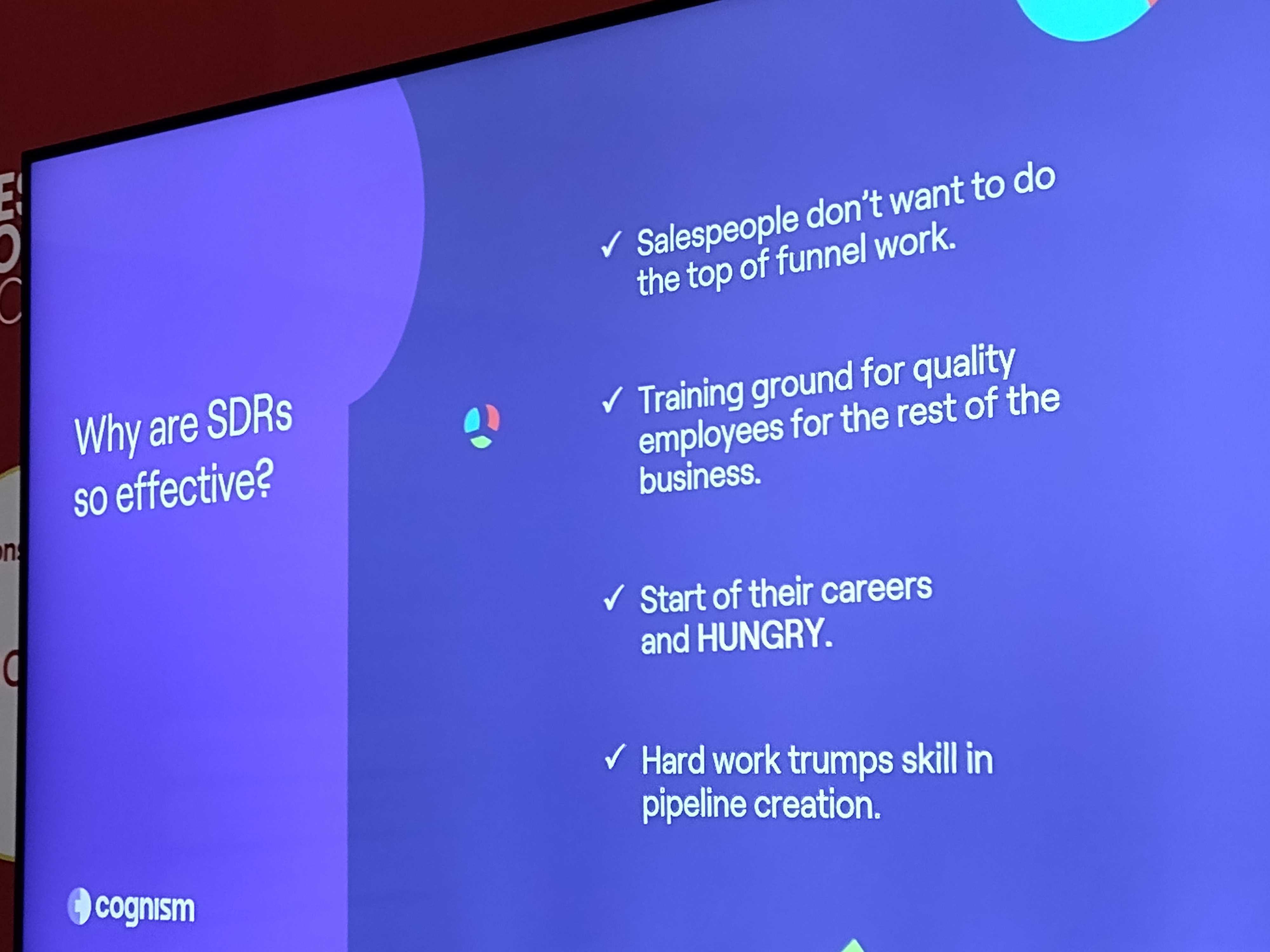 12:32
David Bentham, Director of Sales Development at Cognism, kicks off his speech on "Scaling up an outbound sales team from $1 million to $35 million ARR"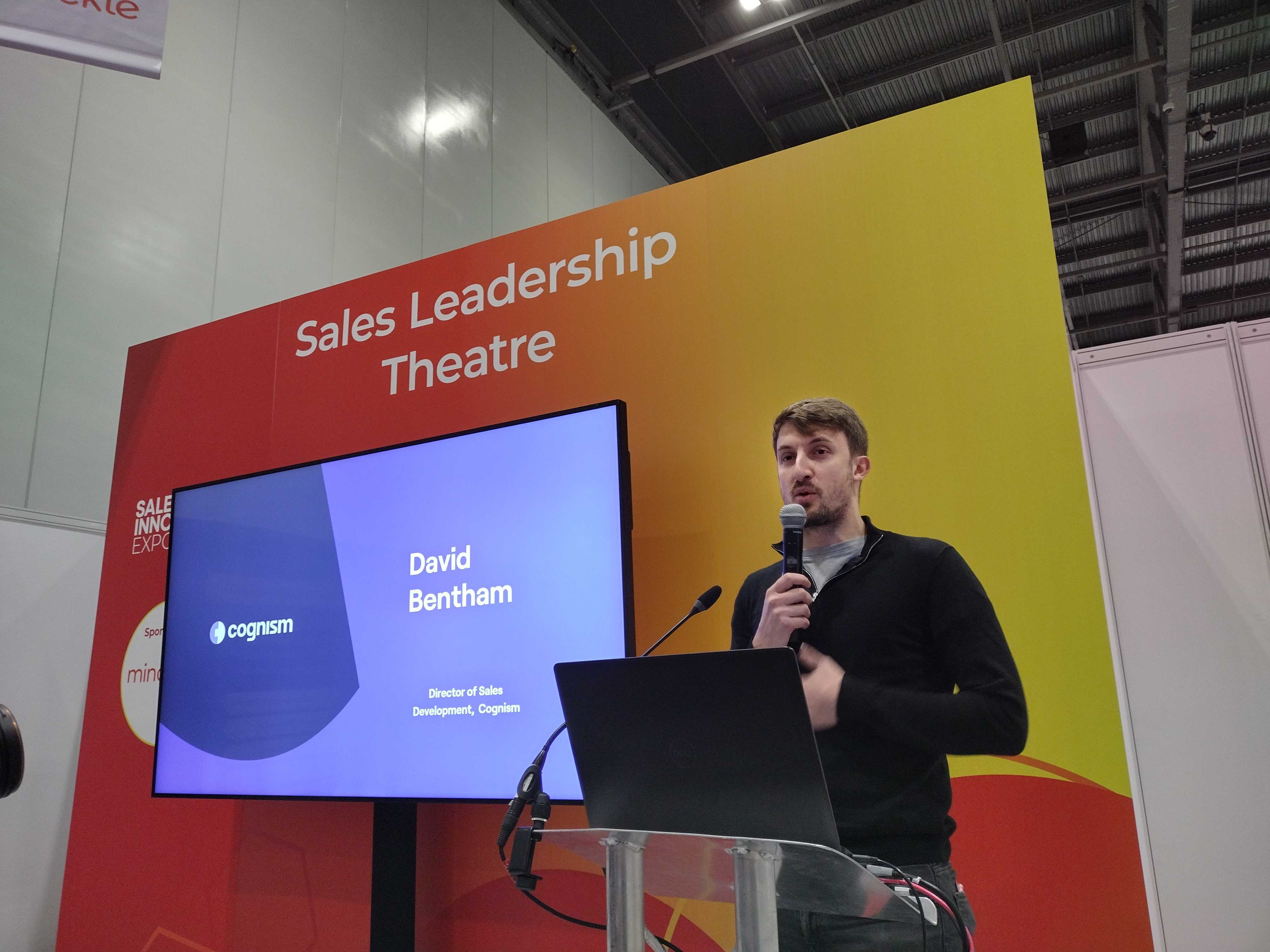 11:40
The Cognism sweet stand is in full operation 🍬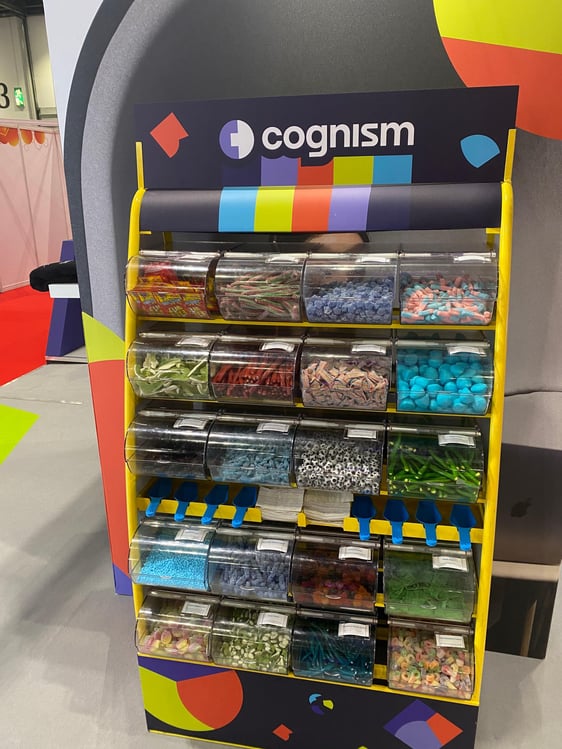 10:43
Questions are opened up to the audience:
How can sales be professionalised?
The panel believes it should be part of the curriculum. It's driven by negative perception.
10:37
The question is posed…

How do we make sales more accessible?

The panel concluded:

It's far easier to hire someone in your mould. Diversity must be a deliberate decision. People that work in different ways are valuable!
10:30
Technology and adoption are the focus of discussion.

Stuart Templeton, Chief Sales Officer and Co-Founder, SalesDRIVIN says"

"Every technology does a great job at something. My one concern is whether we are at the point where we're reaching a productivity drain because of the number of tools we have. What's important is prioritisation."
10:23
Aaron Evans, Co-Founder - Flow State, says:
"Managers should be spending 80% of their time coaching."
10:21
The conversation moves on to effective sales leadership.

Managers are spinning so many plates it's hard for them to focus on the most important thing. Training their reps!

Delegation and time management are essential.
10:18
The panel discusses creating routes to promotion.
Not everyone wants to be a manager, some want to focus on selling.
10:14
Natalie Quinn, Global Sales Lead - KPMG, discusses the private equity model.

There's pressure to grow at all costs, affecting how sellers go to market.

We have access to all the data in the world - it's about using it effectively!
10:10
Galem Girmay, Revenue Enablement Manager, EMEA - User Testing, weighs in.

She says, "it's easy to automate emails, which leads to lower reply rates. We need to personalise outreach and use different strategies to reach prospects. It's about taking a step back to focus on behaviours."
10:00
Here at the Keynote theatre for a panel discussion on "The Future of Sales".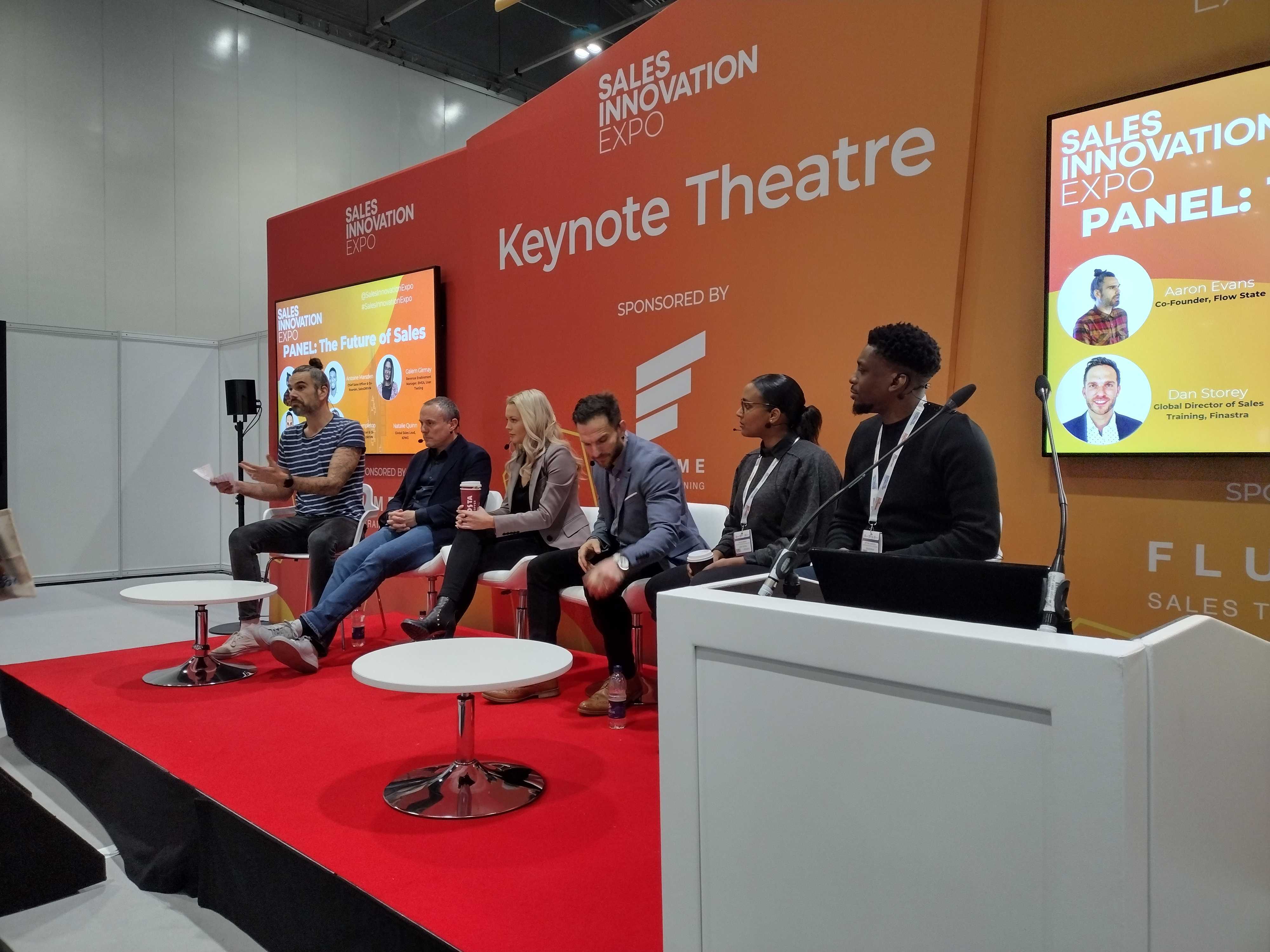 09:30
Kicking off B2B Marketing Expo 2022. Come and say hello to team Cognism at stand SIE-D85!