B2B marketing: 5 sharp tips for more effective targeting
Pushing your SaaS product or service to the wrong people will not only cost you money, but it will waste valuable time and resources. The end result? A rather terrible headache for you and your team! 🤒
But how do you make your targeting more effective? 🤔
Has B2B marketing progressed past Kotler and Ogilvy? Have you adapted to tech advancements and how customers receive your messages? And what even is a total addressable market? 😱
In this article, you'll learn all about how to attract your ideal customer, and ensure you're getting the max ROI on your B2B marketing.
Scroll down for some top insights from Cognism, the data driven marketing experts! 👇
1 - Define your target audience 🤷‍♀️
Here's a question about your ideal customer: do you know who they are? Knowing your customer is a vital first step for any B2B marketer; without that knowledge, it becomes almost impossible to create content and devise campaigns.
To begin with, you must build your ideal customer profile (ICP) and understand who your customer is.
Consider their demographic and firmographic attributes.
Where do they work?
What industry are they in?
What technology do they use day-to-day?
What is your customer like as a person and what patterns do you recognise in their buying behaviour?
Once you've determined all of this, using online tools or your own research, you must focus on marketing your product or service by only targeting leads who match that profile.
This will help you increase revenue by investing less and increasing your chances of getting leads and conversions.
You've got your ICP, now what? Well, you've got to discover your total addressable market (TAM). TAM is a calculated version of market research, and essentially, is the complete amount of prospects available in your target market.
It's normally measured in terms of revenue, but can also be expressed as the number of companies that could become customers. Not knowing your TAM means you won't know how many potential customers you actually have, hindering your ability to scale.
However, knowing your TAM allows for a thorough investigation and a clear definition of your buying audience.
A well-defined TAM is the starting point for a great many go-to-market strategies, including your product development, sales strategy and marketing plan.
Calculate your own TAM the Cognism way - try our free TAM calculator! Click 👇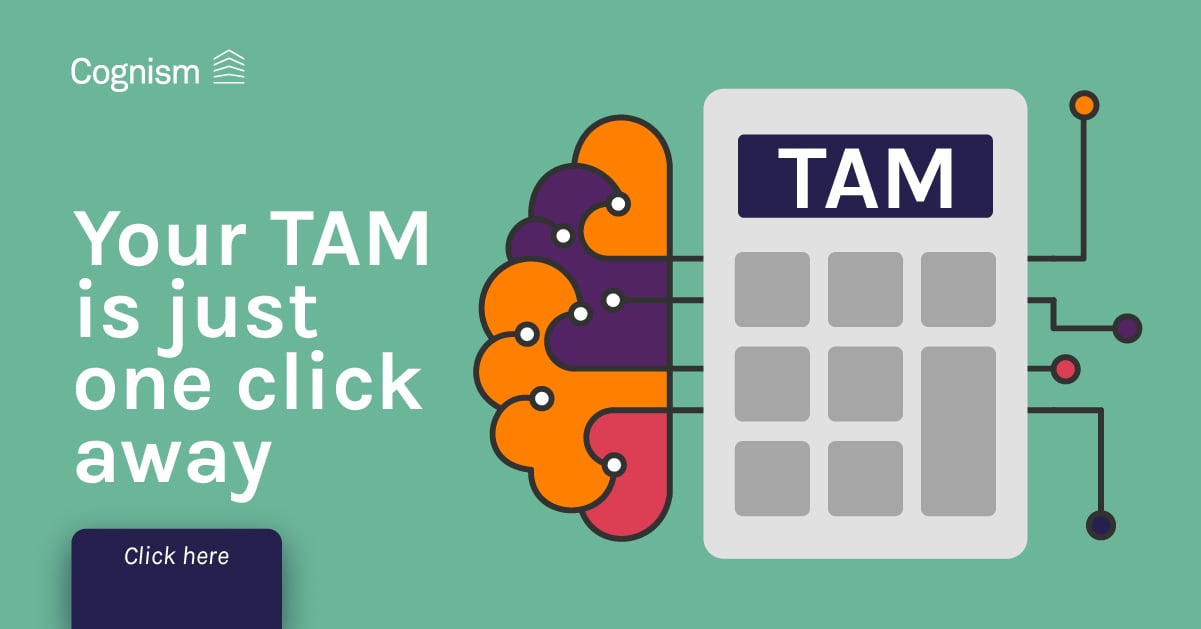 2 - Serve useful and relevant content 👩‍🍳
A sure way to grab your intended audience's attention and to engage them is to share content that is of interest and useful to them.
Sharing the right content plays a major role in helping to generate leads and conversions, and is an incredibly cost-effective way to reach your prospects.
Your content marketing doesn't have to explicitly promote your brand - in fact, it's often better not to! However, its intention should always be to stimulate interest in your products or services, by sharing information and knowledge related to your industry.
We can hear your next question! "Cognism, what should I share?" 🤔
Well, it's essential to adapt your marketing to the latest tech and popular platforms. Sharing videos, blog posts, email, and posts on social media are great ways to peak interest in your product or service.
Add these channels to your marketing mix:
Video 📼
Videos are naturally engaging and interactive, and a high-quality topical video easily attracts the attention of your target audience.
Blogs 📓
In B2B marketing, knowledge-sharing is the name of the game! Blog posts and sharing other articles are great ways to do this...
For best results, match your blog topics to the questions that your target audience is asking. Answer their questions through your blog. Make sure your blogs are as informative and actionable as possible - FAQs and how-to guides are good formats to follow.
A good place to start with finding the questions that matter to your audience is AnswerThePublic.
Social media 📱
Through posting videos, images, and text on social media, you can talk to your target audience in a more 'casual' way and reach more people.
Use industry-specific hashtags to help broaden the reach of your posts - both to your intended targets, and to reach prospects that are not yet on your radar.
When it comes to B2B social media marketing, LinkedIn is the best channel to leverage.
Email ✉️
Email is another great way to share content, especially for SaaS brands. Top formats include product newsletters, sharing whitepapers or case studies, and personalised emails speaking directly to your prospects.
Email marketing is hugely cost-effective and allows you to engage with prospects without the pressure of a cold call. You can also use emails to build out whole campaigns, designed to nurture and develop relationships with your audience.
3 - Partner with influencers for clout 🥊
You might think influencer marketing is for B2C brands on Instagram looking to reach impressionable teens, but it's actually great for B2B SaaS brands too!
With 600 million members and 300 million active users, LinkedIn is the largest professional network across the globe.
Partnering with LinkedIn influencers from your niche is a fantastic way to speak to your audience and reach new prospects. For B2B SaaS companies, LinkedIn is a phenomenal platform to find thought leaders and influential individuals in your industry.
While it may seem tricky to measure the ROI of influencer marketing, it's far from impossible.
Start by measuring engagement on your posts, such as likes, comments, clicks and shares. Keeping your eyes on these metrics are an easy way to determine whether influencer marketing will pay off for your business.
4 - Custom(er)ise your ads 🎯
Search engine ads, ads on social media, and other paid platforms, all have advanced targeting and retargeting options, not to mention powerful analytics. Leverage all of these if you want to see a decent return on your ad spend.
Targeted paid ads should focus on the specific traits, interests, and preferences of a consumer, allowing you to narrow down who you're talking to vs who you want to talk to. Although this form of advertising has become trickier with data protection acts, as long as you remain transparent and create trust with your customers, the ads you serve should yield results.
5 - Use a referral system 🤝
Referral systems allow you to harness the power of your own customer base to expand your reach. It's a great way to bring in prospects who are genuinely interested in your product or service.
Play around with incentives to see what works for your customers, and what draws people in. Even if your referral system doesn't bring in direct conversions, it's a great way to expand your network and brand awareness on a larger scale.
Check out Cognism's B2B marketing guide! 🚀
If you're looking for even more great tips to improve your inbound marketing, then worry not - you've found them!
Our No Fluff Guide to Inbound Marketing is a complete handbook for B2B marketing success, including content marketing tips, paid ads advice and campaign marketing hacks! Uncover the processes and tactics that helped Cognism to grow revenue from $2.5M to $7M ARR in a single year.
Click 👇 to get your copy!