8 skills that make a successful sales rep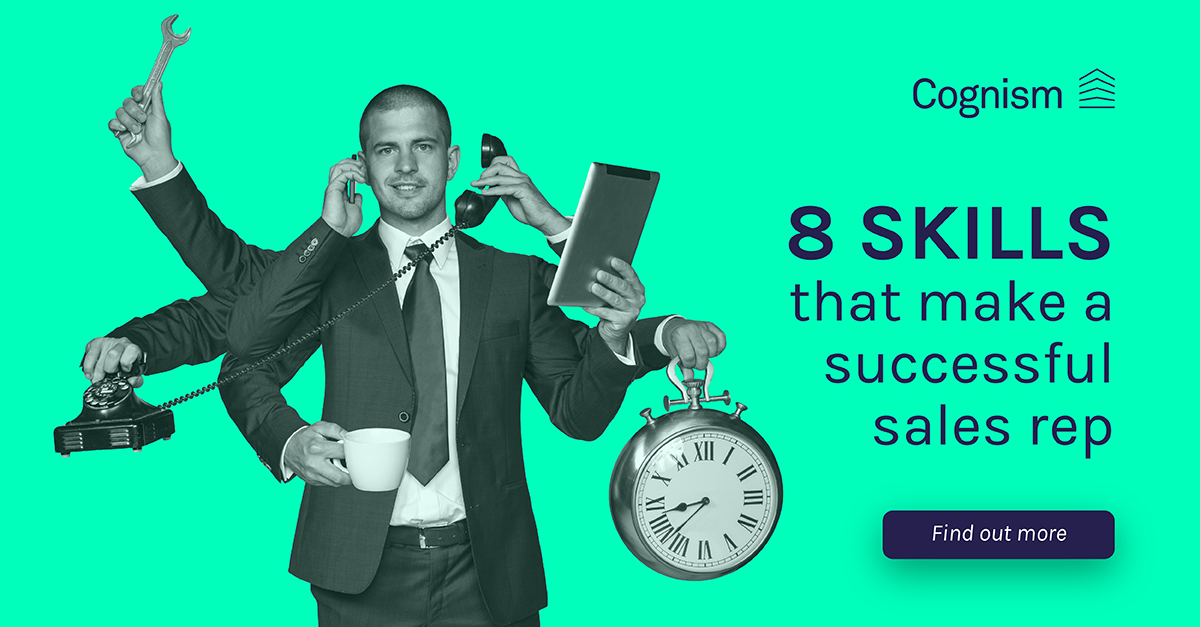 Sales development representative (SDR) - an exciting and challenging role that can generate feelings of satisfaction and accomplishment, when done right.
Maybe you've made the decision to venture into B2B sales. Or perhaps, you're an entrepreneur who's just started building your first sales team.
No matter the reasoning, you've come to the right place.
In this article, we sat down with three of our very own sales representatives. We discussed the top skills needed to not only make your job easier but more successful too.
Scroll 👇 to see what tips Sam Gibbons, Jennifer Gray and Evangeline Crossland have to share.
1 - Taking the initiative to research and learn 📖
Do you know what impresses people?
Research.
When you're speaking to a prospect for the first time and you mention something that shows you've done your homework, they'll be more than impressed, they'll be sold!
Jennifer Gray finds that if she conducts her own research on a prospect, she can pair those insights with the B2B data she has on hand to cold call successfully:
"Do a bit of research in advance to connect with the person on the phone. They'll be happier to talk to you if you come across as knowledgeable and friendly so find out as much as you can before you cold call."
She recommends being aware of your prospect's job title, industry and location to start. Plus, knowing when the best time to call is a bonus because there are certain times of the day when people are happier to accept cold calls, and times when it's just not convenient!
What happens if you don't do your research?
Your lack of knowledge might just trip you up and lose you the sale. Research helps you build a relationship with your customer; if you call them by the wrong name or don't know their current job title, you come across as being sloppy, and no one wants to work with a sloppy sales rep! They want to work with an expert who can help them.
Which brings us to our next point:
It's not only about researching your prospect, but knowing your own product better than anyone else. You don't want to be overzealous when it comes to selling it, but when you know what you bring to the table, you'll be able to offer your prospect a solution to their problems and add value to their business.
That's all anyone really wants in the end - an easy solution to a time-consuming and possibly expensive problem.
2 - Actively listening when cold calling 📞
If a prospect is met with a cold call that immediately comes across as scripted, they'll probably hang up on you.
To be a successful B2B sales rep you need to master the art of actively listening to your prospect and having a human conversation with them.
Jennifer enjoys being able to finally put a voice to the data profile she's been researching. The trick is to keep her prospect engaged and interested in the conversation without sticking to an outbound calling script and coming across unempathetic or robotic.
To prevent this, she chooses to actively listen:
"Listen to the prospect and what they have to say. It helps you build rapport on a cold call. Take note of the prospect's pain points & use them to open up conversations to help them."
What's more, by actively listening you can judge whether your prospect is right for you or not. This will save you time in the long run. You won't reach the end of the funnel and only then realise your prospect was the wrong target for your product.
3 - Getting straight to the point 📌
When Sam Gibbons started at Cognism, he wanted to be every prospect's best friend:
"I'd always ask, "how are you?" and take far too long getting to the point! As an SDR, you need to remember you're interrupting somebody's day. You'll come across as more assertive and your clients will appreciate it if you get straight to the point."
According to Time, a 2016 study by Microsoft states that the average person now has an attention span that's a second less than a goldfish:
8 seconds.
That means you have 8 seconds to engage with your prospect and explain why you're calling.
Sam feels you need to be direct. Over time you can build a rapport with your client, but for that initial call, time is of the essence. He recommends:
"Lead with something like: "NAME, this is Sam from Cognism. I know you weren't expecting me to call you, do you have 30 seconds for me to explain why?"
4 - Keeping track of your opportunities 📅
Organisation is what will set you apart from the average rep. If you want to be successful in SaaS sales, manage your time and keep track of your workflow.
Sam swears by 4 time management hacks that help him have more time to focus on closing his outbound sales and avoiding stress. His top tip is to stay on track of the meetings you've booked:
"When you book a meeting, log 'ACCOUNT NAME', 'PROSPECT NAME', 'DATA BOOKED', 'DATE FOR', 'ATTENDED?', 'SQO?' (or whatever your term is for a qualified opp), 'IF NO SQO, WHY?', 'NEXT STEP' on an excel sheet. This will give you full visibility of all of your opportunities, allowing you to forecast each month, chase when needed, and understand why your failed opportunities are failing."
5 - Get creative with your outbound 🎨
It's not just about having the data. A successful sales rep knows how to go about converting leads into sales and to do that, you often have to get creative!
Sam finds that he gets the best results when he adopts a multi-channel approach that includes many outbound sales tactics such as email, phone, LinkedIn and even text and video. He says:
"Ensure you're utilising these channels for at least 15 touch points per contact/lead. The more creative your outreach is, the more traction you're likely to receive (especially when selling to other salespeople,) which is why video is so effective."
6 - Be willing to work hard 🔨
The role of an SDR is not easy. It can be both a demanding and incredibly satisfying career path, but to achieve SaaS sales success you need to have the right mindset and be willing to work hard.
Evangeline Crossland joined Cognism in February and was promoted to Senior SDR in July. She truly understands the need to stay productive, come up with solutions and work tirelessly to hit quotas. She has this advice to offer:
"You get out what you put in. You need to stay active to get results. The more conversations you have, the more meetings you book, the more SQOs landed, the more commission you'll get!"
7 - Make mistakes, ask for help and never stop learning 📚
If there's one thing Evangeline knows, it's that you can never be too experienced! Which is why she says:
"Since I started in sales, I've never missed a training session with my team because I know I can never know everything and there's always going to be room to grow. My advice to other SDRs is to take every learning opportunity you are given!"
It goes to say with all SDRs - learn, learn, learn!
The industry is always changing and you need to change with it if you want to stay successful in B2B sales prospecting.
And at the same time remember: it's okay to make mistakes.
Part of learning and growing as an SDR is owning your mistakes and using them as valuable lessons. Evangeline says:
"Don't be too hard on yourself if you make a mistake. Messing up is how you learn, so don't be afraid to get things wrong and grow with each mistake."
But, if you find you're making quite a few mistakes, it's okay to ask for help too. Sam found the help of his colleagues to be invaluable when he started out. They offered outstanding support and helped him stop any bad habits from forming at the start:
"The more you ask for help from your team, the more unbiased feedback you'll get. This is so important when you're starting out, as it's so easy to pick up bad habits when it's integral that you're picking up good ones."
8 - Stay positive and don't take things personally 😊
Rejection is expected in sales, but that doesn't mean you need to dread cold calling.
Yes, you get some rude prospects and you get some who slam the phone down on you. The main thing is:
DO NOT TAKE IT PERSONALLY.
Evangeline has been through it all - bad conversations, being spoken down to, you name it - but through it all, she remains positive:
"Whenever I have a bad call I try and stay positive and I pick my phone up and try again because I can just hear David Bentham's voice in my head saying, 'one call can change your life!'"
Get even more tips from the experts! 🚀
That's it! Those are the best skills an SDR can have to ensure a successful career in B2B sales!
If you're keen to learn even more (which you should be if you take number seven ☝ into consideration!) we have just the thing:
The Outbound Prospecting Playbook, a guide written by our experts here at Cognism.
In it, you'll discover great tactics, processes and advice for building a predictable outbound sales system as well as:
How to identify and calculate your TAM
How to cold call well