5 Top Tips for Amplifying Your Content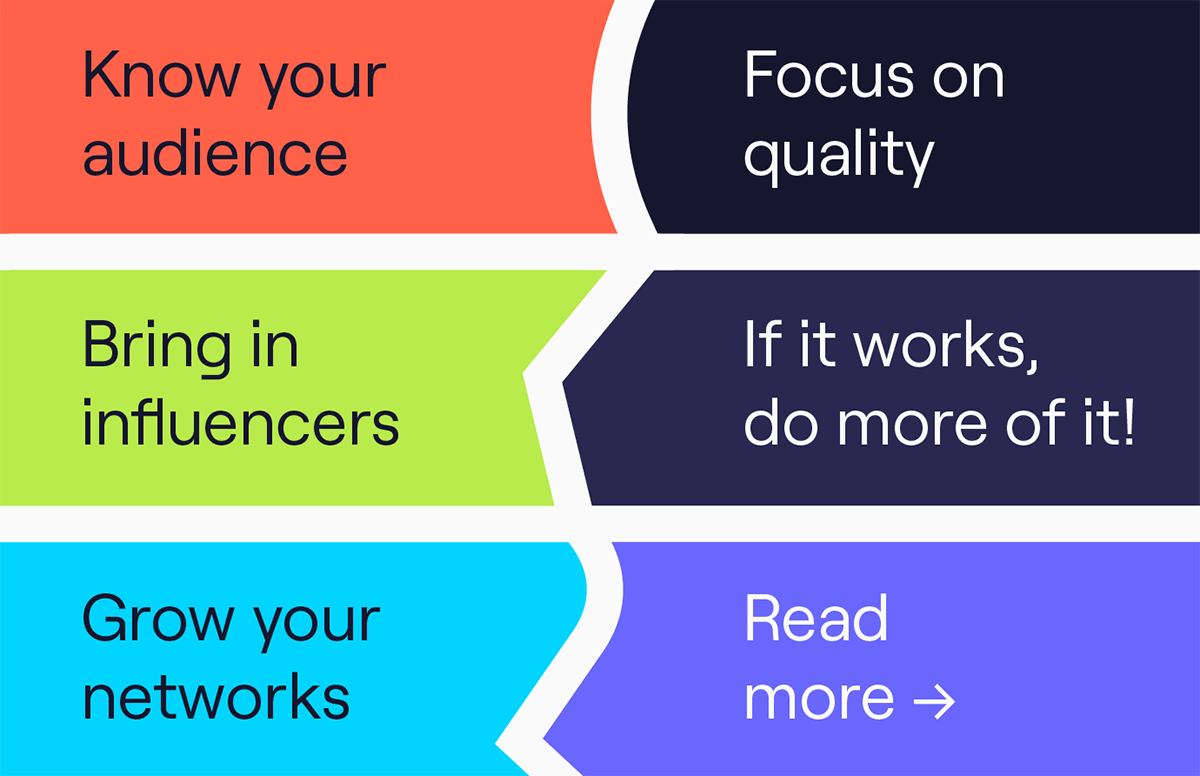 Content marketing is the art of using content to attract prospects, then move them along their buyer's journey until they are raving fans. It's one of the most effective ways for startups and scaleups to build a business.
But – content needs an audience! Publishing engaging, persuasive content is not enough – you need it to reach people. For this, you need a strategy for content amplification that gets your content seen.
Karla Rivershaw is Head of Marketing at Turtl, the premium content creation software. Karla has a great deal of experience in data driven marketing strategies that push content to the right people at the right time.
She gave us her five top tips for content amplification, starting with...
1 - Know your audience
Before you start spending time on amplifying your content, you need to know where your ideal customers spend their time. Once you have this information, you can start targeting them where they are.
To begin, develop your Ideal Customer Profile (ICP). Your ICP is a comprehensive description of your perfect customer; the kind of customer that can find massive benefits from your product or service, while also being able to give you enough value in return to make your business profitable.
When you build a detailed picture of your ideal customer, you can work out what they enjoy doing, where they spend their time and what media channels they consume. You can also work out the types of content that they will respond to.
2 - Bring in influencers
The sad truth is: no-one cares what marketers think! Everyone knows the famous B2B sales quote, "People buy from people."
The same is true in B2B marketing.
To make an impact with your content, you need to get someone to front it who your ideal customers know, like and trust. That way, when they see it, they will engage with it and act on it. What you need are influencers.
Find the influencers in your industry; the thought leaders that have a following of people who fit your ICP. Seek them out on LinkedIn and invite them to collaborate with you on content.
You'll find this is easier than it sounds – people who have achieved influencer status in their careers are unlikely to turn down the opportunity to reach even more people.
An excellent way to start is to interview influencers and turn your conversations into blog articles. Afterwards, leverage the power of influencer networks to promote your content – influencers typically bring huge audiences with them.
3 - Grow your networks
As a content marketer, you should always be looking to grow your network and your own sphere of influence.
You should be proactively searching for potential contributors and partners. Set yourself weekly or monthly targets to find people in your industry. You'll find that LinkedIn is the best resource for people when it comes to B2B.
You should also attend events and meet as many people as you can. When you take someone's business card, make sure you follow up. Once you have started a relationship, use it. Ask your partners to share your content. It's a free and easy way to achieve amplification.
Karla has a bonus tip for us – when you post content to social media, tag people you think might be interested in what you have shared. All it takes is for one influencer to see your work, then retweet it or share it – and you never know, it may go viral! Again, it's free and super easy.
4 - Focus on quality
It sounds obvious, but the best way for content to find an audience is for it to be good!
Quality content is good for two reasons. One, it's good for growing an audience organically. If you're frequently publishing superior content, your readers will share it and your following will grow.
Two, it's also good for Google. Google only cares about quality content. When you follow their guidelines around creating valuable content, your website will rank higher in Google's search engine results.
That means more people will see it!
Unsure about what constitutes quality content? You'll find Google's own guidelines here.
5 - If it works, do more of it!
Measure everything related to your content. If you don't, how will you know if it's working or not?
At the start of your content amplification strategy, it's important to A/B test. Try out different methods, ideas and channels; you'll quickly see which ones are the most successful.
Study your B2B data – Google Analytics is a great tool for website engagement data. If you use a social media scheduling tool, use its reporting function to get a clear picture of your most popular audiences, as well as the best days/times for you to post.
Then, focus your energies on what works. Keep pumping out regular, quality content, aimed at your ideal customers and their pain points, on the channels where they spend their time – and you'll quickly find success.
Connect with Cognism today
Thanks to Karla for sharing her knowledge with us. If you would like to hear more from Karla, make sure you visit the Turtl blog. It's a terrific resource for B2B marketers; if you have a content-related question, chances are you'll find the answer there!
For more great marketing content, follow Cognism on LinkedIn 👇